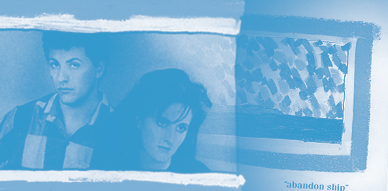 Thanks so much to Bea Colin for the interview! April Showers only released one single but what a single! Considered an indiepop classic, "Abandon Ship" is one of those songs you never forget. Thanks to my friend Jessel I got in touch with her and learned a bit more about this great Glaswegian band.
++ Hello Beatrice! Thanks so much for being up for this interview. It's really an honor as your one and only single is such a classic on my book and also for many others it has reached cult status. How do you think your songs have aged?
Thank you for asking. Abandon Ship still sounds pretty good to me. My children even quite like it.
++ So let's go back in time. April Showers was formed by you and Jonathan Bernstein, right? When and how did you knew each other, and what sparked you two to start a band together?
I didn't really know Jonathan that well. He worked in a record shop in Glasgow. I was in a band called The French Impressionists when I was 17 and was fired. Soon after I got a call from Jonathan. We used to have band rehearsals in his bedroom and he used to sing these warbly but incredibly catchy songs to me. I thought he was really strange and quirky. He is also very funny so that helped.
++ Was April Showers your first band? And where does the name come from?
As I said, I was in another band who were sort of jazz-inspired – basically a piano and voice. I wrote the lyrics. We were doing quite well but the piano player decided I wasn't good enough and hired two new singers.
I'm not sure where the name came from. Jonathan thought of it.
++ Talking of April Showers, what would you say is your favourite month? And why?
I like most of the year. Except maybe the depths of winter when it gets dark at 3.30 in the afternoon.
++ You only released that one single, in both 7″ and 12″ on Big Star Records which was a subsidiary of Chrysalis, a big label. How did you end up signing with them?
Someone from Rough Trade heard a demo we'd recorded in Jonathan's bedroom with my then boyfriend, James Grant (from Love and Money). He paid for us to do a proper demo – which we recorded backed by members of Orange Juice. It seemed pretty easy to get record deals in those days. They formed a new label for us, Big Star, which Del Amitir eventually signed to.
++ The single included two fantastic, fabulous, songs: "Abandon Ship" and "Everytime I Say Goodbye". Care to tell me the story behind these two songs?
Jonathan wrote them. They're just classic pop songs that he scribbled down on a piece of paper. Although I think Jonathan a hugely talented person, I don't think they have any deep and profound meaning.
++ The record was produced by Anne Dudley from Art of Noise. How was the experience with working with her?
She was very nice. A bit like a school teacher, but very organized and rather strict. I love the string section she orchestrated.
++ Then there was a 7″ that was almost ready but never got released, the "While the City Sleeps" 7″. What happened with it? That was prior to the "Abandon Ship" one, right?
We recorded that for a Belgian label, Crepescule. It was before and I can't remember why it wasn't released now.
++ From what I've read you had many other songs like "Any Wednesday", "Don't Stay Away Too Long" or "All Of The Stars In The Sky", were these recorded? Maybe in demo form at least?
I only know the first one. I don't recognize the other two. Are they are songs? I heard something on the net once which claimed it was us but wasn't. We recorded about eight songs in demo – they were all pretty good.
++ And how come you didn't get to release more records?
We were going to record an album but in classic rock and roll fashion had a huge fight, fell out and split up. Short and sweet.
++ Have you ever thought about releasing some sort of retrospective CD with all your stuff? I think it may do well!
We did think about it but nothing of any playable quality exists, unfortunately. We looked into it a few years ago – I had a few cassettes but sadly they were copies of copies so no one could do it.
++ What about gigs, did you gig a lot? Any particular ones that you remember?
We never played live. We couldn't – there were only two of us and Jonathan didn't play an instrument. No, wait, we might have done once, with members of Friend's Again, a local band. I can't remember what we played. It was possibly 'Wild Thing.'
++ Being from Glasgow and around the early 80s, I was wondering how influential was Postcard Records for you?
I loved Postcard and we knew most of the people involved. I really wanted to be a singer/songwriter and so went off after April Showers and formed my own band, Pale Fire. Glasgow had been really fashionable in the early eighties. By the time I had my band up and running, the spotlight had moved on and being from Glasgow was the kiss of death. We played lost of gigs but didn't get anywhere.
++ And what other bands from the time did you enjoy? How was the scene back then in Glasgow? Where would go and hang out and watch bands?
The scene was really exciting. Everyone used to go and see each other play live – the French Impressionists were on the fringes of Postcard. The bass player from Aztec Camera eventually ended up playing in my band, Pale Fire. We used to go to a bar called The Rock Garden even though we were under-age.
++ Are you still in touch with Jonathan? If so, what is he up to these days?
I saw Jonathan a couple of weeks ago. He lived in LA and writes novels for children and screenplays. He's really successful.
++ You have published a couple of novels and also many short stories. What are you working on these days? Maybe your third novel?
Yes I'm working on another novel.
++ I'm always impressed by professors, I would love to be one in the not so distant future. How was your experience teaching creative writing? And is there any similarity or anything from being in a band that you later used as experience as a professional?
I wouldn't say there are any similarities, no. You are, in a sense, on a stage, but that's as far as it goes.
++ Aside from work and music, what other things do you enjoy? Do you have any hobbies?
I have two kids, who take up a lot of time. I love the cinema and am about to start writing a screenplay. Hobbies? Er, swimming?
++ I've been in Glasgow twice now, and I love the city. I haven't done that much tourism, but have seen some sights around town. I was wondering what are your favourite places in Glasgow, and if there are any sights you'd totally recommend me seeing next time I'm around?
I love the Art School. I also like Tramway in the South Side and the Botanical Gardens and Byres Road in the West End. It's a great city even in the rain.
++ Also, this might sound silly, but I got a crush with Irn Bru. Do you like it? What about the haggis, tatties and neeps? Are there any other Scottish favorite of yours?
I'm afraid I don't like any of it. I like Scottish strawberries and raspberries in the summer and there are some really great seafood restaurants serving local produce but no, I'm not a big fan of traditional Scottish food. I do, however, eat porridge in the winter.
++ Let's start wrapping the interview now Beatrice, in retrospect, what were your favourite moments being part of April Showers? Would you do everything the same way again?
April Showers came out of the blue. I was 19, at university and all of a sudden we got a record deal, were being flown down to London and going to parties with pop stars like Wham and Duran Duran. It was very strange and sort of unreal. What I did learn very quickly is that your shelf life in the business is very, very short. We were there and then we were gone. Afterwards, I failed all my exams at university and had to spend a year catching up. After university I tried to reach the same level of success with my own band but it didn't work. Then I became a journalist – and later a writer. I am grateful for the experience but glad that I gave up when I did and didn't keep chasing elusive pop-stardom.
Jonathan and I sometimes talk about what it would it have been like if we hadn't split up. Who knows if we would have had any lasting success and where we would have ended up? April Showers were a short moment of my life. We were very lucky to have got so far and I'm really thrilled that people still remember the song so fondly.
++ Thanks again so much! Anything else you'd like to add?
Just thanks for your interest. It seems slightly bizarre to me that the single is still talked about at all.
::::::::::::::::::::::::::::::::::::::::::::::::::::::::::::::::::::::::::::::::::::::::::::::
Listen
April Showers – Abandon Ship