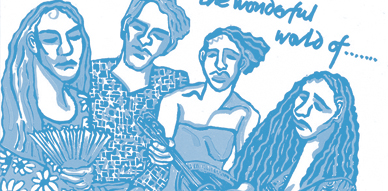 No news this week in indiepop world. It has become very quiet. I was hoping to review something, recommend some records, or check out some new bands. I guess everyone is playing Pokémon Go at the moment and no one is caring about music. Hopefully next week there will be enough stuff to cover.
In the meantime I'm sharing an interview I did for the Chaotisch und Charmant blog back in 2011, around the same time as now, in July. I really liked answering the questions Felipe wrote for me and was especially surprised the interest from far away Brazil. I'm surprised how many things have changed since then, like for example when I say there were many good places to distribute music. Today they barely exist.  I still haven't made that transition to the ipod though. Feeling proud about that.
01. Tell us a bit about yourself and your relation with music.
Music is a central part of my life. I can't imagine a day without music. I carry my portable cd-player everywhere. I still haven't made the transition to an ipod. I still buy CDs that's why. And I still buy records. Lots. I love collecting records. Most of the stuff I have is indiepop, I like some other stuff too but I feel that my money better go to what I love the most. I'm based in Miami Beach, close to the beach. It's usually sunny here and way too warm. Half the time I speak Spanish. Lately after work I like to get key lime sorbets on the way
home. It's refreshing.
02. How, when and why did you decided to create Cloudberry Records? And why name it Cloudberry?
Cloudberry officially started on February 1st 2007. But of course I had started working on the label before, since December 2006. I had just put out a tape called C-06 to celebrate 20 years since C-86 and it went really welll. I did a very small run though, 75 copies. I should have done many more I think. Looking back at the bands that were included, it probably would be considered influential and a classic, no kidding. Anyhow, that was the spark that made me start Cloudberry. I learned a lot from that release and made contact with some great up and coming bands. Then, you know just like the cartoons, a lightbulb popped up over my head, and thought that for a small investment, for a small label, the idea of using 3″ CDs as a format for singles hadn't been done in a successful way yet. Some labels had done it before, but I feel they didn't explore all the possibilities, and that's why at the moment I did it, many people felt this was something very new, and in some cases, revolutionary. But it was just a lot of research. I am a designer, and so, this was quite an exciting part, creating the package design, the look of the label, logo, etc. I feel in Cloudberry I have let loose many ideas I have had even though it seems there is a very straight line in the overall design of the label.
About the why?, well, it is true that I was involved with another label at the moment (Plastilina) but I had time, I had the drive, and the passion for indiepop. Also at that specific moment, I remember every band was setting up a Myspace, which made it easier to find bands. It was really an exciting time! But with so much quantity I felt a filter was needed. I thought Cloudberry could be a filter. There was so much music available all of a sudden, but where to start? My reasons for creating Cloudberry are many, but I think the most important ones are to work in a way that doesn't follow any capitalist model and to help build a stronger indiepop community. To some extent, I humbly believe these things have been achieved.
03. What is the infrastructure of the label? Are you the only person running it? How much of your time it takes to do Cloudberry related stuff (like listening to bands, taking care of the making of the releases…)
Yes, it's just me. Still a bedroom affair, even though the record boxes have started to pile on the living room! The setup is probably what you imagine, a computer, a scanner, printer, lots of blank CDs and DVDs, a cutter, scissors, glue, etc. I'm thinking "Cloudberry" 24/7 but the amount of work varies each day. I do have a regular job and that takes most of my day time. There's always something to do concerning Cloudberry though, sometimes a lot, sometimes not so much, but always something.
04. The variety of artists and music being released through the label is very diverse. How do you choose the artists? Can you say what is the 'Cloudberry musical aesthetic (if there's any)?
It's a very personal label. At least that's my intention. The only requirement then for me to choose an artist is to like them and feel they fit fine with the musical aesthetics. What is the musical aesthetics? Well definitely I like electric guitars to start. I avoid ukuleles and toy instruments usually. I like 80s sounds, classic indiepop. I like seeing some influence of that on the bands I release. I like fragility in the songs but at the same time I like a lot of edge. I think you can be both. In the best cases, the bands know what indiepop is and know it's history. That makes it easier. I like bands to believe in indiepop and feel indiepop. I don't like bands that happen to do indiepop by mistake. I think that's where the aesthetics kick in, all these bands I've released are indiepop at heart. I agree with you when you say that the music is diverse within the releases, most people don't seem to see that, blinded because the aesthetics are very similar between bands.
05. Inside Cloudberry's website you have a blog where you interview bands from the past (which I think it's an awesome idea). Everytime I read an interview, I can't stop thinking about how do you get to find the people you interview… could you talk about how this interviews happen? In your opinion, what are the most underrated bands from them past 20 years?
Thanks. A lot of these people I find by googling their names! Some also get in touch with me after I've written a blog post asking for anyone in the band to get in touch. Other times by recommendations, and some other times I just interview friends to happen to be involved with music years ago. There's not much to them, I do some research and then I email the band a bunch of questions. Sometimes they answer me, sometimes they dont. I'd say I have only published half of the interviews I've done. The rest are still unanswered. It's a lot of fun for me to learn the story behind the band, especially if I own their records, it makes it more special. Most underrated bands from the past 20 years? Well, McCarthy should have been greater than The Beatles. Friends should have been greater than The Beach Boys. TCR from Spain should have been bigger than Julio Iglesias. And This Poison! should have at least been bigger than
N'Sync.
06. What do you plan for the future of the label?
Very soon I'll have the Very Truly Yours 7″ out and a new fanzine. After that a Youngfuck 7″ is already confirmed. I have many other releases on the pipeline too. That's the future, just more releases. I dream at some point to see some sort of small Cloudberry festival, that'd be sweet.
07. Give your insights on music distribution nowadays. Is it financially viable to run a record label nowadays?
Sure it is if you release some mainstream stuff :p But I guess you mean a small indiepop label? Then I'd say no. But it's fun and worth it. I recommend it doing. If you break even consider yourself lucky. Music distribution is a bit better than some years ago, there are more stores carrying indiepop records. Funny thing is that I feel there are less people buying records. I don't know about MP3s, I don't do digital distribution. I think that's wrong for a label to do, if anyone was going to sell MP3s, it should be the band. What involvement did a label had on making an MP3? Nothing! I feel that part of the music distribution process should be fixed.
08. A word of advice for people wanting to create their own label?
Be a boutique label. Don't aim to be the next Cherry Red with all it's sub-labels. Stick to a genre you love with passion. If you love "everything" don't do it. You have to be passionate of something in particular, so you can focus. If not you'll hit yourself with a wall all the time. A label's job is to be a filter especially now that everyone can have access to any song anywhere at anytime. You don't want to confuse people more. Oh! and have fun!
09. Show us a video you think it's awesome.
The Wedding Present's Brassneck video: http://www.youtube.com/watch?v=lWZkTEGPG8Y I'll let the video speak for itself. The quality of the upload is not the best, but you get the idea.
10. Any band(s) you think the whole world should know?
Not really. I think that'd be bad for the bands. I don't think nothing good comes when pleasing such a huge crowd, the whole world. You try too hard and it's dishonest.
11. Anything else you feel like saying?
Muito obrigado Felipe, it's nice to answer some interesting questions and not the same ones over and over every time I do an interview. It's been a pleasure. 🙂
————————————————————
Like many I heard The Calloways for the first time thanks to the "A Sandwich and a Sweater" tape rip that used to be easy to find on indiepop channels on Soulseek. The song included in this 1996 fan-made tape was "Kalamazoo" and I thought at the time (and I still do today) that it was great, perfectly catchy. The only thing I know about this mysterious tape was that it was made by Keith D'Arcy, a long-time listee on Twee.net. Not sure how many copies were made, or if it was sold or was it just part of a tape exchange. I wasn't around on the indiepop-list in the mid 90s!
I was lucky to find The Calloways 7″ soon as I started building my record collection. It must have been one of the first vinyl records I ever bought through eBay. I remember not paying much, and I can see it is still not an expensive record to get. So I recommend you to do that. The record included two songs, the aforementioned "Kalamazoo" on the A side and "Big Trees" on the B side.
Kalamazoo is a city in the southwest region of the U.S. state of Michigan. It is the county seat of Kalamazoo County. Kalamazoo is located geographically in Western and Southern Michigan. As of the 2010 census, Kalamazoo had a total population of 74,262. Kalamazoo is the major city of the Kalamazoo-Portage Metropolitan Statistical Area, which has a population of 335,340 as of 2015. Originally known as Bronson (after founder Titus Bronson) in the township of Arcadia, the names of both the city and the township were changed to "Kalamazoo" in 1836 and 1837, respectively. The Kalamazoo name comes from a Potawatomi word, first found in a British report in 1772. However, the Kalamazoo River, which passes through the modern city of Kalamazoo, was located on the route between Detroit and Fort Saint-Joseph (nowadays Niles, Michigan). French-Canadian traders, missionaries, and military personnel were quite familiar with this area during the French era and thereafter. The name for the Kalamazoo River was then known by Canadians and French as La rivière Kikanamaso. The name "Kikanamaso" was also recorded by Father Pierre Potier, a Jesuit missionary for the Huron-Wendats at the Assumption mission (south shore of Detroit), while en route to Fort Saint-Joseph during the fall of 1760. Legend has it that "Ki-ka-ma-sung," meaning "boiling water," referring to a footrace held each fall by local Native Americans, who had to run to the river and back before the pot boiled. Still another theory is that it means "the mirage or reflecting river." Another legend is that the image of "boiling water" referred to fog on the river as seen from the hills above the current downtown. The name was also given to the river that flows almost all the way across the state. The name Kalamazoo, which sounds unusual to English-speaking ears, has become a metonym for exotic places, as in the phrase "from Timbuktu to Kalamazoo." Today, T-shirts are sold in Kalamazoo with the phrase "Yes, there really is a Kalamazoo."
The record came out in 1984 on the Wonderful World of Records label (catalog WW1) and the artwork was done by Jenny Lupton. The engineer for the record was Jimmy Anderson at Hart St. Studios, Edinburgh and the producer was Jo Callis. I think Jenny Lupton is now a renowned equestrian and sporting portrait artist, I found this website and there's the coincidence that she hails from Scotland. I'm pretty sure the band came from Edinburgh as everything is hinting me so.
Now Jo Callis. That is a much more known name. John William "Jo" Callis (born 2 May 1951) is an English musician and songwriter who played guitar with the Edinburgh based punk rock band, The Rezillos (under the name Luke Warm), and post-punk band Boots For Dancing before joining The Human League. Callis was educated at the Edinburgh College of Art. The band played many gigs in Edinburgh and Glasgow, during which Callis wore space suits and other hi-tech costumes. He was a member of The Knutsford Dominators before forming The Rezillos in 1976. He wrote the Rezillos' 1978 hit "Top of the Pops". In late 1978, after the release of the band's only album, The Rezillos split in two, with Callis forming Shake along with Simon Templar (born Simon Bloomfield) and Angel Paterson. Shake released two singles before splitting, with Callis later joining Boots for Dancing. Callis released a solo single, "Woah Yeah!", in 1981 on the pop:Aural label,[2] and also joined The Human League, playing both keyboards and lead guitar and making contributions as a backing vocalist. Callis co-wrote many tracks and following his departure from the band in 1986, he has returned several times either to play keyboard, or to offer help with songwriting. He co-wrote the band's 1990 hit Heart Like a Wheel together with former Rezillos band mate Eugene Reynolds. The track was produced by Martin Rushent. In 1985 he teamed up with Feargal Sharkey to write Sharkey's "Loving You" which reached number 26 in the UK Singles Chart.
Now, we know more about the people around The Calloways, but what about the band itself? We really know very little. We know their last names as they are listed on the labels: Gould, Mckenzie, Buck and Farris. They appear alongside the silhouette of a rooster. But that's it. I tried different combinations on google, with their last name and The Calloways but finding a good hit is impossible. Calloway seem to be a very common last name. There are even bands that have Calloways on their name. It's definitely complicated.
What happened to this band? Did they record more songs? Are the members the ones portrayed on the artwork? What happened to the members after the band split? Were they Scottish for sure? I would love to know much more about this band. I love their song "Kalamazoo" a lot, I think it should have been a hit with it's catchy "Mari, mari, marianne" chorus. Indiepop before indiepop existed as such. A perfect pop song.
::::::::::::::::::::::::::::::::::::::::::::::::::::::::::::::::::::::::::::::::::::::::::::::
Listen
The Calloways – Kalamazoo