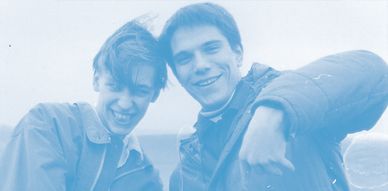 This is a very special interview with my friend Olaf. Milchblumen FC were Olaf and Jan during those early 90s in Berlin. They were also making music under the name Abramczyk and Going Down With Brilliance. Later Jan would start Firestation Records with Uwe. Then he'd leave Firestation Records! And who joined Uwe this time was Olaf. I have just saw both of them in Berlin a month ago, and it was great fun. And in between jokes, talking about this blog interviewing bands that are so obscure and that the interviews are too long, I told Olaf, "be prepared that you are next". And he said, "bring it on!!" And here it is! Hope you enjoy! Thanks so much Olaf!!
++ Hallo Olaf! Thanks for doing this interview of course. It was nice to see you at Indie Pop Days Berlin, how did you like it? Who were your favourite bands?
Hi Roque, it´s an honour for me being interviewed by my favourite blog. Thank you very much for your interest in my music career. Okay, the Indie Pop Days. I really enjoyed those days very much, have seen brilliant bands and met old and new friends. Apart from many other bands I personally preferred Lucky Soul and Allo Darlin´. First for Ali´s amazing presence on stage and their professional set which I enjoyed pretty much during three days of pure Indie-Pop. Second because of their zest for life and playing. I mean, look at Bill Botting on stage… Further highlights were Zipper, who woke me up on Sunday afternoon, Lisa Bouvoirs version of "Thunder Road" and those four minutes of pure pop magic of The Pocketbook´s "Fleeting Moments". Also my DJ set with Kitten on Fire was fun, we both would have liked to dance to it.
++ Do you think Milchblumen FC would have fit just fine with the lineup of this festival? Were there any festivals along these lines going on back when you were playing?
I think so. We had been pure Indie-Pop. Yes, there have been a couple of small festivals, but for German bands only and mostly just for one or two days. I like to remember the Marsh Marigold Weekender in Dresden, truly funny days with little sleep with the complete Hamburg popgang. Great was also a festival in Darmstadt, where I witnessed the only gig of Wind In Den Weiden and met personally pen pals (for the younger readers: that had been something like Facebook) like Andreas Knauf, Olaf Grossigk or Frischluft-Krischan.
We played at the Harmony Beat Festival in the Dresden Starclub together with Fünf Freunde, Blinzelbeeren, Ein Warmer Sommermorgen (both Blam-a-Bit) and the Noise-Poppers Honeyloops from Worms. This festival had been organised by our friends from Dresden Trixi and Susi, real Indie-Pop pioneers in Eastern Germany. Memories come up on Rock `N Roll Lifestyle including stage invasion, bloody hands from excessive tambourine playing and Frank Kabs – singer of Twee-Pop-Punks Ein Warmer Sommermorgen – who had fallen asleep amongst beer, potatoe chips and I-do-not-want-to-know-what-else.
++ So let's go back in time. Who were Milchblumen FC? What did each of you played? How did you all meet?
Milchblumen FC were Jan Kühn (guitar), Birgit Peters (guitar), Alexander Freyer (bass) and me (vocals and drum computer). When Uwe and I wrote our first fanzine in 1991 we also received some orders from Berlin. Curious for the people behind the addresses we met Jan at a Pariahs gig. We noticed him at various other gigs before because of his Clint Boon memorial haircut. Jan and I were on the same wavelength immediately and soon after a long night out clubbing we decided to record a dance version of "Please Rain Fall". Well, not really successful, but that weekend we recorded four Low-Fi songs. We knew Birgit and Alex from the Indieclub Dogwash and after some talking both were very much interested in joining. Birgit took quickly some guitar lessons and we started…
++ Why the name Milchblumen FC?
We wanted a slightly ironical Twee band name, therefore Blumen (flowers). FC has got to do with our enthusiasm for football and also because we all were fans of Teenage Fanclub. Because I have the Berlin typical articulation weakness in the different pronunciation of "ch" and "sch" this was included jokingly by the word Milch (milk). Of course, altogether the bands name does not make sense at all.
++ Was this your first band? Which other bands were you involved with?
Yes, that was my first band apart from the badminton racket guitar band with our gig at the age of six. Milchblumen FC was an incarnation of our music creation. We played and recorded under various band names such as Jetstream (our shoegaze outfit), Going Down With Brilliance, Snowblind, Abramczyk (named after a German football star of the 1970ies), Northbound and I am sure various others. Some of these "projects" were duos or trios but Jan and I were always part of it.
++ The only song I know by you is "Auf Dem Halensee" that appeared on the 16 Goldene Hits CD. Were there any other songs released?
On "19 Goldene Hits" were also "Grungemädchen" (Abramczyk) and "Only Place" (Going Down With Brilliance with Jans vocals) included. The tape compilation "It´s All About Love" included our first two demo recordings.
++ You were telling me you will digitise many tapes full of songs by the band. So when will that be?! 😀 and more or less how many songs did you had?
As soon as I have the technical equipment, but I am not a freak for technology. All in all it should be about 30 tracks. Amongst them cover versions of Depeche Modes "What´s Your Name", Aspidistras "Sunrise", Eternals "Breathe" and "Nothing Much To Loose" from My Bloody Valentine in a folk version. I heard my favourite song of us "Wir Sind Nur ´Ne Neue Krachpop-Band" (We Are Just Another Noisepop-Band) only once because later I lent the master to somebody and never got it back.
++ Why didn't you get to do a proper release?
I don´t know. I wanted to produce a flexi single but the only pressing plant was in England. Including import tax it would have been too expensive. It was pretty difficult to arrange a proper release on a different label in the mid 1990ies as the number of Indiepop Labels reduced rapidly. The only considerable label would have been Marsh Marigold but I am sure we would have been too bad for Olivers expectations.
++ What about gigs? Where was the farthest from Berlin that you played? And which were your favourite gigs and why?
We did it for the gigs! Between 1992 and 1995 we had some gigs but outside of Berlin one only but that one was very special. A huge club, stage light like at Pink Floyd, a nice accommodation and we even got money for it! Weekenders are the funniest anyway. The record release party of "19 Goldene Hits" was also good although the CD wasn´t finalised yet. Almost 300 guests watched apart from us and various other bands also Groovy Cellar, Westway (Pre-Blochin 81 / Lato) and the only gig of Uwes band Thorn (Fallin´from stage, loosing his t-shirt and breaking young girls hearts) at the "Insel der Jugend" club.
++ Which other bands from the period did you like? Was there a scene in Berlin?
There was only a small scene in Berlin, just like today. Also the bands from "19 Goldene Hits" were mainly from the sixties scene and their members were mostly a bit older than us. Indiepop took rather place in Hamburg where I spent almost every second weekend in the early 1990ies. Great time. In fact I liked all early Marsh Marigold bands very much, especially the Fünf Freunde and The Legendary Bang. Their gigs were always very very funny. I remember how we entered a local posh disco in a noble suburb of Hamburg after one of their concerts. We shocked the local rich youth with a wild dance style and a lot of spraying beer. Within minutes the dance floor was flooded. I´ll never forget their faces in my whole life. Marsh Marigold boss Oliver Goetzel is the best dancer I know till today. Besides of Marsh Marigold bands I loved the products of Frischluft for their style, bands like The Sheets or Ein Warmer Sommermorgen and especially Germanys best band Merricks…
For international bands of that time there is not enough space here, there has been too much of good music at that time just like today. It is striking that so many come from Glasgow, therefore I name as a representative for all great ones my eternal hero Roddy Frame. Nobody manages to publish only two bad songs in thirty years.
++ When and why did you call it a day?
We were quite frustrated, meant not to be good enough. After Birgit moved to Lübeck in late 1994 we split up more or less. We tried some rehearsals with Anja but because of new hobbies and interests the band project simply paused. I personally got lost in my enthusiasm for football since mid 1990ies, visited almost every match – also away matches – for many years, so in weekends I had almost no time for the band.
++ Are you still in touch with the other members of Milchblumen FC? What happened after you split up?
Jan is one of my best friends until today and was my predecessor at Firestation Records. We still meet regularly. He´s becoming father soon. I have not been in contact with Birgit and Alex for a couple of years and honestly said I don't know what they are doing today but I believe they made their career.
In the mid 1990ies I had a weekly radio show called "Radio Heaven – International Pop Underground" with my friend from Hamburg Martin Fuchs which was big fun. I still need to laugh today when I occasionally listen to old recorded programmes. We did 48 programmes in total amongst which there were specials like "Flexi only" and "Tape only" or specials about Edward Ball (The Times etc.) or German Indie Pop. Later I wrote some Pop-/Football fanzines and worked occasionally for my football clubs magazine. Around the year 2000 Jan and I got back to enjoying making music again. We recorded a few good demos with our friend Guido, a very talented guitar player, who a short time later became seriously ill. This is a very sad story.
++ Be nostalgic now, what are the best anecdotes of being part of the band? What were the best moments of being part of Milchblumen FC?
The concerts of course! At least I had little stage fright, amazing. Just this: When we recorded some songs in Hamburg I squeezed by accident the bass guitarist Alex´ thumb between the door of the car and the frame. I think that was the reason why our producer Gerrit Herlyn (Red Letter Day) commented Alex´ bass play as terribly ungroovy that night… At our last gig in May 1995 we replaced the band WESTWAY in last minute. They had had a terrible argument because of their "victory trophy" in a band competition so they broke up two days before the concert. Jan and I had to replace a contracted 45 minute gig, otherwise the promoter (Ship Shape Club) would have had to pay a penalty payment. Because we hadn´t practised rehearsals for about two months and had lost our guitarist and bass guitarist, our repertory consisted of six songs only. The other 25 minutes we tried to compensate with bad jokes. The 200 guests who had come to see WESTWAY were not really pleased…
Personally my highlight was to read my lyrics of "Grungemädchen" on the way to work in Berlin's biggest city magazine. I´ve rarely been that proud ever.
++ So aside from music, you love Tennis Borussia Berlin. Why do you like such a small team?! Is that why you are not very good at table football? 🙂
The same what I like about the Indiepop scene, to be part of a small rather informal group of people. At Tennis Borussia grew a feeling of belonging together in the 1990ies when we were attacked verbally and physically in Eastern Germany. We were judged as a pretty wealthy football club from West-Berlin. But it was rather exciting to sing with 50 people in the stadiums guest area against 8.000 fans from Dresden. At the moment the clubs situation is very bad, we are last in 5th league, there come hardly 400 fans, but I still cannot let my club.
++ Haha, okay, so what other things do you like doing?
So many. people say that without a job they would be bored. This does not apply to me. Amongst other things I ride racing bike since a few years with a lot of enthusiasm (no, I do not dope) which is a kind of midlife crisis thing ;-). I am very much interested into science fiction literature including secondary literature, like to travel mainly to Spain and go hiking there. Although my job is pretty interesting (organising and working at fun fairs and christmas markets) I like to change in future. Unfortunately you cannot pay your rent from music business.
++ Tell me about Berlin, it seems I'm going too often, but you still haven't shown me your favourite restaurant or your favourite German beer! Or your favourite hang out places!
You should not hang around with the pretty girls only! I like to eat sushi and Berlin seems to be the cheapest city for this kind of food. Almost all sushi restaurants have long term offers. The "Kuchi" in the Kantstraße seems to be the only full price restaurant but there you get the best sushi in town. Furthermore I love the "El Borriquito" in the Wielandstraße, original Spanish cuisine and live music until 5 o'clock in the morning. That's why you meet weird people there. Is it coincidence that my new flat is in just five minutes walking distance from both restaurants? With the beers I prefer the Bavarian "Hell", especially those brewed for the Oktoberfest, alternatively I like Czech beer very much. As an original West-Berliner I love the Grunewald forest and the river Havel where my racing bike training area is situated. On a tour through the Grunewald I can let my thoughts flow.
++ So now you are part of Firestation Records. Is it easy to work with Uwe? What are your favourite things about running a label?
It´s so easy to work with Uwe as we are best friends. Although he seems to be confused somehow, at the label he works more accurately and punctually than I do. Both we are 50% shareholders so that each of us has the power of veto. We never had to use it so far as we work on the same wave length with regard to music and other objectives of the label. My highlight in two years at FST was the release of the album of Der Englische Garten which was a special pleasure for me as a big fan of the Merricks. The cooperation with Bernd, Alex and the other members of the band was big fun, also because I was responsible for the promotion work for the first time. The CD is selling pretty well. Although I hope a big label will be interested into the band, I would like to release their next album.
As a teenager I dreamed about a career at a music label and always had great visions about the big music business. Now we work from an old sofa and a store room…
++ Tell us a bit of the future plans, 6 projects in the pipeline right?
Yes there are various things in the pipeline. We will start our autumn / winter offensive with a compilation of the first three records of The Cherry Orchard whose song "So Blind" is one of my favourites. We will proceed with the debut of The Soulboy Collective. "Clique Tragedy" contains 11 wonderful songs between Northern Soul and Indie-Pop. The guys of Mighty Mighty and the Orchids were very pleased by the songs and judged it big hit potential. Furthermore we are looking forward to the compilation of the Indie-Jazz-Pop-Outfit Playing For Time. Those who know the single "With My Heart" only will be surprised and should discover various interesting songs. A never ending story is the release of the 7th Leamington Spa sampler. Repeated we had some problems with the artwork, some of it got lost by computer trouble, but we almost finalised it now. For me the best edition, honestly! Amongst other it will contain Ala Pana Fuzo, The Gits, The Dadas or Penelope's Web among others.
Next year, with a delay of ca. 23 years, the second album of our heroes Mighty Mighty will be released, what a pleasure. We also thought about releasing some vinyl again, amongst others a Super-Sound-12''-Maxi single.
++ And not so long ago you organized Popfest Berlin! How was that?!
Wow, what a night! The Indie Pop Days were great but that night was much better. All bands were wonderful, starting with the very charming Paisley and Charlie, the totally groovy live experience of Der Englische Garten, the very short but impressive gig of The Soulboy Collective, the concert causing goose picket by the Orchids (Whooooo needs tomorrow…) and the absolutely party atmosphere by Mighty Mighty. We had no problems with time or the technical equipment, the bands and the audience enjoyed themselves obviously. I was locked in the heat of the Bang Bang Club from 2 p.m. till 6. a.m. and do not want to miss a single minute of that experience. It was overwhelming to walk in the morning to my living room after 90 minutes of sleep and see Hugh of Mighty Mighty ironing his shirt. In boxershorts! What a view! What a popstar!
We plan the next Popfest in March 2011, again with a warm up party. One or two old heroes will pretty likely join, wait for the surprise.
++ Thanks again so much, next time I interview you in person, anything else you'd like to add?
Yeah, hope to see you at London Popfest. I would like to thank you for the interview, now I am in a line with many of my old heroes and idols. I would like to  ask for an interview with Bernd Hartwich about the Merricks and Der Englische Garten.
::::::::::::::::::::::::::::::::::::::::::::::::::::::::::::::::::::::::::::::::::::::::::::::
Listen 
Milchblumen FC – Auf Dem Halensee
Abramczyk – Grungemädchen