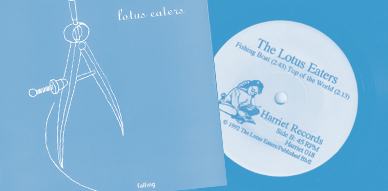 Thanks so much to George Howard for the interview! Don't confuse these Lotus Eaters with the ones from Liverpool as they were from Boston, US. They released 3 7″, two on the fabulous Harriet Records and then disappeared without trace. Happily George joined me down memory lane and well, it came out as a lovely interview. Hope you enjoy!
++ Thanks so much for being up for the interview George! How are things? I hear you are in New Orleans these days? Correct? You didn't go through Katrina, did you?
Hi. Things couldn't be better. I'm a lucky dude. Currently we're on Martha's Vineyard, but, yes, we've (my wife and two kids) been splitting our time between New Orleans and MV for the past six years. We did go through Katrina, yes. At the time my son hadn't been born, but my wife and – at that point – six-month old daughter left two nights before the storm, and holed up in Memphis for a while before heading back to the east coast for about four months. We decided we really had to return, and try to do what we could to help for the city we love. as i don't know how to drive a forklift, I decided my biggest contribution would be to teach; so I taught in entrepreneurship, management, etc. at Loyola's College of Business.
++ So let's go back in time, were the Lotus Eaters your first band?
Yes, Lotus Eaters were my first band.
++ So how did the Lotus Eaters start? How was the recruiting process? Were you all students at the same university perhaps?
The singer, Vanessa Tanaka, and I had gone to high school together, and then college, and we started writing songs together. Then, fortuitously, I saw Joan Wasser riding her bike through Kenmore Square with a violon case on her back. At the time, Joan had bright red hair – so she was easy to spot/follow – and I literally chased her down, and said we needed a violin player. Oddly, she agreed. Then we met Greg Jacobs (drums) and Bill Mitchell (bass) – all of us were Boston University students.
++ Why the name The Lotus Eaters? Were you then aware of the also great Liverpool band of the same name?
I was a literature major and really dug both the Tennyson poem and the section in the Odyssey Oddly, no one in the band really did any drugs, so it wasn't maybe the most accurate name. I (obviously) wasn't aware of the Liverpool band when I cooked up our name (remember, this was pre- Google-search days). I don't think that many people in Boston (or the US) really were.
++ How do you remember those early 90s in Boston? What were other great bands to see in town? And where did The Lotus Eaters used to hang out?
Oh, it was such a great time. Clearly, I remember it through the gauze of nostalgia, but I'm going to go with that (why not?). In the Boston rock continuum, it was sort of the last great stage; Aerosmith, J. Giels, the Cars etc. were sort of gone, and the next wave (Christmas, Zulus, Volcano Suns, Dumptruck, the Neats, Scruffy the Cat (more on them in a minute), Mission of Burma (mach 1) had done the major thing, and none of them had really exploded. And so the scene we were in had descended from that. Blake Babies had started to ascend and sort of set an example to follow. Obviously, the Lemonheads, too. But there was just this amazing amount of creativity and sort of community. You had little labels like Pop Narcotic and (not so little) Tang!, Harriet, etc. and just the general feel that Boston had shrunk. I think it was sort of its Athens, GA moment. Out of that came our little band, but, more importantly, artists like Mary Timony (Helium), Dambuilders (who "stole" Joan away from us), Mary Lou Lord, Ed's Redeeming Qualities, Fuzzy, Gigolo Aunts, and my favorite band (maybe of all time) Amoeba Cross Section (which was Keith Grady, who later played a lot with Lotus Eaters and Greg Jacobs), and so many more I'm forgetting. I don't really put us in the same category as, for instance, Morphine (who came out of Treat Her Right), Pixies, or Throwing Muses as those bands seemed to transcend geography.
In terms of hanging out, we all lived either together, or in close proximity in Allston Rock City. Joan, Mary, and Keith lived in the same house as Dave Derby and Eric Masunaga from Dambuilders. I lived with Greg. So, yeah, lots of fun nights with amazing music. It's really an experience I hope my kids have when/if they go to college; just lots of sharing of ideas and support.
++ Harriet Records is considered one of the finest pop labels of America. How do you feel about their roster of bands and how did you end up releasing with them?
We were really honored. I'll never forget we were playing a show at the Middle East, and Tim Alborn (Harriet founder) was standing next to Stephin Merritt watching us. Tim was sort of bopping around and digging it, and Stephin for most of the show was his implacable, but somewhat approving self…until we decided to do a truly misguided and terrible version of "See No Evil." Stephin just stood there and shook his head disapprovingly the whole time. Even still, Tim approached us after the show, and said he wanted to put out a record. It was a really happy night. Tim had/has great and idiosyncratic taste. Obviously, any sane person would be honored to have any type of association with Magnetic Fields, and many of the other bands on the label.
++ That first 7″ contains my favourite two songs of yours "Falling" and "Fishing Boat", they are just great pop gems! Who would you say influenced your sound? And do you mind telling me the story behind these two songs?
Thank you. Well, we sort of wore our influences on our sleeves. Listen to "Falling," then listen to either "7 Chinese Bros." or "Green Grow the Rushes," and you'll get a pretty good sense of where I was coming from. Peter Buck was the older brother I never had. not only did he influence pretty much every note of guitar I've ever played, but (from his interviews) he turned me on to everything from Jack Kerouac to margaritas. I've actually had the chance to awkwardly thank him for that.
Fishing Boat sort of shows some of the more disparate (i.e. non-REM influences). I was deeply into some of the English folk stuff (Fairport, Nick Drake, Van's "Astral Weeks" et al.), and those they influenced (Waterboys, etc.). I really love/loved the sound of wood – mandolins, acoustic 12 strings, dulcimers, violins, etc. – and tried to incorporate that into what we did. But then, it all got run through sort of a Feelies-filter.
I don't know…as they say in New Orleans it's just all gumbo and lagniappe.
++ And I have to say I love the artwork on this one. Even though it's simple, that compass and the greenish-blue paper is very evoking. Who came up with it?
Again, thank you. since I'm telling my secrets, that was very much influenced by (wait for it) an REM t-shirt from the Little America tour: a line drawing of a bicycle. I cooked it up, and I *think* I drew it, but, more likely, my girlfriend at the time (and, later Lincoln '65 bassist, and now fantastic stained glass artist), Anna Johansson, a tremendous artist, drew it.
++ After that you released two more 7″s, one on your own Slow River Records and another on Harriet. Which of the three is your favourite?
I don't think I even remember what the songs were. I do know that one of them had a sort of "rock" (or as "rock" as we got) track called "Top of the World" on it, that Keith Grady just tore up the guitar on – I liked that one a lot.
++ Are there any more releases? Why didn't you get to release more stuff? Maybe you have a drawer full of unreleased songs? 🙂
There are a lot of songs. As to why they weren't released. We sort of dispersed as we graduated. I went to Providence, Vanessa went to SF. It's OK, it was a nice moment in time, and I'm glad we documented some of it.
++ Did you play lots of gigs? Any in particular that you remember?
We did play quite a lot. as above, the gig that led to the Harriet records was memorable. I remember we played a gig at a BIG club on Landsdowne street (which was outside our usual Allston/Central Sq comfort zone), and, for some reason, the stars aligned, and it was a mob scene, and we played well, and it felt something like a victory party.
++ When and why did you call it a day? Did you have bands after that?
Again, we moved after we graduated. I started a band called Lincoln '65, which was more Neil Young/Uncle Tupelo/Townes Van Zandt influenced, and we put out a few things, and played around a bunch.
++ Are you all still in touch?
We are tangentially in touch (Twitter/FB is good for that).
++ I do know you started a label called Slow River and you eventually became president of Rykodisc. How fast did all this happen? Care to tell the whole story? And why aren't you involved with record labels today?
Long story. Again, being in that amazing crowd I was so blessed to be a part of, I really wanted to get the music of my friends (Helium, Amoeba Cross Section, etc. out). So, I figured out how to press up 7″ singles, and just sort of went for it. That led to a really fortuitous meeting with Charlie Chesterman (whose band, Scruffy the Cat I had LOVED), and I convinced him to let me put a CD. That went pretty well, and I put stuff by Sparklehorse, Ed's Redeeming Qualities, Vic Chesnutt, and Juicy, and was able to make a deal with Rykodisc, where they sort of let me do what I did, but gave me some more resources. That led to putting records out by Purple Ivy Shadows, Josh Rouse, Fan Modine, Tom Leach, Future Bible Heros, Disque 9, and a bunch more. Then Ryko was bought by Chris Blackwell. He and I hit it off, and he asked me to run Ryko, which I did for several years prior to it being sold to Warner.
I then started teaching and went back to school (got an mba and a law degree), and developing other things. For instance, I helped with the founding of TuneCore, and Artists House (www.artistshousemusic.org), etc. I've been fortunate to stay involved in the music/entertainment business (working with artists like Carly Simon, Mark Isham, Kristin Hersh, and companies like Wolfgang's Vault, Daytrotter, and Paste Magazine). So, while not involved in "labels" I deal with them every day, and feel proud to still be actively trying to affect the culture in a positive way, which is exactly what I wanted to do when I started Slow River back in the day.
++ And how do you see, after working in labels, this moment in the record industry. You think digital downloads will make physical records obsolete at some point? Or you think there will always be space for a fabulous slab of vinyl?
I worry less about the physical v download issue, and more about the negative impact on revenue when we move to an almost entirely streaming model. Labels/artists who are used to $7/transaction will be lucky to get $.007 / transaction. so the model has to evolve (it will).
As for physical – it'll always be there. The recent (happy) vinyl resurgence has less to do with sound quality and more to do with the fact that we as humans desire to share things, and hold things, and vinyl represents what Hugh MacLeod (and others) refer to as social objects. So, yeah, they'll always be there, and it would be wise for other industries (I'm looking at you, books) to understand this.
++ I know you've written books about it, but would you mind giving some free tips to those who want to start a label?
Hmmm. Look for ways that you can embed a social component into your venture. I'm passionate about social entrepreneurship, and i think if more creative types took the time to understand this, it would relieve some of the tension associated with monetizing art (s.e. looks at impact as well as profit in terms of success metrics).
I also think you have to understand value and expectation alignment in order to succeed.
It's sort of too long a topic to reduce here. sorry. But, I'd say if you have the impulse to start something (label, whatever), listen to it, and do it. the cost of failure is very low these days, so it makes it all the more reasonable to take a stab at something.
There's lots of good advice out there (Artists House (www.artistshousemusic.org), Hugh's blog, Seth Godin's blog, my blog, etc.)
++ One last question, is there any secret skill of yours that not many know?
Thank you. I don't really have any secrets (skills or otherwise), but I'm a surprisingly good cook (if I do say so myself). I also know a good deal more about the capital markets and commodity/pm exchanges than people might guess.
++ Thanks so much George! Anything else you'd like to add?
Thanks for your interest and your very cool blog, and for allowing me to page through my mind on this Father's day morning – a nice gift.
::::::::::::::::::::::::::::::::::::::::::::::::::::::::::::::::::::::::::::::::::::::::::::::
Listen
The Lotus Eaters – Falling