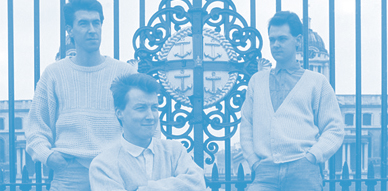 Thanks so much to Graham Wakefield for this interview! The Primary Colours only released one 7″ in 1987, but what a great piece of guitar pop it is! Classic indiepop! These days the members of Primary Colours still go on making music under the name of Wily. You can become a fan on Facebook here. Now enjoy the story behind the music!
++ Hi there! Thanks so much for being up for this interview! So these days you are called Wily and in the late 80s you were The Primary Colours. When did you change names? And what would you say are the main differences between the two bands if any?
We had been playing and recording as The Primary Colours for about 8 years and had given it our best shot to make it professionally. We had received some interest and recognition through the single (Don't Tell Me) and other demo recordings but had not had the break we were looking for. The live music scene was changing with many venues closing or putting on only tribute bands or Karaoke. We were becoming more disillusioned with the whole music scene and we were at a crossroads. We still wanted to play and record and so we decided to reinvent ourselves again but no longer 'chase the dream'.
We started to write songs with different influences (including REM, Radiohead, Oasis etc)  but also add more 1960s covers to the set. We became Wily in March 1996…… the same personnel but with a different set and outlook.
++ How did this long lasting friendship start? When and how did you all meet?
Founding members Atheesan Arudsothy and Andy Jackson were at school together and started jamming when they were 13 years old. Graham Wakefield was at the same school but a couple of years below them. He started playing in a band with Atheesan in c1977. Simon Gillmore was playing the drums for a mutual friend's band and we all at some point played in bands together, although nothing long term. When Atheesan, Andy and Graham decided to put a band together in 1980, they auditioned drummers without success. When they asked Simon to sit in on a rehearsal, the band 'clicked' and The Agent Orange was born.
++ I read that your first band was The Agent Orange. What kind of sound did that band have? And are there any recordings from that period?
In 1980 when The Agent Orange formed we were in the post-punk/NewWave era so our music was very influenced by this. The sound was dominated by two thrashing guitars and a driving rhythm. Everything was fast! There are some poor quality recordings from rehearsals around somewhere but we did make one proper demo in 1982 – by which time our sound was evolving and becoming more accomplished. The two demos were 'You Are' and 'Immaterial Matter of Fact', two of our strongest songs at the time.
++ After that you were involved in a band called The Neutral Zone that were described as The Buzzcocks Chainsaw Romantics. Would you say that this moniker was accurate? And how was the experience with this band?
The Neutral Zone was purely a name change because there was another band on the London circuit called The Agent Orange. The line-up and songs remained the same. One of the cover songs we played at the time was 'Ever Fallen in Love' by the Buzzcocks and with the effects pedals that Atheesan was using, the guitar sounded a bit like a grinding saw. This was at the time of the rise of the New Romantics(Duran Duran, Spandau Ballet etc). One promoter at a venue we played coined the term 'Buzzcocks Chainsaw Romantics' in an effort to describe our sound. We quite liked it and adopted it.
++ Soon after The Smiths were influencing you and you became a jangly pop act and you rechristened yourselves as The Mock Turtles. Shame was that almost at the same time another band with the same name was being successful in the charts. How did you take that? And just out of curiosity, how did you like the music of the other Mock Turtles?
When Atheesan left the band in early 1985, the sound completely changed (he had all the effects gizmos). We decide to carry on for a while as The Neutral Zone but soon realised that we had to change. The Smiths were a major influence on our writing and so we evolved again. It was when we teamed up with a local singer (Suzanne Murphy) that we decided a name change was appropriate and she christened us The Mock Turtles. We gigged under that name for about 18 months before we became aware of another Indie band with the same name in Manchester. They were having minor success and so we decided it was right to change our name to avoid any confusion. They released a number of singles before having their biggest hit in 1991 with 'Can You Dig It?' We liked them.
++ In 1987 finally you took the name The Primary Colours, a name that you would use for the next eight or so years. Who chose the name and what's the story behind it?
Choosing a name for a band can be really difficult. You need to conjure up an image with a name that fits your music. We wanted something that said 'Indie', was light and 'colourful'. The Primary Colours was the idea of drummer Simon Gillmore and fitted perfectly. There was no real story behind it.
++ For recording your first and only single, the great "Don't Tell Me" you had to raise 1,000 pounds! How did you mange to do that?
We saved money from gigs and had to dip into our own personal savings. This was a gradual process. We first paid for the recording, then sorted the art work. Later we had enough money to press the single. It took us a few months to complete the project (it's so much easier and cheaper today!).
++ And how was the experience of recording at Abbey Road Studios. Was it how you expected it to be?
The recording was made at another studio but it was the post-production and single pressing that was done at Abbey Road. We spent a day there and were very conscious of the heritage of the studios. Everyone we met was friendly and we were shown the studio where The Beatles recorded most of their material. We also walked across the famous Zebra Crossing! It was a great day out
++ Do tell me about gigs. Did you play many in this period? And which were your favourite ones?
During the late 1980s and early 1990s we were playing the London circuit. Looking back now it seems we were playing all the time but diaries show that there were 2-3 weeks between each gig (which was OK as we all had day jobs to keep). Our favourite venues were The Tramshed (a local venue) and The Cricketers. Both were regular venues where we were top billing and played with some really good bands.
++ About the single, care telling me a bit about each of the songs in it? What's the story behind them?
'Don't Tell Me' has two themes. One is the obvious break-up of a relationship (which is what most people get). However, it is also about (Graham's) frustration with previous lost opportunities by youth culture down the decades i.e. the Hippies and the Punks. They started with great promise and desire to change the world but failed miserably: "Now the party's over, you can walk away and leave me standing here to face another day". Our songs often had a political subtext and 'Happy All the Time' was one of those – an anti-Thatcher song set to a jangly pop tune. People thought it was a love song but we were really being ironic.
++ From what I've read there were other recordings by the band like "Visions of Yesterday" or "When the People Come". Why didn't you get the chance to release more records?
Back in the 1980s and 1990s it was very expensive in real terms to make decent recordings and this was a major factor in not recording as much as we would have liked. As for putting out a single, without a sponsor, this was just too costly. Therefore, we used recordings purely as demos to get live work. We recorded about 30 demos in all.
++ And how many more unreleased songs of The Primary Colours are still waiting to see the light of day?
There are probably about 15-20 recordings that have never been heard other than by friends and followers who bought them (on tape) or by people at the gigs at the time.
++ From all your songs, which would you say make you the proudest and why?
That is a very hard question to answer because each is special at the time of recording. We made some really good demos (at least we think so) of which we are very proud when we listen back. Extracts of a couple of these are available on our website. However, our most recent work 'Judy's Smile' is something we feel very proud of. 'Mixed Messages' is one track that we all like. It can be heard on YouTube.
++ I'm quite curious about the incident with Guy Chadwick from the House of Love. You used to call him Mr Potato Head, is that so?
We supported the House of Love in c1988. At the sound check the promoter and bass player approached us and asked if the band could use our bass amp as theirs had blown. We agreed. Guy Chadwick was playing pool and drinking close by. He didn't hear this conversation. The promoter then asked us if there was any gear we needed to borrow. Chadwick heard this and without looking up said 'we don't lend our gear to anyone'. We replied, 'that works both ways' and left the bar. The promoter and bass player came after us and pleaded with us to borrow the bass amp and apologised for Chadwick's behaviour. We agreed to let them borrow the amp but said in so uncertain terms what we thought of Chadwick!  Close up he looked like Mr Potatoe Head and so that is what we discourteously dubbed him. He didn't speak to us all night and got very drunk before playing. They were well below their par that night and we got a much better reception from the audience.
++ You joined the South East London Music Collective in 1990. What were the pros and cons (if any) of joining? With them you released two songs, "Chasing the Rainbow" and "The Lion's Share",  on a compilation CD. I've never heard these two songs sadly, so if possible, tell me the story behind them two?
There were no cons. It was getting increasingly difficult to get gigs in London as many venues were closing or charging bands to play. The Collective sought out venues and promoted gigs. It was a bands 'self-help' organisation. The Collective put on some great gigs, recorded a number of them and produced 'live' CDs. They also promoted member bands by putting together a couple of compilation albums to which we were asked to contribute tracks. 'Chasing the Rainbow' was about the realisation that our youth (and our dreams) were slipping away (Graham was on the eve of being 30 when he wrote it). 'The Lion's Share' was, for us, an uncharacteristic song about a fractured relationship.
++ In 1995 you decided it was time to stop The Primary Colours and become Wily. What made you take this decision?
I think we cover this in the first question above. It was time to reinvent ourselves again. We wanted to keep playing but couldn't carry on as we were.
++ Tell me about 2014. Are you planning any gigs this year? And any other future plans for Wily?
As Wily we play regularly. Our live set now consists of 1960s rock covers by The Who, The Kinks, The Rolling Stones, Jimi Hendrix, The Doors, The Velvet Undergound, The Stooges, Humble Pie etc. This music is timeless and appeals to a wide age group. People at our gigs range from their 20s to 60s.
In 2013 we completed and produced an album called 'Judy's Smile'. This was purely for our own pleasure and creative need and for people who still follow us. It has been received well by those who have heard it. We plan to release tracks from the album on line during this year. We also want to start work on another album and are thinking about themes and songs.
++ For you, what would you say has been the biggest highlight in all these years involved in music?
There has not been a single highlight really. We love playing music and each of our phases have brought different experiences. Abbey Road stands out, so too do some of the recordings we have made. Getting played on the radio and winning a 'Battle of the Bands' listener's poll 3 weeks running on BBC Radio London was special. Headlining some of the bigger venues was also an experience.
We are enjoying playing now more than ever. We are playing for our own enjoyment and not trying to impress anyone and so there is no pressure. When we record, we are free from any pressure to fit into any genre and so this too brings a freedom to experiment and express ourselves. As musicians we have continued to develop and we are always learning new things.
++ Thanks again for this interview, anything else you'd like to add?
If anyone wants to find out more about our 30+ year history, they can go to www.wilytheband.co.uk and/or follow us on Facebook. Thanks for giving us the opportunity to tell our story!
::::::::::::::::::::::::::::::::::::::::::::::::::::::::::::::::::::::::::::::::::::::::::::::