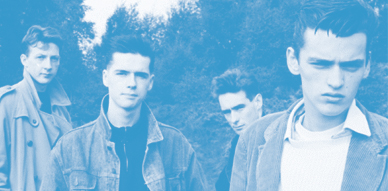 Thanks so much to Barry McLeod for the great interview! The Incredible Blondes released just one 7″ back in 1985, but it became such a classic that the band in 2005 and recorded some new tracks to put out a CD album. An album that I highly recommend. You can visit their site here. Please enjoy one of Glasgow's finest bands!
++ Before The Incredible Blondes you were in two bands, The Lemons and Protection. Care to tell me a bit about each? And were there any recordings or releases?
What can I say about The Lemons. Basically we were a New Wave punk band that sounds much more impressive than the actual reality. In truth, we were a classic garage band made up of friends from school. The line-up was John Wilkie on rhythm guitar, myself on lead guitar (eventually replaced Andrew Little on vocals) and Robert Campbell (the Incredible Blondes drummer) on drums. The songs we played were largely covers of bands like The Undertones, Stiff Little Fingers, The Vibrators, etc. It had to be simple due to our limited musical ability! We played 2 or 3 gigs locally and then morphed into Protection after listening (unwisely) to Genesis and YES albums.  Good God.
This, in retrospect, was a huge mistake for 2 reasons. Firstly, we couldn't manage the complexity of the music and secondly, NO ONE was interested in hearing this type of music again! However, we did a couple of demos, that are only wheeled out when we get together for a laugh.
++ So when did The Incredible Blondes start as a band? How did the recruiting process work?
The band started (after Protection split) around 1984. The band was simply Robert Campbell and myself. We quickly did a couple of demos in Glasgow studios and after sending these to record companies etc, managed to get a session on the Janice Long Show on Radio One in 1985. This was pure luck really, and the producer told me he thought we sounded a bit like the Velvet Underground. We probably sounded more like Glasgow underground, but were ecstatic at this piece of luck. After the session we advertised for some more musicians, and ended up (after a few trials and errors) with Eddie Campbell on Keyboards ( who later joined Texas) and Stephen Boyle on bass.
++And where did the name of the band come from?
As far as I can remember I think it was something to do with the blonde stimulant (Rutger Hauer) in Bladerunner. God knows what the actual link was.
++ What were you listening at the time when you formed the band? And as you are from Glasgow I have to ask this, how influential was Postcard Records for you?
We were listening to a lot of stuff at the time, from King Crimson to Prefab Sprout and The Smiths. I was introduced by my girlfriend to Orange Juice, Aztec Camera and Joseph K (all in the Postcard stable). To be honest, it was more the album You Can't Hide Your Love Forever that I really found brilliant more than the Postcard stuff. Also Lloyd Cole and the Commotions, Hipsway and The Smiths were also a big favourite (and still are). We were mightily pleased that our single released on NoStrings (who discovered Lloyd Cole), was distributed by Rough Trade record company for The Smiths.
++ Which were your favourite places in town to go see bands and hang out?
The trouble was we looked so young that it was (embarrassingly) quite difficult for us to get into pubs and clubs around town. But names that spring to mind were The Venue in Sauchiehall Street, the Pavillion and Glasgow University Student Union (the QM).
++ And were there any favourite bands in Glasgow that you would follow?
In those days we thought we were head and shoulders above most other local bands and usually adopted and aloof and scoffing nature to other bands. The more successful they were the louder our scoffing. I suspect this was simply mean-spirited pettiness. Secretly though, we did have our favourities, as listed above, who we would have killed to have been part of. The fact is we were too late for the Postcard stuff, but too soon for the newer 'indie' bands like The Pastels and Belle and Sebastian. I'm a big fan of Belle and Sebastian, but strangely have not come across any of them in Glasgow, as I said, from different times. Did meet the singer (Stuart Murdoch) at a local West End fete strangely enough, and he was kind enough to autograph a bit of paper for my 2 sons who are also big fans. Did not introduce myself as from The Incredible Blondes in case he looked blankly at me and hadn't heard of us!
++ Your one and only 7″ came out on No Strings Records. How did you end up knowing them and signing for them? Were there any other labels interested in putting it out? I wouldn't be surprised as it's a corker!
We were rehearsing in Centre City studios at the time in 1986 and the guy who was in charge at the time (Nick Low) heard us on the radio as we were actually rehearsing at the time! The enterprising fellow decided to ask us, there and then, if we wanted to do a single with his label (NoStrings). Poor Nick's been paying for it ever since, as we really did not make any money from the single and I'm sure Nick was out of pocket. We were very impressed with his encyclopaedic knowledge of indie bands (and any bands come to that) and am still friends with Nick.
++ And why weren't there more releases?
As we didn't make any money from the first single and got no interest from record companies, we came to the dismal conclusion that perhaps we weren't the 1% who think they are brilliant and actually are, but were more likely to be the 99% who think they are brilliant but actually are not.
++ So tell me about "Where Do I Stand?". What's the story behind this classic tune?
Wrote this in a couple of hours and simply just made up the hypothetical situation of boy looking for clarity vis a vis their relationship. Thought it was quite funny and reflected the daft posturing things we do to get the attention of the opposite sex (and probably still would do if I was on the market tragically). Was about to say patronisingly that it is what  young people so, but, on reflection, I think such behaviour is not related to age. Also, liked the idea of the song just being about just a small moment of realism for someone, as I really hated pop lyrics that sing about love and really don't seem to be about anything at all.
++ And how come you decided to re-record it in Japanese? And how did you meet the girl that sings on it?
Ah, that was Nick's idea. We went our separate ways after the single in 1987 and met, by chance in a Blockbuster in the West End (the fates!) about 20 years later. Nick, who fortuitously had now had a music production company with a cool studio, suggested we record some new songs and release some old material. He felt that there was some interest (somewhat late in the day!) for the single from the indie community, particularly from Japan. This is still strange to us, as only a 1,000 single were ever pressed. We have the sneaking suspicion that the single was released in Japan without a penny of it reaching us.
Anyway, Nick suggested we record the single in Japanese for this potential audience. Given our Japanese is limited, Nick recruited Aya to be translater for the new track. In the studio we decided to ask Aya if she would like to sing along and she did so with great aplomb.
++ So yeah, that Japanese version appears on the 2005 album "Where Do I Stand?". What made you resurrect The Incredible Blondes after all those years? And how different was recording new songs at that time compared to the your 80s tunes?
The resurrection was really just me, with musical help from Nick's friends Aya and Jim McDermott on drums. Unfortunately, Bob is now living in Shetland, so he couldn't practically be involved in the process. The process was completely different, as I had loads of time in the studio due to Nick's patience compared to the cash limited time limit in the 1908s studio environment.
++ And what about that photo on the cover of the CD? Is there any story behind it?
The cover of the clown and the boy is a photo of myself when I was about 8 or 9. I thought it was funny as this was a party where kids were asked if they wanted to get up and sing for the prize of a selection box of sweets. I was up like a shot and as you can see from the photo the clown had to prise the mike out of my hands.
++ What did you do in between those yeas? Were you still involved in music?
If only. The band split soon after the single as I and Bob both went to University. Well, in fact I went to University at Strathclyde and Bob went to college (Caledonia College). I then graduated and went on to do a Phd (which I did not complete!) and then worked as a Research Fellow at the Uni until 2002, when I started a public sector consultancy company. Bob left college and became a driving instructer for a while, then left to go to Shetland and is now a lecturer in Shetland College.
++ Another song I enjoy a lot from the album is Unreal, with that Orange Juice-y start. You say there that you have never been to New York or Paris. Did you ever get to go? What would you say is your favourite city you've visited?
Oh, good Smash Hits question! Never got to New York, but did get to California in 2003 which was really cool. Have been to Paris a few times, but I think my favourite city is Rome. I'm really into Roman stuff and liked dragging my kids about the city and boring them senseless about old piles of stone.
++ And what about your favourite song? do you have one?
Probably, oh, tough one, a tie between When Love Breaks Down by Prefab Sprout, Thank You by the Pale Fountains, Atmosphere by Joy Division, The Boy With the Thorn in His Side by The Smiths, Sunkissed by Friends Again or Felicity by Orange Juice. Don't tie me down to one song!
++ Did you gig a lot as The Incredible Blondes?  Any favourite gigs? Are there any anecdotes you could share?
We didn't do many gigs to be honest. We did support Deacon Blue at the Glasgow Tech which stands out for me. Please refer to above about scoffing and aloofness. The chat from them inbetween songs made me cringe. Bob, however, sold out and bought their album and they went onto wild(ish) success.
++ What about the Janice Long session? How was that experience?
That was really cool. Came back from holiday to find a note from my Mum saying Radio One had called and wanted us to do a radio session. I've never loved my Mother more than at that perfect moment. Going down to London in a van driven by my Dad sticks in my mind, as does the cool massive studio where we recorded. Bob and I went down with my then girlfriend Sarah on keyboards, as an extra  band member meant an extra £70 from Radio One.
Was also funny when the producer introduced himself as the drummer from the old band Mott the Hoople, to which there was an embarrassing silence as we had no real idea who the hell they were. I can still see the disappointment in his eyes.
++ I read that the Incredible Blondes split because you had to go to university? Is that how it happened? What did you study?
Refer to above, University of Strathclyde and studied Business Administration and Industrial Relations. Really wanted to do History, but was convinced that this would give me a better chance of a job. If there is one lesson for any young 'uns reading this, DON'T study Business Administration and Industrial Relations , DO study what you like the best (relatively speaking, given films, music and sport are not really on the curriculum).
++ Looking back in time what would you say were your highlights of being in the Incredible Blondes?
The Radio One session and seeing our single in the window of a record store on Byres Road in Glasgow. Heaven and the planets were in perfect alignment at this point.
++ How was the reunion gig of March 26 of 2005? Did it feel natural after all those years? And have your played live after or are there any plans to do so?
The gig was good fun, and it gave us the chance to play with co-opted bass player from our Lemons and Protection days, John Wilkie again. Did it feel natural? I don't know if gigs ever felt natural to us, but good fun certainly.
++ I've been to Glasgow twice already. And I'm sure there will be a third time around. So would love to ask you for some tips on what to see and some restaurants to have some proper Scottish food.
First thing is Glasgow isn't Rome, so don't get your hopes up. But you know this as you've been already. Go to Byres Road and walk up to the Botanic Gardens. Lunch in Cafe Anduluz in Ashton Lane. Wander up to Glasgow Uni and if you feel nostalgic, go to West Princess Street to see where Postcard Records were. It's a bit rough there so keep you hand on your wallet!
++ And yeah, why does Glasgow produce so much great music? Do you have any theory for that?
Good question. I honestly think it's because the weather is so awful here that we have nothing better to do than make music. Have you ever heard a great indie band from Italy or Spain? Good weather and too much fun to be had outside. Also think that there is something about Glasgow people that makes them less keen on manufactured pop and mainstream music and more keen on more serious music. Also helps that there is a big student community, many of whom are banging away on guitars so to speak.
++ One last question, do you like Irn Bru? I'm in love with it.
Irn Bru? God, you have been to Scotland. I love the Diet Irn Bru, as the real stuff is just to sweet for me. This, is my experience of fizzies ( and this is a lot of experience) is the only diet form of a fizzy that actually tastes better than the non-diet version. Diet Coke, Urghhh.
++ Thanks again Barry, anything else you'd like to add?
Only thanks for the chance to reminisce and I'm so glad that you like some of the songs we did. What other bands are you into??
::::::::::::::::::::::::::::::::::::::::::::::::::::::::::::::::::::::::::::::::::::::::::::::