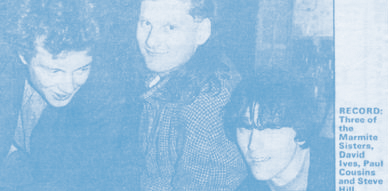 Thanks so much to Steve Hill for this interview! The Marmite Sisters were  a fantastic Leicester band in the late 80s and early 90s that released many tapes, 2 flexis and one 7″. Shambolic and fun, they are one of the era's best kept secret. If you want to get a hold of both flexis you can do so by writing Steve to timebox11 [AT] btinternet.com. You can get both for £1.50 plus P+P depending on where you are in the world. Thanks again Steve, and enjoy the read.
++ Hi Steve! Thanks so much for being up for the interview. So I have to start with this question, is marmite your favourite spread?
Marmite's OK but not my fave spread. It's best on toast on a rainy winters day with a mug of tea.
++ You all were already in a band called Anonymouse before becoming The Marmite Sisters, what were the differences between these two bands? Did you get to release anything under Anonymouse?
The Anonymouse formed in 1984 when we were all 14.We did our first gig in Nov 85 and recorded some basic 4 track demos. We did a couple of Yeah Yeah Noh covers and were similar to their early releases. Name change came when the original drummer and bassist left.
++ So was Anonymouse your first band? Or had you been involved with music before? And how did you all knew each other?
Our first proper band. We were all at the same school.
++ And how did the name of the band come about?
The name came about after Graham had a dream about finding a dead mouse in a Marmite jar.
++ You were based in Glenfield, Leicestershire, right? I just read there are only 10,ooo inhabitants. What did you do there for fun?
Glenfield and fun are not words usually used together.
++ In the early days you released many tapes, how many of those songs appeared later on the flexis and the 7″? Do you happen to have the tracklist for the tapes "Kick Donkey", "Songs of Love and Lawnmovers", "Demos" and "Bowled A Googly"? Am I missing any other tape?
"Kick Donkey" (1988) was our debut release with the first "real" line up and the only one with Graham Barnfield on vocals. It was basically a practice tape recorded in Iain's (bassist) bedroom but captured the band perfectly.8 songs in 20 minutes plus banter and mistakes.Shambolic but right. "Songs of love and Lawnmowers" (1989) had a more C86/jangly style and had two pop highlights in "I don't wanna" and "Madman on the Bus". After another line up change we released the "Tug" flexi (early 1991) and the "Bowled a Googly" tape. None of the tracks appeared on future releases.
++ And why release your stuff in tape? Was Tea Record & Tape Co. your own record label? If so, how did you like the business side of music?
Tapes were the cheapest and quickest way to release music. I ran Tea as a "hobby". Flexis were preferable but money was short. We sold over 1200 flexis overall just from mail order and gigs which I felt was ok but hardly a viable business.
++ Did you play lots of gigs? What are the gigs you remember the most and why?
We gigged sporadically til 1991 and then heavily until late 94. Early highlights include supporting The Membranes, Poppyheads and Orchids. After that we had regular local gigs supporting bands like Stereolab, Moonshake, Huggy Bear, Eggs… Gigs with local bands such as Prolapse, Cornershop, Ammonites. Towards the end we did regular gigs with Gag and The Keatons mainly in London. We once let Huggy Bear use all our gear to do a impromtu set at a Piao gig. Was great to see them playing my guitar covered in trainspotting stickers.
++ How was the PIAO festival by the way? I would have loved to attend that!
We opened the Piao festival but i saw little of it. Remember the Beatnik Filmstars playing their guitars with beercans but little else.
++ Your sound is great, I love the fast guitars! Which other bands from that time did you empathize with?
I always felt we sounded like the Wedding Present crossed with the TV Personalities. I liked the shambling bands of the day but favoured bands like The Wolfhounds and McCarthy or the weirder Ron Johnson bands like Shrubs and A Witness. C86 was a great time as all these bands were so diverse.
++ Your first flexi was the Tug EP. It says there that the song "Trevor" was written by a band called Trevor. What is this all about?
Trevor was written by Neil whilst at Uni in Devon. The exact facts behind this are vague at best.
++ The second of your flexis was called Belper. What was your relationship with Belper, Derbyshire? Doesn't look like much happens there?
Belper was chosen as a title only and not with any significance.Very little of what we did had any true depth.
++ Which of your songs is your favourite and why?
I like "I dont wanna" and "Madman on the bus" from the early line up. Its scratchy but tuneful and captures the early spirit.The flexis still sound good. I like "Nothing to get" of the Meller Welle single and "Semi Detached" + "Pre Nuptial" of the last recordings. I felt we actually sounded like a "real" band on these…..
++ When and why did you call it a day?
We called it a day in late 95. The main reason for me was seeing Guided By Voices in Nottingham that year. Simply the greatest gig i've ever seen and after that i couldn't see the point in trying. I haven't played guitar since (apart from drunken air guitar)
++ What is the connection between The Marmite Sisters and The Minogues and Cavalier Approach?
The Minougues was Neil and Daves band that ran at the same time as the Marmites. Great and daft pop songs. I really wanted to release a single by them called "Mr Duck" but somehow it never came about. One of only a few regrets. Cavalier Approach were Iain's first band from 1983/4.We used to cover the song "Dont touch my fence" about neighbours boasting over the size of their greenhouses. Very English.
++ I'm always curious about this on bands that were around in the 80s, did you consider yourself indiepop or something else?
We were very indiepop.Too talentless to be anything else.
++ What are you all doing these days? Are you all still in touch?
We are in very very infrequent contact with each other. Only Paul is still in a band called Black Fingers (heavy ,stoner rock). My last musical outing was guesting on the debut Volcano The Bear release "Y'ak folks Y'are" where i can be heard mumbling and shaking stuff. A great record despite this.
++ Your last release happened when the band had already split up. It was the Gricers EP on the Meller Welle label from Germany. How did this one happen? Why was it released posthumously and how come in a German label?!
"Gricers" was recorded a year before it appeared.Jorg liked the tracks but was struggling to get it released. By the time it came out we had nearly split and so couldn't promote it properly.
++ In 1995 you recorded 9 songs which later in 2002 you remixed then for an EP that never got released.  Will it ever be released? Are these songs similar to your earlier ones or much different?
Our last recordings were started in 1995 but we still needed to add extra guitar and mix it when we ran out of money. We spent 3 days in 2001 finishing it but its never been released. It's a shame as it would have been a good full stop on the band. Has 3 of our best tunes but no ones ever heard them…..
++ You know I would love to see at some point a retrospective album of The Marmite Sisters, are there any plans for the future for the band? Maybe a reunion gig? 😀
The band will never reform. I still have plenty of flexis available should people need them.
++ Now, looking back, what was the biggest highlight for you as a Marmite Sister?
Biggest highlight for me was touring with Cornershop in 1993. Playing at being in a band for 3 days whilst living in a car. Kinda summed it all up.
++ One last question, Leicestershire's biggest contributions to English cuisine are Pork Pie, Stilton Cheese and Red Leicester Cheese. I've never tried any, but if you were to choose one?
Stilton is England's finest cheese but its a love or hate kinda food.Red Leicester often tastes like the plastic its wrapped in and is best eaten melted on toast.Pork pie is great but i ain't ate meat for 26 years so maybe I'm not the best judge.
::::::::::::::::::::::::::::::::::::::::::::::::::::::::::::::::::::::::::::::::::::::::::::::