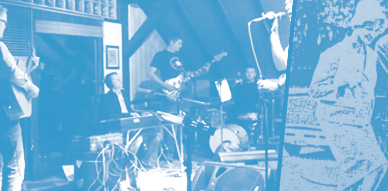 Thanks so much to Bernd Wagner for the interview. I also want to thank Christian Bauer for helping for this interview to happen. The Wide Plains were a great guitar pop band from Worms, Germany, in the late 80s. These days they are back together and sometimes they play live. Lucky those who get to see them! Let's hear their story.
++ Hi Bernd! How are you doing!? Whereabouts in Germany are you these days? Still in Worms?
To make things a little bit easier I'll first introduce you to the band.The Wide Plains reformed in 2010 are:
Andi (keyboards, backing vocals)
Bernd (vocals, guitar, trumpet)
Christian (bass)
Jürgen (drums, backing vocals)
Robert (guitar)
Andi is a new member. In the early days we had another guitar player (Michael) who now lives too far away to join the band again. Except me (living in Mainz) all the members of the band live in Worms (the town is not named after these little animals speared on fishing-hooks).
++ How was the scene back then in Worms during the late 80s and the early 90s? How did you like it? What were your favourite places to hang out?
Around that time it wasn't too bad in Worms. We met in clubs, pubs, coffee-shops and discotheques called "Fabrik", "Kanal", "Schwarzer Bär" or "KD" which all have one thing in common: they don't exist anaymore. When we were bored we went to Mannheim or Mainz. Most of our favourite bands from abroad played live in a club called "Batschkapp" (still existing!) in Frankfurt, a town, you might have heard of (in contrast to those mentioned before). For example we went there to see Lloyd Cole and the Commotions, The Go-Betweens, Felt, Biff Bang Pow, The House of love,The Woodentops,The Triffids,The Chills,The Jesus and Mary Chain, Primal Scream,The Charlatans and many many more.
++ What about fellow bands? Were there any other guitar pop bands in town?
In the late eighties Worms was crowded with guitar-pop-bands. It all began with "Autumn's Chant" in 1984 (with later Wide Plains members Bernd and Robert amongst others). When "Autumn`s chant" split up in 1986 "The Blue Eyed Bandits" (Bernd),"The Blue and White collar workers" (Robert) and a little bit later "The 7 Roberts" (Robert) were founded. Around that time Jürgen played in "The Rayn", Christian formed "Drab Hotchpotch" while Andi joined "The Wallflowers" and later "Sonic Flower Groove". After all the "Wide Plains" started in 1989.
++ How did you knew each other?
Robert, Michael and me went to the same school. Apart from that Worms is a rather small town and all the bands knew each other.
++ What about the name? Where does it comes from?
The name "Wide Plains" was Jürgens`s idea. Having just been to U.S. he suggested to name the band after a suburb of New York City. We thought it sounded really cool and agreed. Months later Jürgen had to admit that this suburb`s real name is "White Plains" but at that point everybody already knew us as "The Wide Plains" and so we left the name as it was.
++ You released the song "One Bright Day" on a compilation tape on the Heaven Sent label. How did you end up doing so? Care to tell me a bit about this label too?
The owner of the "Heaven Sent"-Label was a guy named Ralf Hoffmann, nickname "Hopemann", who, by the way, was also a member of the above mentioned "Sonic Flower Groove". He was a guitar-pop-maniac and released several compilations, mainly on tape. Apart from bands of the region some better known bands from abroad also contributed songs to these compilations, for example "14 Iced bears" from the U.K. (do you know them?). Some of these tapes seem to have found their ways to Japan. 20 years later a Japanese guy called PomPom Takashi stumbled upon one of these compilations. As he liked "One bright day" very much he put it on "Youtube".
++ Did you have any other releases? Perhaps some demo tapes?
We released the tapes "New hope for the lonely" and "Spring valley stories" as well as a vinyl-EP with four songs. A few days later we split up. So we sold only a few pieces. Most of the records are still stored away in a cellar somewhere. You may have one if you like (and if we`ll find them).
++ I read on a Youtube comment that you plan to digitise all the tracks you recorded. How is that going? I'd love to listen to these songs!
The only songs that haven't yet been digitised are those on the E.P. mentioned above. They reflect our late "Madchester"-period.
++ How many songs were recorded by the way?
In the late eighties/early nineties we probably recorded about 20 songs.
++ What about the songs on the ReverbNation page? Are these new ones? They sound so good! You've never lost your touch, huh! What's your favourite song of your repertoire then?
All the songs on ReverbNation are old and were recorded in the late eighties/early nineties. The song with the video is the only new one on ReverbNation. It`s a demo version of "Scanxiety (waiting for the scan)" which is currently one of our most favourite songs. But we are working on new material which is even better than we expected when we re-united. Hopefully it will be finished at the end of summer. We`ll let you know!
++ You are still going with Wide Plains, but there was a long hiatus, right? What happened in that interval of time?
As you can imagine we`re not in our twenties anymore. When we split up in 1991 we were all students in different subjects. In the following twenty years we worked in different jobs, got married or split up and got one to four kids. One thing that we always shared and that distinguished us from many of our contemporaries was our ongoing passion for (the right) pop-music, especially guitar-pop.
++ I noticed you have had some gigs as of lately, how are you enjoying them? Any new gigs coming up?
Our biggest problem is the lack of time for rehearsing, recording and playing live. We'll probably play two or three gigs this year (next gig: 30th of July) in the region.
++ How do you compare these gigs to the ones in the past? What has been your favourite gig you've played and why?
The audience has grown older too. That`s one of the reasons the concerts aren't as lively as they were in the early days.
In my opinion we played our best concert in 1991 when we supported "The Jazz-Butcher" from the U.K. (I hope you know them) in Mainz. It was great and unforgettable experience to play in a big and sold-out location in front of hundreds of people supporting one of our favourite bands.
++ I'm wondering, especially because of your sound and because you started in 1986, how influential were those c86 bands from the UK? Did you have any favourites? Did you feel your sound and spirit was akin to what was going on in the British isles?
This is a serious question. Although we all listened to the C86-bands and went to their concerts the Wide Plain`s influences are quiet heterogeneous. I could fill pages with the names of all the bands which we loved and grew up with, also the new ones if they only sound like the old ones, for example "The Pains of being pure at heart" or "The Head and the Heart" to name just a few. Listen to BBC6 music and you`ll know which kind of music we prefer.
++ Giving one last look to the past, what do you think was the biggest highlight of The Wide Plains as a band?
As I already mentioned above and I`m sure the others would agree, the biggest highlight was supporting the "Jazz-Butcher".
++ So what is ahead for The Wide Plains? What can we expect in the future from you?
I 'd prefer to tell what you can not expect from the Wide Plains in the future: I suppose we won`t go on tour in Japan or the U.S..
++ You know, I've been around many cities around Rhineland but never been to Worms, I'm wondering if you can tell me what is there to visit in your town? I can probably visit next time I'm in Germany 🙂
If you're interested in history,for example the reformation and Martin Luther, Worms is the right place to go to. If not you should visit other German cities.The music scene has changed dramatically. There are still bands with many different genres but I`m not sure if there are still any other or younger guitar-pop-bands around. Most of the musicians in our age nowadays play in cover-bands. If you nevertheless decided to come to Worms you'd be very welcome.
++ Oh! and as a big fan of German beer, I always have to ask this question, what's your favourite beer?
Although we also drink beer, the region between Worms and Mainz, named Rheinhessen, is better known for its famous wine. If you like to try a typical white wine from here ask your local dealer for a very dry "Riesling" from "Rheinhessen/Germany".
++ Alright, let's wrap it here, anything else you'd like to add?
You didn`t ask for the reasons of our reunion. Apart from the Wide Plains song who turned up in the internet after 20 years (see above) which was one motivation to start again it has something to do with painful hamstring-muscles and Ian Brown (former singer of the Stone Roses). Unfortunately 11-month year old Jonathan sitting next to me is getting louder and louder. So let`s wrap it here.
::::::::::::::::::::::::::::::::::::::::::::::::::::::::::::::::::::::::::::::::::::::::::::::