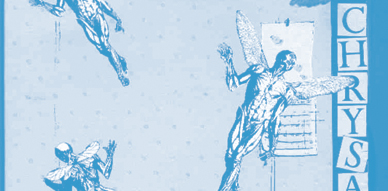 Well, some updates this week on the website as some of you might have noticed. Of course you can now order the My Favorite record and I've slashed down the priced on the first 20 7″s we put out. I just need some space at home for future releases and even if I won't make much money out of these sales, I prefer these records going to a good home. If you want to support, then buy 2 or 3 of them and then maybe a little money will come for me to fund new records in the months and years to come.
So that's that. Secondly I've started taking some freelance work this month. Seems like label sales are not enough anymore for releasing new records. So there I am. A bit busier than before but with a very hopeful view on the future. Can't leave all these gems I've been listening lately stay in obscurity, right? You have to keep going. At least a couple more years. I think the dream of 100 7″s by 100 different bands is far far away, but I think a realistic goal would be to make it to 10 years. Maybe organize a small farewell festival then. What do you say? Maybe host it in London? Or where else? Miami would be interesting because that's where I started, but probably no one would go.
Thirdly, I need to start catching up with the new fanzine. It's almost done but I haven't been able to finish it. Also I have two CDs to design. So even though Cloudberry is quiet, I'm working. And I still go to the post office every single week, two, three times. And you know I keep blogging to keep everyone up to date.
Talking about being up to date, this Thursday here in New York I'll head to Rough Trade to see The Clean. They played like two years ago here too but I missed them. Looking forward to them. I believe next week Joanna Gruesome is playing in town too. Might as well check them out. I always miss them in UK when I'm there. They've played twice at Indietracks and I have been doing something else that I can't remember. I did catch them last year in Brooklyn and they were really good. At least with them I don't feel bad not living in UK.
Aside from that it seems that the indiepop scene is a bit quiet, isn't it? But I've been doing some discoveries.
I have to say that the songs that are on the soundcloud of The Fabulous Artisans are a delight. Best thing I've heard in ages! Really a beauty. I'm in love. The 4 songs, "However Much I Love You, I Love Lloyd Honeyghan More", "A Week of Wednesdays", "The Nearly Man" and "The Night I Met Tracey Emin", are just top class. I especially like the first one. And this is just a "demo"! Crazy. These songs would make one of the classiest 7″s I'm sure. If you are reading this, all you Artisans, I'M HOOKED! I play it so very often these songs (especially now that my work computer doesn't let me play CDs!).
Another interesting band is Glasgow's Bodyheat. There are two songs in their soundcloud, "Silhouttes" and "Upside Down". As anything that I feature in this blog, they are quality (ha ha!). Perfect jangle pop, luminous, shiny shiny, I enjoy these songs very much! Would love to hear more from them. Don't you just love this sort of elegant indiepop? True, it's harder to sell, everyone wants the raucous, fast paced, ramshackling sort of pop these days, but who cares about that, this is just beautiful and those who can't see it (or hear it), are just plain dumb!
And of course the best news lately is that the Persian Rugs are releasing a record. Oh dear. I want to listen to that. If you haven't yet heard the promo single for the album then you are lucky because I'm going to share the link with you. No, it's not secret. But I'll help you and save you some seconds of looking for it online. The song is called Bedhead and it's a proper indiepop GEM! Right? Now you trust me. Enjoy it! Those fuzzy guitars at the end and Kaye's voice are brilliant in this song!
———————————————————————–
So a couple of days ago Joel writes me asking me about some songs by a band called Chrysalids. No, not the UK Chrysalids that had members of 1000 Violins. Not them. But an Australian Chrysalids. Have you heard about them?
My first encounter was many years ago with that compilation Peter Hahndorf from Twee.net made on CDR called The Sound of Glen Waverley. A compilation that I've written about many times here in the blog. It was a sort of an Australian Leamington Spa series.Well, it was supposed to be that. It was never released and as far as I know, Peter only gave some copies to some of his friends.
On that compilation this Chrysalids were included with a song called "Sunny Guitar Pop". Guess what, the song sounded just like the title. It was bright, shiny, fresh, and proper guitar pop. Jangly and jangly. I liked it so much that I waited many years, maybe 5 or so years since I got the compilation, to finally find a 7″ by them on eBay. A double A side with the songs "Stop the Clock" and "Them". And guess what, "Sunny Guitar Pop" wasn't really "Sunny Guitar Pop", it was actually called "Them".
This record was produced by Chrysalids and Jeremy Smallhorn. Engineered also by Smallhorn and recorded at Pyramid Studios in Brisbane in 1987. The enigmatic artwork was made by Cathy Stephens. The record label was Mighty Boy Records and the catalog number was MB20047.
Thankfully inside the 7″ a insert is included. On it we know the first names of the band members. Cameron on drums and reverb, Alex on vocals and guitar, Graham on guitars and vocals, and Bruce on bass guitar. There are some special thanks but none of those names ring a bell to me sadly. On the insert some very high contrast black and white photos of each band member are included too.
That's all I could gather from this fantastic band. But then googling I found out a more recent band called Generation Jones. Alex seems to have been part of this band, and I finally learn his last name: Waller. This band seems to have been closer to Wilco than indiepop, but there's a small bio in the site that mentions a bit about the Chrysalids:
Brisbane power pop indie rock band. Three quarters of Ducks in Formation moved to Sydney and changed their name to Peso Kim, and with one eye gazing at their shoes and the other on the filthy lucre, released the single "Run for Cover". One quarter (Alex Waller) stayed behind and formed The Chrysalids, releasing the "Texas" and "Stop the Clock" singles. Guitar pop rarely sounded this good. When Presidents Eleven split McDonald secured the bass playing services of Bryan Batley (McQueen and Waller partner in crime) in his new band The Spiny Norman Conspiracy. Just after recording the 4 track CD "Firm but Fair" (arguably the first CD release by an independent Brisbane band) Alex Waller jumped ship from the rapidly sinking Chrysalids and joined. Catherine Addow of Who's Gerald (later Custard) was briefly on drums. Still stubbornly wearing stovepipes when the world went op shop and baggy, the rest of course was complete tragedy but that's another story… various members are currently in oz indie group "Generation Jones"
Interesting. I could find on Youtube some stuff by Ducks in Formation. It was pretty melodic post punk, kind of like Echo & the Bunnymen. From Peso Kim I couldn't find any of their songs online. But for me the biggest mystery is seeing that the Chrysalids released another single, "Texas". I can't seem to find anything about it! Because it's listed before "Stop the Clock" I would guess it's an earlier effort. "Stop the Clock" was released in 1987.
Sadly that's all I could gather online about this band that made really nice songs. The three that I have heard are super. Perhaps you know a bit more about them and would like to shed some light about them? I'd love to know more and solve some of these mysteries about this obscure and fantastic band!
EDIT: My friend Andreas, such a good Sherlock he is, found out that the first 7″ of the Chrysalids, the one with "Texas", was a split single released in 1986. It also included the song "Call Me". This 7″ was shared with a band called Spiders and the Flys who on the B side appear with two songs: "Love Dance No. 1" and "Simple Needs". It was released by Tombstone Records.
::::::::::::::::::::::::::::::::::::::::::::::::::::::::::::::::::::::::::::::::::::::::::::::
Listen
Chrysalids – Them