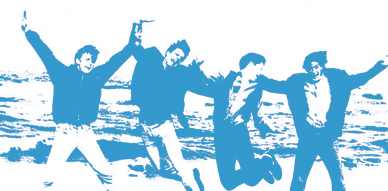 Thanks to Tom Crook for the interview!
++ Who were Sometimes Sartre? When and where was the band formed? How did all of you come together? Did you knew each other from high school maybe?
Sometimes Sartre were Jonnie – vocals, Jon – drums, Jack – bass, Chris – guitar and Tom (me) – guitar, all friends from Highdown School in Caversham, Reading, UK, and fans of 80s British indie such as Aztec Camera, The Pale Fountains, Prefab Sprout, Orange Juice etc. Also joining us here and there were a girl called Donna who played keys and sang too.
++ I've heard a couple of songs, but I've always wondered if you ever released any records? What about contributions to compilations? the only one I know is Good Book to the You Can't Be Loved Forever #1 tape.
Two songs were released as flexi-disc singles – These Kind Colours and Homelovin' Boy. There may have been other compilations, but no proper label was ever involved, although Cherry Red once expressed an interest.

++ How many demo tapes did you record? What was the total output of recorded songs by the band?
I think we recorded maybe a dozen songs, maybe a few more. All very lo-fi thanks to lack of money. i could get a CD together if you'd like.
++ Why do you think Sometimes Sartre didn't become more of a known name of the guitar pop scene of the time? You did have good songs, so what happened?!
In the late 80s, Britain discovered ecstasy and dance music and indie bands had to get some funky beats. The Sartres never evolved.
++ Why did you choose the name "Sometimes Sartre" for the band? Were you influenced by him?
This was the fault of our drummer, Jon Bartlett. I never knew what it meant but i couldn't think of anything better. Carved Smiles was also in the running.
++ Music wise, which bands were your favourites at that time?
See above, and add to that Everything But The Girl, The Daintees, Felt, Hurrah! and REM.
++ Did you gig a lot? Any particular gigs you remember the most?
Yes, lots around Reading, then London. Mean Fiddler was our highlight. Also supporting Stone Roses.
++ Were any of you involved with other pop bands before or after Sometimes Sartre?
Jonnie, Jon and Jack started a band called the Lucky Bags. Jonnie the singer is now in A&R at Sony. I've kept on playing – played guitar for Summerhill, then worked as a session player for the likes of Mew and Amy Winehouse. Now actually singing my own songs under the name Band Of Hope and playing bass for a band called Holton's Opulent Oog.
++ How involved were you guys with the fanzine scene of the late eighties / early nineties?
Just local fanzines such as You Can't Be Loved Forever.
++ The biggest highlight? What do you miss the most from those days?
The biggest memory is just making music with your best mates.
++ When and why did the band call it a day?
I think it was 1990. College, jobs, girlfriends all got in the way.

++ Thanks so much for all your help and answers, anything else you'd like to add?

Thanks for the interest. You've got a cool label there…..very Sarah or Creation sounding bands. This MySpace site was set up so the rest of the band could hear some of the old long lost recordings.
::::::::::::::::::::::::::::::::::::::::::::::::::::::::::::::::::::::::::::::::::::::::::::::
Listen
Sometimes Sartre – Good Book