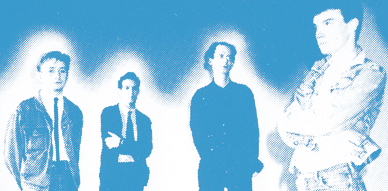 While I eagerly await for the Pale Spectres 7″s to arrive any day now, I continue to find indiepop bands on the web. Not in the hopes of releasing them something, at this point I have already all releases for this year lined up, but to prove myself that indiepop is still going strong even though it doesn't catch the attention of the press or festival organizers.
Sea Shrine: Cris from The Royal Landscaping Society shared with me their Bandcamp after falling head over heels for the song "Soft Alarm". Upon listening to it, I also thought, "wow! this is truly great!". It is  classic early 90s indiepop, the guitar strums and chimes the way we all love while the soft vocals blend perfectly. The band seems to be a one man project, a mysterious Thomas is behind it. He is based in West Virginia and he has 5 songs up on the Bandcamp, sadly I can't say I love the other tracks, but "Soft Alarm" is totally a winner!
Skittle Alley: our friend Fanou has a new album out on Discos de Kirlián from Barcelona. It is titled "End of a Story" and it is limited to just 100 copies. The album includes 9 songs and it is very affordable at just 4 euros! It is just what you expect from the Limoges one-man band, lo-fi bedroom indiepop, perfect for a rainy afternoon.
Snowflakes: it seems the releases they have on Bandcamp are actually more than a decade old. This band from Tokyo, Japan, are firm followers of that they call neo-acoustic in the country of the rising sun. You can hear three releases on their Bandcamp, "Snowflakes" which was their debut 7″ in 2003, "Waiting For" that was also a 7″ released in the summer of 2007, and "Light", their latest, released this year on tape. Not sure where you can actually find or buy the proper physical releases, but all songs are available for streaming and they sound pretty pretty.
Goodly Thousands: I'm sure I've mentioned them before on the blog, I love this band. They have released a couple of 7″s on Shelflife Records and now I found a month old song on their Soundcloud titled "Spree" that sounds glorious to my ears. Maybe it is already time for an album from this Dublin band. Check it out by clicking on the link!
Love Dance: they seem to be back with the song "All the Time". I was very lucky to see them some years at Indietracks, where I remember they stayed at the same hotel as me, and would see them have breakfast every morning at the Mansfield Premier Inn. They put a fantastic gig that time. Since them they have been quiet, very quiet. I sent them a message some time ago, to check if they were still making music. They were. They told me they had a label already. I believe they meant Brilliance Records who are releasing digitally this beautiful piece of art titled "All the Time". It is actually a single that will be included in their next album.
 Star Tropics:  the Chicago band is back with a CD album on Fastcut Records. I don't know much about them to be honest as their Bandcamp and or Soundcloud are not updated, nor their Facebook page. None of these pages have any notice about this release. I wonder why. Maybe they are waiting for their US version of the release which I think is coming as an LP on Shelflife? Anyways, the Japanese version has the song "Tempest" as a bonus track. Would be nice to find out something else about this album, right? Previous songs on Soundcloud sounded pretty good.
And speaking of Shelflife I had a look at their forthcoming catalogue just now and noticed that there is a forthcoming The Keep Left Signs 7″!  That I look forward to!
—————————————————————–
Dungannon (from Irish: Dún Geanainn, meaning "Geanann's stronghold") is a town in County Tyrone, Northern Ireland. It is the third-largest town in the county (after Omagh and Strabane) and had a population of 15,889 at the 2011 Census. The Dungannon and South Tyrone Borough Council had its headquarters in the town, though since 2015 it has been covered by Mid-Ulster District Council.For centuries, it was the 'capital' of the O'Neill dynasty, who dominated most of Ulster and built a castle on the hill. After the O'Neills' defeat in the Nine Years' War, the English founded a plantation town on the site, which grew into what is now Dungannon. Dungannon has won Ulster in Bloom's Best Kept Town Award five times. It currently has the highest percentage of immigrants of any town in Northern Ireland.
Today I decided to pick up another record from my collection, one of those rare ones, a compilation this time.
"Dungannon Musicians Collective 5" was a record I didn't know about when we were looking through racks of old vinyl stock in Toronto. My friend Jessel introduced me to a world of fantastic records that afternoon. And he picked up for me this compilation LP that was released in 1988 mostly because it included two songs by Tiberius Minnows. Yes, I know, Tiberius Minnows, what a fantastic band, and yes they do deserve a post on the blog. Though I think an interview would make more sense as they are pretty active on their Facebook.
There were 4 more bands on it that I had no clue about, each one contributing 2 songs. There were The Hasbeens, McGovern, The moon and Wrong Door Raid, plus Tiberius Minnows. I had to explore them. See who were they. The record luckily comes with a booklet where some basic information is available for each band.
I think the first song that caught my attention that wasn't by Tiberius Minnows, who I already knew thanks to the Leamington Spa series, was "Seasons" by Wrong Door Raid. I really liked the guitars. This was the opening track on the B side. They had another song, "Balance is Everything", closing the A side, but for me, their better song is "Seasons", even though they include the lyrics for "Balance is Everything" on the booklet.
This record was released by Castle Records (catalog DMCAST1) and we learn a bit about this release thanks to a "prologue" or introduction on the booklet. It says that the DMC (Dungannon Musicians Collective) began in 1987 with Keith Campbell who had a motivation to help up and coming bands. A small team was assembled at the time. Sadly Keith was to pass away but the team was to continue the project for the release of this LP. All bands that contributed were part of this team and they played many gigs to raise money for the record.
Mark Hamill, chairman of the DMC, and Paul Jackson, wrote these introductory notes on the booklet. They thank a lot of people among them people that worked for Dungannon's government.
When I reach the page where Wrong Door Raid have their photo and "Balance is Everything"'s lyrics, I find the band members names. That's something. Maybe with them I can find out more about this band? These two songs were the only ones they seem to have released. It doesn't seem to be anything.
Martin Campbell played drums, Stephen Conlon played bass, Paul Jackson (who I assume is the same Paul Jackson behind the introductory notes) on vocals and Noel McHugh on guitars. The piano on "Balance is Everything" was played by Paul Donaghy.
As you expect with these obscure bands it is almost impossible to find any information on the web. Luckily I did find a Wrong Door Raid Soundcloud by Paul Jackson. Sadly there is only one song on it and it doesn't seem he updates the Soundcloud often. The song "People People" was uploaded 5 years ago. It does sound different to the ones on the DMC compilation. It is more like a country song. We also see that Paul is now based in Belfast. There's nothing more.
I've written about a bunch of Irish bands lately. Seems like there is still a lot to discover, many hidden treasures. I wonder if Wrong Door Raid left more recordings from that time, with those chiming guitars that appear all of a sudden on "Seasons". I really hope so. Anyone else remembers them?
::::::::::::::::::::::::::::::::::::::::::::::::::::::::::::::::::::::::::::::::::::::::::::::
Listen
Wrong Door Raid – Seasons