30
May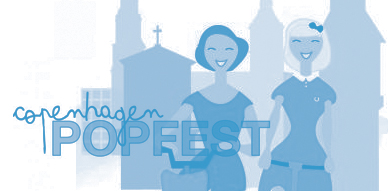 I missed Copenhagen Popfest in April. No, the volcano wasn't in my way. I just couldn't go. The line-up looked fantastic and I really wanted to go. Many close friends were going and I felt very jealous that whole weekend. I know some bands from UK couldn't go and play there because of the volcano ash, but still, judging from the photos and videos it seemed like a fab time. But to confirm me how good it was, I asked Danielle, one of the organizers, to tell me a bit more about it. Thanks again Danielle!
++ Hi there! How are you doing? Any special plans for this summer?
Hi Roque, I'm great thanks! Well, were all seriously considering coming to Indietracks again this year, I just have to get used to the idea of sleeping in a tent again.. Brr..
++ Let's talk about the festival, who are the people behind the Copenhagen Popfest? And how did you know each other?
The people behind the Copenhagen Popfest this year was basically Michelle (who's been one of my best friends for 10 years now), Stefan (of Northern Portrait, my husband) and myself. From now on we'll have some extra help from our good friend Morten and maybe a couple of others, after realizing how much hard work this Popfest-business is!
++ How did you all get excited and decided to organize Copenhagen Popfest? Was there something in particular that inspired you?
Well, it all started as a suggestion from Stefan. We'd been to the Hamburg Pop Weekender, San Francisco Popfest, Indietracks and numerous other indiepop events in 2009 – because Stefan was playing. Everytime we got home, we'd both have new favorite bands and bought so many new records – we were generally just really blown away by how many great bands there are out there! So Stefan and i started talking about doing some sort of event here in Copenhagen, and Michelle who had just finished her bachelor in Performance Design was instantly up for the idea.
++ Was there any special reason to do the festival in April?
Theres several reasons.. For one, Copenhagen is really nice in spring. Then we also heard from our friend in Hamburg that they weren't gonna do a Hamburg Pop Weekender this year (which was the best weekend ever) and we thought that it would be a good idea to do it before the whole festival-season started.
++ How is Copenhagen indiepop-wise? Are there many fans? Or bands? From the distance it seems there is only a handful… do you think the scene in your town is growing?
No, there aren't too many bands.. Or fans. At least not many who share the same idea of what "indiepop" is. But we'd done this club night The Banana Hold-Up also to see if anyone would show up, and the place was always packed with people dancing, and had a loong queue outside.
But personally, i think Copenhageners are just extremely picky and spoiled, even the people i know who might be interested in indiepop don't regularly show up at these events. Sometimes it seems like the danes is just not that interested in discovering new music.. I could go on about this.. The bottom line is, haven't lost my faith in them yet!
++ And what about you? How did you start to like indiepop? What is THAT band you call your favourite? Is there any great pop bands you like from Denmark? Myself, I love Gangway!
For me, it all started when I was a young teen and everyone at school where either into Blur or Oasis, and I was offcourse really into Blur – but also The Spice Girls! I had no idea what was cool or not, I just really liked popmusic! So when I was 15 or so, I'd sneak along to this club night in Aarhus, called Club Drive and dance along to stuff like Belle and Sebastian, Razorcuts and Another Sunny Day.
One of the guys from Gangway used to host a TV show here in Denmark in the 90's, sometimes he'd just sit there with a big glass of red wine, wearing a suit and trash all the terrible 90's music. Great show. There is a couple of really good indiepop bands here in Denmark (I'm a big fan of Ampel, they are fantastic live) most of them played the Popfest this year – but oh, do we still have some aces up our sleeves for next year..
++ You were so unlucky, that same weekend, you had that stupid volcano ash all over the place, making the airports close. So many bands couldn't come, many attendees couldn't come either. Honestly, what crossed your mind at that moment? Did you ever thought about postponing the festival? Was it an easy decision to continue?
It was a complete nightmare! But we didn't know if they would open up the airspace in 2 hours, or 2 days – thats basically why we didn't cancel it all. Anything could happen. But along the way, as we realized that neither our longdistance friends, or the British bands we'd booked (and so looked forward too) where coming, we just had this feeling of "the show must go on". It also made us really apprecciate every single person who showed up!
++ You said that there might be a second part of the festival this year for those who couldn't attend. Any news on that?
No, not yet. We are trying to figure out if we'll do it at the same venue, or maybe try something different. All we know is that it will probably be in fall/winter sometime.
++ The posters, the flyers, are all very pretty giving the festival a different look and feel to other festivals. Who designed them? And was there some sort of concept behind this branding of Copenhagen Popfest?
I just recently started studying media graphics here in Copenhagen, and was really fascinated by these vintage vacation posters. They have such a fun and happy feeling about them, so i just thought I'd draw something like that for the festival.
++ What was the best moment for you of Popfest 2010? Do you think you'll do it again next year?
The best moment? Oh that's hard to say, all the bands where really great, and I was just really happy when people showed up! But sure, we'll probably do it again next year.. If no one else will

++ I heard, and correct me if I'm wrong, that some DJs started playing britpop and mainstream indie! What was that all about?
Oh, please don't remind me.. It was just a bad call of judgement on my part. The DJ's in mention had turned up ten minutes before they were on, so they really had no clue what was going on, they had written down a non-discussable playlist that made everyone leave the dancefloor in protest. And I mean, everyone. It was very awkward for both the DJ's, the audience and us the organizers. But as soon as it was time for the next DJ, the dancefloor got filled again. So it was all ok.
++ I also heard the venue was pretty nice and central, that it was a great choice. Care to tell me a bit about it? You also have a club, right? The Banana Hold-Up, do you host it in this same place?
The venue is right next to the Central Station, and is called Råhuset – which means something like "Rawhouse". Its basically a big empty house. Normally they host alot of "underground" stuff – Death Metal, African music and also Northern Soul. By the way – they loved us and all our indiepop kids, and they really want us to come back.
The Banana Hold-Up is usually held at Jolene – where the Popfest afterparty was held. It's a great little venue in the meatpacking district.. Not too far from Raahuset.
++ I think what you are doing is really fantastic for the scene. Do you feel any sort of bond or relationship with any of the other Pop festivals around the world? Have you been in touch with their organizers perhaps?
Yeah, in the beginning we had a really hard time finding a good name for the festival, so we asked one of the organizers of the London Popfest what we needed to do to call it a Popfest, he just told us to go right ahead. So we did.
Since it was our first time organizing anything like this, we have in general had great use of our network in the indiepop circles, asking people all kinds of stupid questions.
++ I had many friends going from Sweden and Germany to Copenhagen Popfest. But one of my bestest friends was crazy enough to cross the Atlantic and take buses and rent cars, to eventually reach Copenhagen as airports were closed. Well, that's love and dedication for indiepop, for sure. It must have been something special to see Jennifer coming into the venue. Were you expecting that? How did that feel? You must have been proud that someone did all that to be part of the Popfest!
That must have been my favorite moment! Nothern Portrait were playing a fantastic set, when i looked over the audience and spotted the beautiful Jennifer there in the middle. I teared up, and had to really pull myself together! That was when all the hours and stress thats gone into this event, really made sense.
++ Tell me about Denmark. I know you are famous because of your pastries, but I'm not a sweets guy. What is a typical dish in Denmark? I'm planning to go in September (crossing fingers!) and I'd love to try something ace!
Oh, you should definitely try the Danish smørrebrød, it's like an open faced sandwich on rye bread. Almost every Danish restaurant serves them, but the best place in town is "Café Fremtiden" – give us a call when you're here, and we'll take you there!
++ Anyways, let's wrap it here. What are you listening right now? Recommendations?
Right now I'm listening to the new Cats On Fire – Dealing In Antiques. And always, always The Siddeleys.
++ Thanks so much, anything else you'd like to add?
Thank you!
::::::::::::::::::::::::::::::::::::::::::::::::::::::::::::::::::::::::::::::::::::::::::::::