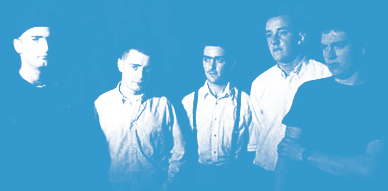 Thanks so much to Michael Bonini for the interview. The fantastic Hardy Boys are back with a great retrospective CD called "Play Songs from the Lenin and McCarthy Songbook" that no one should miss. On this interview Michael also tells us about another upcoming CD by the band and some gigs! The most important comeback of 2010. For me it is!
Hi Mike! Thanks for doing this interview! First thing that strikes me is that you are in Canada! What happened with Greenock on the Clyde?
I left Greenock (Gourock actually…next door to Greenock) in 2000 because I got married to a Canadian so I came over and have been here ever since. Davie and John now live in/near Glasgow and Derek and Ian still live in Greenock. The new Hardy Boys drummer Paul also lives in Glasgow.
See more photos here: 1 | 2 | 3 | 4
++ So let's talk business, how come there is now a new and brilliant retrospective CD, many years after you split? When did you decide it was time to do it? And was there any particular reason that sparked you to do it?
The Hardy Boys recorded a lot of songs in studios between 86 and 90. When we played people were always interested in getting more than the Wonderful Lie single so we packaged up the best of our recordings and put it together as a cassette and sold the cassette at gigs. We never released it properly at the time because we split but Elefant Records in Spain put it out as a cassette release around 1991 and we called it "5 years of boring Pop Songs". Once the internet took off we sold it directly to fans as a CD. John had continued to play in bands and people were always asking him about the hardy boys. We started to sell a lot CDs in Japan and then noticed the Wonderful Lie single selling for lots of money on ebay. People were writing about us in blogs etc so we decided to release the CD properly. So we remastered it, designed a cover and here it is. Gigs to come soon.
++ I'm not familiar with Zzzing Recording Company? Who are they?
Niall Harkiss set up Zzzing to release the Hardy Boys CD and also Spy Movie's new single.
++ Where does the name of the album "Play Songs from the Lenin and McCarthy Songbook" come from?
The Beatles were mostly songs by Lennon and McCartney so it's a little political twist on that. Lenin and McCarthy being the communist and the anti communist.
++ I noticed that this album had leaked before on some of these blogs that give away free records. What is your position about them?
It cost us a lot of money, time, sweat and tears to write and record and promote those songs. When someone decides to take our music and give it away or use it for other purposes without consulting us first and asking for permission then its theft. No different from me walking into your house and taking your personal photographs. Its easy to do and its hard to stop but its not right.
++ So let's go back in time now? I was wondering how did you all meet in 1985? And how was those early days as a band?
We all sort of knew each other. Greenock's not a huge place. Some of us were in the same school or we went to the same clubs. I knew Alan Bannister so I got to know the rest of the band through him. There were quite a few line up changes in the first year and the line up didn't settle until about December 1985. Early gigs however were actually pretty polished considering the line up changes but few songs written in that year survived beyond it. Seascape is the first Hardy Boys song ever written and we played it right up to 1990. I saw quite a few of the early shows before I joined. They were pretty noisy and the songs were all very different from each other. There wasn't really a focused sound at the beginning. It was all their own stuff and the Hardy Boys rarely played cover versions
I have time … I'll give you the edited highlights of where we all came from..
John White, Eddie Follan and Jim Ward played in a rockabilly band in 1984 called Creek Crosby and the Crewcuts. That lasted about a year then they formed the Hardy Boys. Billy Creighton joined on drums and Raymond Jack on saxophone. That was the line up for the first gig in 1985. Raymond quit and Alan Bannister who played guitar with a band called Rhythm of Cruelty (along with Billy Creighton) joined. Jim and Billy were both dropped late in 1985 and Gordon Finlay joined on drums. I joined in 1986 (I was in a band called Life Without Drums) after they borrowed my keyboard for their first demo. At the end of 1987 we replaced Eddie and Gordon with Davie McArthur and Ian McLachlan. Davie and Ian were in a band called Safe Houses at the time and they asked John to play guitar for them in return for them playing bass and drums for us (Are you following all this? )
Alan quit in late 1989 soon after Wonderful Lie was released and Davie switched to guitar and the safe house's (by this point they had split) bass player Derek Mullen joined on bass. In early 1990 we added Kate Baker on violin but she became ill and could not play with us all the time. We split at the end of 1990
++ Was it an easy choice to call the band The Hardy Boys? Why did you name it that way?
Named after the writer Thomas Hardy. A favourite of John's at the time.
++ Why did it took 4 years to release your first single?  I mean, you had waaaaaay better songs than many bands that were so prolific during those years?
Its not that easy when you live in Greenock. The musical centre of Britain is London and we were very far from London. We also had day jobs, were at uni or had families so it wasn't easy to get into the 'scene' at the time. There is a lot of luck or being in the right place at the right time involved in being in a band. I guess we weren't in the right place at the right time so we had to do it the hard way. So it took longer.
++ And how did Stella 5 Records came to you? Care to tell me a bit about the label and how did the negotiations were?
Neville from Stella 5 picked up at tape of ours from Probe Plus in Liverpool and liked it. He had a few releases on his own label and he offered to put a single out by us which we eventually did. Neville is a top top bloke
++ Then what happened? I hear you toured quite a bit with some bands like River City People and Babylon Zoo. What were your favourite gigs in general? Any anecdotes you could share?
We would play anywhere but the best gigs always seemed to be in England. We always had fun watching peoples puzzled faces trying to understand what the hell our drummer was talking about. He had a very strong west of Scotland accent
++ Then there was a one-off gig in 2000, a decade after breaking up, right? How come? and how did it go?
That was just for fun because I was moving to Canada. More on that later….
++ During those touring days you became good friends with the Blue Aeroplanes. And with Angelo Bruschini you recorded your next single "Let the World Smother You". How was that experience?
Angelo is a friend of Neville's and he offered to mix Smother. So he came up to Scotland with Neville and we had a fun weekend… recording studio, gig and a lot of booze. Good fun. My favourite Hardy Boys song still.
++ I have to say "Let the World Smother You" is among my favourite songs ever. Would you mind telling me what the song is about and how did you get inspired for it?
I asked John this one…..his answer…
"Hmm, I don't like being asked what songs are about but hey hoo….LTWSY is an angry song.- it's about celebrity culture and consumerism, about the fact that pictures of £2,000 shoes will get space in the newspapers above a story about people starving."
Little extra info on Let the world….
When Alan quit the band we were in the middle of a short tour to promote the single. We still had one English date to play and we had about a week to rehearse Derek for all the songs and davie had to learn the guitar. During one of the rehearsals Derek started to play this riff that we liked and it turned into LTWSY. We played it as a new song at that English gig. It was a bit slower and didn't have the big ending at that point but it was exactly what we needed at the time. A bit of fresh input. We fine tuned it pretty quickly and it we always finished the set with it after that. My best memory of the Hardy Boys is when we were in full flight at the end part of that song.
++ Talking about songs, I always find odd, but in a good way, how "Fifteen" sounds very different from everything else you wrote. Perhaps it was an early song of the band?
This is also John's answer……
"Fifteen was one of the first songs I ever wrote. It was written in G after reading that Johnny Marr specifically wrote This Charming Man in G because many hit singles are in G!..it's a key that lots of people like. The song is basically about the universal experience of being young and awkward and having a crush on someone. It's about imagining that when you speak finally to her that you'll be as charming as Cary Grant, but you end up coming across like a stuttering idiot."
++ Back to the second single… it didn't come out till 2005 on the Egg Restoration Series. It was supposed to come out in 1991 in the same label (Egg Records). What had happened?
In the UK in the 80s there were a bunch of regional distribution companies that were generally referred to as "the Cartel' but were individual companies. The one we used was Probe Plus and they were having financial trouble hence the single being shelved. When we split at the end of 1990 we didn't see any point in releasing it somewhere else. Again it was bad timing for us. Egg had wanted to release it in 1991 but we were not going to promote it so that was that until they approached us again in 2005 and released it as a CD single with three other tracks on it. Plink plonk fizz, Storm and Send Me a Sign
++ Then the next logical question, is why did you break up? And if there was any major label interest at all?
Inter band tensions that all just all got a bit out of hand. The disappointment with the single (Smother You) not being released didn't help. It was a low point that just spiraled out of control and we ceased to exist as the Hardy Boys after a gig in Aberdeen in December 1990.
++ What happened after? Were any of you involved with other music projects?
The thing that a lot of fans don't realize is that we continued after that. Myself, Davie, Derek and Ian decided to start practicing again and just see what happened. Kate at that point was too ill to take part. We would go to our rehearsal space and just jam out new ideas. The sound without John became a lot harder and noisier but at that point it was just music with no singing. I think it was only about Feb 1991 when John came along to see what we were doing and really liked it. He basically picked up a guitar, joined in and by the end of the night had added vocals to our first new song. We sat down and discussed a more inclusive approach to writing songs which resulted in Davie singing a few and John and Davie sang on the same songs and John sang solo on some. The question of the name came up. Do we keep the Hardy Boys or do we change it because the sound isn't very hardy boys-ish anymore. We decided to change it. Probably not the best decision we ever made. With a new name (we decided on Flame Up) we effectively had to start again. We continued as Flame Up until 1994. As flame up we never got anywhere near the popularity of the hardy boys and people didn't realize that it was the same 5 people. We weren't a massive band so a lot of stuff was word of mouth so when you travel half way across the country to play the same venue that you played a year before as the hardy boys then not everyone is going to realize its basically the same band. It may come as a surprise to you but as far as all 5 of us are concerned … Flame Up around 1991-1992 was the best we ever were creatively and live.
We released 1 7"single called Need I Say More. As Flame Up we never played any Hardy Boys songs. Our first gig as Flame Up had Let the World Smother You and a song called Famous Last Words. We dropped them both during the gig so we never played them. FLW was a very very early Flame Up song that we decided sounded too much like the Hardy Boys hence the reason we never played that.
John quit Flame Up in 1993. He wasn't happy with the direction it was going. We limped along without him for a while longer and then stopped. In 1995 myself, John and Derek started messing around again writing songs. We recorded an album which we called Nova Scotia. We kept using the name Flame Up. We also put together a CD of the earlier flame up songs that we call 'Crank It'. Usually people who inquire about Hardy Boys material end up with this stuff as well. After I went to Canada, John formed "Mouse Eat Mouse" and released a single and an album (Mair Licht) to critical acclaim around 2004. It's a very strange sounding album as it is sung in 'auld Scots' (that's a language that they used to speak before they anglified us). He quit in 2008 not long after Davie had joined. Davie has since quit Mouse Eat Mouse and now both of them are in Spy Movie which John started in 2008.
I was back in Scotland in 2008 for a few days and took the opportunity to record John singing that very early 'Flame Up sounds like the Hardy Boys' song "Famous Last Words". I had recorded a rough backing track for him to sing to. I asked Davie to record the guitar but he didn't want to. Derek came to Toronto on holiday the same year so I recorded his bass then I filled in the rest of the guitars and mixed it. So I class that as a new Hardy Boys recording even without Davie actually playing on it. I play his guitar lines so that's close enough
And that's pretty much that.
As far as Hardy Boys are concerned there will be their first proper gig in 20 years on April 29 2010. Line up will be
John White, Davie McArthur, Derek Mullen and Paul McArthur (Davie's son). Paul will be playing drums. Most of us haven't seen our original drummer Ian for years. He no longer plays music. They are currently arranging for a short tour in the UK for September which I will hopefully go over for.
We will have another CD available shortly called Outakes. This is a CD of all the other stuff we recorded but didn't include on the Lenin CD. Its currently being remastered. Much of it is made up of recordings from 1988-89. The master tapes of these recordings were lost in a fire before the mix was done but I had a partly mixed cassette of what we had recorded. Famous Last Words is on it and some other recordings from 1986 and 1987.
++ Oh! I think I've asked way too many questions, more than we agreed, it's just that it's fantastic to be talking to you, I really do love The Hardy Boys music. Thanks again so much Mike for this interview. Anything you'd like to add? Maybe some shameless promotion about the CD?
The CD is a pop masterpiece from the 80s but still fresh and great today. Direct everyone to out facebook page
http://www.facebook.com/pages/The-Hardy-Boys/189925802324
and
the zzzing recording company
and
myspace site
http://www.myspace.com/thehardyboysmusic
and if you are only of the ipod generation then get it on itunes worldwide
++ Oops! one last minute question! What does Plink Plonk Fizz mean?

There was a TV commercial in the UK in the 70s and 80s for a headache remedy called Alka Seltzer which had 2 tablets drop into a glass and the little slogan was plink plonk fizz. The song itself is about the music scene in the UK in the late 80s where bands like happy Mondays glorified the use of drugs… hence Plink Plonk fizz (here's another song about drugs. Make sense?
::::::::::::::::::::::::::::::::::::::::::::::::::::::::::::::::::::::::::::::::::::::::::::::