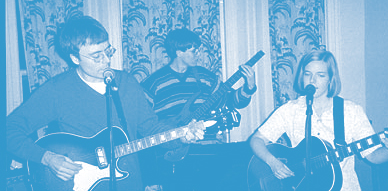 Thanks so much to Jenny and Leonard for such a lovely interview. So many nice details I've learned! Wish I was around DC and Philly during those late 90s! Please enjoy!
++ Hi! Thanks for being up for the interview! How are things going? Any plans for the summer?
Jenny: Things are good, thanks. Our plans for the summer consist of waiting for fall. D.C. summers are hot.
++ Let's get into business, first came the Moonlings, but that is another story for another day. What I'm wondering is why the name change? What is the difference between both bands?
Jenny: The Moonlings were Mark Powell, Lara Cohen, Leonard, and me. Mark had a few songs that the Moonlings didn't do, for reasons I no longer remember. Our friend Josh Feldman invited him up to Connecticut to play them at a show with Josh's band, the Best Wishes, and our friend Ian Schlein's band, Musical Chairs. Mark was trying to avoid being onstage alone, so he invited us to play with him, even though this meant he'd have to teach me how to play guitar note by note. And so Bella Vista was born.
Leonard: It wasn't really a name change. Although the Moonlings and Bella Vista shared three members, they were different bands that existed at roughly the same time. The Moonlings began in the summer of 1996 for the purpose of playing Mark and Lara's songs. Jenny and I didn't write anything whatsoever in that band. Bella Vista began in the spring of 1997 for the purpose of playing that one show, at a sort of gallery/performance space/bookstore. But it continued because Lara was away at college, Mark had songs that didn't fit into the Moonlings repertoire, Jenny began to write her own songs, and we were offered a few other opportunities to play out, as well as some to make records. I got to write a bass part or two, even though I didn't even own a bass.
++ Why the name Bella Vista?
Leonard: Bella Vista is the name of a neighborhood Mark had lived in in Philadelphia, in a group house so punk rock it had a giant painting of Ian Svenonius hanging in the living room. By the time Bella Vista the band was a going concern, Mark had moved into a different group house in the suburb of Bryn Mawr, just a few blocks from where Jenny and I were living. Bella Vista used to practice and sometimes record in Mark's room or in the attic, although we occasionally took a trip through Bella Vista the neighborhood on our way to Bitar's Pita Hut, whose sandwiches and Mediterranean pizza were obsessions of ours.
Jenny: I think the name managed to trick people into thinking that we would be much more sophisticated sounding than we actually were. We were much more akin to Bubblegum Splash! than, say, La Buena Vida. Case in point: We spent just as much time tuning our cheap guitars than we did actually playing songs at our live shows.
++ How was Philadelphia during those late 90s, were there any like-minded people? Any pop lovers? Any pop bands? Where would you hang out usually?
Jenny: Leonard and I were just passing through the area for a few years, having moved up there in 1994 from North Carolina for graduate school. The two of us never got too deeply into the Philly scene because we pretty much stayed home in Bryn Mawr. Luckily for us, Mark worked at Repo Records in town, so it was loaded with lots of great indie pop. Just speaking for Leonard and myself, we saw several bands play at Repo, as well as at Swarthmore and Bryn Mawr Colleges. We hung out a lot at diners, drinking milkshakes and eating bagels.
Leonard: Philadelphia is a very large city, so there were certainly a few pop lovers and bands in the area, although we didn't necessarily know many of them. Our friend Ben Kim had a sort of post-Galaxie 500 band called Clock Strikes Thirteen, and Neal Ramirez, whom we knew only through online discussions on the Indiepop List and brief encounters in the grocery store, would go on to be in the Skywriters and the Snow Fairies with Rose Bochansky, one of Mark's roommates in the Bryn Mawr house. That was after our time, though. Josh Feldman, who was in school in Connecticut but came down to visit a lot, was probably the most like-minded person we hung out with very often. He loved Subway and Slumberland stuff as much as we did, and he was absolutely smitten with Television Personalities and Whaam! Records.
++ Two 7″s and one split 7″ is your whole discography. Was there ever plans to release an album? Are there any more Bella Vista songs lying around on tapes or that was all?
Jenny: I'm not sure there were really ever plans to release any 7″s. Those came about when we had almost ceased to be a band. There are a couple songs we did that never saw the light of day, including a great one of Mark's about moving to Scotland and hanging out with the Pastels. We have only a live version of that. We also did a number of covers–of My Bloody Valentine, Snowbirds, the Carousel, and, one time, the Orchids. According to the insert that Matinée mastermind James Tassos wrote for the Bella Vista single that he put out, we recorded 13 songs, which is kind of surprising, and we probably had one or two other songs that we didn't record.
Leonard: We weren't especially ambitious, so we never planned to make an album. We basically did recordings for our own edification or to give to people who'd expressed some interest in putting out our music. We did contribute to a couple of compilations, a cassette called Suspension Set that came out on Low Voltage and a CD called Just for a Day that was originally supposed to be a cassette, too. Jenny wrote a song about an amusement park that we have only in a skeletal live version. But that's everything, unless Mark has some dusty old tapes of things I've forgotten about.
++ On the 7″ sleeves there is barely any information about the band, was this on purpose? Where were the recordings done? Who did the nice artwork for the singles?
Jenny: Jimmy's insert has our whole life story as a band on it, including the facts that we had bangs and wore shiny black shoes, in addition to our own insert which has a bunch of info on where things were recorded. What do you want from us, Roque?! Or maybe you're missing those all important inserts? The Bella Vista 7″s were recorded by Ben Kim in his bedroom. The songs on the split with Best Wishes were recorded by Mark in his bedroom. I picked the cover and insert images and came up with the layouts for the Bella Vista 7″s, but Jimmy and Ara and Leonard made them happen. The image on the sleeve of the Matinée 7″ is an old ad for floor polish from a '50s home magazine. The original is in beautiful Technicolor-y tones, but Jimmy told us that full-color printing would have broken the budget. The image on the Orange 7″ was discovered in a book on the history of photography. It was black and white from the start, so there were no budget issues.
++ Haha, I got the 7″ on ebay and there were no inserts! Maybe the previous owner kept the inserts for himself! Gah! Oh well, now I'm just listening to "My Boy and his Motorbike", did any of you had a motorbike? I've only been once on it, and I felt like I was going to fall any minute! What are your motorbike experiences?
Jenny: That's a Carousel song that we did basically because I figured out I could play an approximation of it using the three chords that I knew. Neither Leonard nor I have ever been, or ever desire to be, on a motorbike.
Leonard: The original version of that song, like pretty much everything by the Carousel, has a very folky vibe. I suggested recording it in more of a shoegazer style. Of course, we did this on a four-track in Mark's bedroom, so it ended up sounding like the dinkiest noise-pop song ever–like Black Tambourine in a tin can. A friend once played it at a DJ night in D.C., which completely cleared the dance floor but also momentarily fooled a former member of that band into thinking he was hearing his own music. So it was both a great failure and a great success.
++ How did you get in touch with Matinee and the Orange Label for them to release you? How did it work during those years? Was it still sending your demos on tape to the labels or was it like now, sending your songs through email?
Jenny: Jimmy attended our second show ever, at the Black Cat in D.C. As I understand it, he was impressed by the fact that we covered the Snowbirds, which I believe was at the time available in the United States only from his mail-order, Roundabout Records, and possibly another place or two. This was before Matinée even existed. Some time later, he got in touch with us and asked whether he could put out a 7″. Ara Hacopian, who did Orange, had seen us play once or twice at Pam Berry's house, also in D.C., and asked if he could put some songs out.
Leonard: Ara DJ'd at the University of Maryland-College Park's WMUC and asked us to record a session for the station's Third Rail Radio program. It was one of our more inspired performances, and I think that some of the recordings we made then are better than the ones on the 7″s. He had little packets of the previous Orange releases that he'd put together for each of us to try to convince us to be on his label, but I don't think we needed even that enticement.
++ Even though the two singles were released in a span of a year, they sound a bit different. Like the Was the Last 7″ is very much upbeat, with clearer guitars. The Midway 7″ gets much more fuzzed up and the songs are slower. Was there any particular reason for this? Or I'm just imagining things?!
Jenny: I think that was just a first-come, first-served situation. Jimmy asked first, so we pulled together what we thought were our four best songs for that 7″. Then when Ara asked, we basically had a few other songs that we still liked a lot but weren't maybe quite as energetic as the Matinée songs. Poor Ara. Jimmy had to repress his 7″, but Ara eventually handed over to us a sizable stack of our Orange 7″s that no one wanted. Oy, the guilt.
Leonard: Bella Vista existed for only a few months, so it didn't really evolve musically beyond Jenny's getting marginally better at guitar and Mark's getting better at the drum machine and the four-track. All of those songs were recorded at the same time. Jenny, especially, was a big fan of fuzzed-up pop, so even some of the earliest Bella Vista songs had that "My Boy and His Motorbike" sound.
++ I admit never seeing or listening to the split single with the Best Wishes. Which song was included? And tell me a bit about this label who released you Turn Up the Treble! Records, I've never heard about them!
Jenny: Our two songs included one Mark song ("Un Ours Mal Léché") and one of mine ("I've Only Ever Dreamt of You"). Turn Up the Treble! was run by Josh from the Best Wishes (and lately of Cause Co-motion!). He put out the Moonlings 7″ and the split. In exchange, our label, Secret, put out the Best Wishes 7″. Which was fitting, since we seemed to be the only people who wanted to hear each other's bands.
Leonard: The Bella Vista songs on the split are the first one Jenny wrote for the band and the last one Mark wrote. The Best Wishes cover, "Beautiful Morning," was also recorded by Bella Vista for a Snowbirds tribute that never got beyond the planning stage. I believe that both bands were supposed to be on it, and that we accidentally picked the same song to play. The Best Wishes also did an original for the split, "I Never Wanted Any of This." There were only 300 copies made, so it's not surprising that you've never seen one. I believe there were only 300 copies of the Moonlings single made, too.
++ Did you play many gigs? Do you remember any in particular?
Jenny: We didn't play very often–maybe a half dozen times. We were more of a practice band. (We sounded great in practice!) Again, the first show was supposed to be a one-off. But then Pam and Jeff Gramm asked us to play with their two bands, the Castaway Stones and Aden, at the Black Cat, just because they're supernice people. After that it's just a blur of house parties and a couple other shows. The Black Cat was the most memorable for me. Pam had just cut my hair (!), it felt like a real show, and people seemed to like us. I also remember my brother showing up mid-set and waving at me as he walked across the room.
Leonard: I remember the last show the three of us played together, at Ed Mazzucco's apartment in New York with Coloring Book and, I believe, the Poconos. I'm not sure that many people there liked us, but the sound was really good and it was the only time we ever played "Un Ours Mal Léché" live, as well as the only time we ever got paid for a show–although we managed to spend our entire earnings on tolls before we even made it onto the highway.
++ Why and when did you call it a day?
Jenny: Mark moved to England in the fall of 1997. We did a rush of recording before he left, but we really existed only for about six months.
++ I know after the band split, Mark went to form Pipas, and you two formed Honeymoon Dairy. But what about today, right now, do you ever pick up your instruments to make any music?
Jenny: I haven't really touched a guitar in 5 years or so. It's on my to-do list, though.
Leonard: I'm a terrible musician, and I can't write songs, so I'm almost entirely dependent on Jenny for music-making experiences. It's probably been even longer since I picked up a bass.
++ Leonard, many don't know you did two releases on your own label Secret Records. Care to tell a bit about it? Do you recommend to start one?
Leonard: Secret was actually run by all three members of Bella Vista, including Mark after he'd moved to England–he was our European distributor. We started the label to put out a career-spanning CD by the Rosehips, who were a great favorite of ours. I had heard, possibly through the Indiepop List, that the band was interested in doing a reissue of some kind, so we got in touch, signed a licensing agreement, and proceeded to encounter a series of production disasters. The Best Wishes 7″ came together much more easily. In fact, I can't remember doing much work on it all besides selling every single copy to distributors within a couple of weeks of release. Apparently there was significant demand for the record in Japan, but we never bothered with a repress. None of us is a businessperson at heart, and running even our tiny indie-pop label meant dealing with bookkeeping and invoices and so on. Secret is the third and last label that I'd had some involvement with, going all the way back to a cassette label I ran in high school. My favorite part of doing them by far was getting to hear new music. The rest was much less exciting. As a music fan, I love having someone impassioned and trustworthy to guide me through the vast world of sound. It's something that I miss since indie label bosses have become eclipsed by bloggers as taste makers. My life wouldn't be the same without the people at Cherry Red, Creation, él, Esurient, Postcard, Rough Trade, Sarah, Slumberland, Subway, and so forth. But it takes the right temperament to make a label work in the long term.
Jenny: In a strange bit of foreshadowing, the Secret logo is from a little vintage knitting-instruction book I had picked up somewhere for the fab illustrations. More than a decade later, I'm now a mediocre but dedicated knitter. Coincidence?
++ This might be a terribly silly question, but I've heard that Peruvian rotisserie chicken restaurants are very very popular in DC. Is this true?
Jenny: Yes. Those places are everywhere. But because we're vegetarian we've never experienced them firsthand. It is fun to say "pollo" aloud as we drive by, though.
++ Okay, so what is your favourite restaurant in DC? If I go there, what should I order? Ah! And what about Jenny's chocolate poundcake? Is it really true that it is out of this world?
Jenny: Did I mention we're vegetarian? D.C. doesn't really like our kind. The one nice vegetarian place just closed (and it wasn't really all that). How on earth did you hear about the chocolate poundcake?! #Poundsign# was playing on the East Coast, in Philly and at Pam's in D.C., and I made a chocolate pound(sign) cake in the band's honor. I'm not sure they noticed, though it was pretty good–there was a ton of butter in that thing.
Leonard: The chocolate pound cake was out of this world, although there used to be some serious cake competition at those house shows. I got a headless-bass cake one birthday, in honor of the endlessly embarrassing instrument that I borrowed from Mark for Bella Vista, and long-time indie-pop/sugar fan Stephen Wood used to whip up some pretty spectacular cakes, too. These days we eat out most frequently at Udupi Palace, a vegetarian Indian place in Langley Park, Maryland. The only way to go is the lunch buffet on a totally empty stomach, preferably when there's some form of paneer on offer.
++ Time to wrap up our interview if not we'll all get hungry, any anecdote about the DC indiepop scene you can share with us? you know, any Black Tambourine, Velocity Girl, Saturday People, etc, etc?
Jenny: Unfortunately, we never got to see Black Tambourine play (sigh), although we did see Velocity Girl a couple times in the days before we knew any of the members (once in Hoboken, New Jersey, and once in Chapel Hill, North Carolina) and the Saturday People probably too many times to count. As for D.C. indiepop, Pam was the hub and the scene here pretty much collapsed once she moved to England in 1998. Her house parties are legend–too many great bands to name, tons of great food. I think the Bella Vista show was burrito-themed. I miss those days.
Leonard: Although we've both been Slumberland fans almost since the beginning, we've experienced most of the D.C. bands on the label from a distance, when we were living in North Carolina or Pennsylvania. I did see a great Ropers/Henry's Dress/Rocketship show on a boat in New York ages back, and we've witnessed two absolutely incredible Lorelei performances over the years, one at the Indie Rock Flea Market in Arlington, Virginia, and one at the recent Slumberland 20th-anniversary show at the Black Cat. I'm convinced that that band's best work is still ahead of it. At one D.C. indie-pop party, Jenny and I were sitting on the couch when Stephin Merritt, who'd played earlier that night at the Black Cat, suddenly plopped down next to me and said, "I love that sweater. It just screams, 'Autumn, autumn, autumn!' Wherever did you get it?" After too long a pause, I went with the most inadequate response possible: "T.J.Maxx." Naturally, Stephin lost interest immediately, got up, and wandered off.
Jenny: Our life appears to be woefully anecdote-free.
::::::::::::::::::::::::::::::::::::::::::::::::::::::::::::::::::::::::::::::::::::::::::::::
Listen
Bella Vista – Was the Last