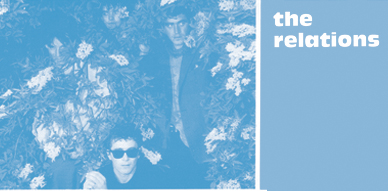 There was a truckload of indiepop news the last week. Or maybe I was paying more attention to updates on Facebook? It is the only way to be on top of everything happening in indiepop world. Writing down every single piece of news because then I forget. In the past there was never anything centralized for getting our news, but at least there were a few blogs.  Today I feel we are really lost at sea.
I have enough for two blog posts. If I can't do another one this week, then I'll save some news for next week. So let's start:
Some weeks ago I championed the first two demos that were uploaded to Brighton's Jetstream Pony Soundcloud page. Last week they uploaded a third one titled "Self-Destruct Reality" and like the previous songs, it is brilliant. This song won't appear on their forthcoming 7″, so I wonder where will these songs be released? They are wonderful. Perhaps they are preparing an album? Or maybe they need another label to offer another 7″?!
Another band I recommended not so long ago are Finland's The New Tigers. I'm only discovering their music lately, I need to try to track down their releases. In the meantime though I'm delighted with their new video for the song "Chewing Gum" that was released last week. I'm sure you'll all like it.
San Francisco band Scrabbel, featuring Dan Lee from The Aislers Set, released a very limited, 100 copies, 7″ on John Jervis label Wiaiwya not too long ago. On the record there are two songs, "All Night" and "Summer's End". The first one is much more upbeat, with shimmering guitars, while the latter is more of an introspective, elegant song. You can stream both songs and order the record from the label's Bandcamp.
Kim Weldin, from South Carolina, has been releasing great records with her band Tape Waves (where she is a duo with Jared Weldin). I even met her briefly at a NYC Popfest, when they played. I wasn't aware that she had a solo project called Shiny Times. It seems I found about it a bit late as on the Shiny Times Bandcamp there is even a release dating from 2014. The past week she uploaded a bunch of recordings, 11 in total, as a digital and CD release titled "Secret Memos." From the Bandcamp you can stream these lo-fi bedroom pop recordings and also buy the limited CD.
Baby Arms, who I discovered through the wonderful CD16 on Impermeable Records, have just released a new song titled "Eviscerator" on Bandcamp. To celebrate the occasion J. Doveton (who also is part of Colour Me Wednesday), has put together a digital and CD release including this song plus all other released songs by Baby Arms. And that's not all, on top of that, 7 more demos have been included. So in total you get 13 songs. Lo-fi pop, reminiscent of Rose Melberg, I may just need to order this CD pretty soon.
And what about the classic Irish band The Would Be's? They are still going. The band who wrote the brilliant "Funny Ha Ha" or the classic "I'm Hardly Ever Wrong" has a new single out titled "Tempt Fate" and it is available as a video and also as a paid-download from Bandcamp.
Last tip for this week comes all the way from Melbourne, Australia. The fantastic band Milk Teddy, who I was introduced many years ago by Scott B. from the Summer Cats, have a new single and video out. They are at the moment promoting their new album, "Time Catches Up With Milk Teddy", that is slated for August. So don't wait longer and check out the fun video for "Sweets Bells Jangled".
————————————————————–
The Relations – indie band from Perth. Perth in Scotland, not the one in Australia.
Perth is a city in central Scotland, located on the banks of the River Tay. It is the administrative centre of Perth and Kinross council area and the historic county of Perthshire. According to the preliminary 2011 census results Perth, including its immediate suburbs, has a population of 50,000. Perth has been known as The Fair City since the publication of the story Fair Maid of Perth by Scottish writer Sir Walter Scott in 1828. During the later medieval period the city was also called St John's Toun or Saint Johnstoun by its inhabitants in reference to the main church dedicated to St John the Baptist. This name is preserved by the city's football team, St Johnstone F.C.
Wait, I had interviewed a Perth band back in the day, didn't I? Yes, Sandy Fyfe's band Greenheart. And actually on this interview he mentions The Relations. What did he say?
When I ask him about what other Perth bands of the late 80s did he like he says: "The Relations had gone baggy and were in the lower reaches of the UK singles chart", and when I ask him about Greenheart's reputation as enfants terribles he says: "I remember playing a gig supporting The Relations, who had been on television that week playing their baggy stuff. They were in the crowd as we played. I was introducing the fact that they would be playing after us, someone in the audience shouted something not too complimentary about them, and I retorted 'clearly someone has seen them before' and we launched into our next song. There was a wee bit of hassle after that between us, and recently I was discussing the Go-Betweens with Gerry, singer of The Relations, and he said to me, 'it's a shame we have spent 20 years disliking eachother as we actually love the same music' We are now good buddies. That's what is great about music – the friends you make."
My introduction to the band was through their first single, "Big Mans Shoes", that was released in 1986. Of course, I didn't buy it then. I was way too young. I must have got it maybe 5 or 6 years ago. How did I find out about them? That I can't remember really. The good thing, because I bough the record blindly, was that I really liked it!
The 7″ was released on Hush Records (catalog HUSH001) and I'm guessing it was a self-release, that the band was running Hush. To give support to this theory, the B side was titled "Hush Hush".  The record was produced at Wilfs Planet, same place that The Wake's "Harmony" was produced. The producer was C. Medley, the art for the single is credited to Kelly and the photos to L. McNamara.
That same year the band was to release their second single, "Brainwashed and Blowdried" / "Come Home (Tell Us Everything)". This was HUSH 002. This single is not in my collection yet. On Discogs though there is a small scan of the back cover, and squinting my eyes I can figure out that The Relations were Gerry on vocals, Nelly on drums, Kelly on guitar and Vinnie on bass and that they were managed by Dave Winton.
But that wasn't the end of the band. They were to release an album, titled "Patrick", in 1989. This was released on Stairwell Recordings (WELLP 001) and again I would guess this was self-financed, but I don't know as they already had set up Hush before, why create Stairwall, right? Maybe this time it was different people running the label? Or who knows?
The album included 10 songs, 5 on each side. None of the songs from the singles were to appear. The tracklist is as follows: "Right On Mother", "If…", "Who Do You Think You Thought You Were", "I'm Killing You", "Some Say Sorry", "Dark Night Bright", "Don't Let Me Break Your Heart Again", "The Girl Who Cried Forever", "Holy Water", "God Loves God". I'm also still missing this album, but luckily on Discogs there is quite some information on it.
The album was recorded at Pier House Studios, a place The Shop Assistants and The Pastels used. We get the full names of the band members now too, Vincent Stewart on bass, Neil McCormick on drums, Kelly McCormick on guitar and vocals and Gerry Harper on vocals. For this record the design of the jacket is credited to Chromatone Design and the photos to Luke Hayes (from Revolving Pint Dream), people who were involved in some Creation releases like "Ivy Ivy Ivy" by Primal Scream or "She's So Out of Touch" by Slaughter Joe.
What else do we know about them? Well something very important. The band recorded a Peel Session on April 15th 1986. I could find the four songs of the session on Youtube. Check them out, "Mr. Wonderful", "Come Home", "Holy Water" and "You Can Call Me Anything". I notice a comment where it says that the band played many times in London.
These songs were uploaded to what seems is Vincent Stewart, the bassist, Youtube channel. No surprise then that there are more songs, mostly from the album, but also the singles. Perhaps the best discovery here is the track "You're The Next Best Thing" which is an early track, dating from 1984, that was included in the compilation "Deadbeat 3". This compilation doesn't appear on Discogs.
I wonder then if they were on more compilations? What happened to them afterwards? From the Youtube account I would guess members went to be in bands like The Curtains, Clearwater Rhythm & Blues Band, Turkey Bones & The Wild Dogs or Rabid Punk Guitars.
Were they also involved in other jangly bands? Are there more early recordings? Are there more unreleased stuff? I would like to know more. Maybe some of you remember them? I couldn't find much about their gigs either! And also, how come after recording a Peel Session they didn't enjoy any success?!
::::::::::::::::::::::::::::::::::::::::::::::::::::::::::::::::::::::::::::::::::::::::::::::
Listen
The Relations – Big Mans Shoes