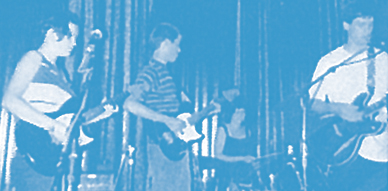 Thanks so much to Stephen Vesecky for the interview. If you are in Austin this coming Friday don't miss out him and his band Strega! And well, what can I say about #Poundsign#? They released two fantastic, and classic, indiepop albums in the late 90s and these days they are sadly missed. Perhaps one of the best indiepop bands to come from America and I never got the chance to see them live. So here's hoping a Popfest asks them to play again! Anyhow, enjoy the interview!
++ Hi Stephen! How are you doing? I hear you are going to SXSW! What are the plans there?
We're going to play Michael Zakes' mini-popfest at Waterloo Cycles on Friday at 330PM. I'm definitely excited for all the new bands that will be there. That's the main thing. I have no preconceived notions. I'm excited to see Puro Instinct, Dessa, Brandt Brauer Frick, among others.
++ I know you are in Strega, and I really like what you are doing, but because I miss it first time around, I was wondering, do you ever miss the #Poundsign# days? Will there be any chance that you'll play a one-off show, a reunion, one day?
I hope we can. everyone is busy with their lives but it does seem like everything comes back around again eventually, so i'm hopeful about the future. I think everyone feels that Poundsign was special, and so it has to feel right if we're going to do it again.
++ So how did #Poundsign# start? Was it your first band?
I had a band in high school called "Strange Behaviour" that was just a 2-person outfit, inspired by Tears for Fears and Depeche Mode. Poundsign was the first band I was in where I felt like the songs we were writing were as good as anything done by other bands. Around that time I was in another band with a bunch of dudes and I played bass, which was sort of like a combination of the Red Hot Chili Peppers, Sonic Youth, and The Dead Milkmen. Poundsign was great because I could be more myself with this band.
++ Was it easy to get the band together? How did the recruiting process worked?
It started with me and my friend Ravi hanging around in college, he was good about convincing me that we could do a band, that the songs we had written were good enough. Then in the fall of 1993 we recruited Alicia and Becky to be in the band. It was nice how it all fell together.
++ And why the name of the band? I never know what to search on ebay, to use or not to use the "#" is the question…
At the time, I liked Kraftwerk's "The Telephone Call" song. It made me think about how telephones allow you to make a connection with someone in a weird distorted way. you can't see the person, but the sound of their voice makes you imagine what they look like. one night I was staring at the phone touch pad while talking on the phone and just thought the poundsign was a good symbol for all that.
++ Your first release was the split with fellow Bay Area indiepop band Poastal. And that makes me wonder, how was the scene there back then? It seems like there was something going on! Which were your favourite bands there and what about the cool places to hang out?
Poastal were originally from Southern California, but they came up to SF around the time that we all moved there. The cool places were the Bottom of the Hill, spots in the Mission like the Make Out Room, Latin American Club, The Piano Bar, The Edinburgh Castle, Aquarius Records. The Mission is still my favorite part of SF. The Epicenter was still cool at the time, I think Excuse 17 played there.
++ What about the Michigan 7″. Is Michigan an important place for you? And who were Belmondo Records?
Becky wrote the song about Michigan. All of us in the band had ties to Michigan, my dad lived there at the time, and Becky would stay there with her folks and I think she was out there while she was thinking of a boy in California, or something like that, so that's what the song's about. Probably.
Belmondo Records was connected to Mod Lang records. I think the idea was just to do a few limited releases.
++ How did you end up signing to Fantastic Records? They are probably one of my all-time favourite indiepop labels from the US!
They wrote to us after hearing the Poastal split single, and then they released the "Almondy Many" single, and it was the beginning of a beautiful friendship.
++ How many copies did you make of the "New Live and Rare" CD? It seems impossible to find! Actually most of your records are pretty rare. Maybe you could consider making some sort of retrospective box set or something?
I'd love to do another Poundsign release. we'd have to do something with a label where we could make it special … I know it can happen. i'm definitely open to it. it would be fun to make a package out of some of the rarer songs that some people never got to hear.
++ I'm also kind of curious about the artwork for "Underneath the Marquee". What's the story behind it?
I think the art was taken from a postcard that Becky found in Scotland.
++ I've always had a soft spot, and dearly loved, your song "Ayso", why wasn't it included in any of the albums? Care to tell me how this song came about?
It was one of Alicia's early songs. I think it was based on her daydream about playing soccer. the first time we actually played the song was in a little stage in a park at the Chico indiepop festival in 1996, and i think Alicia was wearing some sort of soccer shirt. That was one of the first songs Alicia wrote that she could tell was really good, so it gave her extra confidence when she sang it.
++ Now it's your turn, which is your favourite #Poundsign# song and why?
My favorite might be "Sundried" off the wavelength album. Although maybe AYSO is my favorite, come to think of it. This is really a hard question.
++ Are there any more unreleased #Poundsign# songs?
There are at least 3 unreleased songs that we never recorded.
++ Is it true that you prefer recording in home studio over a proper studio? Why is that?
At the moment I like going to a studio for special things, like drums, and I love working with engineers who know a lot about reverbs and effects. Otherwise it's just better to record in a place where you are comfortable. Like your living room.
++ What about your Japan tour?! How did that go? What impressed you the most from Japan? Any other anecdotes you can share?
I enjoyed playing in japan. people were very appreciative. We had "taco" which is Japanese for octopus. i think it was a small piece of octopus surrounded by fried dough. Sort of like an octopus doughnut hole. We played with a band called "Running Catch" who were super cute. Kenji from the Fairways translated the lyrics to "Telephone" into Japanese so I sang it that way at the Japanese shows.
++ And here in the US, which were your favourite gigs, and why? Best band to share the bill?
We always liked playing with Imperial Teen, they were a popular band that we really liked. And of course there were the classic shows with Track Star, Aisler's Set, Rocketship, The Fairways.
++ When and why did you call it a day? What did you do in between #Poundsign# and Strega?
I moved to New York … we played a few shows after that, but it just felt like it was time to move on.
++ So ok, you moved from San Francisco to New York. Which place do you like best and why?
I don't want to say I like NY better, but that is in fact the case. I like SF, I love riding my bike over the golden gate bridge. It's featherlight. NY is heavier, there's more drama. At least, that's how I perceive it.
++ And you DJ quite often, right? What are some songs that never fail as floor fillers for you? 🙂
Usually i start out with regular rock music including some indie pop like The Drums and The Pains, and then by the time everyone is a bit drunk I've moved on to electronic dance music and some hip hop, which you can listen to here:
http://stephenvesecky.com/resources.html
My dancefloor favorites are Florrie, Daft Punk, Robyn, "I'm Your Boogie Man" by KC and the Sunshine Band, "Dancing in Outerspace" by Atmosfear, LCD Soundsystem, Gold Panda, Ke$ha, "Kids" by MGMT. La Roux.
++ Let's wrap it here, thanks again Stephen. Aside SXSW any other gigs coming up for Strega? Anything else you'd like to add?
We have a facebook page that everyone should check out, we're doing a lot of recording, and I'm sure there will be lots of gigs in the Spring and Summer.
::::::::::::::::::::::::::::::::::::::::::::::::::::::::::::::::::::::::::::::::::::::::::::::
Listen
#Poundsign# – AYSO