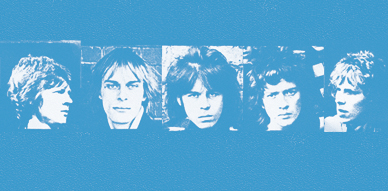 Last Saturday I got to see Slowdive for the first time. I loved every single second of it.
I can't say I'm a huge fan though I really like their music. I would say I'm a good fan that doesn't know the name of every single song of theirs but does have all their albums on CD and their flexi on Sunday Records. Not the complete collection of their records. But I think they are pretty fantastic you know. So I wasn't going to miss their one gig here in NYC.
Unlike other concerts where I know and can sing the lyrics of the songs, I enjoyed this one in a different level. How? Well, the sound was truly fabulous, the guitars were crystal clear, they soared. I guess I didn't like the venue too much (Terminal 5). Having 3 floors felt a bit like a movie, or a place were someone like Britney Spears would play. Maybe. It felt huge. But then, it was also sold out. It was packed, and a cold day of autumn felt so warm.
The music was beautiful as expected. Okay, even more than I expected. It was lush. Everything, even the lights on stage were perfectly synchronized I thought. It was definitely one of the best gigs I've attended this year.
The band were perfect I think, they talked little, but enough to charm the crowd. They played all the songs I thought they were going to play, and for me, "Alison" and "Machine Gun" were the highlights. What a beautiful racket of guitar effects in the air. I was daydreaming.
It's funny that there was a big queue for the merch. Even funnier that I skipped it as I was hanging with a friend of a friend that knew the merch guy (a bit like a Pooh Sticks songs). Small world. I got myself a t-shirt and a lovely tote bag on the way in. On the way out after the gig, there was again a big queue. I guess their tour has been a success judging by this. I'm glad. It's a great comeback I think. They seem true to themselves though of course one misses their haircuts from back in the day ha ha.
At the end of the gig I got the setlist. My friends left the venue thinking it was impossible for me to get it as we weren't that close to the front. maybe halfway to it. But when there's a will there's a way. So I got it. No problem. Typewritten, band name, city name, and songs. It's like they want fans to take them.
Sadly after the gig only Neil came out. Would have been nice to take some fan photos. But well, perhaps they are tired. He was nice enough to take photos with the fans. I would have wanted a photo with Rachel. I love her singing. Maybe there will be a next time?
I didn't see many friends at the gig though I know many were there thanks to Instagram and Facebook and such. Only got to see the great Carrick around. I guess that's the bad thing about a big venue and a big gig. So used to see smaller bands.
Thinking about this, why not, I'll try to do a Pumpkin Fairies (their previous incarnation) blog post next week. I love the songs from their one and only demo tape, proper C86 sounds! Promise!
Anyhow, if you have the chance catch Slowdive live. Even if you are not a big fan. you are going for a treat. Brilliant really!
———————————————————————————
Another week, another obscure band. Not strictly indiepop, but what I like to call proto-indiepop. That sort of post-punk that was melodious, that was closer to pop than say goth or other sounds in the early and mid 80s. Closer to bands like Two People, Big Outdoor Type, and so on. Bands that would definitely be showcased in the sadly defunct Leamington Spa series. Maybe it's time to organize some sort of compilations of this kind? I know Cherry Red has done the Scared to Get Happy and the C86 boxsets but, are they enough? Will Cherry Red cover the more obscure bands that truly deserve to be rediscovered because they penned songs that should have been classics? I really doubt it. They are more of a proper business, so I doubt they will risk doing so, like Firestation did before. What do you all think?
Anyways, this week I want to cover this band that from what I gather two of the members went to be more popular with another band called Songdog. I don't know about them but I found they even have a Wikipedia page.
Songdog are a Welsh three-piece folk noir band noted for their intelligent lyrics and sparse (often acoustic) musical arrangements. Band members include Lyndon Morgans (vocals, acoustic guitar and songs), Karl Woodward (electric guitars, mandolin, banjo, harmonica, keyboards), Dave Paterson (drums, keyboards, accordion, percussion), and Jasper Salmon (violin). Morgans and Woodward had previously been in 80's "hunchback funk" band Sad Among Strangers who scratched the surface of the charts and toured Europe as support to A ha.
Then I track another mention to the band in an A-ha diary:
 November 19861 – Mags arrives in Vienna. a-ha are interviewed backstage in Vienna for the Italian TV show "Pinky". A-ha start the European leg of the tour with the American support band, "Sad Among Strangers". The first gig is at the Stadthalle, Vienna, Austria. The hall has a capacity of 10,000 people and has been sold out for weeks. It's approximately three times bigger than the other halls they have played in so far. The concerts starts 30 minutes late and there are sound problems during the first three songs, especially for Morten. The problems are solved and the shows get very good reviews in the biggest newspaper of Vienna which compares them to the Beatles.
Strange that they are called Americans. I'm pretty sure they are Welsh.
I keep googling and can't find much more stuff. There's a mention of them playing at The Marquee in London on October 12 , 1982. So let's turn into their discography to search for clues.
Their first release was a 7″ released in 1980 on the Brave Tales label (catalog NOW1981). This record includes three songs (the three you can find on Youtube if you want to listen to them) and they are: "Sparks Fly Upwards", "A Better View of Baxter" and "The Gongs". The composer for all the songs was Lyndon Morgans and the record was produced by Ian Dinwoodie. Cool trivia fact is that the record was a Porky's Prime Cut. Also I like the motto for the label on the back cover, it says "Records that tuck you up at night (and turn out the light)".  On this record my favourite is definitely the opening track, "Sparks Fly Upwards", which is much more poppier than the other two which are much more angular. For some reason this song reminds me a bit of The Room.
Next release, also from 1980 (though again the catalog is misleading NOW1982), is yet another 7″. Two songs by the same composer and same producer, the A side is "Here Come the Caesars" and the B side is "I Know Nothing Of the Jungle". I haven't heard none of the songs, though there's a cover of the B-side by the band  Jellymoulds on Youtube. The two songs were recorded at Sounds Workshop and the pictures on the back cover were taken by Len Kinnion.
1981 and yet another 7″. These were prolific times for the band. Catalog is NOW1983 for this double A side 7″. "My Kind of Loser" and "It's So Good It's Incest" are the tracks included in the record. Again haven't heard them yet. The cover artwork is credited as "Dionysus versus the Crucified – by Pod". Same producer and composer for this one as the other two. Seems a bit of a darker record this one, but I'm just guessing.
Now fast forward to 1986. This is the one release I own and I think it's pretty good, especially the A side. This record came in both 12″ and 7″ formats, and it was as far as I know also pressed in Germany by Teldec. The Uk pressing came out on Broken Hill Records (catalog BHP 002). The song I'm talking about is called "Taking Off the Breaks" and it's a proper and beautiful pop song. Chiming guitars, heartfelt vocals and a fab dancey melody, all very 80s for sure. Even a saxophone thrown in there. Freddy Cannon produced this great track. I'm sure Japanese fans are more knowledgeable about this record as I've seen a couple of listings in Japanese websites, and makes sense, they would happily file this under their neo-acoustic genre.
The B side for this record is "I, Salamander" and it's definitely much darker and less fun. It's alright, though I think the A side eclipses it way too much. "Taking Off the Breaks" could have been a dancefloor filler. This record I got for around 5 euros. It's not that complicated to track down. I recommend doing so!
And that's all I could find about them. If you know anything more, would love to hear. Would be curious to hear more songs by them!
::::::::::::::::::::::::::::::::::::::::::::::::::::::::::::::::::::::::::::::::::::::::::::::
Listen
Sad Among Strangers – Taking Off the Breaks