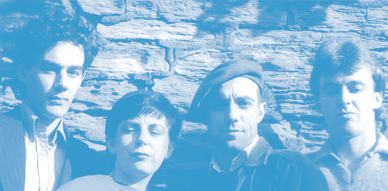 Hello Popkids! Another week, and just a month away for NYC Popfest!
What should we cover on the blog this week aside from our obscure band? As I was saying last week, there's this horror feeling that I've been out of the loop for the past month when it comes to indiepop! Maybe some of you have ideas of interesting topics to analyze or cover? If so, would love to hear from you.
On Cloudberry news I can now tell you that today I mailed the Fibi Frap master to the pressing plant. So, hopefully it will be released within a month. After that I will release a new 7″ by a band between Europe and North America. Between Glasgow and Buffalo, NY. Who are they? Well, the are called The Color Waves. And this is their Facebook page.
I won't give away yet all the surprises that we have in store but I can tell you that the songs on the record are called "Chirology" and "Rose". Both of them are lush and beautiful and at the moment they are being mixed by Cristóbal from The Royal Landscaping Society. The artwork was done by the great French illustrator Catherine Cordasco. In the next few weeks we'll update the website with information about the record and pre-order buttons. I think for everyone that loves the sounds of Harper Lee, Brighter, The Marine Time Keepers and even The Royal Landscaping Society, this record would be just up your alley. This is for the classy, elegant and nostalgic popkids like you!
The other project we have started working on the past month is the next Cloudberry Cake Kitchen release. We are at the moment gathering photos and flyers for it. The songs will be mastered pretty soon too. Who is this mysterious band? Well, can't say much right now, but it's a band that's been interviewed in the blog before. And it's from the UK! As I said, all these surprises, all these secret projects I'm working on, I'll be letting everyone know in the next weeks and months. I think all in all there will be a bunch of great releases this year. I'm very proud of what Cloudberry is doing this 2015 and it's all really thanks to all of you, because of your support by buying our records!
———————————————-
Typhoon Saturday. I first heard about them on the Shelflife blog many years ago. The other day at work, for some reason, I remembered them. I showed them to a friend after he asked me about bands from that period. I do own two of their three 7″s but it's been a while since I played them.
I think of all of them, the song that Ed posted, "What Do I Do?", is my favourite. It's such a great burst of pop. So catchy and so clever with it's boy-girl vocals. But what happened to them? Well, actually there's a lot of interesting information online!
First stop is the Shelflife blog obviously. What does Ed tells us?
I don't know much about Sheffield's Typhoon Saturday, but I love this track! They seemed to release just three 7″ singles and then broke up. Members like drummer Anthony "Tich" Critchlow went on to form Living in a Box (remember them?) and guitarist Nick Robinson went on to most notably They Must be Russians, Comsat Angels, and a bunch of solo projects (he's also a practitioner of origami according to wikipedia).
Of course this story has a Liverpool connection… This single was produced by Steve Lindsay (bassist in Deaf School, Big in Japan (for 4 months), The Planets, etc.). I read that Typhoon Saturday pretty much hated his production of the song, but the label, Polydor, and their manager didn't give them any other option but to release it as is. Yeah, it is a bit 80s "over produced," but I still think it's great.
Cool thing is there's a comment on this same post by Nick Robinson. He says that the demos they made in Sheffield had so much power, which were lost on the official release.
Then we check their discography:
What Do I Do / Fascination – 1982 – Polydor POSP413
Another Flight / Let's All Dance – 1982 – Polydor POSP442
I have Love / Social Insecurity – 1982 – Polydor POSP501
Not much to say about these records aside that it would be a good idea for you to get them! I'm missing "Another Flight", maybe I should try to get it this week! Also something to mention is the artwork. I really like it. It's pretty simple, kind of pop art, always with a smart color palette. Umbrellas, drinks and a paper plane illustrate the covers.
Next up there's Nick Robinson's blog. I hope he doesn't mind if I reproduce some of his comments about his records. About "What Do I Do?" he says:
Yes, my first proper crack at pop stardom. Recorded at the Producers Workshop, London in '82, produced by Steve Lindsay (who had his own failed career with The Planets"). I remember the toilet in the studio had "Captain Beakey" wallpaper, since that classic was recorded there. Needless to say, we merrily defaced as we sat there.
The recording process itself was a huge disappointment, since Lindsey exercised his control and we were told to basically "shut up and do as we're told", by our manager Frank Silver. The end result was 500 miles away from the exciting demo we'd cut in good old Alan & Oz' Input Studios (long since demolished) back home in Sheffield, being limp-wristed and light-weight.
It got plenty of airplay on local radio and a full page advert in Melody Maker, then promptly stiffed. The B side was much closer to my musical sensibilities, being darker and swathed in echoed guitar. We recorded the follow-up single "Another Fight" at the same sessions.
About "Another Flight" he also has something to say:
Recorded at the same time as our first single, this too suffered from appalling production. So much so, we decided to call in singer Elaine's boyfriend Kevin Bacon from the Comsat Angels to record and produce a completely new version at Fairview Studios just outside Hull. We thought our version was clearly superior, but the manager, smiled, agreed then released the shite version. We should have noted his intent when he told us he made more money from his car park than from his bands.
I'd worked out a nice double tracked melody for the solo, but the producer thought otherwise and moved it to lie underneath the last verse. Arse! To achieve a thunderous percussive sound on the B side, he had our drummer sat down slapping his thighs. It got a couple of good reviews, then died the death. As the immortal Les so succinctly put it, "Shit business, this".
And about their last record, "I Have Love":
This was our final incarnation, with Tich Critchlow on drums. He moved on to form Living In A Box and showed us all how to make money…
The recording sessions of my last 45 with this band covered the full range from ecstatic to miserable. We were sent first to Chipping Norton studios, to lay down the backing tracks. As it turned out, the cordon bleu cook, the barrels of Hook Norton beer and the racks of porn videos in our individual cottages took their toll. After the allotted week, we'd got the drums recorded and that was all. We'd also jammed to the B side song in order to get the drum tracks for that.
On to Britannia Row to add the rest of the tracks. Took on and lost a game of snooker with Nick Mason (Floydian co-owner of the studio) Producer Carey Taylor (who went on to work with KD Lang, George Harrison & others – he's now a millionaire) was a bohemian type who had the idea of turning us into a smart, funky outfit, so out went the distorted guitars I loved so much, in came Nile Rodgers styles. A highlight was the hiring of Raf "Baker Street" Ravenscroft to do some brass stabs and a solo ("this song doesn't suit a guitar solo Nick"). I also laid down some piano, before succumbing to a nasty virus & heading home whilst the others sat in on the mixing.
So, I get my cassette through the post and Lo! the piano parts had been redone by the guy from Darts. The B side, which we'd all forgotten about, was all beautifully produced drums, with us banging away over the top of it, thinking we were doing guide instruments for overdubbing later. Come the guitar solo, instead of the awesome noise-fest I'd planned, there was… nothing, just strumming away on rhythm. Jeez. They'd also vari-speeded it up a semi-tone, rendering Elaine's vocals a tad more Mickey Mouse than we cared for. It bombed.
Shortly afterwards, I was relieved of my duties in the band, the best reason they could come up with was the width of my lapels, which clearly indicated I was out of touch. I should have quit long before it came to this, but you should try walking out on a band with a Polydor deal. They recorded a 4th single, pre-announced in the local paper as "having NO guitar anywhere!" but Polydor saw sense, pulled the plug and it was never released. Tragedy.
And that's quite a lot isn't it? Usually we don't find much more about these cool obscure bands in general. But still there are many questions to be answered. For example, what about those demos Nick mentions on Ed's blog? Were they lost? I would love to hearing them. Or what about the 4th single they recorded? Are there any other recordings? And then of course would be great to hear if they played many gigs, or how was their relationship with Polydor? And so on! Do any of you remember them?
::::::::::::::::::::::::::::::::::::::::::::::::::::::::::::::::::::::::::::::::::::::::::::::