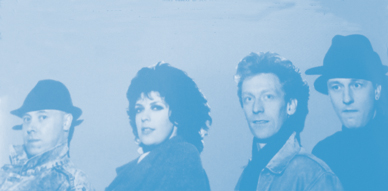 Hello! This is a very exciting time for Cloudberry!! Last Friday we released the long-awaited and ultra brilliant 7″ EP by the Pale Spectres from Paris. This Friday too we have yet another release, The Potting Sheds retrospective compilation "Leaving By the Back Door"! Both releases are the perfect soundtrack for this summer. And you can already order them both from our website.
Now onto more indiepop news all around the world. Remember the band Sea Blite whose video for the song "Cerulean" I recommended some weeks ago? Well the band was kind enough to send me a download code for their first EP. The self-titled 4 song EP is released on tape by Death Records but now you can also stream all four songs from the band's Bandcamp. Now I can be sure to say that the band hails from San Francisco and that it is formed by Lauren Matsui on guitars and vocals, Galine Tumasyan on vocals and bass, Andrew Bush on drums and Jen Mundy on lead guitar. The songs are fantastic, I still like "Cerulean" the best but "Pretend", "Woolly Sweater" and "Skeleton Couch" are no fillers, but proper good songs in their own right!
Kocliko Records is a new label from Bera, in Spain. Bera seems to be a small town in Navarre. Never heard of it but looks nice on photos. I should go sometime. This new label has made a splash in the indiepop world the last few weeks announcing a couple of releases. The first one is the Tomiji EP and it is a cracker. Who is Tomiji? Well, a good friend of mine, Thomas from Pale Spectres. Yes, Tomiji is his solo project and on this 7″ there are 4 fab pop songs that are not to be missed. The 7″ is not out yet (I'll let you know when it is), but for now the four songs, "Let's Flip a Coin", "Home", "I'll Love You Forever" and "After All" are available from streaming on Bandcamp. A great debut that no indiepop lover should miss!
The second release the label has announced is by the band Business of Dreams. On the Bandcamp it doesn't say much about this release or the band. On Facebook I find some information. The band is the solo project of Corey Cunningham from Los Angeles, CA. There are 10 songs  on the album and they sound pretty good! It is not straight-up indiepop, not the classic sound. But it is dreamy, elegant, classy pop, driven by synths. It sounds very 80s too. I like it. Another good release, so far both choices in Kocliko are pure gold.
Who are Port Sulphur? I don't really know who are behind this band. I couldn't find a Facebook page. But I found two songs on Bandcamp, part of a split single on The Creeping Bent Organisation. "Orient Express" is the song I love here, it even features James Kirk (!!) from Orange Juice, who actually co-wrote this song (and it shows!). It is just WOW! The second song is "Hope / Less"and features Alan Vega. This one is not really up my street. But I tell you, "Orient Express", is there, a contender for my favourite song at least for June.
Last news for this week, and I still have a lot more to share, as I have said before now I'm keeping tabs on everything I see on the web that I feel is worthwhile! The label Discos de Kirlian from Barcelona, Spain, have a new 7″ out now by the Stockholm band We.The Pigs. The band is formed by Veronika and Martin, with Fredrik, Niklas, Johan and  one Cloudberry friend, Charley, who released a 3″ with his older band The Mare almost 10 years ago! Anyhow, this new 7″ EP has four songs, "Start Over", "Too Young", "Wake Up" and "Go Away". And as usual you can stream the four tracks on Bandcamp. The band is actually playing a release show on July 5th at PSB alongside the band Venetian Blinds. Here is more info for the event. Wish I could be there!
———————————————
For this week I decided to do the same thing as last week, look into the archives of the fantastic series of the Sound of Leamington Spa. This time I picked up volume 4, and because I've been lately on an Irish sort of run on the blog, I decided to see what I could find about Beethoven's Kiss.
First of all I must say that I don't own their 7″. I don't know how many copies were pressed. They only released the one. But from the liner notes included on the booklet I was going to learn a bit more about this band, which I thought was pretty obscure, but it isn't so:
"The Wonder of You" was the last single release of Belfast band Victim in 1988. The band went under the name Beethoven's Kiss for the one single because the recording was a departure from their normal punk style. The name was taken from the famous incident in classical music history when the master Beethoven kissed the young Franz Liszt during a performance to confirm his acknowledgement of his brilliance. The band pressed up the record themselves and it was never officially released, with copies going only to radio stations and record companies. The band comprised of Wes Graham on bass/vocals; Joe Moody on guitar/vocals; Kev Williams (formerly with Mick Hucknall's Frantic Elevators) who joined the band on drums when Mike Joyce left to join The Smiths, and Toni Isaac on keyboards/backing vocals. The B-side of the single, "Don't Break It" was a song Victim had been playing for years and features on a CD compilation of the band's material released in March 2003 on Overground Records entitled "Everything". It features Victim's three singles and 15 previously unreleased tracks. Victim emerged from the burgeoning Ulster punk scene in 1977 and their first single "Strange Thing By Night" was released on Belfast's Good Vibrations label. Victim were the first punk band to play the legendary Harp Bar in Belfast and moved to Manchester in 1979. There they signed to TJM Records and released two more singles. They toured the UK extensively and filled a six-week support slot supporting The Damned. Mike Joyce, who plays on several of the tracks on the new CD release, went to gain international fame in The Smiths. The band broke up in late 1988 a few months after recording "The Wonder of You". Founder members Wes Graham and Joe Moody are currently recording new material for release later this year under the name WEBCORE."
Ok the record was never officially released. That explains a couple of things. I check on Discogs the information for this release. According to this site it came out in 1989 and not in 1988 as the band says. Who is right? And the only interesting information here is that the songs were recorded at Square Studios in Bury, Lancashire. The record was released by the band's own Akashic Records (catalog AK0001).
This name, Akashic, made me Google for their meaning and I learned a thing today, in theosophy and anthroposophy, the Akashic records are a compendium of all human events, thoughts, words, emotions and intent ever to have occurred, believed by theosophists to be encoded in a non-physical plane of existence known as the etheric plane. There are anecdotal accounts but no scientific evidence for existence of the Akashic records. Akasha (ākāśa आकाश) is the Sanskrit word for "aether" or "atmosphere". Also, in Hindi, Akash (आकाश) means "sky" or "heaven".
I look now into the Irish Music Database website. Here there are family trees for several bands. There are more connections with other bands. Already mentioned were Victim and The Frantic Elevators, but for example Joe Moody was in The Androids and Wes Graham and Joe Moody were in Emergency.
My next stop is a Victim biography on the Spit Records website. On it there is a whole paragraph dedicated to Beethoven's Kiss:
In the ensuing months Wes and Joe set about recruiting a permanent replacement for Mike and had to debate whether or not to stick with the name Victim. Mike had been a close friend and his departure hit hard. After toying with the name Victim A.D., they opted to continue as Victim, occasionally going under the name Beethoven's Kiss when they wanted to try out new material which was a departure from traditional punk. They brought in Kev Williams who had been drummer with The Frantic Elevators before Mick Hucknall split that band to form Simply Red. The recorded four tracks in 1985 for a promotional four-track cassette EP that attracted considerable interest and almost clinched a deal with Chrysalis Records. Next they recorded a single 'The Strangest Stars', which sadly was not released. They recruited Toni Isaac on keyboards – she was the girl leaning on the lamppost on Jilted John's single of the same name! Victim then recorded 'The Wonder of You' (not the Elvis song) and 'Don't Break It' in 1988 at Square One Studios in Bury, where Black were mixing 'It's a Wonderful Life' the same week. The songs were pressed up as a self-financed single released soon after on the band's own Akashic Records and went out under the name Beethoven's Kiss. The label on the sleeve states that the single was released in 1989, but according to the band it was released in 1988! The band were anxious to showcase the new melodic acoustic songs the band was developing, combined with the raunchiness of old Victim songs. The A side was a new song while 'Don't Break It' was an old song Joe had written in Belfast some years earlier. Some months later the band recorded five new songs, which they felt confident would attract record company interest. However it was not to be and in 1990 Wes and Joe shelved the Victim/Beethoven's Kiss project and brought the curtain down on the life of a band which had been in existence for just over a decade. For the record, a few other musicians who very briefly played in Victim were John Hawthrone, Simmo and Dave Goodlad.
So 4 songs were recorded at this session. Only 2 were released. Where are the other two songs?! I would love so much to hear them!
I looked for Webcore, to see if I could find Joe Moody. But I found no information about this band. Did they record anything? I did find a Youtube channel of his and it seems from it that he is still making music with the band Joe Zero. I just heard the song "Rock n' Roll Wars" which is a preview of their upcoming album and it is a lot of fun!
Not much more to add about Beethoven's Kiss. It seems it was just a one-off that left at least one fabulous song (I haven't had the chance to hear the B-side yet! so I can't say if I like it or not!). There are 2 more recordings at least but I cross my fingers there are more from this period. Why did Victim change their sound? Why did they decided to change names? Why wasn't the record officially released? Why no one picked up this record and release it? So many questions, very few answers. Did the band play live as Beethoven's Kiss at all?  Any of you remember them?
::::::::::::::::::::::::::::::::::::::::::::::::::::::::::::::::::::::::::::::::::::::::::::::