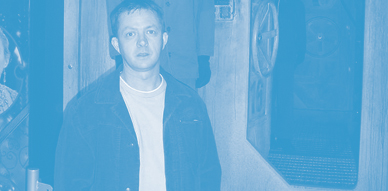 Thanks a thousand to Ian Thomson for the interview. Check the band myspace here.
++ When did the band start? How did you all come together?
The band were very short lived. 1987/88. Less than a year. Didn't do a great deal. Rarely performed live. But good fun while it lasted.
The history of the band could be used as a definition in the Oxford English Dictionary:
Nepotism nep' o-tizm, n. See the Gold Blades
The first band I was in was called Henry and Mary. We were a three piece band initially with myself on guitar, Peter Moug on bass and John Weir on drums. We all shared singing until Susan Henderson answered an advert in the Arbroath Herald. After that, Peter and I were left to carry the equipment while John and Susan shared saliva! After taking four hours to record one lousy demo track, I left the music business for the first time, leaving John and Peter to join Dundee's Wildhouse. After a short period, I got the bug again and started a duo with a friend of mine called Billy Stewart. He came up with the brilliant name The Wilderness Children. John put us in contact with Fraser Reid after Fraser had asked to join the Wildhouse. The Wilderness Children became myself on guitar, Billy on vocals and tambourine, Fraser on guitar, Andrea (Fraser's wife) on vocals and Phil (sorry mate, but I can't remember your last name) on drums. Peter Moug used to help us out on bass. This started off great, but Fraser and Andrea wanted to take the band down a more rocky 70's punk sound and became really negative towards what the band started out as. Cue my second retirement. This time it was much shorter as I got talking to Gordon Will while he was going out with my fiancée's sister, Lynn Nicoll. We decided to start a new band. I played guitar. Lynn sang. Gordon had a bass guitar. Lynn's cousin Wendy Henderson (Susan Henderson's sister) played guitar and sang backing vocals and John Weir (at the time he was living with Susan in Dundee) played drums. We practised in Gordon's house on Sunday afternoons, mostly without John, who found it hard to get from Dundee on a Sunday. We recorded our demo on St Valentine's Day 1988 and played as support to The Motorcycle Boy in Edinburgh shortly after. Our demo was played on Radio Scotland a few times and Gordon pocketed the royalties if we got any. This was only fair because he financed the studio time and sent off the demos to the radio station. A rift between Wendy and Allison (my fiancée and Lynn's sister and Wendy's cousin) ended my time in the band on a sour note, but people make their own choices in life and I honestly bear no grudges now.
++ Where does the name The Gold Blades come from?
"I Stuck a six inch gold blade into the head of a girl! No Laughter, No laughter."
It is taken from the Birthday Party's song 6" Gold Blade which appears on the Junkyard album. I was really into the pounding rhythms that were on that album. I had this big vision of trying to do something similar with this band. It never really happened. We weren't tight enough musicians. Our rhythm section struggled to stay in time with each other and the rest of us just weren't technically skilled enough to add the decorative flourishes that would make the intended songs interesting. I did try to write some BP style songs – 'Texas' is an attempt to write our own Murder Ballad! – but I just couldn't pull it off.
++ I only know the three songs on your myspace which I suppose are part of your first demo. Are there any other recordings from the band? Did you have any releases at all? Maybe in some compilation?
Until recently, I had forgotten all of our songs apart from the three we recorded as a demo. We never recorded anything else. I can't even remember putting anything onto cassette during rehearsals. We really weren't very serious about achieving anything. We were just in it for the fun. In a strange coincidence, I recently came across my old notebook where I used to write down the lyrics and the chords to our songs. They had titles such as Longing for Yesterday (Wendy), Road to Somewhere (Wendy – I think), Lost in Love (Me – I think), Jealous of Jasmin (Wendy – she might have had a bit of help from her sister Susan with this one), My Favourite Girl (Me) and Smile (Me). If anyone can unearth recordings of any of these songs, I'd love to hear them. Initially most of the songs in the band were mine, which perhaps explains why we chose three of my songs for the demo, but as things progressed, Wendy began to bring some of her songs to rehearsals and this gave us a more varied sound to our set.
++ One of the songs is called "The Day I went down to Texas Part 3″, have you ever been there?
I had been to Texas many times to purchase DIY products until the chain was shut down in the late 1990s. The song itself isn't really about Texas. Apart from in the title, Texas isn't mentioned. The song was initially known as the 'Cowboy Thing' because it felt as if it was set in those times. This was unintentional. It just felt as if it was. The title grew out of the Orange Juice songs of a similar name. They originally released the song The Day I went down to Texas as a 7" flexi in1983. It then appeared on the Texas Fever Album as The Day I Went down to Texas Part 2. Our song is called part 3 as a tribute.
++ You supported The Motorcycle Boy at Edinburgh University! How did that go? Any cool anecdotes from that day? Any clue where's Alex Taylor now?
This remains the musical highlight of my career. When I get a bit drunk, you can almost guarantee that I will manage to bring it up in conversation. I thought that we played as well as we were capable of and it was just a shame that so few people bothered to watch us. Most of the crowd clapped with Arbroath accents!
I remember hiring the van to take us to Edinburgh caused us a few problems. We didn't realise that we would not be insured to carry people in the back because it had no seats. The old lady who hired it to us made me promise that we would only put our equipment in the back and that the rest of the band would travel by some other means. I really did worry that she would find out that I had lied to her.
As for the venue itself, when we arrived, we were allowed a very quick sound check before we went on. I seem to remember that we did not have long to wait. We hung around the room where the stage was without realising there was a dressing room we could use. A dressing room with free beer for all of the bands who played that night! We did not get any of the beer and we never met Alex Taylor.
++ Did you get to gig a lot? What were the best places to play in Arbroath?
We hardly ever gigged. I can't really remember any other gigs apart from at The Colliston Inn. Colliston is a small village about 3 miles outside Arbroath. Places to play in Arbroath were few and far between. Nowhere else in Arbroath was putting on bands at the time so we used to put on concerts at the Manhattan Lounge opposite the bus station. Turn out was always poor and we never made any money out of it, but we did have some great nights. The best of these was when This Poison! from Perth filled in at the last moment when Primal Scream pulled out because they were going into the studio to record their first album. There were about 20 people there and it was a great night.
The only other place that I have heard of that put on bands is The Viewfield. Band nights were run by an old friend of mine called Crookie, but he is so tight that I had to pay at the door the last time I went!
++ Do you still live in Arbroath? What is that that you miss the most from those days?
I left Arbroath in 1992. I now live in a small town called Darwen. It is just outside Blackburn and suffers from the same small town mentality that blighted Arbroath.
I have to admit that I still miss Arbroath at times. I travel back there regularly to visit friends and family.
What do I miss about the place and the times? That was my youth. Everything was an adventure, even the boring parts of living in a coastal town they forgot to close down. What I really miss was the excitement of hunting out new music to listen to. It was a lot harder to find out about music in those days. You had to work at it. Read the music papers. Listen to Peel. Write off to fanzines. I used to love it when I was able to share a hard won piece of vinyl with my mates. We would go to a place called Elena Maes and try to order all sorts of obscure music. To really have a chance of finding good music, though, we would have to head into Dundee and visit the record shops there. Today all I have to do is spend half an hour on the internet and then wait a few days for a CD to arrive. Musical gems were more precious then.
Do I sound like an old git?
++ What did The Gold Blades do in their spare time? What other hobbies, or jobs, or sports did you do?
I was on the dole and preparing to go to teacher training college when the Gold Blades were on the go. I remember being really skint. Gordon worked for Dundee Council. John worked as a mechanic for a firm that made industrial sacking. I think Wendy and Lynn were on the dole.
Most of the time we spent together was to do with listening to music or talking about it. If it wasn't music, we were often talking about politics. John and I were both driven into socialist politics by that evil witch, Margaret Thatcher. We were both Labour Party members. We were involved with CND and the Militant Tendency. Before the Gold Blades we used to put on Rock Against Thatcher events in the town.
As for hobbies, we used to read comics and drink alcohol. I used to play football for The Ram's Heid (Arbroath pub) and I have always supported Dundee United. I used to go to Tannadice a lot. John and Gordon weren't really very sporty and didn't really do anything like that.
++ Is it really true that you call it a day because John Robb called his new band Gold Blade? What did you do after?
I have to admit to being a bit pissed off at the time because I felt it was a great name for a band, but it was definitely not the reason for me calling it a day. I left the band because of friction between Wendy and my then fiancée. Something happened and I had to make a choice. Unfortunately, John, who was a long time friend and Gordon chose to side with Wendy. I have just read that again and it sounds really bitter. It isn't anymore. I have since spoken to John and Gordon and bear no grudges, but at the time I did feel let down. As for my fiancée, I made the right choice. I married that girl and we are still madly in love.
The Gold Blades were the last band I was in. There were times I thought about doing something else, but I have to admit that my ability with the guitar was always a frustration with me. I always wanted to be able to do something more challenging, but at the same time lacked the will to learn how to do it. This always led to me becoming disillusioned with what I was doing after the initial honeymoon period was over. To avoid future heartache, I have definitely called it a day. I keep my musical performances to supporting my class during school performances. My most recent highlight was a superb version of A Wooden Tree by Ivor Cutler.
++ What are The Gold Blades doing these days?
I can only speak for myself and Lynn as I don't see the other band members anymore. Lynn is a mum. She has a 10 year old son and still lives in Arbroath. She has recently talked about singing with a band again and I think something may happen soon, but I think it is a covers band.
I am a primary teacher in Darwen. The town is close enough to Manchester to let me see plenty of concerts. Recently I have been lucky enough to see the likes of Nick Cave, Magazine, Calvin Party, Damo Suzuki, The Nightingales and Calvin Party. At the moment I have tickets for Malcolm Middleton pinned to my notice board. I have a 16 year old son who is doing his GCSEs at the moment. I have passed the music bug onto him. He now owns both my old guitars as well two he has bought himself. He also plays keyboards. He has his own Myspace site and I promised to mention it for him.
++ I asked this same question to Gordon Will, can you make an Arbroath smokie or not?

As I said before, I regularly visit Arbroath and one of the things I do is buy smokies to take back south with me. I have even brought some back for some of my English friends. It is surprising how many people are aware of them. My wife just sticks them under the grill. Delicious.
Can I just plug the good work Marks & Spencers are doing at the moment in promoting Arbroath smoked fish? I have recently been pleased to notice that they now stock a range of fish that claims to be Arbroath smoked. No smokies though.
++ Anything you'd like to tell the popkids out there?
In the words of Les McQueen – "It's a shit business!"
::::::::::::::::::::::::::::::::::::::::::::::::::::::::::::::::::::::::::::::::::::::::::::::