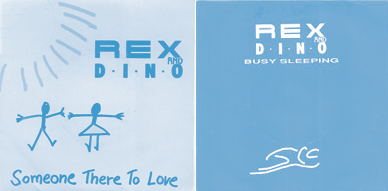 This coming weekend there's Indietracks. It's the last week of July and a very big crowd of indiepop fans will gather together in Derbyshire. Last week posts earned me a tweet from PO!, from Ruth Miller, I was very happy, such a fan I am. She even said she'd love to come to NYC. I hope she does. That would be amazing really.
Who did come to NYC was Jessel this past weekend. I saw him for just a little, he was in a family trip really. But he was very kind to give me the Final Diners 7″. Such a great record that you can only wonder why the hell "Your Island" wasn't included in the Sharon Signs to Cherry Red compilation. So unfair! The record I got is missing the sleeve though, so I ask everyone out there that if they have an extra sleeve of this record, please let me know!
I saw on Instagram that Botanic Garden #2, the Chinese indiepop fanzine, is ready. It is not available though to buy from their website yet. One of the blog posts of mine has been translated and included in it. I got #1 and it was really ace, well presented, and it didn't matter me not understanding Chinese.
What I did buy already is a Japanese fanzine called "Everything Reminds Us of Something Fantastic". It's promoted as a Neo-Acoustic zine and was put together by Hiroyuki Miyata. It seems to be printed in full colour and includes the 24 most important indiepop people, I guess a review of 361 bands, 243 artists, 28 producers. It doesn't say how many pages were included but only 100 copies were printed. There is more information and also instructions on how to order on this website. I'm very much looking forward to receiving this. Looks like something done with lots of love!
And last but not least, the marvelous London band The Fireworks have a new video out for the song "All the Time". Very cool to see Emma, Matthew, Isabel and Shaun dressed up in Halloween style and acting! I especially love Matthew's wig and costume haha. It's really awesome. I should be getting the 10" that includes this cracking song soon. It's available from Shelflife Records and it's called "Black and Blue". It's a must have!
———————————————————-
Last week I had all the intentions to recommend Rex and Dino as you remember, but it needed to make sense. That's why I started introducing you Empty Shell, the band that came before Rex and Dino. Today I'll dig and try to find more about this Irish band!
From last week post, this paragraph is relevant:
In 1987 Dermot Lambert and Ellen Leahy would start a new band, Rex & Dino, but that is another story. Even later Lambert would form Blink, his longest running band (1991-2007) and release a bunch of records with a sound that reminds us of the Madchester era. These days he seems to be making music solo.
We do know that in 1989 they released the first 7″ on the Danceline Records label (catalog DLS 001). A favourite band of mine, The Would Be's also released on this label. This 7″ by Rex and Dino included two songs, "Busy Sleeping" on the A side and "Trouble With You" on the B side. I have only heard the first song and it's really ace. Hoping someone out there can help me with the B side! Also if someone has a spare of this record, let me know!
"Busy Sleeping" was produced in Ropewalk Studios in Dublin by Paul Murphy and Barry Grace, engineered by Catherine Considine and Louise McCormack. The B side was produced in Elektra Studios, Dublin, by Rex and Dino and engineered by Larry O'Toole.
Credits for this record include:
Dermot Lambert – vocals
Ellen Leahy – keyboards
Brian McLoughlin – bass
Dave Thomas – drums
Lambert and Leahy as we said were together in Empty Shell. Lambert and McLoughlin will later be part of Blink.
Discogs also lists a compilation appearance by the band. It was on a LP compilation titled "Snap Shots" released by Snap (catalog SN 901) in 1987 in Ireland. They contribute two songs, "The Cat Gets Out" that appears as A3, and "This Time, Next Time" that opens the B side. Other bands in this compilation are Missing Link, Ott, Brainchild, The Pink Hurts, A Splash of Red and The Soft Music Company. I'm not really familiar with any of them.
Then I land on the Irish Rock website. There we learn that the band was around from 1987 to 1989. Most importantly we learn that they released another 7″ prior to "Busy Sleeping". "Someone There to Love" on the A side and "Same Way Too" on the B side came out in 1988 on the Solid label (ROK 715). This label had released Irish indiepop classics from Guernica and Cypress, Mine! among others. The producer for both songs was Emmett O'Reilly, they were engineered by Pat Dunne and Larry O'Toole and the sleeve was designed by Arthur Mathews. There's some text on the back cover that I assume is part of the lyrics of one of the songs (?). It says "Wavy day on the Aegean Sea / on the Coast and all along the Beach". It also seems that the band at this point was managed by Ankle Promotions from Dublin.
Then in 1989 they appear on a compilation released by Danceline called "Nationwide 3" (DLS 1004). On Irish Rock they say it's an LP compilation but the sleeve looks like a tape really. Rex & Dino contribute two songs, "Bed of Nails" and "Fire". One in each side.
In total then we have 8 songs released by the band. So far I've heard the one and I think is great. Did they record more songs? Why did they split? Where did they gig? So many questions arise.
I found some information about one of their managers, Aiden Lambert. He was brother of Dermot. Seems he passed away last year. You can read more about it here.
And this is where I stop digging. Not much more information online about this band. Definitely there's a lot more about the band that Dermot Lambert would be involved later, Blink, but there's a struggle finding stuff about Rex and Dino and Empty Shell. Perhaps some of you remember them and can shed some more light. Use that comments section!
::::::::::::::::::::::::::::::::::::::::::::::::::::::::::::::::::::::::::::::::::::::::::::::
Listen
Rex and Dino – Busy Sleeping