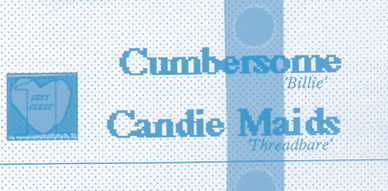 This week indiepop is happy. Indiepop has something exciting to look forward to. I'm saying that because the lineup for NYC Popfest 2015 has been unveiled.
About Popfest I've written so many times. We all know how great it is and how we hope to last forever. The bands, the friends, the atmosphere, the passion, everything comes together for a weekend. This year the weekend on Thursday  May the 28th possibly at 8pm and will run until midnight of the 31st. 4 days packed with great music.
The venues are the same as last year sans Spike Hill. Instead of the Bedford Avenue venue we will be heading to Baby's Alright for the afternoon free show of Saturday. Then the usual Cake Shop on Thursday, Cameo on Friday, Knitting Factory (including the dance party) on Saturday, and Littlefield on Sunday.
Ticket are available already as 4-day passes. They are $70.
The lineup for this year includes:
Beverly (NYC)
Brideshead (GERMANY)
The Catenary Wires (UK)
The Chandler Estate (NYC)
Club 8 (SWEDEN)
The Darling Buds (UK)
Expert Alterations (MD)
Eternal Summers (VA)
Jessica & The Fletchers (SPAIN)
The Just Joans acoustic (UK)
The Loft (UK)
Lunchbox (CA)
Pale Lights (NYC)
Palms on Fire (RUSSIA)
Papa Topo (SPAIN)
#Poundsign# (CA)
Roman a Clef (NYC)
Seabirds (UK)
Souvenir Stand (NYC)
THE SPOOK SCHOOL (UK)
STARRY EYED CADET (CA)
Univers (SPAIN)
Veronica Lake (MI)
Wallflower (JAPAN)
Wildhoney (MD)
Working (Rhode Island)
Young Romance (UK)
DJs haven't been announced yet, but a safe bet is that Maz and Mondo will be DJing after the gigs at Cameo. Who'll DJ on Saturday seems to be a mystery but I feel that, by looking at the attendees on Facebook to the event, it's pretty obvious who'll be DJing that day!
Next week I'll go through the bands that will be playing and recommend the ones that I like the most. There are some I don't know much about, especially the local ones (!), that I need to do a little research first. But all in all, especially if you see the state of indiepop at the moment, this is a pretty strong lineup that brings so many exciting bands to town that I never thought I would ever see live!
In the meantime I would love to know who else is coming to NYC for this? Which are your favourite bands playing this year? Which bands are missing? Or any other ideas/suggestions about Popfest? How can it be better? Etc, etc. Let's discuss that next week when I tell you what you can't miss!
————————————————————
cumbersome: large or heavy and therefore difficult to carry or use; unwieldy.
Back in the day I interviewed Philip Suggars from the band Candie Maids (sadly the photos are gone, this post was done before the blog was hacked for the first time). Maybe some of you remember that. I later interviewed him about his other band CC Baxter and actually included one of their brilliant songs on a CD accompanying the fanzine that I was releasing then. He also put me in touch with Hayley from the The Doris Days. Great guy indeed! Well, if you remember the Candie Maids only released a split-flexi. Their song was called Threadbare. Today I want to go over the other band on that flexi: Cumbersome.
When I asked Philip about Cumbersome he told me:
Cumbersome were friends of ours and we sort of morphed into a collective for a bit where we shared members and even played joint gigs, I think. In Cumbersome Waz and I played as bassist and guitarist though we didn't write their material. More than anything though Paul Griffin, the lovely man who fronted the money for the pressing, liked both bands and wanted us to be on the same flexi. The Cumbersome track on the EP did get played on John Peel.
Indeed, Cumbersome also hailed from Brighton. The flexi was aptly named "Sexy Flexi" and it didn't include a catalog number. The song that was included in the Sexy flexi was "Billie". This song was recorded on September 15th of 1987 at "Backlash" recording studios in their city. This flexi was available free with the "Especially Yellow" fanzine that was released in December of that same year.
We know from the sleeve that Cumbersome were:
Veronica on vocals/lyrics
Greavsie on drum programmes
Bobby on guitars, bass guitar and keyboards
Bobby was also involved in the artwork of the flexi alongside some Candie Maids.
Sadly aside from this information there seems to be nothing written about them online. Sure it's hard when a band only leaves 1 song recorded. But it's such a nice song that you wonder about their other recordings, because there has to be more of them, right? I'm sure there are. If anyone remembers them, knows what are they doing now, or anything at all, please use the comments section! I would love to know what happened to them!
::::::::::::::::::::::::::::::::::::::::::::::::::::::::::::::::::::::::::::::::::::::::::::::
Listen
Cumbersome – Billie