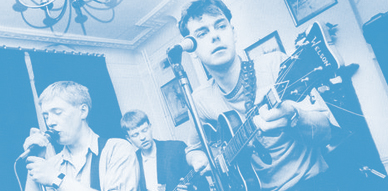 Thanks again to Andy and Neal for yet another interview. Some time ago I interviewed them about their most known band Hellfire Sermons. Today we go a bit further back in time to their adventure with Swim Naked. You can also find more about them on their Facebook page. Hope you enjoy reading this!
++ Hi again Andy and Neal! How are you doing!? Once again another interview, now about an earlier project, Swim Naked. Formed in 1982, right? Was this your first band with your longtime friend Neal Carr? And what kind of music were you into at this time?
Neal: We were discovering lots of music together at the time, the band was an extension of that. I was into the likes of Orange Juice, Joy Division, Gang Of Four, The Cure, Teardop and The Bunnymen when I first met Andy and Chent. We were all exploring the likes of The Velvet Underground, The Doors, Tamla Motown, Love, The Creation, The Action, Thirteenth Floor Elevators but also Sister Rosetta Tharpe and Ennio Moricone before and during the time of the band. Joy Division / Warsaw were also a big influence. We actually formed in 1981.
Punk had set this Year Zero thing, which I for one had bought into, and the music press didn't really cover the past.. so for me, meeting Andy who had already started buying reissued singles by The Creation and Elevators, plus some Motown,, it opened a whole world to me. But we all kind of influenced each other with what we were reading and listening to. Chent was a year older than us and had read quite a bit more it seemed.
Andy: I was a punk when I lived in London into the Cure, Buzzcocks, Vibrators, UK Subs, Gang of Four etc. then the mod revival gave us the chance to listen to the Who (feedback!), Small Faces, soul music, then the US garage bands, the Doors and Velvet Underground. At that time me and Chent listened to 'Sister Ray' at least once a day. Chent had done a lot of English classic poetry – John Donne etc, so his lyrics had a literary side.
++ The band as really a trio with the inclusion of Chent Goss. How did you three knew each other?
Neal: We met at Uni. Andy walked up to me with my Cure badge and said "so you like the Cure" – haha. We later found we both know Chent independently. Chent wrote lyrics and one time, I think it was his idea, I put some music to one song. It seems crazy looking back that it took so long,,, I played guitar, Andy bass, and Chent wrote stuff… I don't understand why no one suggested it.
Andy: Chent appealed to me as a rebel and well read thoughtful character. He had been at quite an eminent private school but had pushed against the conformity and pushiness you find in these places. He got ne onto good writers like Gogol and Kafka, and I got him onto punk music and 60s beat groups and primitive garage bands. He wrote lyrics with no band to play them, but they were good, I could tell.
As Neal says I was so pleased to meet someone else who liked The Cure. We used to listen to records together and talk about them endlessly. We still have one debate from those days – is one band better than another or is it all subjective. I feel that the Velvet Underground are superior to the spice Girls but Neal says that I can't prove it lol. The argument continues. We have been very good friends and collaborators now for 32 years!
++ Was this your first band experience?
Neal: No, I'd been in a couple of bands at school. Fun, but I have no decent tapes. I certainly cringe at the lyrics I wrote back then.
Andy: it was my first band. I did have a bass and had done lessons, but Neal had hold the music together – but we learnt fast – and some of those limitations actually helped.
++ On Facebook it says that you had a label called Hidden Heartbeat. So, who were they? And how come there are no releases?
Neal: Luminous Crocodile was on Hidden Heartbeat
++ There is a song that counts with vocals by Clare Millington. Who was she? And why wasn't she full-time on the band?
Neal: The three of us had been the core of the band, but we'd had a drummer (darn it, his name escapes me.. second name Wilson ?) Unfortunately he left Liverpool , but in our final year Clare and another guy (Chis..?) joined to sing and play keyboards respectively. We also borrowed Adam from Where's The Beach to drum sometimes before Tom Gent (later of Decemberists) joined.
So it was simply that people came and went – and we had two very different singers at one point, which was hard to juggle.
Andy: I liked that about Swim Naked – the songs were very diverse, from violent jams based on the Velvets, to pop or folky things. 'Logical Silence' was brought to us by Chris Wilkinson from a Preston band called Horrorshow and its quite a typical student song about difficulty in expression, loneliness, I like our treatment of it. Neal's guitar is based on the sound of The Misunderstood – bendy chords, the bass and keyboard are maybe like he Sound or Chameleons.
++ Did you play many gigs with Swim Naked? Do you remember any?
Neal: 2 I think… one at a Uni Hall.. and one at The Left Bank Bistro in Liverpool . This was the 6 piece band. We were all terribly nervous, so I don't think much fun was had.
Andy: That was the two. We had an idea that over-rehearsing would "kill the magic" so it was a bit hot and miss, and didn't help the nerves!
++ Where does the name Swim Naked come from?
Neal: I think it was Chent's idea – but I can't remember where it came from. I always think it was to symbolise freedom and risk in creativity.
Andy: It was about absolute freedom. Funny thin is lots of people like us on Facebook just because of the name – they have interests like 'nudity' and 'hot chicks'
++ On the Facebook page there are some of your recordings. I'm loving "The King of Love and Sex", "Girlfriend" and "Logical Silence". Was wondering if you could tell me a little bit of the story behind each song?
Neal: I'd say all our best lyrics were from Chent (KoL&S and GF were him). Some of it was about using our current obsessions with the likes of Kafka or JG Ballard out there… some of it was more personal to Chent. I'm afraid I don't remember much about these two. Girlfriend was lift from some lyrics Chent had already written,, I think KoL&S was a germ of an idea that crystalised as we wrote the music. I think it may have been a skit on the Doors.
Logical Silence was from a band called Horrorshow (?) that keyboardist Chris was in.. he brought that with him and we re-arranged it. He had a tape of a drum pattern that we all played along to.
Andy: The King of Li=ove and Sex was ironic piss take of macho boasting, its supposed to be over the top. We had a drummer at one time (Lou) who was going through a sex change and he left because the lyrics were offensive – but it was supposed to be funny!
I do like 'Girlfriend' – it is quite a good look at a relationship and pregnancy ("her body's white and leaping, and you lie there shivering in the wind, with an empty mind"), the heavy feet of pregnancy, and Neal's guitar part rocks, good melody.
Logical Silence was the best song we got from Chris, we completely re-arranged it, and it worked well. Claire's singing is nice as not trained – its a little bit hesitant. There's a lot more with her – I think 'Won't We' is good for her voice.
++ There are two other songs, "The Storm" and "The Love Bog", way less poppy, more experimental I'd say. So you had these two sort of sides in Swim Naked. Throughout your career you always had a more poppier side I'd say, so I'm quite surprised by these two songs. Care to tell me what were they about?
Neal: I think Chent had the biggest hand in the music and lyrics of The Love Bog, We set out to create something very extreme with the music – the weird effects are created by the dischords between the notes on the two vl-tones. It used to freak out our cats. I'm not sure what it is about, I originally thought it was linking love with a sort of stifling torpor, but listening again, it seems more optimistic than I thought.
Andy: The 'Love Bog' is off the scale, its based on a dream but sounds more like a night mare, .ore unusual lyrics – "You're thinking of the smell of meat" and "Fireflies buzzing in the air, of oozing wine, there is no time, no warning sign". And the discords did used to frighten my cat. The horrific discord comes in on the offbeat, its more like a fire alarm than a song. The Casio VL Tone gave the song its sound. A bit of that dischord effect can be heard in the intro to the Hellfire's song Sarasine'
'The Storm' was written after Neal left to do a side project with Claire called The Lids'. The drummer was really angry at the time and we just poured out the song. I like its atmosphere.
++ From all the Swim Naked songs, which was your favourite and why?
Neal: I very much liked "Alone", which is about walking alone in a city at night in fear… excellent lyrics from Chent and I think we nailed the music – sort of Joy Division-like. I originally sang it, but Clare did a much better job.
The songs I most associate with the band are Drive, The Venus Men and Dance of My Mother. They were all composed with the three of us plugging away over many months of change – it's that evolution that I liked. The first two are kind of Velvets/Doors soundtracks to Crash by JG Ballard … the latter is kind of unclassifiable, based on a bass riff Andy had that I couldn't fathom at first.
Nowadays I feel like The Doors and especially Jim Morrison are overrated.
Andy: I like 'Dance of my Mother' which is about a birth, and the closest I have ever heard to it is maybe Sonic Youth, but with better lyrics.
'Girlfriend' I love for the catcy repetition of the keyboard set against Neal's chords.
And 'Flashing Red and Orange' is a kind of violent Cramps thing written about some disturbed events at Chent's house
++ Did you ever rerecorded any Swim Naked songs for your later projects?
Neal: I "borrowed" some of the acoustic/strummy songs for my next band with Clare (The Lids). Otherwise, I think we have just lifted bits now and then,
Andy: The Lids was fantastic, a bit folky, nicely played with Clare singing, many indie fans would love it.
++ Are there any more recordings by the band?
Neal: Yes, as you probably get from the above, there is plenty more.
Andy: About 20 songs looking for a release,
++ Ever thought of putting together some sort of compilation of these songs? Perhaps adding the Jenny Lind and Decemberists songs? It would be a hit I think!
Neal: Andy is very keen.. I guess we never get the momentum between us.
Andy: We should do a compilation. I would have 2 or 3 Swim Naked songs, 2 from The Lids, 2 from Swim Naked after Neal left, 2 from the Decemberists, 2 from Jenny Lind, then 2 from Hellfire Sermos before Neal came in, and then some Hellfire stuff. We should do it
++ How was the recording sessions for Swim Naked? And how do you think these songs have aged?
Neal: A lot of what you hear are practice tapes, and they were great for us… though I do wonder why the neighbours put up with us!
In summer 1982 we recorded in a small studio in London , KoL&S is from that session. It came out quite well, but Drive and Venus Men sounded neutered even back then. We just didn't have the nous then (or for many years) to get what we wanted from a studio. I think the instruments were recorded well enough, but we needed to be able to take charge of the end result and we couldn't,
The practice tapes still sound quite exciting to me. I feel we have since learned more about how to arrange a song, get good and repeatable sounds, keep it interesting etc, but these songs are largely driven by enthusiasm and our interactions and experimentation – and it shows to me in a way that still makes me happy. In addition, the condenser mics that tape recorders had compress the sound in a way I've always liked.
Andy: It was all bad experiences in studios back then because no-one really bothered to help us get the sound right. The practice tapes are way better. But then, pre-internet, you couldn't release your music unless a record company would do it, and so you needed a demo to play to them. But now we should release the good practice tapes – they have the sound and the dynamics.
++ Liverpool during those early 80s had a very exciting scene. How did you enjoy it and how do you think you fit in it?
Neal: At the time of Swim Naked, we didn't really fit in. The scene was between the whole Teardops / Bunnymen thing that had just gone national and before the likes of Icicle Works and Pale Fountains.
The only band I remember mixing with was Where's The Beach. It wasn't until later with Decemberists / Jenny Lind that I felt we were part of a bigger scene… but even then, we would be playing with a lot of bands who clearly wanted to be the next Duran Duran – not our thing at all.
Andy: Then we just went to see the bands, and maybe saw them in the Everyman. When we practiced at Dock Road we were part of a scene with Half Man Half Biscuit, the Jactars, DaVincis, Jenny Lind, The Room, and that was good. Then in Hellfire Sermons we were part of a national scene via Kevin Pearce of The Claim, Jasmine Minks, Emily and briefly the very early Manic Street Preachers
++ And then when and why did you call it a day for Swim Naked?
Neal: I quit the band in 1983. I was a bit frustrated with Chent never doing the same thing twice in a row – which at other times I thought was a great advantage, but if you do something good and never do it again it's a recipe for disaster with me. Clare seemed to provide an opportunity to do something more songwriterly which I also felt frustrated we could not do enough (though I think that was a daft idea of mine nowadays – I would never dream of presenting a written song to the band, it takes out all the fun).
Andy: I was sorry Neal left, but I think he had to because the load on him was so great – tuning, arranging, working out at what point the chorus would come. An Chent just couldn't reproduce the musical or vocal parts so they were either great or terrible and you couldn't control which. When it was good it was mind bending but then if you could never do it again, was it music?
++ What did you all do music-wise immediately after? Did you take a break?
Neal: I went on to The Lids with Clare. Although we did some good stuff, she was not really committed the way I was. We joined with three other guys in a band that never did get a name. I got more back to a poppier sound, but was also frustrated because there was less full-on collaboration. I split in the end because not enough writing or practicing was happening for me (no gigs ever played). I put up an advert and after a couple of false starts with others, formed Jenny Lind with Ken.
Andy: We found Colin Pennington and played him the demo of 'Flashing Red and Orange'. He thought it was strange but had potential. So we formed The Decemberists and set about being a hard working Liverpool band, loads of gigs, postering the town, and actually built a local following, which we only realised when we played The Neptune Theatre in support of the Liverpool socialist council and a huge cheer went up when we started 'The Gift Horse'. The two bands – Decemberists and Jenny Lind ran in parallel for a couple if years – I shared a flat with Neal at that time – and eventually the time was right and Neal came across to the Hellfire Sermons
++ What would you say was the best moment, the highlight, for Swim Naked?
Neal: Playing the Left Bank Bistro was a highlight, but the best memories are of writing songs at weekends in Andy and Chent's house – evolving songs out of ideas
Andy: The best times were playing together, trying things,learning things, finding you could do anything, whatever you wanted in music, and learning to write expressive songs. The strength of Swim naked was that the songs were never written to be successful or even liked by other people – it was just us enjoying the moment.
++ We can wrap it here, short and sweet, but one last question, were these songs distributed in any way? Perhaps as demo tapes or something? Or have they only been for rediscovering since the digital era when you uploaded them to soundcloud?
Andy: Never distributed! A few are up on the internet – Soundcloud and Facebook. maybe we will relaease one more to go with this interview and go on your site?
++ Thanks again Andy! Anything else you'd like to add?
Neal: Thanks for the opportunity to think about this again Roque
Andy: No that's it, but keep doing what you're doing Roque.
::::::::::::::::::::::::::::::::::::::::::::::::::::::::::::::::::::::::::::::::::::::::::::::
Listen
Swim Naked – Logical Silence