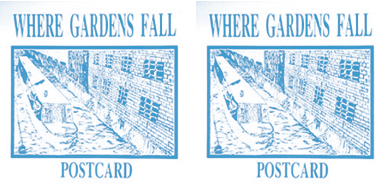 Thanks so much to Karl Moseley and Carl Bedward for the great interview about Where Garden Falls and bit of their previous band Leopold Bloom! Please check more songs by both of their bands on their myspace!
++ The band started after Leopold Bloom -which maybe should be another interview! -was over. What happened? Why did you decide to continue under a different name?
Karl: LB was a band in the purest sense; it relied on the input of four individals to create the sound of the band. However, it became quite obvious as time progressed that the band were increasingly falling back on mine and Carl's songwriting skills. It was also very apparent that Carl was also doing all the background work for the band such as publicising the band, getting gigs, even ensuring that band members brought their equipment to rehearsals etc. It was also at this point, when we recorded a song called 'The Convert'. This song was solely penned by Carl and myself as a songwriting duo. I think that this song is very much a hybrid of the LB and WGF sound, and so, together with Carl having to do all the logistical stuff as well, it felt like a good time to wind the band up. There ended LB.
It was very easy to make the transition from LB to WGF. Myself and Carl just reverted to a song writing partnership; I did all the lyrics and he did all the music. We did everything in our way and avoided all the egos etc that go with so called 'democratic' bands.
++ I had a German friend who for years asked me and asked me if I knew anything else from your band aside from what we've read from the Leamington Spa booklet. Now out of the blue you are on myspace! How did you decide to come to the social network nightmare? And how did you all knew each other?
Karl: WGF are/were just Carl and I. We enlisted help and we had some great musicians and friends to help us. You can see who they are on our MySpace profile.
As to how we came together, that's not hard to explain, as Carl and I are cousins.
In terms of MySpace etc…someone told us that  there was an in-depth blog about LB penned by Stephen Davies (The Cudgels) that described a gig we played in West Bromwich (just outside of Birmingham). He said some very complimentary things about us and told us we still had an audience of sorts twenty years on. Incredible.
++ Where does the name Where Gardens Fall comes from?
Karl: The name WGF was the title of one of the first LB songs we ever wrote. I can remember a bit of the chorus…
'Gardens fall without a sound,
To wrack and ruin to autumn brown…'…The song was actually called WHEN Gardens Fall later changed to WHERE for the band name.
I think I was about 16 at the time of writing that lyric/poem!
Carl: I remember a bloke who did a bit of 4 track recording with us commenting that the song sounded a little 'Rolling Stones' I was offended and subsequently we never recorded with him again!!! 

++ Why did you decide to self-release your Postcard 12″? And what about the Freak Out label? Why the name? and was this the only release?
Karl: With regard to 'Postcard' we did not  see the point of signing to a "little indie label" etc and as all the distribution networks (The then 'nine mile & the cartel' took on the distribution) were already in place, we just decided to do it ourselves. The 'Freak Out' label, well that was ours. Carl resurrected the label in 1998 for a release by a  band he was managing at the time called 'Shamefaced' for their debut single 'Stereo Sister'(Cat No Freak 2 Postcard by WGF having been Freak 1)
++ I love the song "Search" that you included in the Sound of Leamington Spa compilation! It's just the perfect mix of guitars, keyboards and passionate vocals. Care to tell me a bit more about this song?
Karl: Yeah, this is a very interesting song and links LB with WGF. The lyrics to the song are very ironic in  type, especially the last verses…
'Books and records piled on shelves,
Discarded scenes from films
over-spill into my head,
Into everything we did and said…
And all I do is laugh along to the last abstract pop song'
After this song everything was written about charecters and not myself
Carl: I remember just messing around on the guitar one day with the intention of trying to play 'Cemetary Gates' by The Smiths and coming up with 'Search'
++ "The Property Guide to Humanity" is such an intriguing title for a song. What does it mean? And what about the fantastic song that is "A Horse on Fire"?
Karl: 'The Property Guide to Humanity' is a song about humility and integrity. Whether you live in an urban slum  or a palatial home you can still lead a honest life. Life is not all about owning things!
'Horse on Fire' is possible my favourite WGF song. I read a magazine  article about a guy who's daughter was abducted in Iran(?). The song is full of anger and self reproach. I think the loss of a son or daughter and not knowing where they are, must be an unbearable burden to carry. Anger is the key to this song.
++ Where did the songwriting inspiration come for you guys?
Karl: I have to start with LB here, who were a post-punk band who were profoundly influenced by the music around them…New Order, James, Julian Cope, Siouxsie and the Banshees, The Cure…However, all that stopped with WGF.
I can honestly say that all I/we listened to was WGF. I sold all my records, except for a few Nick Cave and Microdisney albums, I enjoyed our music to the exclusion of all others. But I would say at that point I was more into books…James Joyce (see Postcard), Virginia Woolf, Martin Amis, Will Self, Graham Swift, Ian McEwan, Keats, Auden…too, too, many to mention!
Carl: For me when in LB it was early punk and some of those Karl mentions above..but when we formed  WGF like Karl says above it became the be all and end all and other bands music was of very little influence/importance to us.
++ Also I'm wondering, as you only had one release, and it seems you have a bunch of unreleased tunes, three quick questions: how many songs you recorded? how many demo tapes were there? and will there be any sort of retrospective compilation?
Karl: LB recorded 2 demos containing a total of 7 songs WGF recorded 4 demos containing 12 songs plus a session for the single in which 'Postcard' was re-recorded and a a song called 'Big Night Noise' which appeared on the single release.
A retrospective compilation has been mentioned on a number of occasions tho that's a far as it has got so far… I think that we would do it if it was going to be done properly giving the songs a chance to reach a wide audience.
++ I've been having a hard time finding this record! From what I've listened on last.fm and myspace, it's really fantastic! No wonder it's so sought after! How many copies were pressed and how was it received by the music press?
Karl: There were a 1000 copies pressed (Some of which are in my attic!!!) the music press were indifferent as at the time the whole Madchester thing was starting to happen so there wasnt much interest to be honest but we did have a few major record/publishing companies sniffing around but it all came to nothing in the end.
++ The Birmingham scene from the late 80s seems to have been vibrant with some favourite bands of mine like Mighty Mighty, The Sea Urchins, or The Cudgels. How did you enjoy the city back then? What were your favourite venues?
Karl: Yes I remember these bands and others…. we only knew the Cudgels who were based near to ourselves and were very good at what they did..Birmingham itself was a very different city then but we loved it and the few venues that would let us play ..especially 'Synatras' where we became good friends with the DJ/Promoter Tony Reynolds who went on to help us quite a bit.
++ Did you gig a lot? Any particular gigs you remember?
Karl: We didn't gig prolifically but tended to play college shows out of town good ones I can remember are ..Gloucester College of Art & Tech, Luton College of HE, Cheltenham College of St Paul & St Mary..Bath University, University of London Union..the electric brrom cupboard in Sherbourne Somerset
++ What was the highlight of being in Where Gardens Fall?
Karl: Really just seeing these songs being transformed from just acoustic guitar & vocals to being full blown band songs going down well at gigs and being released… and people who didn't owe us a thing i.e. people we didnt know appreciating them.
++ If I was visiting Birmingham as a tourist, which places would you recommend me to visit? Maybe some of your favourite spots?
Karl: Birmingham today is so different to way back then and is really tourist friendly. a lot of the old band haunts we knew have gone…. maybe in band terms a place like JB's in the nearby town of Dudley as that is still a place dedicated to live music without ever having  being sanitised by 'progress'.
++ And what about your favourite balti house?
Karl: Really cant comment too much on this, as far from an expert on such matters more than to say I did spend many an evening in 'Imrans' on the Ladypool Rd in the Sparkbrook area of Birmingham.(B'hams balti mile)
++ When and why did you decide to split? Were you involved with bands after?
Karl: We split in April 1990 after a gig in Tamworth in Staffordshire….personnel probs really which should not have been a prob at all considering the way we wrote but we felt we needed a break from it and just never returned to take it further.
No there were no bands after this for either of us.
++ Thanks again so much! Anything else you'd like to add?
Karl: Just one again thank you for the interest that you have shown in LB & WGF and that over the 2 bands we had some great times and hopefully produced a few songs that people enjoyed.
::::::::::::::::::::::::::::::::::::::::::::::::::::::::::::::::::::::::::::::::::::::::::::::
Listen
Where Gardens Fall – Search