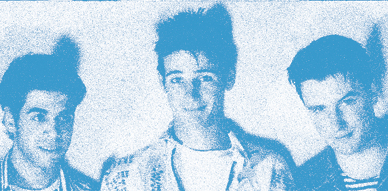 To my new job I walk around 8 blocks everyday. It's quite close. Long gone are the days of taking the bus. Still, I still dream of taking the subway to work. There's something about taking trains that I love. I don't know if it's the galloping sound, the shaky wagons, watching people coming in and out, looking around if there's a cute girl to make eye contact, observing people, their clothes, their newspapers, their books. I'm always curious at what people are reading. Watching their hands, their shoes. I always watch also if people are balding, I will one day I'm sure, I am a bit obsessed with that. Anyhow, I don't get to be in a subway that often. Maybe once or twice a year when I'm in New York, and then I usually take it lots of time very late at night, after a gig or going out, when it goes almost empty or with people so drunk that they fall asleep and miss their stop. And the other times I'm lucky enough to take my favourite mean of transport is when I'm in London. I must say that I've taken the subway also in Glasgow (which is a joke), in Berlin, Hamburg, Chicago and Stockholm. But none can compare to the network of rails under the ground of Londinium.
These days I'm very familiar with the London Underground even though I've never lived there. I don't get lost, I don't miss my stops, and I've even given directions to people. There have been times I've had to take the Overground, from Walthamstow or Brockley, but most of the time I've been taking the Jubilee Line, the Northern Line, the Central Line, the Victoria Line, and more. My memory is still fresh, it was just 11 days since I took the underground for the last time, taking the Piccadilly Line all the way to Heathrow terminal 4. It was the last day of a great trip around the UK, though I left very early that day from my friend's Jennifer house, deep south in Lewisham, so I won't count this day as a full day. But the rest of days, my memories of going up and down the escalators, with friends, by myself, listening to the handful of songs I've managed to put on the iPhone years ago, and saying goodbye to friends just as the paths fork towards different line platforms, are still very fresh in me.
Before continuing, let me have a little break here to see what I've been listening on CD this week:
1. Mo-Dettes – The Story So Far (Cherry Red)
2. Seapony – Go With Me (Hardly Art)
3. Brian – Bring Trouble (Setanta)
Just 3 CDs! I know, been quite slow, but I'll start catching up soon!
"You are shaking my world, my subway girl"
The needle dances over this fantastic slab of black vinyl. I get a bit sentimental with the great lyrics of this song. I wonder if I have ever had any subway girl, or any girl that I could associate to my underground travels. I remember the one who I bought my first 'remsa' in Stockholm and rode with me the tunnelbana from Gullmarsplan to Hammarby, the same girl who later  would take me around in my first visit to London and not letting me get lost in that tangled network of little dots and lines of different colours that is the underground system. I remember clearly her red coat and silly hat, and her white tennis. The funny day when her and another friend invited the "air band" to the train's crowd surprise, when they played the air guitar and the air bass. And then the trumpets come in, and the needle is reaching the end of the record. I play it again, it's such a wonderful song. It's Hellvyvelln's "Subway". And I know absolutely nothing about them.
As I recall my trips on different subway systems, with different friends, I remember the first time I took it. In New York City, in 2007, with my friend José. We took it from Penn Station to somewhere in Harlem that I can't remember. We had met some friends and we needed to burn some time while we waited for the guy that was going to give us the key to the apartment we were staying in Brooklyn during the weekend. We were going to NYC Popfest that weekend. I remember we went to the apartment of Caitlin's friend. If I remember correctly he played in the Alsace Lorraine band and was good friend's with Isol, that Argentine muse that sang in Entre Ríos. He was an undertaker. At the time it resulted me shocking that an undertaker may like indiepop. Anyhow, my friend José, as a true Peruvian, asked if he could shower at his place. Nice.
Later that day we picked up some 75 cents carnitas from a Mexican place just next to the station, and rode the train, dripping salsa all over the train floor. Good times. I could go and on with stories about the subway that make my heart jump, but let's go to the weekly obscure band.
I was introduced to Hellvyvelln by the great Peter Hahndorf when I was in Bremen with Nana, I remember he handed us a CD-R copy of a project he was working at the time called The Sound of Glen Waverly, a two CD compilation of Australian bands from the late 80s, early 90s. Included on the first CD was this fantastic track, Subway, by Hellvyveln. Some months after, I was able to track down this single on eBay. I think I paid very cheap for it, I think it was too obscure for even the indiepop collectors. It might be the case, if you google about this band, there is absolutely nothing aside from the obvious Twee.net entry (Peter's page!).
The B side is "Elvis", which is also a very nice track. But I'm obsessed with the A side, with "Subway". It reminds me to many great bands and songs from the C86 era, from The Hepburns to The Chalk Giants or A Riot or Colour and more.  The record was released on Polyester Records, that was based in Fitzroy, Victoria, in Australia, and the catalog was LUV 13. This same label also released some stuff by Ripe and the great Little Murders. The record was recorded in August 1989 in Silkwood Studios, in Melbourne and released later that same year. It was produced by the band and Dane Simpson. Simpson also engineered it.
Hellvyveln were Jeremy, Nick and Andrew. No last names provided. The arrangements on "Elvis" were courtesy of Ben Grant whereas the trumpets on "Subway" were thanks to Stephen Grant. Where they brothers? Also Michael Kennedy helped on trumpets on this track. The horn arrangements on it came by the way of Dave Hannon.
Then the only other piece of info on the 7″ back cover are the thank you notes, but I can't really recognize any of the people here. The band's address shows that they lived in Brighton, Australia. There's a Brighton every where, isn't it? I was at the UK one, which I assume is the original, not so long ago either. Looked a bit like Miami, but with brown sand, and hills.
And that's all there is about this fantastic, and elusive band. If you know anything else about them, what does the name Hellvyvelln means, who is the girl they sing about on "Subway", if they had more releases, or even more songs, please get in touch! It would shake my world to know a bit more about these guys that penned such a beautiful song.
::::::::::::::::::::::::::::::::::::::::::::::::::::::::::::::::::::::::::::::::::::::::::::::
Listen
Hellvyvelln – Subway