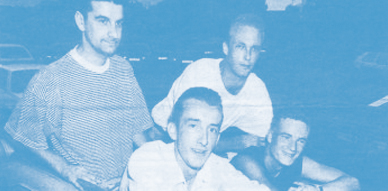 Thanks so much to Andy, Tim and Paul for this fantastic and very thorough interview! I wrote about Shine not so long ago on the blog, and thanks to my friend Andreas I was finally in touch with them. One of my favourite "obscure" bands from the 80s, they released one flexi and a 12″ split with The Bardots. The important thing about Shine! is that all of their songs are really good! So you better rediscover them now! Hopefully there will be exciting news about them in the future, so keep an eye on this blog!
++ Hi Andy, Tim and Paul! Thanks so much for being up for this interview! I see Andy dedicates his time to photography these days. So what exactly do you do in this field? And how rewarding this is for you?
Andy: I actually work on a nature reserve, by shear fluke my bird watching hobby has become my living. I enjoy taking photographs and do a little teaching of this on the side, enough to fund some occasional birding around the world.
++ And what about music? Do you still pick up your guitar some days?
Andy: I'm still heavily into music. Ive always had fairly broad tastes and recently Ive been producing more studio based electronic tracks, more just for fun than anything else, although a remix I did last year did get released. I just bought a 'new' guitar a few weeks ago from friends who run a carboot stall, it's a first generation USA made Fender Bullet and it sound ace!
Tim: No, I'm afraid not. I'm more of a listener than player these days.
Paul: I've still got the guitar I had then but I don't play it much now though I'd like to given the right opportunity
++ Had you been involved in any other bands prior to Shine!? When did you learn to play guitar?
Andy: Yes a few, a basic punk band, a Joy Division influenced post punk outfit then The Mysterons from which Shine! rose from the ashes. Difficult to put a date on learning to play, still a bit shaky now! but probably 1980/81.
Tim: I've been in several bands prior to Shine! All with Paul and with influences from glam rock to punk. I learned to play bass by myself and I borrowed heavily from Peter Hook and Jean Jaques Burnel.
Paul: I started off on keyboards. The band started in about 1975, it went through various name changes and ended up as 'Stranger Still'. Tim was also in the band (on bass), as was my brother who played guitar. When he left to go to university in 1981 I took up the guitar, trying my best to rip off Bauhaus.
++ Tell me how did Shine! start as a band? How did you all knew each other?
Tim: Andy, Paul & I were in an indie band called The Mysterons which folded when the singer went to college. The three of us decided to carry on with Mark (the drummer) and take it in turns to sing. Paul & I had been friends since school and we met Andy when he joined The Mysterons.
Andy: It was spring 1987 and the singer from The Mysterons knocked on my door (he lived about 20 doors down the road) and asked if I'd like to play with them. This first time I'd properly met Tim, Paul and Mark apart from seeing them out occasionally in King's Lynn pubs. The singer of the Mysterons left for university in September so that band had reached an end. The Mysterons songs were quite complex in parts so Shine! was a breath of pop fresh air and we hit the ground running. We played our first gig at the West Lynn Community Centre 21st November, so we'd written a load of songs in a couple of months.
Paul: Tim and I were in a band called The Mysterons with Mark (drums) and Andy joined later on when our other guitarist left. When The Mysterons split we decided to carry on and this because Shine! I can still remember our first rehearsal and how it all instantly fell into place.
++ And who came up with the name of the band? And does it have any meaning at all?
Tim: I believe Andy came up with the name and he'll furnish you with the details.
Paul: Andy will have the definitive answer as it was his idea, but I seem to remember him saying he heard some kids by the side of the road chanting 'We will Shine!' Who they were and quite why they would do so may never be known….The exclamation mark may have been my idea, but I think I originally wanted it to be 'Shine!!'
Any: I actually was cycling home from work and heard a group of children chanting 'we will shine' at least that's what I thought they were saying? I think we wanted to avoid having 'the' in front of name too so Shine! stuck. I can't remember how the exclamation mark came about? No meaning at all.
++ How was Norfolk back then? Where there any other good bands in town? What were the best venues to play and hang out?
Andy: King's Lynn was to some extent quite cut off. You realyl did have to make an effort to travel to see bands, normally in Norwich, Cambridge or London. The scene around King's Lynn was quite good with bands like The Chancers and The Boatmen. Our hang out was most definitely The Wenns which is a pub on the Saturday Market Place in King's Lynn. A huge amount of time was spent in there! We played many local gigs at the West Lynn Community Centre but the Norwich Arts Centre provided us with some of the best gigs.
Tim: Norfolk had a rather healthy music scene, lots of bands, though there were few places to play unless you headed for Norwich or Cambridge. There were quite a few bands that drank in the same pub and most were friendly. For some reason we always supported a heavy metal band called Passion Flower Hotel (God knows why!). The best local venues were Norwich Arts Centre & The Junction in Cambridge.
Paul: Well we were based in King's Lynn and there was a good local scene there, and we would socialise with many of the other bands, usually in Wenn's, a pub on the Saturday market place. Live venues locally tended to be village halls which we would hire, along with other bands so we could share the cost.
++ Talking about playing, did you play many gigs? Which were your favourites and why?
Andy: Somewhere I have a list of all the gigs we did that Tim compiled, I'll dig it out and send you a copy. Personally I used to get very nervous before playing and the adrenaline rush from playing always left me slightly unsettled, I think the point was 'does this make us more attractive to women?', which it probably did:) Best gigs? I have a hazy memory but supporting the The Darling Buds with the Norwich Arts Centre full to capacity was particularly good.
Tim: We played 50 gigs in a 3 year period which doesn't sound a lot but most other local bands didn't play nearly as many. We always ended up playing the Wilde Club at the Arts Centre as Barry got us support slots with bands like My Bloody Valentine, Darling Buds, The Wolfhounds etc. Barry financed the flexi disc & 12 inch.
Paul: Tim can probably tell you how many as he tended to document these things, but we did gig regularly, playing in pubs in Cambridge, Peterborough and Norwich. It's difficult to pick out a favourite but I think The Oxcart in Peterborough was our first gig outside of King's Lynn. It was a new-ish pub on a housing estate and a very unlikely venue but we went down surprisingly well with the regulars
++ What about the aesthetics of the band? I see you always wrote your band name with a particular font, and also the artwork for the both the flexi and the 12″ split is very similar. Was this on purpose? Who took care of the looks of the band?
Andy: Ah the joy of letraset! The posters of our gigs and the flexi and 12″ came from b&w images cut from some charity shop books I'd collected. A lot of them came from the Photography Year Book 1967. Tim put it all together and I used my work place photocopier. Although we provided the art work for the cover of the 12″ sleeve, it was botched together by somebody else, well I didn't like how it had turned out. The black and white images suited our photocopied poster campaigns and gave an overall look to our 'publicity'.
Tim: We liked to stand out from the other bands and we had a particular style. Most of the artwork was done by myself though I plundered a book of sixties photographs for interesting pictures. There wasn't a fashion style within the band but we all tended to wear the same sort of thing.
Paul: Tim and Andy looked after the artwork. I had nothing to do with it. I was always very impressed with what they came up with.
++ It seems you always worked with Barry Newman. How did you meet and how close was your relationship with him?
Andy: Yes Barry Newman is a good man. He put in a lot of effort in establishing his Wilde Club nights at the Norwich Arts Centre. I think we must have sent him a demo tape angling for gigs. He obviously liked what we did and had us play there quite a few times and that lead to him releasing the Millions and Millions flexi disc on his Baz McHat label before it became Wilde Club Records.
Tim: As mentioned Barry financed the singles and got us most of our gigs in Norwich. I believe we just sent him a tape and he invited us to play the Wilde Club one night. He seemed to like us and asked us back for more gigs. The relationship was not that close but he really did help us quite a lot looking back. He did invite us to do a reunion gig (20 years) but the band are all living in different parts of the UK now and would have been a nightmare to organise.
Paul: He used to put on gigs at the Norwich Arts Centre and he often booked us to play there. I can't remember who approached who though.
++ My favourite song of yours, and possibly one of my favourite songs all-time is "Bite the Apple". Is it much to ask the story behind this fantastic song?
Tim: Over to Andy. I think you'll find the bass line makes the song…….!
Paul: Better ask Andy as he came up with the song in the first place. The rest of us added bits to the arrangement after he'd brought it to the band, including the vocal harmonies. Andy had the opening guitar riff and I came up with the riff at the start of the verse.
Andy: Wow thanks I'm glad you like it so much. Tim, Paul and myself would write the basic songs structures and lyrics and present them to the rest of the band for approval. If you wrote the song then you would be singing the main vocal. It all worked well and provided an element of competition. I wrote Bite The Apple, Tim provided the bass line and Paul the guitar flourish. Bite The Apple (an adam and eve reference) is about the madness and delight of love with just a tiny element of doubt thrown in at the end.
++ Who would you call your influences, especially for those fast guitars?!
Paul: Has to be the Wedding Present! They were bringing an excitement to guitar music which had been missing in the mid 80's.
Andy: I think we all loved a good pop song, still do. I guess the C86 bands gave us a sonic template to work on. Most obviously The Wedding Present. I heard Go Out And Get 'Em Boy on John Peel and it struck a chord (pardon the pun). The Smiths, Joy Division and New Order to some extent and certainly The Velvet Underground.
Tim: My own influences at the time were That Petrol Emotion, The Smiths, June Brides, Mighty Lemon Drops, House Of Love and we can't really deny it……The Wedding Present.
++ You contributed songs, as far as I know, to two compilations, "Everlasting Happiness" and "Everlasting". Do you remember at all how you ended in them with "I Just Can't Celebrate Today" and "The Art of Lying Low"?
Paul: Not sure how that came about. Rubbish answer. Sorry.
Tim: Not sure how these tracks got put on the compilations. If it is Andreas who compiled them then I guess he is the man to ask. Both these tracks were on 'Numbrained…'.
Andy: Both of those songs were 'properly' produced. The Art Of Lying Low was recorded at Lifetime Sounds in Duke Street, Norwich for the Millions and Millions flexi and I Just Can't Celebrate Today was recorded at Raven Studios at the Bite The Apple session. Ive no idea how they ended up on the compilations. I think Andreas wrote us a nice letter and we gave him the recordings to use.
++ Which would you say was your favourite songs? You know, those that you always had to play at gigs, and why?
Andy: Well we didn't have that many to play. I really love playing She Looks So Good, Out Of Touch, Million and Millions and Bite The Apple mainly because they were simple:)
Tim: My personal favourites were Millions & Millions, Bite the apple & No way I'd much rather be. We tended to write new stuff then play it live with a few old favourites as encores but we were never precious about doing certain songs as far as I can remember.
Paul: I don't think there were any particular favourites. Everything we'd written got played live at some point. With three of us writing there was usually an even split between us in the setlist
++ Also, how come you didn't release any more records?!
Paul: Lack of money!
Andy: We really just spilt up before any further plans or expressed interest in us took hold. We didn't play any further a field than East Anglia. We received a tiny amount of interest from Food Records, I think they signed Seymour instead, what became of them?
Tim: We drifted apart in 1990. We were into different sounds around this time and it co-incided with Paul getting married and moving away.
++ There are two tape albums by Shine! These are very obscure to most indiepop fans, so do you mind telling a bit about them? How many copies were made? And if possible the full tracklist for the nerdiest of fans? 🙂
Paul: I'll have to find the tapes first!
Tim: They were 4 track recordings produced by Paul. The first tape was our live set at the time and the second was a bit more sophisticated as Paul got into production more. No doubt he can tell you the details. We made a few hundred copies of each I believe.
Andy: They were self produced and recorded over many months using Paul's portastudio four track. Lots of bouncing down and over dubbing of vocals and guitar parts. Pretty rough and ready indie pop, a fair representation of our craft.
The first tape – 'Shine!' (I don't think we considered an actual proper title for it) was made between January and June of 1988. It came with a free Shine! badge.
You Can't Help Yourself
THe Art Of Lying Low
Empty Heads Ring Hollow
Out Of Touch
It's Nice To Be Loved
She Looks So Good
It Could Never Happen To Us
Stop Looking Back
Millions And Millions
The City Can Wait
Heaven
The second tape – Numbrainedeadumbrain was recorded in 1989/90(?) certainly released in 1990. The production is slightly slicker, with perhaps a dash of psychedelia thrown in.
Tim hand painted most of the covers so they are all originals.
20 Days Away
I Just Can't Celebrate Today
Ladybird
Give Me Soul
Jerk
All Fall Down
Open Up Yourself
Dangerous Day
The One That Stops You
++ The split 12″ was released by Wilde Club Records. I haven't seen much written about this label/club online. I'm more curious about the club. Did you go often? What was the best about it? And how important was it for your town?
Paul: That was run by Barry Numan. He was quite a big figure in the Norwich scene at the time.
Andy: http://norwichmusic.wikia.com/wiki/The_Wilde_Club
This was Barry Newman's baby. It was based in Norwich at the Arts Centre which was a converted church, the acoustics didn't suit everything but the list of gigs Barry put on is enviable. We supported My Bloody Valetine, The Inspiral Carpets and McCarthy among others. As well as travelling across from King's Lynn to see Mud Honey, Bob and one of the best gigs Ive every been to, The Four Brothers.
++ So, what happened in the end? When and why did you decide to call it a day?
Andy: Circumstance took over. In a moment of clarity I decided I need to go to university and signed up for a access course in september 90 in order to again entry the following year. Paul got married and moved to Norwich at the same time and somehow practicing and gigging became untenable. Myself and Tim hooked up with a keyboard player and wrote some songs with a drum machine driving the beat, but we never gigged.
Paul: Well I moved to Norwich in 1990 but the others did continue for a while. It wasn't an acrimonious split or anything like that, but I think we had done all we could with our 2 guitar / bass / drums lineup in the face of the burgeoning dance music scene.
Tim: It ended amicably in 1990. We still speak to each other though Mark is not in touch anymore.
++ Are you all still in touch? What did you do after Shine!?
Andy: Yes, thou I live 'up north' so not as often as I should. I went to the University of Manchester in 1991, played quite a few gigs in a band called Dooba based in Leeds in the mid 90's and since then a lot of birding.
Tim: Andy & I carried on for a while with a keyboard player/programmer but it didn't last. I played in one or two bands after, one with Paul again but this folded soon after also.
Paul: Not as much as we should be! Shine! was more than just the music. It was three glorious years of my life which no one can take away from me. After Shine! I played in Norwich based Ivy with a CD release 'The absence of angels', and got to tour with the Wedding Present'. I am now involved in the rather less rock and roll musical activity of barbershop singing!
++ And these days, aside from music, and photography in your case, in what other hobbies and interests you spend your time?
Andy: Well birding used to be my hobby and now it's sort of my job. So now music has become my hobby. I have some good monitors, Ableton Live 9, assorted instruments and software. It fills the waking hours very nicely indeed.
Tim: I listen to music all the time and still do some artwork in my spare time.
++ Thanks again! Looking forward for more Shine! news in the near future! Anything else you'd like to add?
Andy: Roque, your email was shot out of the blue, it's nice to know we aren't forgotten:) and it's given us an opportunity to reminisce.
:::::::::::::::::::::::::::::::::::::::::::::::::::::::::::::::::::::::::::::::::::::::::::::
Listen
Shine! – Bite the Apple