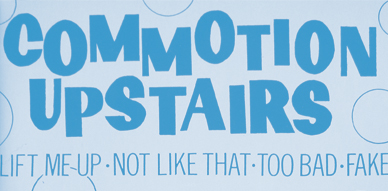 Time to review the NYC Popfest bands. I think I'll do half of them this week, and the other half the next. So let's start with that!
Beverly:
Didn't know about this NYC band. Strange as I live in NYC. Or maybe not strange as there are usually not many indiepop bands in NYC. Well, in this case it's kind of like this. I wouldn't consider this band indiepop exactly. It's nice rocky/noisy/pop. Nothing more, nothing less. It's enjoyable, but I don't go crazy for them. I'm sure hipsters like it so I won't do much googling about them, I'm just listening to their songs. If I see them will depend if I need to get dinner or not at the time when they are playing. Not my cup of tea really.
Brideshead:
Okay, this a band I can't stop thanking NYC Popfest for bringing to New York!!!! Wow! I never thought I would see them. Since the first time I heard them, by downloading a video of "Shortsightedness" from Chris Jigsaw on soulseek, on the pre-Youtube days. When I heard the jingle jangly guitars and I bought their records on Apricot and Shelfife I always LOVED this band from Wiesbaden. It's really exciting this, how many times a German indiepop band gets booked in the US? This doesn't happen. And after missing Busch in Berlin last year, I think this is definitely a treat for me. Not to be missed by anyone.
The Catenary Wires:
This is happiness. I never saw Talulah Gosh or Heavenly or Marine Research. I was lucky to see Tender Trap some three times or so. Once in NYC Popfest. For those of who don't understand why I am mentioning these bands that's because The Catenary Wires are a duo, a duo formed by Amelia Fletcher and Rob Pursey. Two indiepop legends. I'm very happy that they were announced for Popfest. They were already announced for Indietracks and they were traveling to Japan to tour these past weeks. I was a bit jealous of course. I want to hear Amelia singing. And I want their upcoming album too that supposedly will be out in June. Will they have copies for Popfest? I hope so!
The Chandler Estate:
I had no idea about them until a few minutes after the band lineup announcement. It was the only band that I googled that day. I think this was because I happened to like the name of the band. To my surprise this band consists of three ex-members of My Favorite! Oh dear. And I was the one who released the My Favorite reissue last year. How could that be? Well, for once they haven't played live yet, Popfest will be their debut. They haven't released anything yet either though an EP is scheduled for late spring. I've only heard the one song, "El Camino Real" and it's top stuff! I would have included it in the new podcast if I knew about it earlier. I have big expectations for this band!
Club 8:
Finally. How did Maz convinced them to play a Popfest will be a mystery. I know every year every Popfest and every Indietracks try to book them. Either them or any of the band Johan is in. It never happens. But then you seem them go play far far away to Indonesia. And you think, oh damn, at least it's kind of fair they don't get that many bands but I can't stop feeling a bit jealous. I've always liked Club 8, being perhaps my favourite of all those bands say Legends, Poprace, Acid House Kings. Though I like them all, Club 8 has a special place in my heart. I think that has to do with Karolina vocals. They are beautiful really. Some people were a bit critical of their last album, that it wasn't the same, etc., etc. I thought it was brilliant. Another band that I won't be able to miss. Already it seems that it will be a difficult year to chit-chat with friends!
The Darling Buds:
I never expected to see them. I knew they had reformed some years ago, many years ago actually, in 2010. Why no Popfest would book them was a question I asked myself constantly. Why Indietracks didn't baffled me. I mean, they are from Wales, how hard can it be? I saw The Darling Buds playing other festivals, non-indiepop festivals. And the years passed and passed. And nothing changed. Why would I imagine someone was going to book them? I don't know. I know that in the 80s people were either into The Primitives or The Darling Buds. I wasn't there. I like them both. I've seen the first, but never the second. Now it's time. For the fan in me, I hope to get a photo with Andrea Lewis of course. I did last year with The Popguns haha. Sometimes I'm just a child. Can't miss them.
Expert Alterations:
Definitely one of the best bands to appear in the US in the past few years. In the new podcast I interview them and talk a bit about the band and Popfest. Great guys too. They are Television Personalities flavoured. They seem to have taken the right influences from the O Level to the McTells. Crash-pop from Baltimore. I've seen them once before at the Cake Shop and they are really good. Soon they'll be releasing new material and re-releasing old. Seems like this will be their year. If you haven't listened to them, well now it's time to.
Eternal Summers:
Didn't they play Popfest some years ago? I can't remember. This is another one of the few bands I'm not keen to checking out. Not really the sound I like to be honest. I don't like bands with guys with beards much either. They must have to be really good like Royal Landscaping Society to sport a beard. Sorry. High standards. It's not bad this, just not true indiepop for me, not my thing.
Jessica & The Fletchers:
Fantastic indiepop from Barcelona. True lovers of indiepop. These youngsters love Amelia Fletcher and they named after her last name. I actually can't wait for them meeting Amelia haha. That could be fun! Noisy, poppy, they sound as if they were from one of those 80s tape compilations that I love digging obscure bands. And hey, their first release was on tape. Today actually I was listening to a new song of theirs aptly titled "Air Ballon Road" (!!!). It has everything to be a hit! It's no secret then that I have big hopes for this band, I feel they have a superb future in indiepopworld. On top of that I can call many of their members friends of mine which makes me so happy that they are crossing the Atlantic to hang out!
The Just Joans:
I've tried and tried many times to like them. My friends have insisted that they are brilliant and I have to like them. I just can't. I've tried. I swear I've tried.
The Loft:
Well, who doesn't want to see a classic indiepop band from the good old days. One of the bands everyone will agree is very important to what happened after. I want to see them. "Up the Hill and Down the Slope" is a classic of classics. A remarkable single. Pete Astor is a fantastic vocalist too! But am I crazy to say that I'm more into the bands that came after, like Weather Prophets or my favourite The Caretaker Race? I feel I'm alone in this thought! Anyhow, seeing The Loft is a true treat and I am terribly happy that NYC Popfest has pulled this one. I saw once Pete Astor at The Lexington in the UK, him playing solo with his guitar. It was lovely really, he has that charm a frontman has to have. And I loved the little stories between songs. I think this will be a very special gig even though I'm not the #1 fan of The Loft, I think I'm going to love this gig.
Lunchbox:
They reformed not so long ago. Jigsaw must have had a lot to it. Lunchbox was a staple of American indiepop of the late nineties, early 2000s. They released mostly on Magic Marker. Two albums and a 7″ with them. Before that one 7″ on Love Train. Now they are back releasing an album on Jigsaw and soon a 7″. Fuzzed guitars, 60s catchy hooks, and nice arrangements of horns are their trademark as well as their boy/girl vocals. The indiepop from the nineties is back!
Pale Lights:
One of the bands that repeats NYC Popfest. They played some years ago at the free show of a Saturday afternoon. So it makes sense for them to repeat because not many people attend that free show. Now I'm sure (and I hope) they will play at night. Pale Lights are one of the few indiepop bands in NYC and they are a true favourite of mine. All of their release have been top-notch by the way if you haven't gotten them yet. The band of course counts with Phil who used to be in The Soft City (who Cloudberry fans will remember), Comet Gain, Velocette and Cinema Red & Blue among others. Even though he has been known better for drumming, he sings, and he does it very well. He plays guitar too and the sounds he comes up with, the melodies too, reminds me of Felt, but with a poppier, catchier edge. I've seen them often when they play here in the city and I can't stop recommending them to those who don't know them. On top of that it's one of the few contemporary bands that have gotten interviewed by this blog. That must mean something!
Alright, that should cover half of the bands or almost half of them. Next week a preview for the remaining ones!
————————————————-
Some weeks ago I covered The Man Upstairs here. Today I will cover Commotion Upstairs. But no, no relationship between the bands. Well, as far as I know!
What do I know about this very obscure band that only released one 7″? Well, barely anything.
The 7″ has some clues. Of course there are four songs on it, two on each side. On the A side we have "Lift Me Up" and "Not Like That". On the B side we have "Too Bad" and "Fake". The songs are all credited to Adams while A1 and B2 also have credits to Manning. Alright so we have some last names.
On the back sleeve we have some first names. We get:
Ben – vocals, guitar
Reiner – guitars
Lee – bass guitar
Ian – drums, vocals
To which of them do the last names belong?
Let's move onto what it says on the back sleeve. First off there's a small description of the band. This would mean to me that the 7″ was mostly a sampler than a proper release. Perhaps trying to bait a big label to sign them. It says:
"With a mixture of jangling guitars, upbeat rhythms, infectious lyrics, and hard work, Commotion Upstairs bring you their debut EP sampler listen… watch it happen… then decide".
The record was recorded in one day during February 1989 at Backtrack Studios in London. Engineered by Ollie and produced by the band. There's an address in London if you wanted information of the band. The address is in Brockley, next to Hilly Fields Park, in the south of London. I remember staying in the area many many years ago but never got to see this park even though I was very close to it.
The record was released by Suacy Records (catalog TT 17). Who were Saucy Records? Can't find much though by the catalog number 17 you'd think there would have been previous releases.
On Youtube there are two songs to listen. On one of them the designer of the artwork has commented. Doesn't say much aside that his youth has flashed before him by listening the song "Fake". This one is perhaps my favourite song of mine from the four.
The other song online is "Too Bad". This one is really nice too. The cool thing on this one is that there are some more comments. A Colin Francies says he was in the original lineup of the band and he mentions Ben, Ian, Ken, Dave and Colin as the original members. Of course not all of them appear on the back of the sleeve. Colin says there was a demo recorded also at Backtracks:
"I. think there was 4-5 tracks we did over a short period of time.The only songs i can remember right now are 'Sorry and The Barriers' ,it was a long time ago.They are only on tape cassettes as far as i know,i and a few others left the group soon after that.Good times,good music."
Last but not least the fantastic blog From a Northern Place shares another song, "Not Like That". And it'd beautiful too. All so jangly!!!
Now I try to mix and match the last names with the first names. But no luck. Couldn't find them.
It seems they played many shows in the late 80s in London at least. But I can't find anything else online about them. Can anyone help out to find what happened to this brilliant sounding indiepop band?!
::::::::::::::::::::::::::::::::::::::::::::::::::::::::::::::::::::::::::::::::::::::::::::::
Listen
Commotion Upstairs – Fake