26
Mar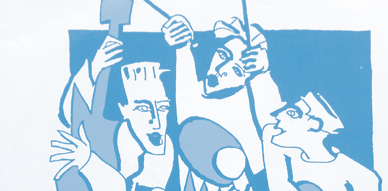 Not many things to review this week. No more festival announcements. For now.
This weekend though was terribly busy for me. I didn't end up going to Chickfactor (I felt lazy as it was too far, and Amor de Días were playing a bit too early and I was going to miss them, plus the tickets were pricey) but ended up seeing a fantastic Barcelona band on Friday called Univers. They played at Cake Shop, sandwiched in between some not very good bands (with members of some renowned NYC bands), around 10 pm that night. The quartet was in reality incomplete as their original guitar player wasn't allowed to enter the US because of some visa issue. So the bassist played guitar and their label/manager learned hastily the songs on bass so they could complete the gigs in their US tour after visiting Mexico.
I had been in touch with Aitor, the drummer, thanks to our mutual friend Toni Poni. He was kind enough to bring me all the records they had put out so far. I completed my collection at the end with their setlist. The music was exciting, fuzzy, poppy, with great energy. Even though they sang in Catalan, that didn't stopped me from tapping my feet while enjoying a cheap pint of Genessee. They were really good! Though they did promise me they are even better when they have the full lineup. That should be very true, so I can't wait to see them like that. They seemed a bit disappointed and that was understandable, but I think the whole crowd enjoyed the gig. We all look at things through  a different lens.
Next day I would see them again, this time at Shea Stadium. Not a venue I enjoy going. Definitely not. Quite far and in a deserted area. But well, let's catch them for a bit I thought. They were playing early and then I had the rest of the night. They were great again but the crowd had changed. The old NYC indie scenesters weren't around anymore. Instead all these strange hipsters, big beards, beanies, and so on. I didn't catch the other bands though, but it's a safe bet they were terrible (?). Again Univers were thrilling. While I was watching them I had this feeling of seeing a young Wedding Present doing their first steps. Must have been the fast guitars, blazing guitars that furiously created melodies. Yes, these things can go hand in hand.
Sunday more people from Spain arrived, this time to my home. Lost Tapes, after touring the West Coast and then later SXSW, Nashville and Athens, GA, they ended up in New York for one last show at the Cake Shop. We took the subway with all the instruments. We carried guitars and equipment We transferred to the F train. We got to Lower East Side early and it was all happiness. Suddenly Pau noticed his pedals were missing. There was barely an hour and a half for the concert. They could have played an acoustic concert you'd think, but a friend of the band was going to make some shots for an upcoming video. They needed the pedals. A quick decision was made. Take a cab to my place and back. We should make it in less than an hour. And so that's how we rolled.
As soon as Pau and me got at the Cake Shop, when we were getting off the yellow taxi, Raúl was calling me asking where the hell were we. We were just outside! The sound guy was asking for the band, it was their turn, and we had just made it on time. Stress went away, and the band played a short but sweet set. They were dreamy at moments, jangly and quite danceable at others. Raúl was the energy, jumping and strumming his guitar with true excitement, and at the same time singing softly in true indiepop fashion. Pau, on the other hand, was the elegant one, playing a twelve-string with dexterity, creating jingle jangly arpeggios that made the songs shine. It was pretty nice, though they plan to "upgrade" their live set for their NYC comeback, for Popfest time. Could be interesting! For now, you should definitely catch them at the Copenhagen Popfest if you go! And in London too where they will be playing along the Wolfhounds and 14 Iced Bears more next weekend at the Northern Star festival.
Now I'm exhausted. Looking forward to a more laid-back kind of time for this coming weekend. Though I have to say that I've already started drafting the new fanzine. Those on Facebook might have already seen the cover for it, sporting The Haywains circa 1989. Bands that will be interviewed in the fanzine so far include The Haywains, Don't Cry Shopgirl, Lost Tapes, Boyish and The Occasional Flickers. And on the 3″ CD that will be included we'll be having The Haywains (with an old demo from the vaults!), Lost Tapes, Wallflower, Alpaca Sports (in a way), and The Royal Landscaping Society. You won't want to miss this!
——————————————————-
I admit I can be jealous. Hard not to unless you are Scandinavian I think ha ha. But this band was German, and they seem to have been lost into obscurity for a couple of decades now.
The Jealous Chaps as far as I know only released this one 7″. It's not on Discogs or 45cat. Only the gold mine that is From a Northern Place blog has it. A friend had sent me both songs on it, the A side, "Boys Are Talking" and the B side, "Sheila". And when I heard the A side for the first time I just couldn't believe this song was so unknown. This is classic indiepop!! What the hell!
Self-released in 1988 the record has a very Picasso looking guitar players. They play blue guitars. Actually the artwork looks like something out of this blog. Blue, white and black. Very classy! The A side plays, and what are the boys talking about? Love. Of course.
The back sleeve has thank you notes for Andy Jezussek, Martin Peetz and Anja Beisse. There's some address for contact information and also some company names. Possibly a distributor? Kitsch and Musik und Fun Fun Fun appear on the lower left side. Whereas on the right side the designer for the artwork is credited as "Artificial, Design & Objekte Juergen J. Burk". He was based in Nuremberg.
So, would it be a safe bet to think that the band was from Nuremberg? Could be. I'm sure my German friends can help and shed some light about them. I'm sure some must have seen them playing gigs, or maybe this record shows up sometimes at record fairs? I wonder what happened to them. They are probably still making music in a way or another.
I play the songs again, how catchy is that line of "when boys are talking, when boys are talking about love". I love the simple guitars and the little arrangements after each verse. And the raw drumming! Then "Sheila" comes, with it's cadence, begging Sheila to be theirs. Who was this Sheila? Maybe The Smiths' Sheila. Wild guess.
Anyone remember them? Whatever happened to the Jealous Chaps?!
EDIT: Andreas has just pointed me out that the Jealous Chaps released another 7″ on Softwerk records. This one included the songs "It's Music" and "Venice". The record was released in 1988 and instead of the blue color on the artwork, the same sleeve was produced but with red color.
::::::::::::::::::::::::::::::::::::::::::::::::::::::::::::::::::::::::::::::::::::::::::::::