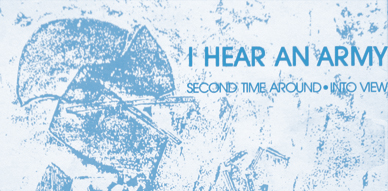 Hello there, heads up that next week there won't be any posts and I'll return on the week after. I'm off on vacations and so all orders placed starting Wednesday will be posted upon my return. I really need some time off.
I noticed last week, just after I finished writing the post, that the blog had reached it's seventh anniversary. I remember when I started the blog one afternoon, unwillingly really, moved by a friend who asked me to do it. I always tell the story of how my previous blog was hacked and lost all the posts and content. It was the worst feeling. I honestly never thought I was going to spend much time writing about bands again. Perhaps on my fanzine and that would be enough I thought. In the end, thanks to my dear friend Emma, I ended up writing for seven years straight.
I never looked at the stats for the blog. I don't know how many readers it usually has on a day to day basis. I assume it would be something around 25 to 50. I get a couple of comments a week, and that's when I get the happiest. I think that has been perhaps the highlight, getting in touch with many bands and people involved in music, and making friends. Few things are better than that.
The blog did change during the years. I think at some point I used to write a lot of "memoirs", small fragments of my experiences in indiepop. I liked doing that a lot, but because of time constraints, I do that less frequently. I require a lot of time, and especially I need to be in a particular mood, to be able to remember and as vividly as possible, tell these stories. I also used to rant much more and make strong opinions about diverse topics. This also happens less and less because of indiepop being so quiet, so sleepy, that there are really  few topics to discuss. In that sense, the format I've been keeping, a post a week, divided in two, an intro of some current topic plus an obscure band, has worked pretty well. I get to cover two important aspects of indiepop that I care the most.
On top of that I've continued doing interviews. I started doing them since day one, and until today I've done so many that I've lost count. Learning and hearing the story from the bands that kind of disappeared into oblivion, and many times helping them notice that people's interest, is also a big highlight for me. When I see these bands having small reunions, or even setting up a bandcamp, is really heartwarming. Their songs can't just be forgotten, or only remembered by a few collectors. Indiepop is alive, and it's history is being rewritten every second.
Not sure if there will be any changes in the year to come. At least there are no planned. If you have any suggestions I'm always open to hear them. So far it's been a lot of fun, and I'm not bored at all. So I think the Cloudberry blog will continue posting and unearthing treasures for the time being.
—————————————————
Rewing to 1987. To Perth, Australia. Land of amazing indiepop. From The Palisades to Charlotte's Web, and more. That's exactly where the band I Hear an Army hailed from.
They only released a 7″ in that year. It came out on a label called Wreckless Records (WRECK 01). I don't know of any other releases on this label. The single was recorded and mixed at Northlake Productions in January of 87. Two songs were included, on the A side "Second Time Around" and on the B side "Into View".
On the back sleeve we also learn that the engineer for the record was James Hewgill. That both songs were written by Ian Young. That the single was produced by the band with Phil Dean, who also was their manager. The cover art was also done by Ian Young and then we get the members:
– Nick Dilena on drums
– Laurie Mansell on guitars
– David Richardson  on bass
– Ian Young on guitar and vocals
This info I was lucky to find again on the From a Northern Place blog. I still haven't found a copy of this record for myself. I hope to be lucky soon.
A funny message appears on the labels of the 7″. It says: "Copyright Control. Unauthorised copying, lending and broadcasting is very naughty."
What else is there on the web about them? Little really. On a blog called Something Gold, Something New. I find that Ian Young was previously in a band called Scant Regarde (1982-84). They released a 4 track 7″ with "Cabbage Hat" as it's lead song. I found this song on Soundcloud and although it's less indiepop and more post-punk I'm actually enjoying it! There I also find that there will be a book series called "Way Out West", written by George Matzkov, that will cover the lost history of bands from Western Australia from 1960 thru the 1980s!! I really need those books!! Especially the 80s part!
Then I search for David Richardson. I found a website for him on StarNow. There's a small bio for him that says: "Actor, Model, Musician. Currently Acting in ABSENT and Bass Playing in Foos Gold both in Perth. I am available for acting, voice over , modelling, jingle and/or song writing Australia wide". Foos Gold being a Foo Fighters tribute band.
On this page it's mentioned that the song "The Second Time Around" from I Hear an Army was a no.1 single on the Perth independent charts for 6 weeks. He also was part of the bands Blizzard, The Beavers, Manic D, The Lung Brothers and also on the final Scant Regard show.
The other member one could find info, is Laurie Mansell. She joined a favourite band of mine in 1988: Charlotte's Web. It's said that she auditioned as a bass player but replaced Craig Chisholm on lead and rhythm guitar duties.
That's all I could dig online for I Hear an Army. But just knowing that there is that series of books coming up, and the beauty of this song is already very rewarding! I haven't hear the B side though, so any help would be appreciated! If you remember them, or know of any other recordings, or anything really, us that comment link below! Would be great to know what happened to them!
::::::::::::::::::::::::::::::::::::::::::::::::::::::::::::::::::::::::::::::::::::::::::::::