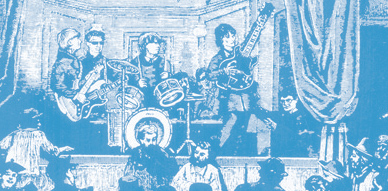 Incredibly sunny today in New York City. It's warm. So warm it feels like it is summer. Last week's weather made you think that spring was never coming around, that winter was going to stay forever, and now this. It's like we are just skipping a whole season. I may have to buy the a/c units before what I expected. Especially for my illustrious guests in May for NYC Popfest.
Speaking of NYC Popfest I've been invited to DJ between bands on the opening night at the Cake Shop. I've DJed twice between bands, at Littlefield here in NY and in Brixton at How Does it Feel. I will always prefer making people dance, playing the obvious hits and the not so obvious, but DJing between bands can be rewarding too. You ask how? Well, I tend to play obscure songs in these cases. I feel rewarded if someone ends up recognizing the song and comes up for a little chat. It's like finding a soul-mate.  Well, not quite. But you get my point.
Also yesterday the Chickfactor shows were announced for June. I will attend this again even though I've seen most of the bands before. It surprises me though that most of the bands too did play Chickfactor festival last year. I guess I'm not so keen in seeing the same bands over and over. Though seeing the Jim Ruiz group ten thousand times is fine with me. My only big complain about it: it's pricey. You see, NYC Popfest, with many more international bands, on a weekend, for four days, is cheaper than Chickfactor's three nights during weekdays.
Also T-shirts for Cloudberry are being made at the moment. Most of them are in black and truffle colour. But there will be some in navy and lieutenant gray. The run is very limited. 30 t-shirts. And of course, those 30 will be divided in small, medium, large and x-large sizes. So if you want to secure one you can email me and we'll figure something up. I still need to figure out the postage price with this year's increase but as soon as I have, I'll post a pre-order button on the label website.
Talking about repeating bands. I saw the Sea Lions and Golden Grrrls once more yesterday at the Cake Shop. It was quite fun, especially the Sea Lions who I really think have come to be one of the best American indie pop bands. So good. I believe they are playing again tonight in Bushwick, but even though I'd love to go I don't think it's such a great idea to go all the way there as I do have to work tomorrow. And tomorrow I actually do need to prepare a class I'm teaching at CUNY this Thursday evening, so the week is going to be over before I know it. Pretty busy. I look forward to a more relaxed next week though the Tripping the Light Fantastic is coming out next week too. So, yeah, I'm probably never resting again in my life.
Yesterday after a nice chit-chat at the Cake Shop I was reminded of MaxBurger. I had read about this company before and I didn't remember seeing it in Stockholm the last time I was there. But this time around I saw a couple around and I was lucky that there was one around the place I was staying. I'm curious always about the local flavour and when Gustav, Emelie and me, were wondering what to have for dinner I quickly suggested the burgers.
Less than a week before this important event in my life I had tried Hesburger in Tallinn. Not an Estonian chain, but a Finnish one. As I was hanging out with my friend Riina who happened to be Finnish, we had to get take out. The hamburger was alright. Not bad for a chain store, but nothing special, it wouldn't beat Wendy's but McDonald's for sure. The terrible thing about this place was that they charged you for sauces. Even for ketchup! How can that be legal?
MaxBurger was on a league of it's own. It was quite tasty. Especially thanks to that orange-pink sauce they have. Looking at it's ingredients I noticed that it contained some cauliflower. I totally dislike cauliflower. But that sauce was heavenly. Heavenly between the hamburger buns, heavenly with the fries. I believe they charge you other different dips, but they seemed fancier than ketchup. But no need, Gustav bought a whole pot of MaxBurger sauce. You don't need anything else but that. If they only sell it here at the supermarket like the ever-present in my everyday life HP Brown sauce.
A funny anecdote while at the line ordering my burger was that there was a couple behind me with their kids. Older couple. And I could totally recognize the accent of the woman behind me. Totally. She was from Lima. And her phrases, the words she chose, it brought back a part of Peru all the way to Stockholm to me. I swear. I can never run away from it. I have a Peruvian magnet! It's like that one time on a random train in Denmark, overhearing another Peruvian woman telling a guy her stories as a prostitute. Oh dear! When I was growing up I always heard on TV and places that there was a Peruvian even in the most remote places. I truly believe in this. It is just a big and precise fact.
Anyways, yes, MaxBurger, the one in Hammarby. Good times. Maybe next year I'll have another bite.
————————————————————-
Today's obscure band: Scarlet Downs.
The thing about this very obscure band is that it included Simon Barber from the ubiquitous The Chesterf¡elds. Sadly even though I tried contacting Simon through Facebook I never heard back from him. Bit of a shame as online there's little to nothing about them.
There's one mention on the Golden Pathway's label page. Golden Pathway being the label that Andy from Number 4 Joystreet runs since the 80s. There's a mention about Simon leaving the band called The Act in 1983 to start Scarlet Downs. The Act had been going since 1980.
As far as I know there was only one 7″ released. One that included the song "Windows" on the A-side and "Turning Around" on the B-side. The record was released by Rum Records as a 7″ and having catalog number RUM059.
Sadly even the back cover of the sleeve of this 7″ has no information about the band either. The only interesting fact I guess would be that Rum Records was based in Dorset. I have no clue what other releases were put out by this label.
The song I know, "Windows", to Chesterf!elds fans, would sound unfamiliar. It clearly has a more early 80s feel. The electric guitars are not going in a frenzy here. The song is a different kind of fun. It would fit fine even in one of those Messthetics compilations if you know what I mean. It would go well along the likes of The Cinematics, The Avocados, even along some of Dolly Mixture or The Mo-Dettes. It has that kind of feeling I think. It's what I would call proto-indiepop if we can call it something. It's POP. But not indiepop, not yet at least. But still, very enjoyable, and perfect to understand the history of our beloved indiepop.
The artwork is great too. No surprise as Simon is one of the coolest designers in the UK.
If anyone has any more information about them, like who were the other members, or if they had more songs, if they played many gigs, or even if anyone has a spare copy that I could buy, that'd be great. Would love to know more about them!
::::::::::::::::::::::::::::::::::::::::::::::::::::::::::::::::::::::::::::::::::::::::::::::
Listen
Scarlet Downs – Windows