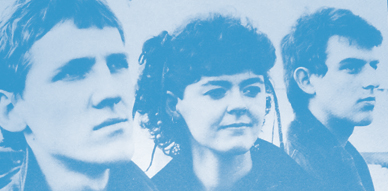 Happy new year!
Will 2016 be a good year for indiepop? I really hope so! On the internet though I read about a whiny label that once again announces that is closing shop for the hundredth time. Always announcing this and never closing. It feels more like a marketing campaign to shift some records at low prices with the "close out sale" excuse. Then weeks after they announce that they will continue strong and all. Happened before, wouldn't surprise that it happens again. Don't like this. It's a bit of a joke. No respect whatsoever to their fanbase.
Not a good start.
Last week I was wondering about the Twee.net poll for 2015. Luckily it is on even though this hasn't been promoted anywhere! You can access it here http://www.twee.net/list/polls/poll.html and cast a vote. I should vote very soon! Remember the days when there was a label that would just vote so many times for themselves? Those days are over I believe, so please enjoy and vote, and let's see who are the favourite bands, labels, zines, festivals for 2015.
Today I also finally ordered the Tiny Fireflies LP. High expectations on this record, and thinking it should be among the best of 2015. Also caught up with the past and ordered the BOB singles compilation that came out a long time ago. Then the new Homecomings 7″ on Second Royal should be coming home soon, also an Arabesque record on Siesta from long time ago as well as the only Machine Gun Feedback record that I was missing. Not a bad way to start the year, getting new records.
So as there are very little news today and this week for indiepop, let's try to dig some obscurities…
—————————————————–
As I said last week I'm going to be picking some records from my collection, records that are a bit unknown to me and perhaps to the rest of indiepop fans. I picked The Mood Elevators, again from the box of records with bands whose name start with M.
I barely knew anything about them before I started googling about them. I remember I bought their second single, "Georgie Girl", after I saw their name on that list that long time ago was posted on Twee.net where it was asked for these bands to get in touch in hope of them participating in future Leamington Spa compilations.
Only lately I found out that there was also first single, "Annapurna". And that there's some stuff actually written about them online, even an interview! But let's start with the releases.
Annapurna is a collection of mountains in the Himalayas.

The first 7″ came out in 1981 on Go-Feet Records (catalog FEET7). This was the label that was founded by the British ska band The Beat. This record I do not own sadly, I really like the A side song, "Annapurna" that was produced by The Punjab Brothers. I haven't heard the second song, "Driving By Night" that was produced by Bob Sargeant. Would love to listen to this one, if anyone can help!
The second 7″ came out in 1982 on Red Records (catalog RS 013). This label was founded by Steve Brown after leaving Faulty Products in 1978. Initially set up to release material by The Lines, there were other releases in it's comparatively short life, most notably early singles by Material. Folded in 1984. This one is the 7″ I own, and the A side is a cover of "Georgie Girl".
"Georgy Girl", written by Tom Springfield (music) and Jim Dale (lyrics), is the title song performed by The Seekers for the British film of the same name starring Lynn Redgrave and James Mason. Across late 1966 and early 1967, the song became a #1 Australian hit and a #3 British hit. In the United States, it proved to be the Seekers' highest charting single, reaching #2 on the "Billboard Hot 100" and prompting the Seekers' British album Come the Day to be retitled "Georgy Girl" for its American release. It was listed at number 36 on "Rolling Stone" magazine's "500 Greatest Pop Songs of all time" issued in 2002.
On the 7″ this cover version was produced by The Beat. The second song is an original song by the band, written by David Ditchfield. The song is "You Never Try" and it has backing vocals by Ranking Roger, the vocalist of The Beat. Both songs are really good!
The first stop on my detective work on Google is the website of a venue, the Aylesbury Friars. Here we learn that on Saturday May 24th of 1980 there was a gig with The Beat, The Equators and The Mood Elevators.
We learn too that the band was formed by:
David Ditchfield on guitar and vocals
Jenny Jones on drums
Noel Green on bass
On Last.fm there's a small bio that I thought would be a good idea to copy/paste here to paint a bigger picture:
The Mood Elevators were a Birmingham U.K new wave act in the early 1980's. The three original members of the David Ditchfield, Noel Green, and Jenny Jones) met after literally being thrown together following a street fight. A group initially named Inside Out was soon formed from the three. Once ready to gig in early 1980, the band began to book spots at pubs around Birmingham. Impressed by the performance they witnessed, The Beat offered them an opportunity to record a single on the Go Feet label along with the supporting spot on a UK tour.
Only two 7-inch singles were released by the band. Their first, Annapurna, was a big hit on the indie scene.
Then the next stop is the Go-Feet label website. There's a very good biography there that I recommend you reading. We learn that they were based in Birmingham and that they used to practice at the hardware shop that Jenny's parents owned.
In 1981 they recorded a session for Richard Skinner on Radio One. It's said that they were asked to record a second session. I could find two songs from those sessions online, "Metro Girl" and "Waiting for Jane". Does anyone there have any other songs from these sessions? I'd be curious to hear them.
It also seems that David and Jenny are now making music together under the name Life. On that website there are some interesting facts like that Jenny guested with the Fine Young Cannibals two albums after the demise of The Mood Elevators. It's also said that they had signed after The Mood Elevators to a 7 album deal with Go-Discs! and that they recorded an album of Jenny's songs and released two singles. But I don't know under what name they did this. Would be interesting to know!
And David even co-wrote songs with the Dexys Midnight Runners. So, there's a lot of connections here and there, not a true obscure band at all. But for some reason not that much written about them….
And then there's an interview by a fellow New Yorker called Marco. The interview dates from June 2010. I totally recommend reading it to get a better picture of The Mood Elevators.
Still many questions about the band wait to be answered. Starting by those sessions, to those recordings Jenny and David did afterwards. What about The Mood Elevators, did they even record any other songs? Participate in any compilations? Where else other than Birmingham did they gig? If you remember anything about them, the comments section is a good place to start!
::::::::::::::::::::::::::::::::::::::::::::::::::::::::::::::::::::::::::::::::::::::::::::::