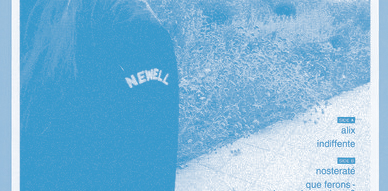 A week with little indiepop news aside from the new Firestation Records releases coming early in February. That's two records that will make any indiepop fan happy, a full retrospective of Emily (a favorite of mine whose "Mad Dogs" song is one that I've djed so many times) and the Hipflasks (who I covered on the blog long ago looking to get in touch to find any info about them, but I guess now we'll find something about them on the new CD!).
Then of course I sent The Suncharms master to the pressing plant yesterday. So now, doing my calculations, I'm expecting the record to be out by April 1st. I think it's a safe date. After that I should start working on another compilation. Which one? Not sure, I've been in touch with some bands in hope to put one together, but it's been at least a month or so that I've heard from one of them. From others even more. I've been so busy. I should get back in touch and see if we can make this happen.
As it is so quiet I placed a big order at Jigsaw Records. I was surprised that The Chandler Estate EP was released. I haven't seen any news about this anywhere, but I'm very glad that their songs are in physical format. I will get up to date with other releases like Postal Blue, The School, Cola Jet Set, etc. 2015 ended with lots of new releases and, I'm telling you, I need more leisure time to listen to music!! I think I'll never listen to the pile of records that grow next to my computer!
And so, because it's a quiet week, I'll just head to checking out some obscure band…
———————————————–
As I keep digging on one of the many boxes of 7″s I have, the one that contains bands with names that start with M and N, I decided to pick up Newell's "Alix" 7″. I didn't know much about this record when I bought it, many years ago while visiting Malmö. Krister, who was a friend back then (?), took us to a small record shop after lunch. There I found this record among it's tiny selection of 7″s for sale. I picked it up because it was released on Motorway Records from Japan (catalog Motor 14), a proper indiepop label from the 90s. That was enough to pick my curiosity. And I ripped a song for you.
I haven't heard the band before. But two songs on the 7″ are true gems, both the second songs on each side: "Indiffente" and "Que Ferons-Nous de Nos Beaux Jours?". The other two songs are "Alix" and "Nostératé". From what I could learn, Newell was the pseudonym of one Yvan Loiseau and on this record he got help from Viviane on vocals, Gaëtan Chataignier on bass and guitar, Dennis Braillet on drums, Pascal Roscamp on guitar and Olivier Champain on organ. The photograph on the cover and back cover were taken by Karine Poirier. Newell appeared on this record thanks to Alienor Records and Cornflakes Zoo!
Okay, so we know they are French (and perhaps I picked this record subconsciously, excited about my March trip there!). But where in France? Maybe we can find out if we keep digging. Discogs points us that this wasn't his first release. His first release came out on the classic French label Cornflakes Zoo! in 1993. Again it's a four song EP (catalog ZOO 9) that includes the songs: "Zenith of the Moron Behaviour", "Newell", "Are You Serious! Do You Like Tom Cruise?" and "Heartsouvenirs". This record came in a fold-over sleeve and contained an insert and a giant poster. It was recorded at ZOO studio and mixed at the Aquarium in August 1993.
Now I'm getting very curious. I've only heard the one 7″ I own. But a song with a name like "Are You Serious! Do You Like Tom Cruise?", I want to hear that! Maybe I need to track down this record. On this 7″ he got help from Eric Grosbeutre on drums on the B side, and Martial Onion on drums too, but on the A side songs. As far as I know, Eric Grosbeutre was a pseudonym of Eric Piffeteau from the classic French band The Little Rabbits.
Then there are two albums waiting for me to listen. Both released on Alienor Records. The first one was released in 1996 and titled "Amiral Recrosial" (catalog Alien π). An odd photo for the cover, this CD has 10 songs: "Pissed Off", "Mes Amis", "La Répartie", "Car Crash", "V. 10. 11. 94", "Lifetime", "Sidewalking", "Mister Stewee", "L'Oisiveté", "Francis". "Sidewalking", a cover of The Jesus and Mary Chain original. Recorded by Stéphane Teynié (the guy behind the label Cornflakes Zoo) in 1995 in both at Le Jimmy and Zoo Studio, mixed at Studio Gimmick by Damien Bertrand. Here I learn that Zoo Studio was based in Bordeaux. Was the band from there as well?
The second album gets released in 1999. Titled "Mûle Sa Mère" (catalog Alien ψ), it includes 13 songs: "Mûle Sa Mère", "Tiug", "Mes Faux Pas", "Tatou", "Greibgeade", "Alix", "Jad Fair Drives", "La Médecine De Quand C'Est Trop Tard", "El Pronto", "El Mejor", "J'écris", "N.Y.C", "Tacoman", "Sheep".
I didn't find much more about the band. There was an entry on a shoegaze blog, but it's mostly a review of the sound and the style of the band. Not much information in it really. Then there was a review of the first album on Les inRocks were the artwork of the album is compared to the "homoerotic aesthetics" of Morrissey". But again, not much information about the band.
I'm not sure how popular or known the band is or was in France. If they released two albums they must have had some following. But for me, they seem very obscure, perhaps I should start by getting their other records, the ones I'm missing. But whatever happened to Yvan? Did he continue releasing music? Were there more Newell records or recordings? Would be nice to know what happened, French indiepop feels somehow neglected these days.
::::::::::::::::::::::::::::::::::::::::::::::::::::::::::::::::::::::::::::::::::::::::::::::