22
May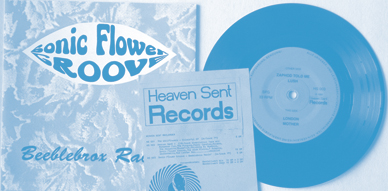 So the Pale Spectres 7″ got delayed until June. The pressing plant gave me this excuse:
Yes, the 7″ press mold had a problem and many orders were pressed off-center (including yours), so the press had to be stopped for one week while a new mold was installed, then we had to make new labels for the repress of your order. All is fixed now and the press works fine. It just caused a lot of delay on 7″ orders that we have to catch up. Your order is planned to ship out on June 6th or sooner.
I'm very sorry about this delay. As you can see, they didn't tell me anything in advance. As I was waiting and waiting for the record to arrive, thinking it would be by my door any day, I wrote to ask about it to the pressing plant. And only then I got this reply. I'm beyond frustrated. But I really hope they wait is worth it, that the record looks and sounds gloriously.
My main concern of course is that I will be away on vacations starting this Thursday, the 25th, until June 7th. I will be in Finland most of the time, with one-day trips to Tallinn, Estonia, and Luleå, Sweden. During the time I'm away I won't be able to post any orders. So any orders placed during those days I will post as soon as I get back to New York. There are some good news though, by the time I'm back, The Potting Sheds compilation release should be arriving. Tentatively the release date by this fab release will be June 15th!
Don't have that many news for this week, a shame as there won't probably be any other posts for two weeks or so, but I'll let you know the few tidbits of indiepop news from around the world I could gather the past days.
Firestation Records is celebrating their 20th anniversary with a concert in Berlin. 2 bands have been announced, the legendary The Railway Children and the up-and-coming New Street Adventure (who I don't know yet). You can check more information for this October 21st gig at the Privatclub through the event page on Facebook.
So I go to check out New Street Adventure. I know I already like The Railway Children and was already lucky enough to see them last year at NYC Popfest. I go to their website, and their to the music tab. The London band have a new album titled "Stubborn Sons" that came out on March 24th on the Acid Jazz label. I press play on the Soundcloud, the first song to play is "Hangin' On Hangin' Up". It is not exactly indiepop, but it is poppy enough for my taste. I like it. It may not be my favourite sort of music, but it is very enjoyable. I'll try the next one, "Why Should We Do Anything?". More soul-pop. This one not as uptempo as the first one. Maybe I skip to another one. But I don't find any other song I like as much as the first one. To each their own then.
Then of course The Popguns are back! They unveiled a new video for the song "So Long" that will be included in their next album titled "Sugar Kisses" on Matinée. It is said that the album will be out sometime around June 9th. The song sounds timeless. The Popguns never disappoint. Sadly for me this song was also released as a promo CD single, limited to just 20 copies, with the song "Sugar Kisses". Of course, because the time difference and all, when I went to Bandcamp to see if I could buy a copy, it was already sold out. Anyways, very happy to see them back in form and I hope to catch them live one more time. That time at NYC Popfest was unforgettable!
Sea Blite is a band I stumbled upon on Youtube. I found their song "Cerulean" and thought, well, this actually sounds pretty good! Who are they? They have a Soundcloud but there's nothing in there. It does say though that this song will be out soon on Death Records. I check this label's website. Not very indiepop, more hipster than anything, but I can't find any information about the band. I believe they are from California, but I could be wrong.
My last discovery is the band Atrás Tigre from Santiago de Compostela, Spain. I find them on Bandcamp, through their label Triunvirato. Their new album, released May 19th, came out as a 10-song LP. All of the songs can be streamed and they seem to be in Galician, I don't think since I've heard indiepop in this language since I heard some few Aerolíneas Federales songs in that language so long ago. They have a dark feel to the songs, maybe influenced by Décima Víctima, but not losing their pop sensibility. It is very interesting. I look forward to ordering this record as soon as I come back from vacations. On their Bandcamp they have two other releases, one that is just a song, "Escapar", and a tape EP titled "Atrás Tigre". The band is formed by Pedro, Olalla, Xiana, Lois, José Ramón and Ibán.
And that's the roundup for this week. When I'm back I hope to have an update for Pale Spectres and Potting Sheds. Seems June will be a very busy month for Cloudberry!
——————————————————-
Sonic Flower Groove is the debut album by Scottish indie rock band Primal Scream, released on 5 October 1987. Sonic Flower Groove featured psychedelic, Byrdsy jangle pop and was the only Primal Scream album to feature founder member Jim Beattie (credited as 'Jim Navajo'). The album sold well enough to reach number 62 in the UK Album Chart, but performed poorly by major-label standards. The disappointment was a major reason for the original Primal Scream splitting up shortly after Sonic Flower Groove, leaving vocalist Bobby Gillespie and the guitar duo of Andrew Innes and Robert "Throb" Young to reorganize the band.
But not today. I won't speak of Primal Scream. But about a band from Germany that named themselves after their first album, Sonic Flower Groove.
They released one record. One 7″ titled "Beeblebrox Ravin'". I hope one day it can be part of my collection. So far I haven't managed to have it at home. I know so little about this band, and as you can expect, there is very little written about them on the web as well.
I guess the name of the EP made me curious. What is Beeblebrox? I guess I'm not too cool, as I didn't know that Zaphod Beeblebrox is a fictional character in the various versions of the humorous science fiction story The Hitchhiker's Guide to the Galaxy by Douglas Adams.He is from a planet in the vicinity of Betelgeuse, and is a "semi-half-cousin" of Ford Prefect, with whom he "shares three of the same mothers". Because of "an accident with a contraceptive and a time machine", his direct ancestors from his father are also his direct descendants.
That also explains the name of the first song on this 7″ EP: "Zaphod Told Me". The other song on the A side was titled "Lush". On the B side, on the other hand, the songs are "London" and "Mother". The record was released in 1991 by the label Heaven Sent (catalog HS 003). But to be honest I've never heard any of these songs. What I've heard are the songs the band released on many compilations.
They participated in 1990 in a tape compilation titled "Heaven Sent", guess who released that? Heaven Sent too of course. The song that they contributed was "See The Light". On Heaven Sent they shared the tape with among others The Wilde Plains who I've interviewed before. We'll come back to this in a bit.
Next year they were to contribute the song "Strange Thoughts" to the tape compilation "It's All About Love" on the Smuf label (catalog SMUF 003). The Smuf label was a pre-Firestation Records label that released also a Greek only indiepop tape compilation and the classic CD compilation "16 Goldene Hits" that I've mentioned before on the blog. On "It's All About Love" the band shares the tape with so many fantastic indiepop bands, from The Aurbisons to Panda Pops.
In 1993 the band was to contribute the song "Summer" for another Heaven Sent compilation: "Try Another Flavour!". This was HS 004 and was actually a CD compilation.  Many classic indiepop bands appear here that I've interviewed before like Jane Pow or Rorschach.
The band continues with their contribution to compilations, but no other release. Why no album? Why no other 7″? Who knows. The song "Blue" appears on the "Garage-Flowers" tape compilation by the Baby Talk label. It feels more of an international compilation. There are Australian bands, Spanish bands, French bands and of course German bands.
Their last contribution to a compilation is for another tape in 1995. It is for the Bliss Aquamarine tape "Sapphire". They actually appear with two songs this time, "Cloudburst" and "Up Here". Other cool bands to check out in this compilation are Peru and The Waiting List.
Remember I said I was going to go back to the Wilde Plains interview? Well, that's because on that interview I actually got some information about this band. Just a little, but still, much more than in the whole world wide web. One of the members of The Wilde Plains, Andi, had been part of the band. It seems the scene in Worms was a bit small and a lot of the bands shared members. Andi was the keyboardist in The Wilde Plains. I had interviewed Bernd who played guitars and did the vocals.
But I get to know a little bit more thanks to this interview. Heaven Sent was run by Ralf Hoffmann, nicknamed "Hopemann". He was actually also a member of Sonic Flower Groove. At least we know one name from the band. Not the girl vocalist, but probably the guitar player.
And this is when I hit a wall. I can't find much more about them. But now it is when I ask your help. Do you remember them? In which other Worms bands were the members involved? Did they record any more songs? Maybe you have a spare copy of the 7″? Anything would help!
::::::::::::::::::::::::::::::::::::::::::::::::::::::::::::::::::::::::::::::::::::::::::::::