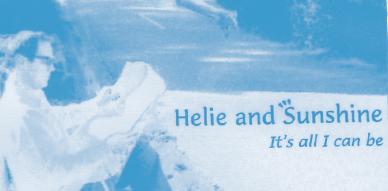 Back in 2007, while I was still going to university, I started Cloudberry Records.  Those were busy days as I was attending classes and doing homework, I was an intern at The Miami Herald and ran a Spanish blog called Mira el Péndulo that was updated almost daily. I was running Plastilina Records but I wasn't feeling that involved at the same time. And suddenly I decided that I wanted to be even busier. It was time for a singles-only label. And I wanted to release a single every 1st, 15th and 21st of the month until I had 100 releases. And that's how it went.
I remember people asking how did I manage to do so many things at the same time. How did I find time. Actually, I was asked this same question a couple of days ago, while e-mailing with my good friend Cristóbal, and I guess that's why I'm writing this post. To be honest, I never questioned that myself. I always felt that there was time. I've never felt running out of time. I would cut and paste sleeves as soon as my boss at the internship left. I would burn CDs every Saturday morning while watching European football. And I'd go to the post office every day on my way to school.
2007 was intense, even life-defining I'd say. That year I graduated. That year I also spawned a monster. I learned about love and betrayal. It was the year I attended my first indiepop festival, NYC Popfest. Also, with some friends, we started a weekly indiepop night in Miami Beach. I wrote my first fanzine too. But none of that was better than running Cloudberry. There's nothing I love more than doing this. Even up to these days I think 24/7 Cloudberry. Even at work while working on a graphic about something related to Cuba, I'm dreaming of indiepop.
To meet the release deadlines every month I still remember my maths. I had to have 6 bands working on a single at the same time. That was the right number so I didn't fall behind. That because sometimes bands wouldn't meet the deadline or, in the worst case, they would split before releasing or recording the songs. I think the latter was what happened to Helie and Sunshine. We emailed a couple of times. We agreed on doing a 3″ single but one day they left nothing behind. They deleted their Myspace and they disappeared from the face of the Earth.
I wasn't  too keen on releasing US indiepop bands back then. I don't think in 2007 there was much quality here as the past two or three years. The exception to the rule was the irruption of The Pains of Being Pure at Heart, in May, that same year. So when I discovered Helie and Sunshine that December, I was so thrilled and very excited. They sounded just up my street and they were American. From Portland, Oregon, as far as I know. At least their label "Lilydale Records" was based there. I assume they ran that record label. As far as I know their 4-song EP was the only release on Lilydale.
When I found about them, they had already released their "It's All I Can Be EP". They promised recording two new songs and include one of the songs of the EP on the slated Cloudberry single. I wonder which song they had in mind to be included. The tracks on the EP were: "It's All I Can Be (Myself)", "I've Got a Plan", "Waiting for You" and "Surprise". The first songs two were supposed to be released later on a CD and LP album called "Here We Go". But that never came out. I wonder if they had already started recording the songs for Cloudberry or for their album. I also wonder how many people got the chance to listen to these songs. The EP was limited to 300 copies. I have number 16. The presentation was very nice too,  the CD-R looked like  a vinyl record. I wonder if they got to sell all the stock.. I wish they did.
I want to guess that Helie and Sunshine were a couple because of their last names. The credits are for Michael Walsh, guitars, on vocals and drums, and Ann Strieby Walsh, on bass, vocals and drums. But that's all the information there is about the band.  have searched online and the only results come from  Skatterbrain and Indie-MP3. They did blog about them and recommended them.  No other traces in the WWW. It's a shame, I feel they were into something, they could have been playing the next indietracks.
I ask myself what Michael and Ann are doing these days. I wonder if they did record more songs. And what about their stock? Will the copies that were sold become indiepop artifacts 20 years from now? Anyone know what happened to them?
::::::::::::::::::::::::::::::::::::::::::::::::::::::::::::::::::::::::::::::::::::::::::::::