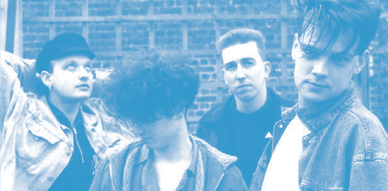 Thanks so much to Andy Milton and Jon Fagg for the interview! Please be sure to get the new retrospective album "Hellish Mad Rush" from Firestation Records, I really recommend it! And also be friends with The Ogdens in their myspace!
++ There was an early incarnation of the Ogdens with Vince in singing duties. What happened to him? What was the name of the band? Was it easy to continue after?
Jon: Pretty soon, Vince decided that he didn't want to sing in that band, so he concentrated on playing guitar and I played bass. We started looking around for a singer and were lucky enough to find John, who I thought was great the very first time I heard him sing. At this stage we didn't have a name for the band.
Vince then got married. His wife was American and they went off to live in the States (where Vince is now something big in the financial world). The only time we ever played live with that line-up (which also featured Karen on trumpet) was at Vince's leaving party. We played Leaving on a Jet Plane for him, among other things.
Because we knew that Vince was leaving and that I was going to take over guitar playing duties, we had already recruited Jay D as bassist. He was in the audience at that first gig.
It was never in doubt that we would continue.
Andy: No doubt at all. We moved to London to form a band, and so it was just a case of managing the transition from one line up to another. Saying that, it was an uncertain point, as only Jon knew JD. We needn't have worried, having an experienced bass player tightened the whole thing and allowed us to explore what the Ogdens could be.
++ How did you all knew each other? Where had you met?
Jon: Andy, Vince and I were students in Coventry (Andy: near Leamington Spa) together. John was a friend of my girlfriend at the time. Karen was my cousin and Jay D worked with me.
Andy: Jon and I had played together in three bands before the Ogdens. Jon had heard me practising drums in my room one day and came to ask me to join the first band. He'd had his reservations after being told that all the people in the house were hippies. I wasn't, so we played together then on and off for twenty years.
++ Where does the name The Ogdens come from? Why didn't the name Fuck Puffin get chosen?
Jon: Jay D suggested the name. It comes from the name of a family in the British soap opera, Coronation Street. I seem to recall that we all liked the idea straight away.
We had considered the name The Fuck Puffins and liked it. However, we didn't think we'd get played on the radio much with a name like that, or else they would shorten the name to The Puffins. The Fuck Puffins sounds great; The Puffins sounds rubbish, so we decided against it.
Andy: I don't know how much difference it would have made had we chosen The Fuck Puffins. We faced a lot of stick over choosing "The Ogdens" but if you've ever had to choose a band name you'd know the relief when you finally find one that everybody is happy with. I suggested "Vegetable Terrorists" but it didn't find any support, which in hindsight was probably a good thing.
++ You release three fantastic singles, all of them getting fantastic reviews on the press, but which one is your favourite among them all and why?
Jon: I'm glad you liked them! My favourite, as a song, is Rachel Put Your Arms About Me. The one I think sounds the best is She Made Everything Groovy and it was the most enjoyable to record too. I don't like It's A Beautiful Day at all and was not very keen on the idea of it being our first single, even at the time.
Andy: Groovy was the best for me as well. It was a great experience working with the producer Overend Watts from Mott the Hoople. We put everything into it, financially and physically, and I loved the song. Had we done a fourth single, for me it should have been I Want to Know Everything as I think that's even better.
++ Why did you decide go the "self-release" way? Was it easy to set up the Casca label? Did you ever consider releasing anyone else other than The Ogdens?
Jon: If anyone had offered to release the singles for us we would have been delighted. They didn't, so we did it ourselves. It did have the unintended consequence of giving us complete artistic control, though.
I don't recall there being too much involved in setting up the label, but I might have that wrong.
We nearly bankrupted ourselves making She Made Everything Groovy. The idea of spending our money on releasing other people's records would have been unimaginable at the time.
Andy: There isn't too much involved in setting up a label apart from handling the registration with the bodies that collect the royalties and the packaging of records and posting them to radio stations. So there was some effort but it was just an extension of what you do as a small band to promote yourselves anyway. We did a postering campaign in parts of London, going out with a bucket of paste, posters and a brush late at night. We almost got caught sometimes and it could be freezing, with paste congealing up your right arm it was not what you could describe as fun. We usually ended the evening in the pub which made up for it.
++ Talking about others… who were your favourite bands back then? Would you see Ogdens members at different gigs in London enjoying their favourite bands? What were your favourite venues in town?
Jon: Some of my favourites would have been The House of Love, Ride (who we played with in Aldershot), My Bloody Valentine, The Corn Dollies (who we also played with). There were some bands who were friends of ours too: No Corridor (who are reforming to play at Andy's 50th birthday party), The Baby Boys and The Onan Brothers.
John and I used to go out to a lot of gigs together; checking out venues, checking out bands, trying to meet all the right people. Some of my favourite venues would have been Dingwalls, Drummonds in Euston, The Bull and Gate. I liked The Jericho Tavern in Oxford too. The Town and Country Club was probably my favourite of the bigger venues.
Andy: One of our friends Andrew Cunningham used to run a club, God's Little Joke, he's an amazing songwriter and I loved some of the acoustic acts that used to play at the club. Many never made any records but it was the closest thing to a "scene" I've ever been involved with.
++ Right now you've just released a fantastic retrospective compilation called "Hellish Mad Rush" that everyone that loves guitar pop should definitely get it! How did this release came up to life? And what can someone that has never heard the Ogdens before expect?
Jon: I'll leave Andy to tell the story of how the album came about, since it was largely down to him.
If you've never heard The Ogdens before: prepare for a Hellish Mad Rush!
In reality, of course, this is not the album we would have made had we ever been in a position to make one. These songs cover a period of four or more years. It's really nice that the singles are available for people this way though. It will stop people selling them on eBay for ridiculous prices!
Andy: It's very odd really, as although it might have happened anyway at some point because we were on Firestation Records' hit list, the reason it's happened now was because Jon was looking at MySpace and came across another band with the same name. I was outraged, I set up our own page and emailed them saying we had the name first. In the end they were very good about it and changed their name but within two weeks of our page going up Firestation had contacted us about appearing on The Sound of Leamington Spa No.8 and it just went from there. BTW we will be on The Sound of Leamington Spa No.8 with another version of Patricia.
++ How do you remember your last gig at The Plough? Were there any tears?
Jon: No tears. We didn't know at the time that it would certainly be the last gig, although I think we were pretty sure. Our final gigs were some of the best we ever did, but John wanted to move on and it wouldn't have been The Ogdens without him.
Andy: I remember we played really well and had a great time, packed the place out, and made a profit. The review was pretty good as well.
++ Is it too much to ask what's the story behind the Rachel from "Rachel Put Your Arms About Me? It's such a beautiful song… I have to ask this question!
Jon: The idea for the song came from an interview I read with Guy Chadwick, from The House Of Love. He said that he wanted to write a song simply called I Love You, which put the lyrical idea in my head. The idea for the coda was also taken from a House Of Love song (I forget which one just at the moment).
I used to share a flat with a guy called Robin. One day I answered the phone and it was a girl asking for him. I asked her name and she said, "It's Rachel, Rachel Jones," (maybe it wasn't Jones, but you get the idea). That's where Rachel Rachel came from.
It's a song about male neediness and how us men look for women to be everything; sister, mother, lover. That and the reassurance and comfort that can come from being enfolded in someone's arms. Oh yes, and the male ability to screw everything up by going off with someone else. I was really good at that in those days, I'm sorry to say. The ensuing torment gave me lots of ideas for songs, though. I'm much more contented these days, which is why I now play in an instrumental band: I have nothing left to say.
Andy: You seem to be doing alright tonight.
++ You also made a video for this song! Tell me a bit about it!
Jon: To be honest, I don't think the video is all that great, although it was fun to do and I did get to smash up a guitar, which I'd wanted to do since I saw John Perry of The Only Ones do it at a gig at Bristol University in 1979. Some guys we met offered to make the video for nothing, as a favour. Of course, we agreed.
Andy: It was great to do and seeing the guys put it together in their spare time and given the facilities available I think it's fine. It does show though how much work it takes to make a truly great video.
++ What about "The Prettiest Girl in Carmathenshire"? Was it Miss Carmathenshire? What's the connection with that county in Wales if you were a London based band?
Jon: We were based in London, but Andy and I were from Bristol originally, Jay D was from Northern Ireland and John was from Wales. The Prettiest Girl in Carmarthenshire is a reference to a poem by Welsh poet Dylan Thomas, I believe.
++ I really think you penned so many magical songs, from "Yeah Yeah Yeah" to "She Made Everything Groovy"! how did you come up with all of these songs? with the melodies? with the lyrics? Why do you think you never made it bigger?
Jon: All four of us wrote songs. We'd work on them together and they were equally credited, but they always originated as one person's idea. If you knew the four members of the band well enough, you'd be able to tell who wrote which songs. Where did they come from? The heart.
While some people in the music press were quite supportive of The Ogdens, others seemed to take against us. Maybe they didn't like the name. I guess that It's A Beautiful Day would have put some people off as well, since it creates the impression of a band really very different from the band we actually were.
It's nice to finally be getting some of the recognition which we obviously felt we deserved at the time; even if we have had to wait twenty years for it!
Andy: Most of my songs came from walking down the street. Some came in one lump but others in bits and pieces. I had a beaten up old car which took us to gigs and became part of The Ogdens' mythology. A girlfriend gave me a rose which I placed on the dashboard where it dried and was preserved. It was a nice contrast to the fierce look of the vehicle and on a journey to a gig someone came up with the line "There's a dead rose on the dashboard" sung in a country style. From then on several of us had a go at incorporating it into a song. It eventually became part of Boeing Boeing Bomb! a comic song about terrorism.
++ After splitting up, you formed a band called Sunburst. I've never heard anything about it! Did you release anything? Was it in the same vein of The Ogdens? What's the story behind it?
Jon: Not many people have heard about Sunburst, which is actually a bit of a shame, because we were a great band. After John decided to leave The Ogdens, we got in a mate of Jay D's as a vocalist. Gatt was a really brilliant singer and we went off in a much rockier direction (although, to be honest, The Ogdens were headed in a similar direction towards the end). We never released anything, but there is a whole album's worth of pretty decent demos. We also recorded a version of America's A Horse With No Name with the intention of maybe releasing it as a single. Unfortunately, this never actually happened. You should hear it, though, it's truly epic.
Andy: We were great but unlike The Ogdens I think we lacked the belief that we would conquer the world.
++ What are some other favourite hobbies of yours aside from playing music?
Jon: I like football. I support Bristol Rovers, which is pretty sad really.
Andy: Even though I support Bristol City (we come from opposite sides of the city) I don't think it's sad. Football is about having a connection with a team. I know people who support Chelsea or Manchester United and have never seen them live. They've only chosen them because the teams are successful and have shirts the right colour or they fancy a particular player. That's sad. You'll be with Rovers in better times Jon.
++ Anything else you'd like to say to Ogdens fans out there?
Jon: It's been truly humbling to discover that, even after all these years, there are people who still really care about the Ogdens' music. So thanks. I only wish we'd known about you all at the time.
Andy: I echo Jon's words. Thanks for the support. It's the audience that makes it happen.
::::::::::::::::::::::::::::::::::::::::::::::::::::::::::::::::::::::::::::::::::::::::::::::