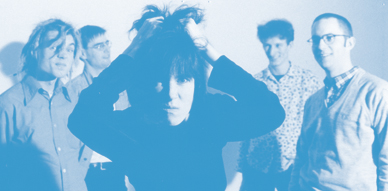 Thanks so much to Karin Reilly for the interview, and scanning some photos for me!  Celestial Daffodils were an indiepop band from Germany from the early nineties that sadly didn't get any proper releases but did appear in a couple of cool compilations. They later became Sugareen and nowadays they are called Telesushi. Enjoy!
++ Hi Karin! How are you? I see your new band is split between New York and Göttingen, where in the world are you nowadays?
Hi Roque! I am just fine, thank you! All members of my new band t e l e s u s h i live here in Göttingen, Germany, but since I am originally from New York, we decided to emphasize that interesting piece of information to make us more exotic than the rest.
++ This new band is called Telesushi and you've just released a 10″ record. Care to tell me a bit about this new project of yours?
The band includes Olaf, our guitarist, Daniel our drummer and myself: the 3 pillars from the Celestial Daffodils. We then became Sugareen and now we are in our new band t e l e s u s h i. Our bass player Robert, the youngest in our band, was really gung-ho on getting our 6 latest songs on vinyl. Our first 11 songs are on CD, but CDs are so common nowadays, so we went for vinyl (each record comes with a download code to access the MP3s – we know not everyone has a record player – neither do I! But the record looks great on the shelf!). Robert also did the art work for the lovely cover. We still hope to do a video.
++ So let's go back to the early 90s, that's when Celestial Daffodils were formed, right? Was this your first band ever?
It was my first band ever and fulfilled a dream I had always had of singing in one. They were looking for a new singer. A friend of mine "auditioned" and I was really in awe of her courage. She returned saying that the music was not quite her thing, but she was convinced it was mine. I just laughed and pooh-poohed the idea. But she was really convinced of this and despite my resistance, she pushed me into singing for them: she gave me their demo tape, arranged a rehearsal time and even picked me up from the café I was waitressing at to take me to the rehearsal! And from then on, I was in.
++ Who were Celestial Daffodils? Where were you based? And how did you know each other?
The original constellation was Olaf/guitar, Carmen/drums, Jan/guitar, Alyiar/keyboard, Michi/bass. I was their 3rd singer who had joined them after they had been together for 2 years. They were school friends who decided to form a band and basically learned to play their instruments in this formation.
++ Why the name Celestial Daffodils?
Due to the Brit-poppiness of the music, a happy name in English was opted for Olaf told me that the name "Poppyfield Smile" was also in the running.
++ I know about some compilation appearances from your band, but were there any proper releases? Maybe demo tapes or something?
We had three full-fledged tapes: A red one entitled Simple, A blue one Different Facial Creams, and a green one Waiting for a Call.
++ Ok, so help me about your compilation appearances, I know the "Everything Went Pop" one with two songs, then on "Fieberkurve Vol. 3" and on the "Hopping Hobgoblin" tape. Any other that I'm forgetting?
We also had the original version of our song "It's hard" on a Fieberkurve sampler tape, we were written up in a fanzine called Time Thief from Bremen, and we were told by friends that we were also on an Italian fanzine sampler tape, but we don't know the name of it.
++ Which was your favourite Celestial Daffodils song? How did the creative process work for the band?
Favorite song? Can't answer that one, sorry! We had so many wonderful songs! Simple? It's Hard? Agent Dan? Breakfast Special? Nowhere To go? The creative process was usually based on a guitar riff someone had in mind and we jammed and improvised from there, filtering until the parts crystallized and pleased us.
++ Who were you listening to at the time? What were the bands you'd say influenced you?
I always loved and always will love Blondie, Kim Wilde, The Bangles and Depeche Mode. Olaf listened to lots of stuff from Sarah Records (Bristol), Heavenly, Talula Gosh and all the other bands that Amelia Fletcher sang in. Daniel is very 60's-infuenced.
++ And what about the German guitar pop bands? Were there any that you liked and you'd recommend me?
Olaf mentioned Blochin 81, 5 Freunde, Jesterbells and other Marsh Marigold bands (that's a label in Hamburg).
++ Did you play many gigs? Are there any you remember? Any anecdotes to share?
On the whole we played many gigs, although we never counted. Averaged per year, however, it wasn't that many compared with other hobby bands. Some of them I remember, but sometimes Olaf will mention something I have no idea what he is talking about. You must realize that 15 years have passed since I started out with the Celestial Daffodils! Olaf likes to reminisce about when our temporary drummer Kai vomited over a clothes drying rack in the apartment we stayed in after a gig in Dresden. I prefer to reminisce about a gig we had in Bodenwerder in the woods when the young audience totally flipped out to our music and interrupted our songs to buy our tape!
++ When and why did you call it a day with the band?
That was my wish. I had two young children for whom I wanted to be there in the evenings more often. I felt exhausted and did not have any creative energy and suffered from a bad conscience of feeling like the others in the band were waiting for me to come around. The positive things we had working for us as Sugareen to move us from a hobby level to a more serious level had dissipated and I did not feel motivated. The last straw was a gig we had in a neighboring city: we were on the go for 13 hours in total to play in front of 200 people in a bar who were not the least bit interested in us. Then it was clear to me that I would rather do other things with my time. Our good-bye concert on Göttingen was absolutely wonderful. If more gigs had been like that, I wouldn't have stopped. Afterwards, I greatly regretted the decision and greatly missed the musical creativity, but in the meantime I am very happy with
t e l e s u s h i and having reached an internal peace of not trying to impress anybody but myself.
++ Looking back in perspective, what were the best moments of being part of the band?
One highlight was when we placed 4th out of 5 bands in a band contest, but were nevertheless contacted a few days later by Enola Records, a small label in Hannover, who had been there and loved us, believed in us and wanted to cooperate. It showed how subjective music taste is and that there is a musical place for everyone. We were also always thrilled about being on samplers. The Sugareen song Black and Blue was even on a New Music Express sampler and we our video to that song was in rotation on VH-1.
++ How different was Sugareen from Celestial Daffodils?
Sugareen was a step toward professionalization. We had a record contract to make a CD and video and were optimistic we would rise above the hobby level. Regarding the band name, our experience had made it clear that no one here in Germany could either understand, spell or remember "Celestial Daffodils" so we changed it to something sweet and sugary for the CD: Sugareen. Our songwriting had matured over the years, we all had become better musicians and the best songs were selected for our CD "Ready, Steady, Go!" and produced by a producer who even strongly suggested things we almost broke up over.
++ What other things do you enjoy doing when you are not making music?
I love spending time with my kids, cooking and painting old furniture with pastel colors – that's my "homey" side. In addition to t e l e s u s h i, I have a duo with Daniel: he plays the ukulele and I sing and we only cover songs from the 80's. We are called l'uke and you can find us on myspace (if you look hard) and on youtube under "ukuleighties". This quirky project really interests a lot of people. I often say "but, but, but actually we have a really great band with our own songs!" And then there's theatre: 3 years ago I discovered an incredible and creative amateur theatre scene here in Göttingen that I have since then been acting and active in, sometimes in English, sometimes in German.

++ And this I always ask my German friends, because I love a good German hefeweizen, what is your favourite beer? 🙂
I'm not a beer freak, but I am happy drinking Becks. I never took a liking to hefeweizen. Olaf's favourite beer is Uslarer Altstadt Dunkel.
++ Thanks again Karin! Anything else you'd like to say?
Yes! It was so nice to be contacted by you all the way from Miami! Thanks so much for your interest in the Celestial Daffodils/Sugareen/Telesushi and we hope this interview has sparked the interest of your readers as well! Please contact us! We'd love to play in Miami and we would love to be on a compilation again!
::::::::::::::::::::::::::::::::::::::::::::::::::::::::::::::::::::::::::::::::::::::::::::::
Listen 
Celestial Daffodils – Stay