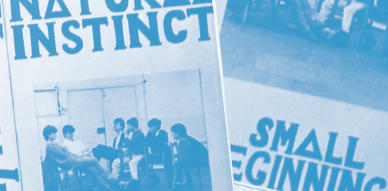 At least it didn't take two weeks this time to update the blog, just one. Not that bad. Maybe four posts a month is not an awful rate, though I wish I had more time to write more often. I think it's just a matter of adjusting my time and my sleeping patterns. I haven't told many but I started a new job a couple of weeks ago. My work hours are different now and I'm still getting used to it. It's quite hard. I wonder how come it's so easy when I travel to Europe and I feel no sort of jet-lag. But now that I have two wake up three hours before than normal I'm really having a rough time. Everyday it feels as if a truck has ran me over when I wake up. Anyhow, as I said, it will be a matter of adjusting and eventually after work I'll have the energy to write on the blog as I used to and not having to wait until every Saturday afternoon. It's just a new, small beginning.
News this week? Not many. There's a new Nixon compilation CD out on Anorak Records titled "Anorak Christmas" and it includes many of his most known songs. It's a great thing as many fans have been longing to finally have in their hands his songs on a physical record as his previous records have been sold out for such a long time. I was happy to participate in this CD writing the liner notes.
On Cloudberry news, I've just answered an  interview about the label for a Japanese fanzine called Weekend Never Dies that runs the lovely Sayuri Arai, who I met in New York City. She was accompanying Caucus and Smilove. It's a very nice interview as she asks me very interesting questions, not just the same old "why did you start a label" or "what is in store for the future". I look forward to see the printed zine. Also by now all the regular mailorders should have the latest releases (Caucus & Persian Rugs) in stock. I just posted the last batch to the great Pebble Records in UK.
Let's go to our weekly featured obscure band then. On my last blog post I wrote:
I do know that Daniel Bates and Graham Jordan before being in June Recruits were part of a band called Natural Instinct, who I will be covering on the next blog post. Promise. They had some great tunes!
So, here we are, trying to uncover a bit the mysterious halo of Natural Instinct.  Of course the information is very scarce. There is a small text written by someone called Steve Fox on the page I've been dissecting lately: Wymondham College Remembered. It says:
"Natural Instinct was the original line-up of the June Recruits before things went a bit pear shaped – I'm not sure how one band led to the other but the tape was entitled 'Small Beginnings' and the insert was interestingly made from black and white photographic paper. All these guys were in my year – 1981 to 1986 and – although my memories are a bit sketchy – were Robert Wylie (New Hall) and 'Gaz' (New; can't remember his surname) on vocals, Dan "DOB" Bates (Kett) on lead, Graham Jordan (New) on Bass, Marvin George (Kett) on keyboard and Jim Cook (Kett) on drums. The photowork was done by Andrew Carey (New)."
"Dan Bates was called DOB because they were his initials, which was small comfort for the five years of sniggering he had to endure every time a letter arrived addressed to 'Master Bates' – a nice bloke though and I don't recall a time I ever saw him without a smile. As for Marv George, he was an extremely talented guy who could play a keyboard with incredible skill; I remember being extremely envious listening to him on his synth and he once lent me a keyboard which had a 'teach yourself' function where the keys would light up when you were supposed to press them as it played a cheesy backing version of 'Morningtown Ride.' I was RUBBISH!"
First thing that attracts my attention is those words in paragraph, Kett & New Hall. I wonder if this is important at all, but perhaps for fellow students of the college it was. These are the names of the Houses were these guys were into. I'm familiar with the house system as I studied in a British school when I was a kid, but for you who don't know, the house system is a traditional feature of British schools, and schools in ex-British colonies. Historically it was associated with established public schools, where a 'house' refers to a boarding house or dormitory of a boarding school. In the case of a day school, however, the word 'house' refers only to a grouping of pupils, rather than to a particular building.  Pupils are likely to be divided into a number of houses, which are often named after saints, famous historical alumni or notable regional landmarks (at international schools, for example, houses may be named after famous local people). Other more arbitrary names – animal names or colours, for example – may be used where the house system is adopted by a primary school.
In the case of Wymondham College, a house system was first established in 1953, with house names North, South, East and West. As the College expanded and brick-built accommodation came into use in the early 1960s, the system was revised and the Houses were given names of Cathedral towns and cities:
Boys: York, Gloucester, Canterbury, Norwich, Durham, Salisbury
Girls: Wells, Westminster, Worcester, Winchester (with Wakefield and Washington added later)
Later in the early 1970s mixed Houses were introduced and the cathedral House names were scrapped and the Houses adopted the names of the Halls themselves. Lincoln and Peel Halls were converted to Sixth Form boarding houses in 1978, Peel Hall being further converted into a boarding house for Year Sevens in 1995.
The house system is now as follows:
Year Seven: Peel
Years Eight to Eleven: Fry, Cavell, Kett, Or New
Years Twelve to Thirteen: Lincoln
So first mystery of Natural Instinct is solved, they were in between the Years Eight and Eleven. But wouldn't it have been more "musically cool" if they were in Year Seven and being in "John" Peel House? 😉
Then there was one tape released at least as attested by Steve Fox. This one tape had the songs "Small Beginnings" and "That's All" but may have had as well more songs. I can't confirm this. I can't either say if this was their only demo tape released or not. I wish it wasn't. It'd like to listen more by them. About the year when these tracks were recorded I would have a wild guess of 1987 a year prior the June Recruits formation.
"Small Beginnings" is the best of the two tracks. It is a really catchy tune that reminds me of the Spinning Wheels or Windy Miller, with an upbeat drum machine that feels everything is falling apart. Really cool! It's like ramshackle pop without the crashing guitars. There is also a cool keyboard on both songs that feels a bit like The Apple Moths. Very nice poppy atmospheres. It makes me long for more songs by this band. Whatever happened to them?
And this is were we stop. There's absolutely no more information about the band or the members. For some reason while looking if any of the band members was in the famous ex-pupils I learned that the actor Mark Strong, the bad guy from Kick-Ass, studied here and his real name is actually Marco Giuseppe Salussolia. Not that it is important, but I found it interesting. Anyways, if you have any more information about Natural Instinct please get in touch! I'd love to listen more stuff from them!
::::::::::::::::::::::::::::::::::::::::::::::::::::::::::::::::::::::::::::::::::::::::::::::