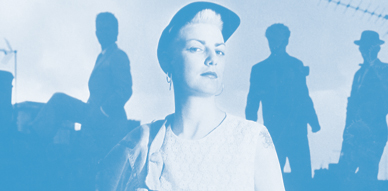 Thanks so much to Fiona for the interview! Some time ago I wrote a small piece about her old band The Hill Bandits and Fiona was kind enough to get in touch and answer to all my questions! If you've never heard about them before, The Hill Bandits were a band from Leeds that released two 12″ and have this beautiful and great song called "Nowhere Train" too. If you want to learn their story, sit down, and enjoy!
++ Hi Fiona! Thanks for being up for the interview! You are still making music these days as Itch. Care telling me a bit about your new project?
Yeah, Itch is my main project here in France. Itch plays melting pop. Lyrical adventures wrapped in contagious melodies. We have a wonderful blend of many different influences from different continents and epochs.
++ Also now you are based in France, am I right? How long since you left the UK? What is that that you miss the most from Leeds and England in general?
This is quite a long story. I said goodbye to the Hill Bandits and Leeds, UK in 1988. The Hill Bandits record label went bust, the bass player, Paul Staniforth wasn't well (unfortunately our mate Paul passed away a few years ago. R.I.P.) and HB's just just come back from our German tour, I'd fallen in love with the exciting city of Berlin and decided to move over for a while. A while that lasted 18 years. I came to France in 2007. I had finally quit Berlin. I bought a very large suitcase, a tent and 2 tickets for Amsterdam for me and my then best friend, my dog – Medina. Talking of which I had to wait until October before I could get the dog through quarantine. That's why I chose to spend the summer in Amsterdam,where I went to a campsite on the outskirts of the city. Tranquille! There after 1 week I was working in the snack bar and one day a man walked in. Yes there you have it, a man! From France just arrived. He had been invited to work at the
university during the summer and our paths crossed. The second night he took out his guitar and played some French songs. Until that moment I didn't know he was a musician too. I told him I sing and I sang and he accompanied me on guitar. The idea for me to go back to Paris with him and forget all the UK plans seemed like a typical Fiona thing to do and I did. That's how Itch started. We are going in the studio next week to record our 3rd CD. So there you have it. But you don't. I'll send you a copy of our last album Cool Breeze if you like. You know one thing I really miss is the Yorkshire humour but I do really miss the town itself as a whole. Oh and a good curry I miss my evenings with Kevin and friends eating in a good curry house.
++ Let's go back in time  a bit. Were The Hill Bandits your first band?
No HB's wasn't my first band. I left home pretty early at the age of 17 and started looking for bands more or less immediately. I auditioned to sing in a synthesizer group that I met at The Warehouse wasn't with them long. They were too shy to play in front of an audience. I was invited once to guest with a group from Hyde Park, Leeds, cant' remember the name. We had a gig upstairs at the Astoria (I think). Pete Master was there with my sister and after the show he asked me to sing with his fantastic 15 piece band the Magnificent 7. I think I was still singing with them when we started the HB's. Sang with the Yahoo Family too but I think that started around the same time as the HB's.
++ How did the Hill Bandits start as a band? How did you all meet?
Another long Fiona tale, I'll keep it short. We were all in the music scene in Leeds. I worked at my sister hairdressing salon and Kevin came in to get his hair cut. When I was drying his hair I told him I wanted to start a new band and would he like to join me in setting it up? We went for a beer in the pub next door after (he was the last client) we talked and formed the Hill Bandits. Paul came just after to play bass and the first drummer John. Hill Bandits rode over the top of the hill at sunset, so to speak.

++ Where does the name of the band come from?
The band name comes from our town and it's curves up and down and the fact that we were all outlaws together in a new gang hence bandits.

++ You seem to have been equally influenced by the sounds of the guitar pop bands that were appearing in the mid and late 80s as well as country music, am I right? What bands would you list as influences during that time?
Well to be honest it was Kevin who opened the treasure chest named country for me. I started listening to a lot of Patsy Cline. I also listened a lot to Billie Holiday and Ella Fitzgerald. Music from the '80's that I personally liked for example were the Eurythmics but then I listened to loads of different groups – to many to mention.
++ Were there any other like-minded bands in Leeds that you followed at that time?
I don't think there was anything like us in Leeds at that time.
++ How was Leeds back then? What were the venues that you used to go to? Your favourite places to hang out?
Leeds was brilliant back then I was in my early twenties then and was quite wild (still am I suppose) it was all very exciting for me. We played at the Duchess of York a few times and went to see lot's of bands there too. We could often be found in the Faversham. With the choice of pubs it's difficult to pin point any really but the areas we socialized in were Hydepark, Headingly and the city centre for gigs.
++ I've always heard stories about Jumbo Records by Leeds bands, maybe you have one to share?
Jumbo records, yes in the Merrion Centre. Still exists. I used to DJ in a club back then and bought a lot of my records at Jumbo. I don't have any juicy stories to tell though.
++ You released two records on Ediesta Records. How did you sign to them?
Ediesta was a sub label. It's big sis was Red Rhino Records who Kevin was with at the time. He was a rung or two higher up the musical ladder than me. It was through his connection to RRR that we had the opportunity to get intouch with the right people and sign.
++ Were there any other releases? Or perhaps compilation appearances that you remember about?
We did record a 3rd  record but it never got released. Kev has the master tapes. It's quite amazing that they're in such good condition.
++ I read there was a third record planned, what happened to that?
It never saw the light of day, I'm afraid.
++ I've never heard your first release, "Hotrod Buckboard Boogie". How different is it to your second 12″, "Nowhere Train". Is it similar sound-wise? And what similarities and differences were there in the recording sessions for both?
When we first started we played cover versions. Hotrod Buckboard Boogie is a 12″ EP we recorded our versions of Love Me Or Leave Me http://www.youtube.com/watch?v=1xiD8vFjs4I, Aragon Mill, really nice guitar on that one,
You're Gonna See http://www.youtube.com/watch?v=N5EgFTbj-K4 and Out Amongst The Stars.
++ Tell me a bit about the photo on the cover for "Hotrod Buckboard Boogie". Did you all always wear hats and baseball caps? :p
The cover was designed by Kevin. In those days we didn't have computers. Kevin took photo copies exposing them differently making them lighter or darker then he added the colour. We definitely didn't wear caps all the time. All too proud of our hair cuts 😉
++ Talking about the songs, I wonder, how did the creative process work for you?
In those days I was just starting out on the lyricist adventure. Kevin would have an idea for the guitar for example and then we'd either write together or he'd already have ideas that he'd suggest to me and we'd work on the ideas together to create a song and then present it to the bass player and drummer. By the time we were recording the 3rd record I was writing songs all on my own. Songs that not many people have heard.

++ There's a video on Youtube for "Nowhere Train". Where was this recorded? What do you remember from that day? Any anecdotes?
Nowhere Train video; yes I remember it well. We asked at the venue Coconut Grove, in Leeds city centre, if they thought it would be OK to film there and they said yes.
++ You seem to have gigged a lot. You even went touring in Germany. How was that experience? What towns did you visit?
Going on tour was an amazing experience I loved it and still do. That whole traveling in the van thing, hotels and be together as a group now that's something that I really love. People lining up after the show for signed copies of the album. A taste of stardom if you like. I would have to say, for me, one of the most memorable gigs we played was in Berlin in the Niagara. Memorable because although it was quite a small place there were loads of people there that later became friends and colleagues when I moved there. What towns did we visit? Well the first gig was in Dortmund. We played as opener for Thin White Rope. After the show we drank enormous amounts of something, maybe vodka and I ended up cutting the bass players from Thin White Rope's hair. I can't remember all the places but I do know we played in Zug in Switzerland. All a bit hazy 25 years on.
++ And in general, what would you say were your favourite gigs you played as The Hill Bandits?
We used to drive up to Carlisle every so often to play at The Frontpage. Great place. We had nowhere to sleep so ended up sleeping on the floor of the pub in sleeping bags. Imagine after a gig how wonderful that smellt of spilt beer and cigarettes.

++ Who were your favourite bands to share a bill? And what would you say was the strangest gig of all?
I loved the show in London at the Mean Fiddler supporting Brendan Croker and the 5 o'clock Shadows. I think the strangest gig of all was in Newcastle I think and we were double booked. The Landlord suggested that we play upstairs in another room. The first set there were 3 people who brought morefriends to the second set and in the end nearly everyone there bought a record. Strange and fulfilling.

++ And then when and why did you call it a day? What did you all do afterwards?
Hill Bandits all came to an end quite suddenly. Pauls news about his illness. The record company Ediesta Records. That was all so dramatic. And I had then the offer to go and live in Berlin so I took it which was then the abrupt end. In Berlin I sang alot at the beginning for bands as a session musician in variuos studios and eventually formed my own group the Barflies. The others HB's continued with their numerous other projects.

++ Last year, 2013, you did a reunion gig in Leeds. How was that?
The reunion gig consisted of Kevin and I and a couple of fellow musicians who we invited. We thought if it went well we might start it up again which is quite difficult considering the fact that I'm here in France with my own projects. It was nice to be back on stage playing some of those wonderful tunes we penned in the 80's.
++ Do you think there will be more Hill Bandits gigs in the future?
You never know 😉
++ And looking back, in retrospective, what would you say was the biggest highlight for the band?
The Hill Bandits were the complete highlight. There was always something just about to happen.

++ Let's come back to the present now, what's in store for Itch? I heard you just put out an album out?
Well the album Cool Breeze was released last year and we've been travelling around in France, Belgium and Germany, not so much the UK, promoting it. In fact next week we're going in the studio again to record the next album. A little different from the last one in that we have invited 2 brilliant musicians to join us. Double bass and lead guitar. We're very excited about it.
++ And aside from music, what other hobbies do you have?
I love life, that's my hobby – enjoying it. I love organising and have just started a project – Idolize – I rent a place, a craft beer brewery, where I'll be putting on bands.  I write also for other bands I'm in the studio with a group in November as guest singer. I keep busy.
++ Thanks again for everything! Anything else you'd like to add?
Thank you so much for inviting me to do this interview. One day you never know, we might meet. That would be nice.
Here's a link to the itch website: http://itchmusic.free.fr and our clip: http://www.youtube.com/watch?v=yippEfVydmM
Take care of yourself. See you around sometime.
::::::::::::::::::::::::::::::::::::::::::::::::::::::::::::::::::::::::::::::::::::::::::::::