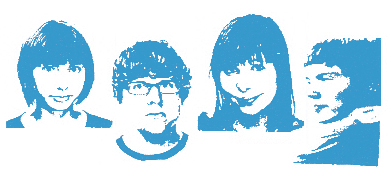 Just five days away from NYC Popfest and here I am trying to catch up before I'm swept by four nights of indiepop. Four days of indiepop that will paralyze the city. My city. A fabulous showcase of classic and up and coming bands. I have to say I'm mostly excited for the new-ish bands, as I have already seen the "established" ones! I will always prefer to see something new than seeing something for a second time. Been there, seen that, give me a surprise. My favourite Cindi Lauper is playing again, but then, that's the norm, she plays every indiepop festival in the world. I must be a masochist, but I've seen the ukulele ensemble more times than any other band in my life. How did that happen? I don't know. I must have a serious talk with all promoters in the world. But it will be hard, now she has street cred. Oakland label you know.
But there are some really exciting bands in my to-see list. Years of friendship and admiration, and good times, and beers, and I get to see Amanda play for the third time. First time as Pushy Parents. I heard their smash-song "Secret, Secret" so many months before it came out. And I was hooked. It made me unhappy not being able to share it. It was too good. And the release date seemed so far away. And then the 7″ was released. And they swore never to play live. I must congratulate Maz from Popfest to convincing Amanda to come and play these songs. I can't really wait.
What about Cola Jet Set? I'm just thrilled. Sure, they don't have Anita Dinamita fronting the band anymore, but I'm sure I will adore them. How couldn't I? It's Felipe's band. Felipe from Los Fresones Rebeldes. One of the best bands that Spain has given the world. And Cola Jet Set is not far behind. I wonder if they will treat us all with a cover of "Al Amanecer". All of my Spanish friends tell me they always play it. But then, here in the US, maybe not many know this classic song! They are also playing this Tuesday for free at The Cake Shop. Seriously, I must go. Songs like "Suena el Teléfono" or "Quiéreme" are indiepop hits in my book.
At last I'll get to see The Electric Pop Group. A Swedish band I've followed since their early days, when they self-released their first and brilliant self-titled album. I was running the Mira el Péndulo blog back then and Martin was kind enough to send me a copy. "Popgirly" was played so many times at home. From that day on, the band started to gather a loyal following, signing to Matinée, and release a couple of EPs and another album. They played many festivals, but none of those I attended for a reason or another. At last, I will be at the front row.
Burning Hearts? Check. When they announced that they had to cancel their Indietracks gig I was bummed. I was looking forward to it. Jennifer was even sadder. I don't know if the rest was too. Sure, they were replaced by The Parallelograms who were, GLORIOUS, but I wondered and wondered how this Finnish duo would sound live. How would that masterpiece called "I Lost My Colour Vision" sound at the church stage at Indietracks. How. It doesn't matter now. They will perform here, in my city. I met them back in 2008, Henry and Jessica, when they came with Cats on Fire. Remember chatting a bit back in Union Pool. Jessica and her perfect Spanish. I was impressed. Wonder how will their masterpiece "Into the Wilderness" sound here.
Speedmarket Avenue. I remember back in the day, they had this perfect 7″, way before signing to Elefant, "He's a Rebel". What a song that was. And then they were quiet. Very quiet. Suddenly they signed to Elefand and released "Way Better Now", another smasher. And then an album, and more 7″s. Still, the song for me, is that one, "He's a Rebel". Will they play it? I know Amanda is doing backing vocals for them. A nice plus. I'm very curious about how Isak and his gang can pull this one off. It should be great. I'm counting on them.
Dot Dash. I interviewed them not long ago. Perhaps they have the darkest sound among the bands I want tp see next weekend. A bit more angular, a bit more post-punk, but you know, done with a lot of taste. It promises a lot.
Back in late 2010 I released a compilation called "Do You Think It Will Snow Tonight?". In that little 5-song EP, a brand new band was captivating everyone with their sweet sound: Seapony. At that point their 4 track demo was a common sight in every website and on all my friends' facebook pages. Soon they released a 7″ and then an album. This Seattle band is one of the best new indiepop bands around, by far. They deserve to get bigger.
Then Pale Lights should be good. Mr Phil Sutton's new band is jangly jangly, and he sings! If you remember The Soft City EP, he was singing on that, and it was quite fantastic. Then on the album he left singing duties to Dora Lubin, and whereas it was great, truly great, I always wondered why did Phil stop singing, he should do it again. And now he is doing it again, and he does it pretty well! I saw them a couple of months back in Brooklyn, at an art gallery. They were just formed and you could see something good shaping up. I believe they have or will have a 7″ out pretty soon, on their own label Calico Cat. I hope it's ready for next weekend.
And last but not least, my favourite Canadian band: Sleuth. I'm very thrilled that one of the most talented bands around is playing New York. It's true, not many know about them. Let's say they are Vancouver's best kept secret. And hopefully in the near future Cloudberry will be putting out their first 7″. That's the plan at least. Very happy to see them after going for beers last September when I visited their city. Now it's time for them to be in my city. NYC. I'm very excited to hear their new songs. So far, only a tape released, and one song on the compilation that came bundled with my last fanzine, Cloudberry 406. They are wonderful. And I hope they dazzle the crowd.
I feel that's half of the bands playing Popfest? So, quite positive. Then of course there's Comet Gain and Pooh Sticks which I've seen before and I love. So should be one of the best weekends of this year. For sure.
And I don't feel the same way with Indietracks sadly. A friend said that it's perhaps I'm getting old. But I don't think that's it. I feel promoters are getting old. Maybe that's wrong to say. But I don't feel old. I still crave for new music and new bands. But some still stick to the same old. But more on that on my next post. This is pretty long already.
But before we move to the obscure band of the week, let me tell you that I have brand new, and very limited, Cloudberry Records tote bags! Postage is included in the price, just heads up. And The Deddingtons release date is June 1st. Also you can now pre-order Earth First's debut 7″. Many more news will be announced soon. A new fanzine for example. Yes! And a Strange Idols retrospective on Cloudberry Kitchen! And more. More. Much More. Just keep in touch, and I will keep you in the loop.
A flashback in time. I remember NYC Popfest 2007. Up the stairs to the second floor of Europa, in Brooklyn. Pants Yell! are playing. I don't care much about them. "Heartless",  I thought. I walk towards the merch table. And there are these tapes inside a briefcase. I know the band name. I've heard some of their songs. My friend Johanna shared with me some MP3s years before. Those were the times when we were on Soulseek and she was the mysterious 'rascalette', way before she wrote songs with Mr. Dan Treacy. I recognized most of the tape's songs. But I never imagined they had a US release. The band name was Crime Time. They were Swedish. And they have been forgotten.
OK, not completely forgotten; I've actually tried in vain getting in touch with them a couple of times. I want to include them on The Sound of Starke Adolf compilations. No reply though.
The songs on the self-titled tape, released by Rub-A-Dub Tape Club,  include:
A1. 18 & Waiting
A2. A Dizzy Day in May
A3. I'm Just Waiting to Hear You Say You Made a Mistake
B1. We Need to Talk
B2. No Time
B3. What Would It Be?
Songs A1, A3, B1 and B2 were originally released on a CD-R titled "Serenghetto" back in 2004 I believe. In this CD-R their "hit" song was included: "Stop Playing Football". I assume this CD-R was self-released. A1, A2, A3 and B3 were recorded in Lenken's basement in February 2004 and also in Apelangen's kitchen and garage in June 2004. They were mixed by the great Mattias Malm (Everyday Mistakes, Horsechimes). I wonder if this Lenken is the same as Victor Lenken, my good friend from Second-Hand Furniture. I wouldn't be surprised. He has good taste.
B1 and B2 in the other hand were recorded in July 2003. So all in all,  that's 7 songs total. I do know there is another song recorded, a superb cover of the Television Personalities' "Smashing Time". So that makes it to 8. Were there any more? Any clues?
The band was formed by Peter Moller on vocals and guitar, Molly Streijffert on vocals and guitar, Terese Nordstrom on bass and trumpet and Mikael Ellingsen on drums. When did they split, I don't know. What are they up to, who knows. All I know is that they made fantastic crash pop songs, ramshackle greatness, something the Swedes were doing perfectly back in those early days of the past decade. Pure fun, youthful tunes, and guitars that crackle. Those were the days when I fell in love with indiepop. And later, that was the time when I fell in love with NYC Popfest. Always a bag full of surprises.
Oh! And one last thing, I'm DJing on the Saturday show of NYC Popfest. Say hello!
::::::::::::::::::::::::::::::::::::::::::::::::::::::::::::::::::::::::::::::::::::::::::::::