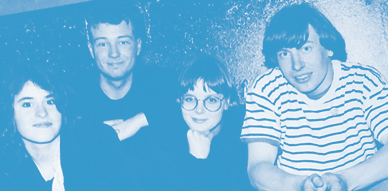 Thanks so much to Paul D for the interview! Look for a new 3″ CD by The Artisans on March 15th as part of the Cloudberry Classics series!
++ The band went through many line up changes? How many people went to be in The Artisans in total? Why did all these changes happen?
7 people in total. Basically people got bored and left! Unfortunately we had a few members in the beginning that weren't committed enough. and ultimately found rehearsing every week a bit tedious. It probably was, but you have to put the work in….
++ When and where did the band start? What was the main reason to start a band?
For me, it was listening to bands of the C86 era that inspired me to take up the guitar. The natural progression of this is to play in a band – everyone wants to be a pop star!  I joined my first band. as I happened to be at school with the brother of one of the members so got asked to join one day. That split up through musical differences (a cliché but true). A shame really as  I thought there was a fair degree of potential – after that I started The Artisans
++ Why the name The Artisans?
There was no real reason for it. It was just suggested one day and stuck. on account that it sounded ok and looked good written down.
++ Who were the bands that you enjoyed at the time? Did you get a chance to gig with any of them?
I was listening to all sorts at the time. Post punk, Orange Juice, C86, Sarah records. Looking back there was some great stuff released. Still enjoy listening to it.
Sadly we never got to gig with any of these bands.  Our live performances were few and far between. Another consequence of line up changes – you're never gig ready!
++ In 1992 you release your only 7″, the fantastic Jazz Serenade! You put it out on your own Infidel Records, how was this single received?
It seemed to go down quite well with those that heard it. We were quite popular in Japan by all accounts. John Peel played it on his radio programme and not long after the Rough Trade shop in London got in touch to ship copies out there. (Apparently Peel's programme was recorded and broadcast in Japan.)
++ Do you remember any reviews?
I can't recall any reviews in the music press, but I think a couple of fanzines at the time made encouraging noises about us.
++ Who's the girl on the 7″ cover by the way?
Good question. No idea it's an unknown ballerina.
++ Why didn't you get to release more records? The other songs I've heard from you are as good!
Just the way it turned out. We lacked a proper distribution deal for the Jazz Serenade 7" so sales were slow and as a result we lacked the necessary funds to put out a follow up release. Of course Slumberland Records gave the opportunity to issue a couple of tracks on the 'Why Popstars Can't Dance compilation.
I did get a call from Albert at Sunday Records who showed some interest in doing something, but nothing came of it.
++ You caught Slumberland's attention in 1993 and contributed two songs to the Why Popstars Can't Dance compilation. How did Mark got in touch with you? It seems such a process, it wasn't that common at that time that American labels were working with UK bands.
I'm not sure how Slumberland got to hear of us. It might have been through our friends at Heaven Records / Fat Tulips. We very nearly didn't appear on the compilation as they mislaid the tape in a box of other demos!! It was a big thrill to appear on a compilation with the likes of Stereolab.
++ Did you get any American fans after this release?
Not many that I know of. I did get a couple of fan letters from the States though.
++ Something I always like to ask is about the fanzine culture, I find fanzines, not only amazingly interesting, but also a reactionary, cultural and inspiring devices. I wish there was something similar today. Did you or the band were involved with fanzines at all?
I loved fanzines. In a way the 'fanzines' of today are internet blogs. But while they provide useful information they lack the intimate nature of thumbing through a real document. It's similar with music downloads replacing actual records or CDs.
What really comes out from reading old fanzines is that they were written by people that really cared about music.
++ On the Leamington Spa compilation booklet you say that you took the "classic" indiepop route. What do you mean by that? Do you still listen to indiepop
I was referring to the fact that we took the Do it Yourself option in releasing a 7" on our own label, rather that wait for someone else to offer to do it. A lot of bands seemed to take a similar route in the 80s/90s. Once you look into it, it's not difficult to do, just a question of getting it all organised.
Yes, I still listen to indiepop. Probably haven't got my finger on the pulse quite as much these days though.
++ Why did the band split? What are you all doing now?
I think in the end, we justed started to drift a bit. The line up changes didn.t help as sometimes it felt like one step forward and two steps back. I was struggling to write anything  and lost a bit motivation for it all.  I'm currently writing and recording some new material with ex vocalist/bassist Julie. Dave (drums) is living and working in Leicester. Sadly, I've lost complete contact with everybody else.
++ What was the best of being part of The Artisans?
Probably the thrill of hearing John Peel play our 7" on national radio
++ Anything else you'd like to add?
Just to express my thanks to all concerned at Cloudberry .
::::::::::::::::::::::::::::::::::::::::::::::::::::::::::::::::::::::::::::::::::::::::::::::
Listen
The Artisans – Jazz Serenade