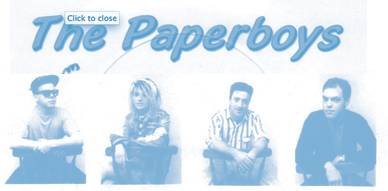 Thanks so much to Annette Deane for the interview! The Paperboys only released one 7″ back in the late 80s and recorded this fun video for their A side. After listening to them you'll end up wondering why didn't get to to be more known and why didn't they release more records. But hey, have a read and have a listen and discover one of Manchester's best kept secrets.
++ Hi Annette! Thanks a lot for being up for this interview! What keeps you busy these days? Are you still making music?
Not any more! After The Paperboys split, I sang with a few covers bands, then kind of lost interest in the whole music thing. These days I work as a teaching assistant with the under 5's. The only singing I do now is nursery rhymes!
++ Let's talk about The Paperboys. When did the band start and where were you based?
We got together around 1985/86. We were all from Manchester, and around that time the city was full of rehearsal rooms and recording studios, almost everyone I knew was in a band.
++ How did you know each other? How did the band got together and what instruments did you play?
Steve (guitar), Paul (bass) and Mark (drums) were already formed, and were looking for a vocalist. I saw the ad in Afflecks Palace, a legendary Manchester store that sold weird and wonderful clothes, jewellery and music. I took the ad down so nobody else could apply! Steve and Paul had been friends from childhood, and with the addition of Mark and myself, The Paberboys had arrived.
++ And what about the name The Paperboys? Who came up with the name and is there any story behind it?
I'm pretty sure it was Steve, I remember the name was decided upon by a process of elimination, trying to decide on the least terrible name we could think of. Before my arrival the band was know as "SOME TOFFEES" and we all agreed that name had to go!
++ Had you been involved in bands before being in The Paperboys? And what sparked you, what inspired you, to make music?
My first band was "Noose Slip Ride" in the early 80's. We had quite a following, which wasnt easy in the days before youtube, facebook and twitter! That ended badly when the guitarist threw a mic stand at me on stage after eating magic mushrooms!! From age 11 I was besotted with Debbie Harry and Blondie. I knew every song by heart, and for as long as I can remember I had wanted to be just like her.
++ So you released only one single, right? In the single you included "This is How I Feel" and "If Only I Had a Wish". Care to tell me the story behind both songs?
All our songs were written by Steve, and they always had a story behind them. He was the kind of guy who was never lucky in love, and most of his songs reflected that. You know, unrequited love, being ditched, wanting what everyone else had? Both the songs on the single were based on Steves search for love!
++ This single has a very fun artwork. Who made those drawings?
That was all my own work! I found a copy of "The Beano" comic in our rehearsal studio, and as most bands were into the arty out of focus brooding type of photo shoots at that time, I thought I would go in the opposite direction and make us look ludicrous!
++ A promo video was made for "This is How I Feel". How was that experience? And where was it filmed?
The video was made by a rather wealthy friend of ours who owned a video camera. Nobody had video cameras in the UK in those days, we couldn't believe our luck!! It was shot in Albert Square, Manchester. Everybody thought we were stars when they saw the camera, and the Punch and Judy guy, and the man in charge of the kiddy ride were falling over themselves to accommodate the shoot, they thought they were going to be on TV!
++ This record was put out by the Music Corporation label. Who were they? And how did you end up signing for them?

Music Corporation was owned by Gary Williams, who was the sound engineer at the studio where we rehearsed. He had heard us playing, and asked could he manage us with a view to releasing the single through his newly formed label. He loved the band, and even added a few of his own cheeky guitar riffs to our music after hours when we left the studio! Steve was NOT amused..
++ And how come you didn't get to put out any more records? Did you have more songs?
We were very naive looking back, I had expected the single to storm the charts in week 1, and to be a superstar by week 2. When that didnt happen, we did the rounds at the record companies. We had meetings with CBS, Island Records and a few others. CBS at the time wanted a jangly guitar band with a female lead. Allegedly it went down to either ourselves, or a band called The Darling Buds. They won…oh what might have been… 🙁
++ Which would you say was your favourite Paperboys' song and why?
"Before the sun comes up" was a great song, about having a one night stand but wishing you had met the person under different circumstances so you could see them again. We started each gig with a 1 minute song, just vocals and bass, called "my mum's in heaven" which really caught the audiences attention. That was a great song, again based on a true story about Steve losing his mum when he was just 11. Real tear jerker!
++ I know you also appeared on a compilation called "This is Manchester". Do you remember how did you end up there?
Piccadilly Radio was the major station in Manchester, and one of their DJs compiled that CD to promote new Manchester music. It was a great honour to be selected, there were about 300, 000 bands in the city at that time!
++ Am I missing anything? Were there any other compilation appearances perhaps? Or is this your full discography?
Thats all as far as I know. We recorded many times in the studio but nothing else was released. Young people are so lucky these days, they can record studio quality music in their bedroom and keep it forever,!
++ Tell me about gigs? Did you play many? Which were your favourites and why?
We played lots of gigs across the UK, mainly in Manchester. Mark E Smith from The Fall asked us to play at his "Cog Sinister" event at the Green Room in Manchester. It was packed with local celebrities and up and coming bands, we even got our first "rider" 10 cans of beer, peanuts and potato chips! Our biggest gig was at The International, we supported Martin Stephenson and the Daintees, and They Might Be Giants. There were over 1000 people there, and we played one of the best gigs of our career.
++ Which other bands of the period did you like? Maybe you even followed one?
All of our friends were in bands around that time, and we all supported each other. I was a big fan of a local bands "Strange Friends" and Easterhouse" My brother and my boyfriend at the time were in a band called "iota", they were pretty good. There were so many its hard to remember!!
++ And in retrospective, what would you say was the biggest highlight of The Paperboys?
The biggest highlight has to be you showing an interest after all these years!!
Well, besides that, after our gig at The International, music writer Stuart Marconi reviewed the gig and compared my vocals to Martha Reeves! I grew up on Motown, I'm still a huge fan, so that was the biggest compliment he could have paid me.
++ So then what happened? Why did you split? Did you guys continued making music in one way or another?
To be honest there was not a definite split. When the single didnt get us a record deal, we kind of lost our enthusiasm a bit. The whole "Madchester" thing was emerging, The Stone Roses, Inspiral Carpets, Happy Mondays, all that "E" taking scene, it wasnt what we were about. Steve got married, Pauls career was taking him all over the world, and we had replaced drummer Mark with Eddie, who was more of a cabaret session player. All in all we just drifted apart, stopped arranging rehersals etc. Just a bunch of quitters really,!
++ And what about these days? Are you still all in touch? What other hobbies do you have aside from music?
Paul and I are still in touch via text and email. He lives in Malaysia, married with 2 kids, high up in the oil industry. I havent seen or heard from Steve, Mark or Eddie since the 80's. I would like to think Steve is still writing music somewhere. I may be biased, but some of his songs were astounding, they would stand up in the music industry today. He wrote straight from the heart, and his lyrics were magical. I still live in Manchester, and my 16 year old son Owen, who plays guitar and drums, starts his his BTEC 2 music course in September.
++ Let's wrap it here Annette! Thanks a lot again for the interview. Anything else you'd like to add?
Yeah, I would like to say a HUGE thanks for getting in touch, what a surprise! Writing this has brought back some happy memories, I might even dust off my microphone and look for a new band!
::::::::::::::::::::::::::::::::::::::::::::::::::::::::::::::::::::::::::::::::::::::::::::::