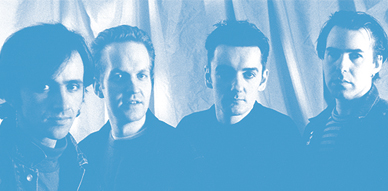 Thanks so much to John Hodgson for the interview! The Blofields were a late 80s band from London that released just one 7″ single. A self-released single. I wanted to know a bit more and John was kind enough to reply to many of my answers! You can hear more of their stuff on soundcloud!
++ Hi John! Thanks a lot for being up for the interview. Hope you are well! So tell me, are you all still based in London? Still making music?
Hi Roque, it's a pleasure. I now live in Hastings – by the sea on the South Coast – it's a great town full of character – lots of artists and creative people. I do still make music, I'm currently playing bass in my friend Chris' band – The Ingrid Pitt Orchestra – it's sort of Eastern European Folk/Punk. I'm really a guitarist and bass is an interesting change.
++ So The Blofelds! I read you took the name from a James Bond enemy? What's the story behind it? And which is your favourite Bond movie? Do you like Daniel Craig as Bond?
The name is from James Bond. We used to waste far too much rehearsal time trying to come up with a name we all agreed on. I think in the end The Blofelds was the one no one hated, but we grew attached to it.
I guess I preferred the earlier Bond movies. I remember liking On Her Majesty's Secret Service, which is the George Lazenby one with Diana Rigg and Telly Savalas as Blofeld, but Donald Pleasence was the classic Blofeld for me.
++ How did the band start? When was it? How did you all get to know each other?
I moved to London in 1986 and wanted to start a band, but before I'd really got round to doing much my pal, Tim Briffa who was auditioning people for his band The Atomic Vicars, rang up to recommend a bass player he'd rejected! That was Chris Aitken, we got on straight away, so that was good. Then Tim rang up with a drummer he'd rejected, Jab, who was great so we had him too.
We had more trouble finding a guitarist – Tim already had one so we advertised in all the usual places and auditioned lots of people. We ended up with a fella who was technically very good, but who turned out to be a bit hard work and we sounded too rock'n'roll as he had a traditional rock god style.
Eventually Chris had a huge argument with him and made me kick him out. Thanks Chris. Eventually Nick Connolly turned up at an audition and he was completely unlike anyone else and we grabbed him straight away – that was when we became The Blofelds.
We had the usual drummer issues after Jab moved back to Liverpool – we actually borrowed another couple of Tim's drummers for various gigs but found Mark Bolland via a friend and he was a great guy so it made life much easier. So the eventual line-up that recorded the single and lasted longest was Chris on bass, Nick on lead guitar, Mark on drums and me, (John Hodgson) singing and rhythm guitar.
++ Were you involved with bands before The Blofelds?
We'd all played in bands before we'd moved to London. My first band was called August The Tenth, we rehearsed a lot, but had no idea what we were supposed to do next. We lived out in the sticks and there wasn't really anywhere to play.
++ You only released one single, "The Dog is Dead". Why just only one release?
Recording was much more expensive in those days. We made demos in rehearsal rooms on my Fostex 4-track cassette deck, but to get something that could be played on the radio you really needed a studio.
We recorded "The Dog Is Dead" at a 16 track studio in someones back garden in Camden, but it does sound a bit feeble. We did attempt to record a follow up and did some recording at the original Toe Rag studio in East London with Liam Watson. It was an old analog studio with lots of vintage gear, some from Abbey Road. We were never very happy with the song and though we tried several times we never got it right and gave up on it. I was never very good at song titles and it didn't have a name when we were recording, it later became 'Ishtar' after the disastrous Warren Beatty, Dustin Hoffman movie that lost $42m at the box office. It was one of those songs that sounded pretty good live but we just couldn't get it on tape.
In retrospect we probably should have just released it anyway, but as well as paying for rehearsal space and recording time, it was expensive to self fund a single releases – I can't really remember but we just didn't have the cash to put stuff out. Nowadays you can do reasonable quality recordings at home, upload it to Soundcloud, tell everyone on Facebook – it's another world. But I do love having that 7" single!
++ Tell me about the songs on the 7″. What's the story behind them? What they are about?
"The Dog Is Dead" was about relationships (of all sorts) that break down. How you start out all excited but can grow apart and let each other down. I was actually thinking about the band rather than a boy/girl type thing but it's all the same really. The song turned out helping the band move on quite well.
The B-Side 'Felt' was another song without a name until Chris took the tapes to be mastered and he eventually had to come up with something to put on the label.
++ The single was released by your own label, Throb Records. I assume it was the only release on the label? And how did you enjoy doing the label part? Meaning distribution, promotion, etc…
I think Chris did most of the work concerning the label, getting the 7 inch pressed, getting distribution and promoting it. He was much better than us at that stuff – ringing people up, getting gigs and reviews. I was useless at trying to sell myself, but Chris is shameless about that kind of thing, he would happily tell anyone how great we were – you need someone like that in a band or you're more or less doomed.
Actually Chris also taught me another valuable lesson when he headbutted a promoter who refused to pay us at a gig. The landlord paid us instead. Occasionally, if very rarely, violence is the only answer.
++ And who was in charge of the sleeve artwork? It's a cool typography that you used!
I was talking to Chris about this recently, I thought it was his sister Sal, but he claims he did it himself, I guess it was probably a joint effort, they made cool stickers too which we covered the underground with.
++ Who would you say were the main influences of the band? And were there any like-minded bands in London during those days that you really liked and followed?
Realistically our main influences were probably Echo & The Bunnymen, The Waterboys, The Wedding Present, Lloyd Cole, The House of Love and REM although we all into different things. We were never part of any kind of scene. We played a lot with The Atomic Vicars who later became My Drug Hell, more because we were pals rather than being similar sounding.
++ Your first gig was at the Royal College of Art. Were you guys artists? How do you remember that first show?
Jab our drummer at the time was studying at the RCA doing Industrial Design and we played a couple of gigs in the Art Bar there which was fantastic. There was a captive audience as the bar would be full anyway I guess.
Two things I remember about the first gig were firstly I was using a guitar belonging to Steve Hillage who I was working for at the time. He lent me his lovely old Telecaster. The other thing was that Chris had made a big deal about looking good – we shouldn't look like we'd just turned up from work – I can't remember exactly what he told us to wear, but it certainly wasn't the pink mohair jumper and plastic/leather trousers that he turned up in.
++ Did you gig a lot after that first one gig? Which were your favourite gigs and why? Any particular anecdotes you could share?
We played a lot around London from 1986 onwards. They varied hugely. It was so hard to get people to come to gigs – pre-internet, pre-mobile phone – it was endless phone calls and sticking up posters.
Actually making posters before computers was fun but time-consuming – lots of letraset and photocopying.- then going out at night and plastering them about town trying to avoid Police or worse the professional poster people who were not keen on you covering up their stuff.
I think the worst gig we ever played was somewhere over a pub in Balham or Tooting and there was literally no one there – not a soul, but we started, then the headline band (who were our pals The Atomic Vicars) wandered in and watched, then joined in – it was gloomy and hopeless.
We played at The Bull & Gate in Kentish Town endlessly – it always sounded terrible except one time when they lost most of the power and we played by candle light – that was a nice gig.
Most of the places we played have been demolished now – The Clarendon in Hammersmith, New Merlin's Cave in Kings Cross – maybe it was to stop us coming back.
++ How do you feel about the terms C86 and/or indiepop? Do you think they fit The Blofelds?
I don't think we felt any connection with the C86 thing – though I had the LP, although looking back we probably should have – we were pretty jangly. It's hard to judge your own stuff isn't it? I think we always said we were an indie band.
++ So what happened with The Blofelds? When and why did you split?
We never really split. We had became really good friends and still are. I don't think we were ever especially ambitious – if we'd really wanted to get anywhere the others should probably have sacked me and got a proper singer and we should certainly have kicked out Chris for his terrible dress sense.
I guess we just got older and I had kids and stuff and we were less interested in playing live. Eventually we all left London – except Mark. I can't even remember our last gig in London.
Another thing that happened for a while was that I think we became too concerned about trying to please other people, trying to write stuff that we thought people would like and I don't think many people can do that. I really believe that you have to do what you love and just hope that other people will like it too – otherwise you just become a bad copy of someone else and lose whatever it is that makes you unique or different.
++ Though I've seen on Youtube a video of the reformed Blofelds? Will you play more shows or was it only for that special occasion?
You won't be able to tell from the youtube clips as the sound is horrible, but the gigs we played at Nick's wedding and then at my 50th birthday were fantastic – really good fun – we'd got past the stage of trying to impress anyone, we were just doing it for ourselves and really enjoying it.
When we played last September we hadn't even been in the same room together for 10 years – so we hadn't rehearsed together – Mark had never even played one of the songs – he'd only heard the tape we'd recorded with another drummer.
Naively we thought it would just work. We had an hour to set up the gear and soundcheck and we started and instantly we realised it was a terrible idea, we couldn't get through a whole song, we were never the type of people who could improvise, we always needed a plan. Finally we managed to get through one song and decided to chance it.
Amazingly something magical happened when we played the actual set, it was great, so we did it again later – it was just fantastic to play these songs with the band again. I think we'd all like to do it again.
++ On your soundcloud there are many Blofelds songs. When were these recorded? Were they released in demo tapes? And how many more recordings are there from The Blofelds?
The stuff on Soundcloud was mainly old demos that we wanted to share between us as we didn't all have tapes or cassette players anymore. There is some of my own post band stuff – it was really put on there to share with friends or people involved rather than for any promotional purposes – as you've probably gathered, that was never our strongest point.
There are loads of live recordings on cassette which are mostly pretty bad quality, but I might put up anything I can find that sounds reasonable, if I digitalize them at some point.
++ Have you ever thought of putting some sort of retrospective album at some point?
I wish we had done an album at the time, but I don't think there's much point now, it would only be vanity. I'm happy that there's stuff online that people can download if they want.
++ And looking back in time, what would you say were the highlights of the band?
Our single was the real highlight – getting the boxes of 45's, getting played on John Peel – him talking about us, reading out Chris' ridiculous made-up press release – getting nice reviews for the single in NME and Melody Maker. Some gigs when you are playing and know that it's working and it really is more than the sum of the parts and that feeling after a really good gig that used to last for days.
++ And do say, aside from music, what other hobbies and activities do you enjoy doing?
I love old cameras and photography. I've been making these 35mm film 3d wobblegifs on tumblr – it's an old fashioned version of the future and mix of old and new technology – a 4 lens Nimslo film camera that takes 4 shots at once which you can then layer and animate in photoshop or display next to each other and get that 'Magic Eye' effect by going kind of cross-eyed – it's really fun to do – http://johnnyhodgson.tumblr.com/
I play 5-a-side football every week – shouting at people and kicking a ball as hard as you can really is the best way to relax and let off steam.
++ One last question, tell me about your London (or if you are in Hastings now like it says in soundcloud?). Which are your favourite places in the city? Your favourite bar? favourite restaurants? or just your favourite place to go for a walk?
I love London, but I've lived in Hastings for 12 years and it feels like home. It's the perfect size town – you see people you know everytime you go out but being by the sea there's space. The sea looks different every day, I'd find it hard not to live by the sea anymore. I always felt that if you're going to live on an island, you might as well live by the sea. Unless I had my own wood – that'd be great!
++ Thanks again John! Anything else you'd like to add?
The only useful thing that's ever come to me in a dream. It was when we were still playing. In my dream The Blofelds were appearing on The Ed Sullivan show – just like the Beatles, and Ed introduces us saying, "And now from England, The Blofelds, playing their number one smash hit, 'Tell 'em it was me who told 'em it was you…'"
I woke up, remembering the song title, but nothing else about it and thought, this is it, I just have to write this song "Tell 'em it was me who told 'em it was you" and it'll go to number one and everything will be great!
So I tried to write the song, but it wasn't really happening and I couldn't figure out how to make it work until I realised I could just make that the name of the last song I wrote – which I happened to really like. It's still my favourite Blofelds song though sadly it failed to get us on TV (in black and white, in the sixties)
Thanks Roque!
::::::::::::::::::::::::::::::::::::::::::::::::::::::::::::::::::::::::::::::::::::::::::::::