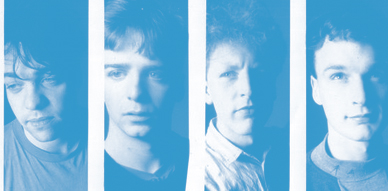 Some time ago I wrote a bit about a fantastic band from Wales that released the one 12″ single, the obscure and thrilling "Introducing Jane". This single has been later re-released under the name of Johnny Dangerously on a CD. The band though had many more recordings, all of them top-notch and I hope one day they get released in some way. I was lucky that Justin Salmon, who was once part of the band contacted me and was happy to tell the story of this great band. Also he was so kind to share an exclusive song, "Ah My Luchia"! Hope you enjoy it!
The deBuchias story as told by Justin Salmon (guitar player from the band)
My brother came home from school with a tape that a girl called Jo had given him. It was her step Brothers band called "Ignition", and a solo demo just marked "Johnny Dangerously".
My brother played it all the time, and at the time, 1986-7 I was just learning the guitar as I had one for my 16th Christmas. I never had any lessons I just bought 3 guitar chord books. 40 Elvis' greatest hits, A-Ha "Hunting High and Low" and the complete Beatles. As I grew up with Elvis playing I knew the songs really well, the same with the Beatles, and I never told Johnny but A-Ha too. I learned all the songs and was on my way to becoming an accomplished guitar player.
As the days rolled on I could hear this tape keep playing from Joel, my brother's room and I was starting to get to know all the songs and was really surprised as at the time I think we had to hate whatever our siblings were into at the time. I was 16 and Joel 14. Then one day when he was out I made a copy of the tape and played it everywhere I went. I knew the songs inside out.
I asked Joel a few months later who this guy Johnny Dangerously was and he told me that this girl in school who fancied him gave him the tape because he had told her that I had a guitar. He then rang her up and she told us to come up the following evening and meet him if we were free.
So we wandered 2 miles to their house and were welcomed with open arms. It was very nice. So we met John Harrold Arnold Bramwell that evening and yes he got his guitar and played "You've got to hide your love away" by the Beatles and his new song, "Table and Chair".
Then a couple of years later I left school and went to work as a postman here in my hometown of Monmouth. But all the time I was practising the guitar and set up my own band called "The Only One's", then we became The Paper People. We started off by covering Beatles' songs and generally all our favourite and then I started coming up with some good songs and I sidereal that I too could write pretty good stuff. Here is one that I put on you tube recently:
This is the A side – Footloose and Fancy Free:
https://www.youtube.com/watch?v=w-bhkO8zRiw&list=UUOYAlwKskU71n4fdjf57MWg
Then the B side: Baby Jane:
https://www.youtube.com/watch?v=MdAaypW2ju8&list=UUOYAlwKskU71n4fdjf57MWg
This one I know you know – It's an I Am Kloot Cover, "From your favourite sky". There is also a live pic of us playing at The Hostery Inn:
https://www.youtube.com/watch?v=xvcEu0smcDs&index=3&list=UUOYAlwKskU71n4fdjf57MWg
I'm not the greatest singer as you are probably now aware.
Then one day my mum asked me if I could give her a lift to Abbergavenny and who should I see as we approached the town? Yes it was little John Bramwell with what looked like a huge guitar next to him. So I pulled over and went to have a chat. He was very nice and said he remembered me and invited me to come down and listen to his new band, The deBuchias in 3 weeks time. They were supporting a local band called The Partnership. Then in the next few weeks that passed my brother was going out with a girl from Abbergavenny who gave him a tape of this band called The Partnership. So I listened to it and loved it. How they never got a record deal I'll never know, they were awesome. Then we found out that Mike Pritchard, the guitarist from The Partnership had left them to play with John's new band. He was an amazing guitar player. He sounded similar to Johnny Marr from The Smiths. High end melodious riffs.
Then we heard that the guitarist from The Partnership had committed suicide by jumping in front of a train at Abbergavenny station.
Then by the time we got to the gig we could already see that something was wrong as there were groups of girls crying and hugging. I took a tape player to the gig to record it as I hadn't heard any new stuff of his. So John went on with the band and announced the tragedy that was Mike's suicide. I think he even joked and said he's now left with a UK tour without a guitarist.
Then after the gig we saw him dancing with a short red haired girl who we later found out was his girlfriend. Flora Bradley her name was and she was a great singer. Then after we all sat on a table and I asked him for the chords to black and blue and he wrote them down on a napkin.
He was then telling us about the advertising his record company have spent on his forthcoming tour and he doesn't have a guitarist yet. He was holding auditions at the moment but still haven't found what he was looking for. Then my brother piped up, "get Justin in, Justin's awesome". or something along those lines and he said "OK come to 20 Ross Rd a week next Tuesday for my audition". Wow were we all excited going back in the car.
So the first thing I do is play the tape on the way home in the car. I wasn't great quality, but it was good enough for me to learn the songs. (don't I ever wish I had a smart phone back then) Then I played it at home Monmouth noon and night, playing along with the songs and learning the chords and then writing my own guitar parts. So the evening arrives and I get to Abbergavenny and I am so very nervous. We went up to a bedroom and set up and he said lets start with this one, it's called "Joe and Luchia". It's in D for you, but I'm using a different tuning. So he starts and I eventually join in with my riff and he says, "did you just make that up?", I said yes and he said that's good, remember that. Then after that we played "Ed deBuchia", "On my life" and "Not like me at all". I had learned the songs so well that I think I impressed. He then said ok, lets get a meet sorted for you to introduce yourself to the band and see what occurs yeh? I said yeah cool and we scheduled for the following week.
The rest of the band were from Cardiff. The drummer owned his own recording studio which was very handy as I would come to eventually play all my guitar riffs here. We recorded loads of demos down there. Audio matrix the studio was called. We arrived and John introduced me to Steve Perry on drums and Tig on bass. They were really nice guys, all a lot older than me. In face John was 26 at the time to my nineteen. So I lied about my age and said I was 23. Steve said to John before we started that a photographer from NME would be coming at 10pm to do the head shots.
So we are all plugged in and we start playing "Shot Amelia" which was sounding amazing with drums and bass and I was truly feeling it. We ran through all the songs we had done the week before and I had come up with a few new bits and pieces too and they sounded good to me at least. Then the buzzer went and the photographer guy was there and we went down into the photography studio beneath the recording studio to meet him. As he was setting up I heard him telling John that he wants head shots. Then Tig and Steve went over and the guys says to John, so it's just the 3 of you, yea? Then to my surprise John says no Justin is in the band too. That was the first sign I had that I was actually in the band. We had the photos taken as you have a copy of them on your website.
Then we went on to tour the UK. I think The Green Room was my favourite gig as it was like a big cinema in there, but instead of a screen, there was us. Everyone was seated and I remember playing well that night as Flora told me later that John had said I was on form tonight…
Nottingham festival was also cool as half way through the set I saw my mum and brother about 500 yards away waving from the street. That's a cool memory.
"Ah My Luchia" was probably my favourite deBuchias song as I wrote pretty much all the guitar parts. I think I recorded 7 over dubs with extra effects. But I have very fond memories of most of the songs which I am currently trying to upload on to Youtube, but I keep being blocked. As soon as they go up they get taken back down straight away.
One day we got to rehearsal in Cardiff and Tig didn't show up. Then Steve said that he was leaving but he very much was still in. So Steve them played bass for a while on the recordings that we had half finished. We put an advert for a bass player but it just never happened. I wish I had this head on my shoulders back then as I'm sure I would have hung on a bit harder.John told me then one day to pick up our amps from the studio as we were dissolving the deBuchias. He said that we would continue to play as a duo from now on and I think we had just one gig at The Yorker in Nottingham and that was pretty much it. I had met a girl who I was besotted with who was going to University in September and it was mid August then. So I lost quite a lot that year. I had moved in with John's step brother for the time I was living between Abbergavenny, Monmouth, Cardiff and Manchester. I left my job quite soon as we were gigging most nights and not getting home till 3 or 4 in the morning and I was starting work at 5am, so I left and went professional.
Although there are some really great moments in there which I will always cherish, but I got dumped with a grands worth of tee shirts and the bill for tee shirts for a band that didn't exist anymore. I had moved back home for a while whilst I picked myself up for a few months and then met a girl from London and ended up moving in with her in Brixton. We were together for 4 years then I went back to Monmouth again and been here ever since.
I bumped into the singer from the Partnership, Paul Detheridge and asked him to be a guest on my radio show called Justin and Phils accoustic sessions. It was only local radio but he and many other local musicians came on.
I was in a band 15 years ago here in Monmouth with a guy who was an engineer at Rockfield studios. I was here when Oasis recorded the first three albums and as my mate Nick was engineer I had the chance to party with them which was also awesome. Again I wish we had smart phones back then. I saw Noel play the solo on don't look back in Anger live, it was amazing. The band, The Dragonflies did quite well but the guy from the band Elbow asked him to build him a studio from scratch, so he left Monmouth and haven't spoke to him much. He friended me on facebook not so long ago and typed, "Remember that night mate? Me and you were superstars with superstars". Ah that was cool. Nick Brine his name is. If you check out your Oasis albums you should see his name on first 3. Mind you they called him Taffy a few times so it might say Taffy. Just because we live in Wales dosen't make us all Welsh…
::::::::::::::::::::::::::::::::::::::::::::::::::::::::::::::::::::::::::::::::::::::::::::::
Listen
The deBuchias – Introducing Jane
The deBuchias – Ah My Luchia