31
May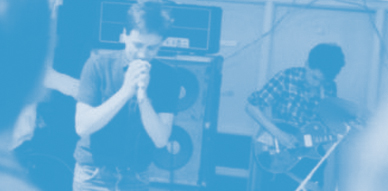 Thanks so much to Noel Burke for the interview! Check their myspace here!
++ Hi Noel, I'll try not to repeat myself as there's a great interview to you in the Pennyblack Music page. The band formed in 1981 but you didn't get a chance to release until 1987! Why did it take so long? How many great songs got lost during those years that didn't end up in the album?
I think there were two reasons for that, the main one was that we were operating in Belfast, which was a bit of a musical backwater at that time – there weren't any active independent labels for instance. In the end we got a deal with Probe Records in Liverpool. The second reason was that we went through quite a few line up changes before we settled on the one that recorded the first album.
++ You had a band before St. Vitus Dance called Positive Action. How did it sound like? Did you release anything? Why did you leave that band?
You're very well informed! Positive action wasn't my band – when I joined as a novice bass player they'd already played a few gigs. Peter and Damien who are in St. Vitus were already members – the singer was a friend of ours called Declan McCavana. Positive Action were kind of post-punk, angular guitars, shouty vocals, nothing like St.Vitus, basically. They never got around to releasing anything and I got the sack because of my lack of proficiency on the bass and my relaxed attitude to rehearsals. I occasionally remind Peter and Damien of their treachery just to keep them on their toes.
++ After the release of the "Love Me, Love My Dogma" album (one of the best of the era, if you ask me) you relocated from Belfast to Liverpool, why did you take that decision? Was it a good one? How did you like Liverpool? Any big differences between the two cities?
I'd say the decision to move to Liverpool came from a combination of the band wanting to get a bigger audience in England and my own personal determination to get out of the dead end job I was in and get a fresh start somewhere else. I'm not too fond of London, so Liverpool seemed an obvious choice, given the Probe connection. In retrospect, as far as the band was concerned, we probably should have stayed in Belfast a bit longer as we were building up a really big following just before we left and we had to start all over again in Liverpool. That turned out to be much harder than we anticipated, the gig scene was fairly non-existent at the time in Liverpool and gigs further afield were few and far between. I do like living in Liverpool – I've been here twenty two tears now and it's still my favourite place in England – in many ways it's similar to Belfast – both port cities, people are generally open and friendly with a wicked sense of humour.
++ Tell me a bit about the photo on the cover of the first album, where did it come from and why did you choose to use it?
The photo was taken by our guitarist, Damien, in Belfast city centre. It shows a street drinker being confronted by a placard carrying preacher and we instantly thought it was pretty symbolic of the Belfast we knew, where religion and drink tended to loom large in people's lives. As quite a few of the songs on the album referenced the same topics the photo seemed to be a good fit.
++ The Liverpool scene from those years is quite well known with acts like Pale Fountains, Wild Swans, Lotus Eaters, etc. But what about the Belfast scene? Any names you could recommend us?
There were quite a few bands playing in Belfast in those days who never got the attention they deserved. Most of them never got round to putting an album out, some managed a single or two. Personal favourites were Big Self, Kitsch is Rich, Carpenter Joe, The Donnelly Brothers, Tie The Boy, Man Ray, Shock Treatment and Second Mary of Guise, who may have only played two gigs in their entire history but will never be forgotten.
++ On the liner notes of this album you say that everything revolved around Lavery's Gin Palace. Care to tell us a bit about what kind of things happened there? What are your best memories from those years and that place?
Lavery's is still there, although it's changed a bit since our day. Bands play there now, but there wouldn't have been room back then. It was just where verybody in those bands I just mentioned convened. You never needed to make arrangements to meet up with friends – you'd just turn up at Lavery's and someone you knew would always be there. As a songwriter, scenes like that are really healthy, as you always want to keep up with or better what the guys in the other bands are doing. It's a pity that the whole thing wasn't documented by a few more records.
++ Just wondering about my favourite song by you, how did you end up writing such a song like Horse Sense? What was the inspiration behind it?
Musically, that song began with an idea from one guitarist,Phil, and was finished off by the other, Damien. Lyrically, if I remember correctly, it's just a typical piece of self-loathing from me. I musn't have been very pleased with myself at that time, I guess.
++ Out of curiosity, who is Mohammed from "Meet Mohammed" and Agnes from "For God's Sake Agnes"? Are they real characters?
Not really, "Meet Mohammed" is about me saying "I'm not going to wait around forever" to a certain person who had up to that point overlooked my considerable charms. "Agnes" wasn't about anyone in particular, it was just about a certain shallowness I'd observed in some people.
++ What was the biggest highlight of St. Vitus Dance?
Not sure, really. Releasing the album obviously, touring in Germany in 1988 was fun and getting back together in 2005 to play in Belfast again was special.
++ Why did you call the band St Vitus Dance? is it because of the medieval "dance mania" of the same name? Any relations to the song "Dancing Class"? Were you all good dancers by any chance?
The idea for the name came from Haydn, the keyboard player. I must confess up until then I hadn't heard the term before, neither did I know that there were Bauhaus and Black Sabbath songs of that name. I just thought it sounded quite good and nobody else could think of a better one so we went with it.
++ I know there's quite some nice German friends reading this blog, care to tell a bit about that West Germany tour you did? Which cities did you visit? Any anecdotes to share?
As I mentioned earlier, we went there in 1988, not long after we'd moved to Liverpool. We went with another Probe band, Jegsy Dodd and the Sons of Harry Cross. I can't remember all the places we played but we certainly performed in Darmstadt, Rendsburg, Wiesbaden, Wolfsburg and Bonn. We were supposed to play in Hamburg on the first night of the tour, but the gig got cancelled due to the fact there was a full scale riot taking place involving St. Pauli squatters and the police. There are too many anecdotes to mention although the time we mistakenly drove the van up an exit road onto the autobahn to find ourselves facing a wave of oncoming traffic does stick in the memory.
++ You released, 21 years later, "Glypotheque", a really nice and bright album, quite different from the first one. Will there be a third album by St. Vitus Dance? What can we expect in the future from the band?
Yes, I've already written about half an album's worth of songs, so I can see us getting into a studio by the end of the summer with a new album to follow hopefully by New Year. We've done a couple of shows in Belfast this month, one of them supporting Lloyd Cole and they both went really well so we're looking at doing a few more in Liverpool and Belfast in September or October, perhaps to try out the new songs with an audience.
++ What do St. Vitus Dance members do nowadays? Do you get together often maybe for a beer?
We do all sorts of things, a few teachers, a speech therapist, a journalist and a solicitor to be specific. Half of us are in Liverpool and half in Belfast so the band is kind of our way of keeping in touch. And it's working quite well. We do indeed seem to manage the occasional beer together.


++ Anything else you'd like to add?
I'd just like to congratulate you for being the first person never to ask me a question about the Bunnymen.
::::::::::::::::::::::::::::::::::::::::::::::::::::::::::::::::::::::::::::::::::::::::::::::
Listen
St Vitus Dance – Horse Sense