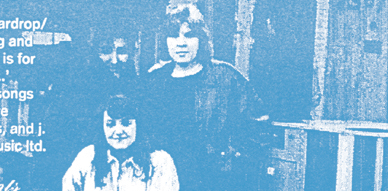 So it's time for Cloudberry news on the blog. After going through through memory lane, remembering the great time we've all had at Indietracks this year, it's time to catch up with all the things I've been working on since coming back from the UK.
There's quite a bit of news on the label side. On the blog side you must have noticed that I've published many interviews and I hope to continue with that trend. There are still so many bands with their story untold. And of course, I believe, they deserve better in these days, the internet days.
The first important piece of news is that the Feverfew album is now sold out. If you still want it  you can still find copies at many mailorders around the world, but those will be the last copies.  So make it fast. I'm very happy about the success of our first Cloudberry Cake Kitchen release. It proved to be a good idea to take that route, to make retrospective albums of some of my favourite bands from yesteryear.
Continuing with the Cake Kitchen there's a new album coming out. It's already mastered and we are taking care now of the artwork which is close to being finished. The new album that will please many 90s indiepop fans is by The Rileys and it includes the whole span of their careers as one of the most refreshing bands from the early years of the aforementioned decade. The album includes all their classic songs from their albums, singles and compilations as well as a bunch of unreleased tracks. In total there are 21 songs and as usual the CD comes in our book-style digipaks with full liner notes. The works. Keep an eye on the website or the blog for information about the release date, hopefully we can announce that soon!
But in the NEAR future we do have a couple of records to keep you all busy. This month, September, is a month of treats. First of we start with The Occasional Flickers 7″ release on the 15th, and then on the 30th, we'll bring you Boyish 7″. It's been a long time since we put two records out during the same month, so you can imagine how excited but busy we are.
For both upcoming 7″s we already have pre-order buttons on the Cloudberry site as well as a download MP3 for you all to have a taster. What to expect? Well, The Occasional Flickers are a band that I hold dear and who with Cloudberry have had two related releases. One a 3″ single back in 2008, "When The Sky Looks So Gray" and then with the song "Fly Kite" on the 3″CD compilation "The Skyscrapers Of St. Mirin". On top of that, their first album, "Scattered Songs" came out in our sister label Plastilina. So, a household name here. This year Giorgos and company return with the smashing "Capitalism Begins at Home". Witty and smart as always the Edinburgh by way of Athens band have also made a video for this song that you can watch here. The B side for the single is "Visions of Geraldine" and the artwork was lushly painted by Ola Rek who is part of the band.
On the other hand, this is Boyish's first appearance on vinyl (The Flickers released their debut "Rain Until Monday " on 7″ vinyl in 2003!). The Boyish record is a 4 song EP aptly titled The Hidden Secrets. The other songs in the record are "Dress Up, Make Up", "Shadow of You" and "Sha La La". Two of the songs appear in Boyish's album and two of them are exclusive to this release. All of them have been remastered for this special occasion by Cris Romero from Sundae and The Royal Landscaping Society at Cherry Sound Studios. As always he has made them sound amazing. If you like breezy shoegaze this is the record you've been longing for! I've been a big fan of Iwasawa since the days of his previous band, Pastel Blue, so it was quite exciting to undertake this project together. The artwork for this release comes thanks to A Little Island.
But the news don't stop there. We have also unveiled the artwork and the track list for our 34th 7″ that should be appearing by the end of the year. This one comes from France and it's by the super duper mega hyper amazing Pale Spectres. The track list will include a Cloudberry favourite, "Better than Love" that appeared on our sea green compilation last year. This is a reworked version of that tune. Also on the 7″ you'll find "Bicycles", "Didn't Know Where to Go" and "Supermarket Love". Clearly, you want this.
Not a bad end of year for Cloudberry, don't you think? And it's all because of you, because without your support to the label, to the bands, to the scene, we couldn't continue putting out records.  So from here a big THANKS to everyone that has helped us this year in a way or another!
——————————————————
There's this beautiful song called "I Want to Wear Your Love Like Gold" by the mysterious The Boy Scout Love Triangle, that sometimes appears on my iTunes while I'm working. I believe I downloaded this a long time ago from a blog. It's really really pretty. So I decided today to google it, see what I can dig.
First stop, Youtube. Someone has uploaded this song. And there's a photo of a cover of what looks like a record. I know where to look now.
Second stop, Discogs. The record is listed. It's a 7″ and this song was the A side. There's another song on the A side, "Shane", and three on the B side, "Apocalypse is my Maiden Name", "Fell for It" and "I Never Said I Liked You". I wonder if all these songs have a similar sound to "I Want to Wear…", or if they are a bit different. Who knows. Sadly there are no records listed here for purchasing.
The label is called Sprogg Pop Records. It seems this was the only release by the label according to Discogs but there's some information: Sprogg Pop was a short-lived label run by Ohio-based Nick Wilson, a.k.a. Nick Sprogg, Poppa Hopp, Nicky Ill, or Nicky Illiopolis.  Ohio-based Nick Wilson, a.k.a. Nick Sprogg, Poppa Hopp, Nicky Ill, or Nicky Illiopolis, is a member of Dirty Birds, The with RJD2. Wilson ran the Sprogg Pop label and a music publicity company called BPM Promotions. He also co-owned & operated the Battersea Park Music label.
So Ohio then. I read that the vinyl itself is gold. Makes sense with this song. The catalog number is SP001 and the record was released in 1991. The credits on the record state:
Performer [Played & Sung By] – Christina Myers, Gaye Cronley, J. Stickley
Photography [Back Cover Photo – Harmony H78] – Michele Kinnamon  
Photography [Front Cover Photo] – P. Cassely
Producer – Craig "Big Daddy" Dunson  
Written-By – Stickley
Notes All songs recorded at Eardrop/Pica House in the Spring and Summer of '91. 'Shane' is for Shane Mc., 'Never Said…' well…hello pastels!
The Pastels??? Were they fans of the Glasgow band? There is a link for more images on the Discogs listing of the 7″. I can see the artwork cleared. But there's also what seems like an insert. On it we learn that there were t-shirts made for the band too, with the cover artwork of the 7″ on the front and on the back details of their 91-92 tour.  There's also what seems a fanzine called "Love In" that is described as the official fan club magazine of The Boy Scout Love Triangle. It used to cost a mere $1. It also has an address for Sprogg Pop. We now know that they were based in Columbus, Ohio.
Gaye Cronley would form later, along the producer of this record, Craig Dunson the band Vibralux who had a 7″ on the Candy Floss label in 1994. This was the home of some known indiepop acts like Red Chair Fadeaway, Red Dye No.5, The Delightful Little Nothings and more. I have never head Vibralux. Time to see if I can find a cheap copy. Seems to have good credentials!
The other member of The Boy Scout Triangle that I know continued making music was John Sitckley. He was involved in a band called The Patsys who released one album in 2006 called "Both Sides Never". You can stream it on Myspace.
This is where I stop digging. This is where I stop finding clues. This is where I hit a wall.
If anyone out there knows anything else by these unsung heroes from Columbus, Ohio, I'd love to hear it. And a spare copy of the 7″ aptly titled "L'eternité Du Tout" ("The Eternity of Everything") would be nice to find too, so I can play the record at home, time and time again, and to finally hear the other songs from the EP!
::::::::::::::::::::::::::::::::::::::::::::::::::::::::::::::::::::::::::::::::::::::::::::::
Listen
The Boy Scout Triangle – I Want to Wear Your Love Like Gold