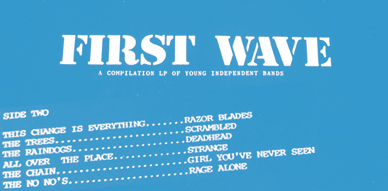 A razor is a bladed tool primarily used in the removal of unwanted body hair through the act of shaving. Kinds of razors include straight razors, disposable razors and electric razors.  While the razor has been in existence since before the Bronze Age (the oldest razor like-object was discovered in 18,000 B.C.), its modern counterpart was invented in the 18th century, and the 1930s saw the invention of electric razors. In the 21st century, the safety razor – electric or not – is most commonly used by both men and women, but other kinds still exist.
2013. First day. The boys posting Another Sunny Day's "New Year Honours" on facebook, me uploading Holiday's "New Year's Anything" and the girls loving Camera Obscura's "Happy New Year". Seems like any other New Year day to me.
I'm at work and I've been dealing all day long with the "fiscal cliff" story. I guess one should be glad to know that the people in Washington DC are working hard during holidays. No time for them to party. Well, and no time for me to party either. Democrats and Republicans have agreed on a deal. Now the it's on the House's hands. But I'm out of here soon and they seem to be busier passing a bill for hurricane Sandy.
Upon arriving home I will prepare the paperwork for the Flowers 7″ and mail the masters to the pressing plant tomorrow. I'm also sending the masters of an unknown Peruvian band to the pressing plant, Eva & John is their name and we are making a flexi. Not part of the Cloudberry catalog mind you, but it will be under the Plastilina umbrella. I'm very excited about this lot, especially as three of them are long time friends of mine. Two of them friends from my youth in Miami, that for one or another reason had to go back to Lima. We even had a band, the three of us, but that's a story not worthy to be told.
The name Eva & John is a pun. It's a mocking of Eva Ayllón, one of Peru leading songstresses along with Susana Baca and Tania Libertad. Her thing is Afro-Peruvian music. I remember still the day I saw, to my surprise, posters of her in Stockholm.  So she might be a bit known to those who like exotic kind of sounds. Of course, she is no Yma Súmac, but, in Peru she is revered. I can't deny that I have sometimes found myself singing some of her lines while having a shower. I guess those songs are engrained in us, like a razor blade, since we are little.
The songs are "César Gutiérrez" and "Ciempiés". There's only one side to the flexi. A white flexi, which I hope to carry some copies for the curious. I don't know if many Cloudberry fans will be interested in it even though this is a ridiculously good record. It's pure pop, with great lyrics, catchy hooks, that remind anyone of the Spanish 80s, the so called La Movida, and also to later sounds of Los Punsetes, Bananas or TCR. Of course the idiosyncrasy is different, this is made in Peru, and so their fabulous name-dropping, a la Television Personalities, in the opening track will sound alien to many. But to me, it feels like home. These songs make me revisit my home city from far away.
The songs have been mixed  and mastered with fantastic results by my good friend Cris from Sundae. He understood the sound the band was looking for and made these songs sound as they should. I'm terribly happy about this, and I'm even considering starting a small series of flexis for Peruvian indiepop bands. See, the thing about them is that they record some demos and then they disband. They make one or two fantastic songs and that's it. Then nobody hears about them anymore. Because no one cares. But maybe I care, and perhaps with Eva & John it all works out, and this flexi, perhaps the first flexi to ever be sold in Peru, proves to be successful. And if that's the case, it would make sense to keep going!
This of course makes me start the year with a high note. On top of that, I've finally purchased my ticket from Stockholm to Tallinn. That's good news. And maybe I could take the ferry from Tallinn to Helsinki one day. I will have to check that. If that doesn't work out, it's ok, I'm already doing lots during that trip. Also this weekend I'm going to try to choose with some friends where to go for President's Day weekend in February. The cheapest options are Charlotte and Myrtle Beach. Under $200. Never been there. I might as well just go and see. There's good BBQ in the Carolinas, right?
Oh, and last but not least, I've purchased new shelves for my books and CDs, and special boxes for my 7″s. Exciting times ahead, reordering everything that's been piling in alphabetical order. I've even bought some separators! The only thing I don't look forward to, is assembling these of course!
So short and sweet post to start the year, moving to the super obscure band of the week, "This Change is Everything".
————————————————–
The enigmatic This Change is Everything bears already a very mysterious name. Wonder what they meant by it. The only one song I know from them is "Razor Blades", and I know it, once again, thanks to Rupert from, a Turntable Revolution, and the magical CD he burned for me.
What do I know about this song that sounds a bit (or a lot) to This Charming Man by The Smiths? I know nothing. I know it's great and addictive. That it has some great guitars. And some fine lyrics too. That it makes me curious to know if the band recorded any other songs at all. I don't even know what years were they active.
What I do know is that this song was the opening song of the B side of an LP compilation called "First Wave: A Compilation LP Of Young Independent Bands" released by GI Records from Oxford. This is the same label that in 1989 released the compilation "Expose It" that included New English and that we've mentioned in the blog before. The only conclusion I have from these little hints is that "First Wave" was released in 1989 or before.
On "First Wave" I find myself clueless. The only band I recognize is All Over the Place. The rest, I don't know. The other bands included are The Vulcans, Passion of Ice, The Price, Airlane, The Innocents, The Trees, The Raindogs, The Chain and The No No's.
The only other small clue, is on the back cover of this compilation, which sadly I don't have, but I found a picture on Discogs. There's an address for the band. They were based in London. In the South West, close to Southfields station. I've never been there. Not yet.
And that's all I could find about this very elusive band. Do you know anything else about them?
Happy new year to every one that comes and read my little blog. All the best wishes for this 2013. Hopefully there's lots of great indiepop coming our way this year!
::::::::::::::::::::::::::::::::::::::::::::::::::::::::::::::::::::::::::::::::::::::::::::::