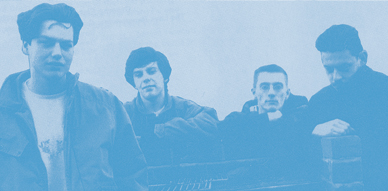 Much better now of the jetlag though I do miss being on a permanent state of vacations. Back at work, the usual drill, the same restaurants around the office, the chilly weather in New York. It's not bad, but I like the change. It is good though that around the corner, in January I'm traveling to Peru. But after that trip, I have nothing planned!
So this last week I've been more or less catching up with indiepop. There are some interesting news that are worth mentioning. I'll start with Matinée Recordings. They have a couple new releases that are not to be missed. First off there's the new album by Scottish favourites Bubblegum Lemonade titled "The Great Leap Forward". Laz has been making fantastic songs for so long and a new collection of them is always welcome! I still feel very lucky to have seen this band live once as they have almost never played live! Feel privileged! And the other release is by a new band called The Perfect English Weather. This band is really Simon and Wendy from The Popguns and have crafted a pretty pretty album titled "Isobar Blues".
Next stop, Night School Records. They have announced a 7″ by Strawberry Switchblade, but not just any 7″. This 7″ is the demo the band recorded in 1982 when they were a 4 piece. The record also comes with an insert with words by Stephen Pastel. You can preorder it now!
Then our friends The Color Waves have two new songs on Bandcamp: "Play Along" and "The Sky I Saw" and they are gorgeous, lush bedroom pop. Hopefully there are more songs in the way.
I also learned that the CD box set "Coals to Newcastle" by Orange Juice is available again. I missed it the first time around so this is a good opportunity for me and for all those that also missed it. I think I might get this for Christmas. It is a bit pricey but from what I see it contains, well, seems totally worth it!
Our friends The Artisans who I have recommended many times on the blog also have a new single, "The Ballad of Armley Jail". It is inspired by the lives of two transgender women who gave up their fight inside male only prisons. It is going to be available on December 19th but you can listen to it on Soundcloud! Believe me, this is truly fantastic pop, shimmery and classic. I heard that this is a taster of The Artisans debut album coming out in early 2017!
I also received the 2 CD album "The Very Best of B-Flower". I only started listening to it and it already gives me the chills! Songs that bring nostalgia to me, pop perfection from Japan. I know Jigsaw Records is carrying it in the US, and that might be your best bet if you want to get it. There must be a way to get it from Japan too, but I don't know exactly how. Anyways, a very welcome retrospective to one of the best Japanese indiepop bands ever.
Well that's a good roundup. I'm sure I'm missing more stuff but as I said it has been only a week and I'm only reconnecting to the world wide web.
—————————————————
Back to rediscovering some old Leamington Spa bands. This time I picked up volume #2 and it was track 11 that caught my attention, "Fields of Corn" by Splendid Fellows.
I don't wait a second, I look for the band on the liner notes. I know nothing about Splendid Fellows. There's a photo of the foursome, and some information:
"Field of Corn" was written by Vince Keenan and only saw the day of light a demo tape. Splendid Fellows was formed in March 1990 and split in 1992. No records were released but gigs were well attended. In July 1994 Vince Keenan returned to play Leeds Heineken Festival under the name The Haze Office with the drummer of Splendid Fellows, Gordon Leather. He already had used this name in the early 80s before becoming the later singer of 1000 Violins. Now he is performing acoustic gigs under the name of Spigott. And it is only a question of time before he is getting a new band together again."
So the name of the song is "Field of Corn" or "Fields of Corn"? And what happened, did they ever get a new band together?
Why didn't they release any records? I assume this song comes from a demo tape. I wonder about what other songs were on that tape. Were there more demo tapes other than this one?
Is it safe to think the band was based in Sheffield? The connection of Vince Keenan, once in 1000 Violins (at the time of the "Hey Man That's Beautiful" album).
Also online I notice that Keenan's old band is spelled Hays Office, not Haze Office. I keep digging and from an old blog I see that Vince was asked to be part of The Dylans after the demise of 1000 Violins but he decided to go his own way forming Splendid Fellows. It also seems that there used to be a SPIGGOT (notice that it is also written differently on the liner notes of Leamington Spa) website at least around 2005. On it there was even links to a page about The Hays Office, perhaps with information about it. Anyone remember this site?
Now onto the Beautiful Music label. They have released Television Personalities tribute albums. Vince Keenan contributes a modernized version of "Salvador Dali's Garden Party" with assistance of Zane from Vib Gyor.
I still can't find who were the other members of Splendid Fellows but I continue the detective work.
But where to continue? I can't find anything else on the web. Maybe someone can point me where to look? And I want to listen to more songs! Please help me! There was definitely information online at some point, and now there's none!
::::::::::::::::::::::::::::::::::::::::::::::::::::::::::::::::::::::::::::::::::::::::::::::