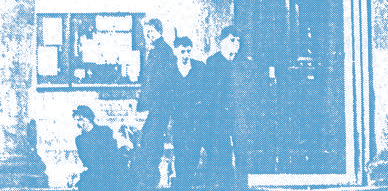 Thanks so much to Nikki and Marty for the great interview! This was a dream interview as I absolutely LOVE the Splashdown EP! And on top of that, "The 18:10 To Yeovil Junction" is one of my favourite songs EVER. I'm terribly happy to publish this in the blog, hope you enjoy! You can always befriend the band on myspace too

++ Hi Nikki! Hi Marty! I'm so honoured to get the chance to interview you. Bubblegum Splash! symbolizes what indie pop was all about. One perfect 7″ and then the band splits. Do you agree with me on this?
Nikki: Hi Roque I am amazed and touched that after all this time and like you say, one 7", that anyone (apart from friends and family) remembers Bubblegum Splash! Do I agree with you -yes and no!  Love the Pastels and they have released loads also BMX Bandits etc.
Marty: Yes and no plus the whole B.S thing was not premeditated.
++ So how did you all meet? How did the band start? Have any of you been involved in other bands before? Or maybe at the same time?
Nikki: Jim, Marty, Dave and Alan were all at school together and had written a fanzine so they were all friends. I was in the Star pub in Salisbury one night wearing a Jesus and Mary Chain t-shirt, Jim was impressed by the t-shirt so came up to me and asked if I wanted to be the singer in their band. As I was drunk I said yes. Had I been sober or wearing a different T-shirt……………..!?
No other bands before .Jim and Dave were in Jane From Occupied Europe after.
++ Why the name Bubblegum Splash?
Marty: Random names put together that didn't mean anything. We didn't want to be called "the" something or other……
++ You only released 7 songs in total, but did you have more songs? Maybe they are tapes or so?
Marty and Nikki: Yeah there were more on demo and some we did live that not sure were ever recorded. Honeycomb centre was a favourite and our 6 min wigout. We also did a few covers live Swell maps: H.S Art and The Undertones: True Confessions.
++ How did you end up releasing the split flexi (with The Darling Buds) on the So Naive fanzine?
Nikki: I can't remember how that came about and Marty is laughing and has just informed me that it was because Mike Brunt who wrote the fanzine fancied me. HA! HA! First I've heard of it , not sure how true that is.
++ The name of the zine was taken from a Rosehips song… did you like them? What about this, The Darling Buds or The Primitives?
Nikki: Yeah we really liked the Rosehips did a gig with them in Stoke, stayed at Ants house after if I remember rightly,  slept on the dining room floor.
Primitives or Darling Buds? Hard one, cus of flexi and gigs with Darling Buds. Plus bad experience at a Primitives gig in London- vomiting in plastic bags all night as ill.
++ How did the contact from the Subway Organisation happen? How was the relationship with them?
Marty: Martin Whitehead phoned us up-after we had sent them a demo. Good people not really a business relationship.
++ When you got to know the Splashdown EP went to number 15 of the indie charts, what was your reaction?
Marty: I looked in the N.M.E and saw our name, first reaction was disbelief, then amazed and proud.
Nikki: I was amazed. Think I laughed and jumped around the kitchen where I was living at the time. (I didn't know heard it about third hand after finishing work.)
++ Stephen Pastel once said: ""But on the minus there are groups like Bubblegum Splash! we played with them in Bristol, and they just summed up everything that was wrong in music just now. I mean they had one song that went la-la-la like Primal Scream and another with the bum-de-bum drumbeats a la Shop Assistants. It was just a joke." What would you answer him?! Why do you think he said so?
Nikki: He has a point. I joined the band knowing I couldn't really sing, it was good fun, never thought we would gig let alone release anything. I was very shy and nervous. In band practices I used to sing behind a curtain.
Marty: We were all nervous as buggery –not a joke.
++ What's the story behind "The 18:10 to Yeovil Junction"? It's such a beautiful song! And why did it was included twice on the Subway compilations?
Nikki: 18.10 is my favourite B.S track it is a lovely tune. Jim wrote it as he did all our songs.
Marty: It's about "Love, longing and solitary train journeys". It's on two because it's fab.
++ How do you remember the Bubblegum Splash recording sessions? Any anecdotes you could share? How was the creative process for you all?
Nikki: I remember recording sessions as being good fun, a laugh. I probably used to get over excited. Jim was the boss, wrote everything and had to help us all, so was probably stressful for him. We used to drink a hell of a lot of chocolate milk. Band practices were a hoot, we had to get our stuff to the rehearsal room (Britford Village Hall) in a wheelbarrow. Punk Rock!
Marty: I remember recording sessions as frustrating. Splashdown ep was recorded the day Andy Warhol died- led to our 15 mins of fame!
++ What about gigs? Any gigs you remember the most? What were your favourite?
Nikki: My favourite gig was the one with the Pastels, Tallulah Gosh and the Vaselines in Bristol (even though Stephen hated us). It was so exciting playing a gig with bands we loved and admired. Loads of our friends came from Salisbury to see us. FUN! FUN! FUN! Although I also have fond memories of the Tropic Club in Bristol too with the Darling Buds and Flatmates.
Worst one was the one in Stoke the sound was crap ,Alan the drummer stormed off stage through the drum kit then later on me and Alan had a fight, we didn't like each other very much. I think it actually ended up being our last ever gig.
Marty: Alan crashed the car on the way back from Stoke.
++ Why and when did you call it a day?
Marty: Shortly after the Stoke gig- 13 months as a band 13 gigs and probably 13 songs!
++ Looking back, what was the best moment of being part of the band?
Nikki: I had a great time despite being very shy and nervous. I did quite often sing with my back towards the audience holding my lyrics as I was so scared, also had to have Jim nod me in as I would freeze. Travelling to and from gigs was a riot a great laugh. Obviously hearing us on John Peel was amazing.
Marty: Best moment for me was hearing us being played on John Peel on the car radio  on way back from band practice.
++ Do you follow any indiepop bands now? If so, which ones you like?
Marty: Not really although I still have a soft spot for Scottish bands. At the moment I like Frightened Rabbit and We Were Promised Jetpacks.
Nikki: I still like all the old stuff but I really like The Pains Of Being Pure At Heart.
++ Do you mind some random questions?

I was wondering, what secret skills does Nikki Barr has? What's your favourite dish? who was the coolest personality in those C86 days?
Nikki Barr has no skills secret or not, apart from I am known as the Queen of Burps/Belching in my house!!
Marty and Nikki: Favourite dish: Mussels
Marty: Coolest personality: Harvey from the Darling Buds and Debbie Flatmate.
Nikki: Aggi Pastel.
Nikki: ME.  HA! HA!HA!
++ Thanks again for the interview! Anything else you'd like to add?
Thanks hope this has been helpful xxxxx
::::::::::::::::::::::::::::::::::::::::::::::::::::::::::::::::::::::::::::::::::::::::::::::