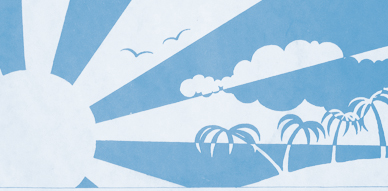 Approaching now to Popfest weekend. I'm not sure if there's anything else to talk about at this point. I know a bunch of friends were last weekend at Copenhagen Popfest, and from the photos I've seen, it looked like a great time. They had a fantastic lineup. This weekend another bunch of people will be enjoying San Francisco Popfest. But for me both of these festivals seem to be a galaxy far away. My mind, my heart, is already looking forward to next week's NYC Popfest.
The lineup is brilliant once again. Some weeks ago I went over it and mentioned the bands I really wanted to see. I missed one. And I want to apologize for that. How could I?! You know I'm talking about The Garlands.
I remember the first time I listened to them on Myspace. Would have been 2007.  Or even 2006. I think Andreas Olsson sent me the link. There was only a pre-Raphaelite painting as the profile photo. I didn't know who the Garlands were. The day I contacted them and asked if they were up for releasing something and said yes I was terribly happy. Still I only know it was a girl called Christin and a boy called Roger. I didnt hear from them for a long time. I thought they quit making music. I thought they were not interested anymore. Or maybe they just forgot about our 3″ single release.
Almost a year later I hear from Cosy Recordings. Back then Matthias was friendly. He said that he had been in touch with the Garlands about releasing a CD as well and they told him that they had promised me already a release. They did remember. I learned then that it was Roger from Nixon the Roger in Garlands. I was thrilled. How did I not notice! Well of course he wasn't singing, but the melodies were there. We agreed then in doing a co-release, as long as it was released I had no problem. There were 4 songs, one a George Michael cover even. They were fantastic. That's when I met Karin too, she made the artwork for the release. It all went fast. In a matter of weeks the release was ready. I made 100 copies on the 3″ format. I can't remember how many copies Cosy did, but it was the 5″ regular sized CD. It was a great time. The record sold out fast.
Months later all of a sudden Christin and me became good friends. We met at London Popfest. We hanged a lot. Then we went to Indietracks together with our friend Emelie. That's more or less when a fantastic friendship was born. Since that time I've met Christin so many times around Europe. The last time just a month ago in Stockholm while we strolled past the cherry blossoms and ate ice cream.
I can't forget the birthday celebration of 2013. Or London Popfest 2010, or Chickfactor shows in London. The lunches, the dinners, the beers. Of course there's been bad moments as in any friendship, but I want to think those are over. For me indiepop has been, unintentionally, a vehicle to meet great people, and better friends. Christin is on of the important friends I've met, on that I trust blindly. Even the secrets and the love stories. So believe me when I say that I'm super thrilled that The Garlands, that small band that started as a duo and grew up as a 5 piece (even at some point at 6 piece!), is coming finally to the US.
I've been bugging Christin to come for ages. And now they are finally playing NYC Popfest. The band as I was saying has changed a lot through the years. What was the live band has become now the proper band having a say on the recordings and all. There's no Patrik anymore sadly. That for me is such a big lost. Another good friend, Pata left the band some months ago. He was the funny guy of the band, who would talk between songs and make the crowd laugh while the rest of the band tuned their instruments or got ready. Another loss was that of Robert, the fantastic drummer who once was part of Hari and Aino. Two great musicians. Now I look forward to see how the new band mates fit in.
Christin's voice though is still there, unique, and dazzling. Einar's class guitars are also still part of the mix. And you can count with the pounding bass of Maria. Three of the best of all Sweden. You can't question that.
Not so long ago they released a 7″ with Christmas songs on a Dutch label. They are bringing that to sell at Popfest. They are bringing too some tote bags with a unicorn silkscreened. Unicorns and cats are what Christin adores. Also the debut LP on Shelfilfe will be available. It's a classic that even went to a second pressing I believe.
It's been years since Christin and her cat saga appeared on the cover of the Cloudberry fanzine, the pink fanzine. It's been a long time. I haven't seen them play since March 2013 when they still had the "classic" lineup. That was my birthday. I turned 29 and was heartbroken. They made my year. I'm only thankful. Any misunderstanding that have happened afterwards or before are things of the past. Those of you attending Popfest better check them out.
The Garlands are playing Saturday 31st at Cameo Gallery at 9:15pm.
——————————————————–
If the Garlands had been around 1982 perhaps they would have sound a bit like Dancette, our obscure band of the week.
I know mostly nothing about them. I haven't been able yet to find their one and only single released on Bel Records (SJP 836) in 82. But I do know for sure that it's a cracking single!
If you like a bit of Orange Juice mixed with Dolly Mixture, "Going Green", is just that perfect marriage. It's such a lovely song that should have been a BIG HIT. Hard to believe it's only known among only a handful of people. Well, let's try to make some justice now, right?
The B side of the single is also nice. It's called "He's Clever" and sounds a bit different but still a top crack. It sounds a bit more like the bands from that period, like Moody Elevators, A Thousand Miles of Sunshine, Big Outdoor Type, if you know what I mean.
There are some credits on the back of the sleeve. The band was formed by David Brown, Julia, Emma Kelly, Mark Kovand and Vincent Taylor. The record was recorded at Fair Deal Studios in Hayes, Middlesex. Their manager was Simon Panell and the engineer for the record was Stuart. The design of the green and white sleeve was made by Tony Lyons.
And that's about it. There's absolutely nothing more online about them. It's a shame as I really love this single!! Does anyone out there know anything else about the great Dancette? Whatever happened to them?!
::::::::::::::::::::::::::::::::::::::::::::::::::::::::::::::::::::::::::::::::::::::::::::::
Listen
Dancette – Going Green