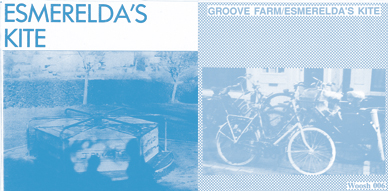 Thanks so much to Andy McVeigh for the interview! I wrote just a few weeks ago about Esmerelda's Kite on the blog, trying to find out more information about the Leeds band that released two split flexis in the 80s and Andy, the drummer, was very kind to get in touch! Here he answers a bunch of my questions and finally I get to know a bit more about this obscure jangly band!
++ Hi Andy! Thanks so much for the interview. There's so little info about Esmerelda's Kite on the web so it is great that we are in touch. I guess my first question has to be who were Esmerelda's Kite? Who were the members? What instruments did each of you play? And how did you all meet?
For all of us I think, Esmerelda's Kite was our first band. The name comes from the novel 'The Wasp Factory' by Iain Banks. A great book, the main character kills his cousin Esmerelda by tricking her into holding an enormous kite. She floats off, never to be seen again…
The band was Simon , me, Mark spowage on guitar and initially, John Doidge on bass . Vikki King became bass player later on.
I met Mark age 11 at High school. John lived opposite me. Simon lived nearby . I cant remember how we all got together though!
I still see John regularly, he's a good friend. Vikki eventually went off teaching abroad. I haven't seen Mark for years. I'm pretty sure Mark and Vikki and John haven't played music since. Simon released a couple of singles on Sarah – Gentle Despite.
++ Your two only proper releases were on split flexis. Was wondering if you ever shared a gig with or were friends with the bands you shared them, The Williams and The Groove Farm?
We were gutted John Peel played The Williams instead of us cause, frankly, they were terrible. The 'Vampire Girl' flexi- I cant remember how that came about. We didn't know The Williams or Groove Farm. We did get fan letters from abroad, even Asia, from the flexis! God knows how!
++ Your first flexi came out on the Sunshine label which was run by The Williams. On it you included "Roundabout" but there seems to be a 2nd song that is not listed on the sleeve. I've seen it titled "A Whirl" on the web, was that the real name of it? And why was it not listed?
The 'Roundabout' flexi came out with extra track 'In A Whirl.' It was on there by mistake but was a much better song really. It was recorded with Richard Formby at Hall Place Studio. It was his idea to put the fuzzbox sound on it and it transformed it. He always had great ideas.I recorded with him a few times in the years to come with other bands. He was a member of Spectrum with Sonic Boom from Spacemen 3 later on.
++ Something that surprises me is that at least on Discogs I couldn't find any compilation appearances. During the 80s most guitar pop bands appeared on many different tape compilations. Did you at all?
We never got asked to be on a compilation I don't think.
++ Were there more songs recorded other than the ones in the flexi? Did you release any demo tapes and sold them at gigs maybe?
We did demos and sold them in Jumbo Records in Leeds. I made the cassette covers at work as I worked in an ad agency and there was a graphic design dept. with all the stuff I needed. I also did posters for gigs and me and Mark would flypost them in Leeds centre late at night with wallpaper paste! We must have had about 20 odd songs. Ive got most of them on on recorded or live tapes somewhere. My favourite song was 'Cheesecake.'!  And another was 'Sweep the Leaves from the Floor of My Heart.' Looking back, we were a bit twee ( I find a lot of the Sarah stuff awful now to be honest) but we had bloody good little songs for our age I think. Would have been interesting if we'd recorded them properly.
++ Was there any interest from other labels to release your songs?
We didn't get any major interest I don't think. I remember getting letters from Sarah and 53rd &3rd Records quite liking us though. I think we got a bit of a local following and we played all over Yorkshire and Lancashire but never London.
++ What about gigs? Did you play many? What were your favourite gigs and why? Any anecdotes you could share?
We rehearsed a few times a week in Simon's basement. We wrote a new tune every week it seemed! We were only about 17 and it was probably the best time of my life really. We supported a lot of known bands like My Bloody Valentine, Spacemen 3, etc. Ive forgotten lots of gigs but it was exciting as we loved and bought records by those bands then got to play with them. We played with CUD a lot and even joined them on stage once for 'CUD's Kite- doing 'You Sexy Thing'! They'd done their cover of that Hot Chocolate song for a Peel session and it kind of took off for them. I played drums and Mark was on guitar one time we played with them, and we did 'YSThing' for an encore I think!
I remember doing a gig with CUD at York Cellars and it was the first time people moshed/danced to us- so exciting!! We were all looking at each other and grinning! the MBV gig was great at The Duchess pub in Leeds. We were massive fans and to sit backstage with your heroes at 17 was great. It was just before their first Creation single came out I think. We played at the Leeds Uni a few times, once at the Riley Smith Hall with a massive stage. That felt weird to us!
++ Did you feel part of a scene?
There was a real scene in Leeds at the time. Us and The Pale Saints would do lots of gigs together and hang out. It was very DIY but people would turn up wherever you played. Pale Saints got signed to 4AD Records and ended up famous on the national indie scene!
++ When and why did you split? What did you all do afterwards? Were you involved in bands?
I played in a band called Dirty Vinyls for a few years. We had record company interest and Alan McGee (Oasis) was giving us lots of good gigs in London but nothing came of it and we split in about 2008 maybe. It cost us too much money but now I play Britpop/indie covers and get paid! It's ok, I need to play , cant give it up, but I'll never beat the excitement of those Kites days! John is now an airline pilot but still says they were his most exciting times!
++ Aside from music, what other hobbies do you have?
All my hobbies are really music based- going to gigs, festivals etc. I love football and watch Leeds United with my son, who is 13.He's now drumming and is starting his first band! Must be genetic, I haven't really mentioned music to him much, it must have seeped in.
The film Sing Street on Netflix nearly had me in tears- reminded me of the Kites days!
++ I've never been to Leeds, but I wonder if I was to go as a tourist what sights would you suggest visiting? Or maybe some traditional foods or drinks?
Leeds sights- er, not much! Leeds United stadium? Yorkshire Dales not far away. Food- fish and chips, Yorkshire pudding!
++ Thanks again Andy, anything else you'd like to add?
When I heard Simon died I went to visit his mum and sister. I hadn't seen him in years, though I know he'd had problems. He was still living with his mum as far as I knew. I wanted to tell her that he was a massive part of my best memories and Id always love him for that. Id tried to see him when I heard he was ill but he said he didn't want to see anyone. His mum took us into the basement where we rehearsed with the Kites and it seemed so much smaller than I remembered! Was amazing to see it though. I wish we'd talked before he died. He was only 48 I think, some type of cancer. He was a troubled soul , I always felt.
::::::::::::::::::::::::::::::::::::::::::::::::::::::::::::::::::::::::::::::::::::::::::::::